Breakfast BLT with Avocado & Spicy Mayo
A savory breakfast BLT with avocado, spicy Sriracha mayo, and fried eggs. Simple, fuss-free, and makes for a perfect weekend brunch!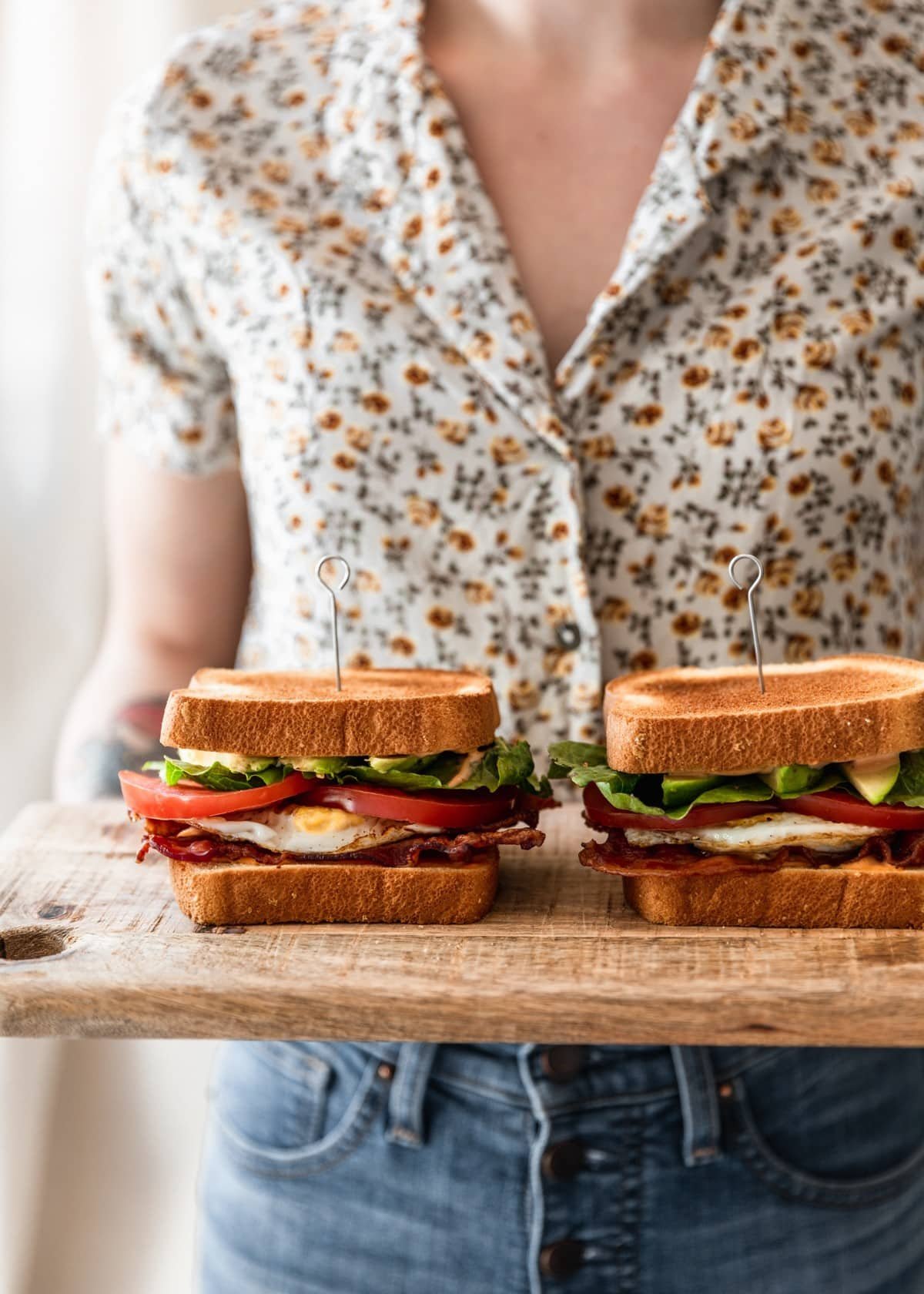 I quite possibly have a new go-to hangover food, and it's called the breakfast BLT. You wouldn't think considering 99% of the time I'm hungover, I have an aversion to any kind of fresh ingredient (even when sandwiched between bacon), and sometimes even food in general. But, a breakfast BLT with lotssss of bacon, fried eggs, and spicy mayo? I'll let the LT, and in this case, the A, go this time.
Anyways, I speak from experience, cause last weekend, Marc and I got hooked on Don't F*** with Cats and decided to try all of the flavors in Golden Road's Fruit Cart Mixer, which is only three. I don't know when I became a lightweight, but apparently, my college days are officially over.
Luckily, I came back to life with the help of hot coffee, cotton sweatpants, Broad City re-runs, and gluttony in the form of a sandwich. Not going to lie, it might be my new favorite Sunday tradition.
A few ingredients
As I'm sure you can imagine, the grocery list is pretty basic here. We're keeping it easy on Sunday mornings! Here's what you'll need for breakfast BLTs:
Eggs – one egg per sandwich! The fried eggs are essentially what makes these "breakfast" BLTs.
Bacon – I like thick-cut, good quality bacon. It makes a big difference in this sandwich! Not only does it have better flavor, but it adds a lot of texture.
Bread – we went with brioche, but sourdough, potato bread, croissants, English muffins, or any white bread would be delicious!
Tomato, lettuce, & avocado – just the basic produce! You don't have to add the avocado, but why not?
Sriracha – for our spicy mayo! You can use whatever hot sauce you like though.
A few staples – butter (or oil) for the eggs, mayo, salt, and pepper!
Let's make the sandwiches
The breakfast BLT is my ultimate weekend brunch because it requires absolutely minimal effort. We are not doing the most here! There is a time and a place for an over-the-top homemade brunch situation, but it's not here or now.
Prep – crisp up the bacon, cut the produce, toast the bread, and whisk up the spicy mayo.
Fry – next, fry up the eggs to your desired liking in either butter or olive oil.
Layer – spread the spicy mayo on the toasted bread and layer with bacon, eggs, lettuce, tomato, and avocado.
How to make perfect bacon
I've said it before and I'll say it again, oven-baked bacon is the only way. No splattering, no juggling hot oil, just perfectly crisp bacon every time!
To bake bacon in the oven, simply preheat your oven to 400°F and line a sheet pan with parchment paper or tin foil. Then, lay the slices of bacon on the sheet pan. They can touch, but don't let them overlap. Bake for 12-18 minutes, until the bacon is to your desired crispness. Thicker bacon will take longer to cook, but check at 12 minutes to prevent it from burning!
Let the bacon drain before adding it to your breakfast BLT or you'll get a soggy sandwich. Once the bacon grease is cooled you, can pour it into a can and place it in the freezer or let it solidify and scrape it into a jar. (That ish is good on lots of things!) At this point, I could pretend that your pan is going to be easy to clean, but. It's bacon fat. Sorry!
Other BLT additions to try!
The BLT is pretty straightforward, and I'm sure some people would absolutely gawk at my Sriracha-egg-avocado scenario. And yeah, I agree, don't fix it if it ain't broken, but we can still have fun right?
Lettuce – let's be honest, shredded iceberg is the best option. But, if you already have romaine sitting in your fridge (hi, me) or sprouts or arugula, go for it.
Mayo – you really can't go wrong with Sriracha. Unless you hate spicy foods, and then I guess you can? But, if Sriracha isn't for you, try adding some chipotles in adobo sauce, freshly chopped herbs, or simply cracked black pepper to your mayo!
Other additions – if you really want to get fancy, try making your breakfast BLT on a bagel, add pickled peppers, or top it with a couple slices of cheese.
Tips & Tricks
Toasting the bread – I personally like to only toast one side of the bread so that the outside of the sandwich is nice and crispy and the inside is soft and doughy. Trust me, it works! Of course, you can always toast both sides or even fry the bread up in a little bacon fat. Do you!
Salt your tomatoes – bacon is salty, but you can't neglect your tomatoes. Give them a little salty sprinkle. Maybe some pepper too.
Spicy mayo everywhere – I'm talking top and bottom here, people. Spread it thick and spread it good.
Buy the right bacon – If you're going to do it, then do it. Get the good thick-cut bacon! Layer it, or even double layer it, this is your sammie after all.
The egg – when fried over easy, the yolk pours over the bacon and it's absolutely messy and beautiful and decadent. But, over medium is incredible too, because the yolk just becomes the most gorgeous creamy texture. Whatever you do, don't skip on the egg. It's what makes it breakfast after all!
More delicious brunch recipes!
Everything Bagel Breakfast Salad
Make Ahead Breakfast Burritos
Poppy Seed Pancakes + Blood Orange Curd
Bacon Hash Skillet with Runny Eggs & Harissa
Croque Madame Galettes with Everything Crust
---
Breakfast BLT with Avocado & Spicy Mayo
This breakfast BLT combines bacon, lettuce, tomato, runny eggs, spicy mayo, and avocado for a rich, cozy sandwich. Simple and classic, this will be one of your new favorite breakfasts!
Ingredients
Spicy Mayo
1/2 c mayonnaise
1 Tbs Sriracha, plus more to taste
Breakfast BLT
1/2 lb thick-cut bacon
4 eggs
2 Tbs unsalted butter, or olive oil
8 slices of brioche, or bread of choice
4 lettuce leaves, or shredded lettuce
1 tomato, thinly sliced
1 avocado, thinly sliced
Salt and pepper, to taste
Instructions
Spicy Mayo
To make the spicy mayo, whisk together the mayonnaise and Sriracha in a small bowl until combined. Taste and add more Sriracha, as desired.
Breakfast BLT
Preheat the oven to 400°F and line a sheet pan with parchment paper or tin foil. Place your bacon on the sheet pan. The slices can touch, but don't let them overlap. Bake for 12-18 minutes, until your bacon is nice and crispy. Once cooked, let the bacon drain on a plate or paper towels.

Next, melt 1 Tablespoon of butter (or oil) in a pan over medium heat. Crack two of the eggs into the pan, and fry until desired doneness. Repeat with remaining butter and eggs. While the eggs are frying, toast the bread in the hot oven or in a toaster. (Alternatively, you can fry the bread in the leftover bacon fat).

Spread the spicy mayo on one side of each slice of the toasted bread. On one piece of bread, layer 3-4 slices of bacon with a fried egg, one leaf of lettuce, a couple slices of avocado, and a couple slices of tomato. Don't forget to salt and pepper the tomato! Top with another slice of bread. Repeat with remaining sandwich ingredients. Serve with fresh fruit and coffee. Enjoy!
Notes
I personally like 1 1/2 Tbs. of Sriracha in my spicy mayo. If you're sensitive to spice, start with 1/2 Tbs. and work up from there. Use the leftover bacon fat in salad dressings, on potatoes, or to fry bread/eggs! I toast the bread in the oven while the bacon is baking, about 5 minutes.
Serving: 1sandwich, Calories: 694kcal, Carbohydrates: 23.4g, Protein: 29.4g, Fat: 54.1g, Saturated Fat: 16.4g, Cholesterol: 249mg, Sodium: 1775mg, Potassium: 703mg, Fiber: 4.1g, Sugar: 3.8g, Calcium: 70mg, Iron: 3mg
xo Sara Lynn
*Song of the day: All We Ask by Grizzly Bear