Cadillac Cranberry Margaritas
Cadillac cranberry margaritas are mixed up with reposado tequila, lime juice, orange liqueur, and cranberry juice with a float of Grand Marnier. On the rocks with salt (obviously). A simple, festive, and boozy cocktail for the holidays!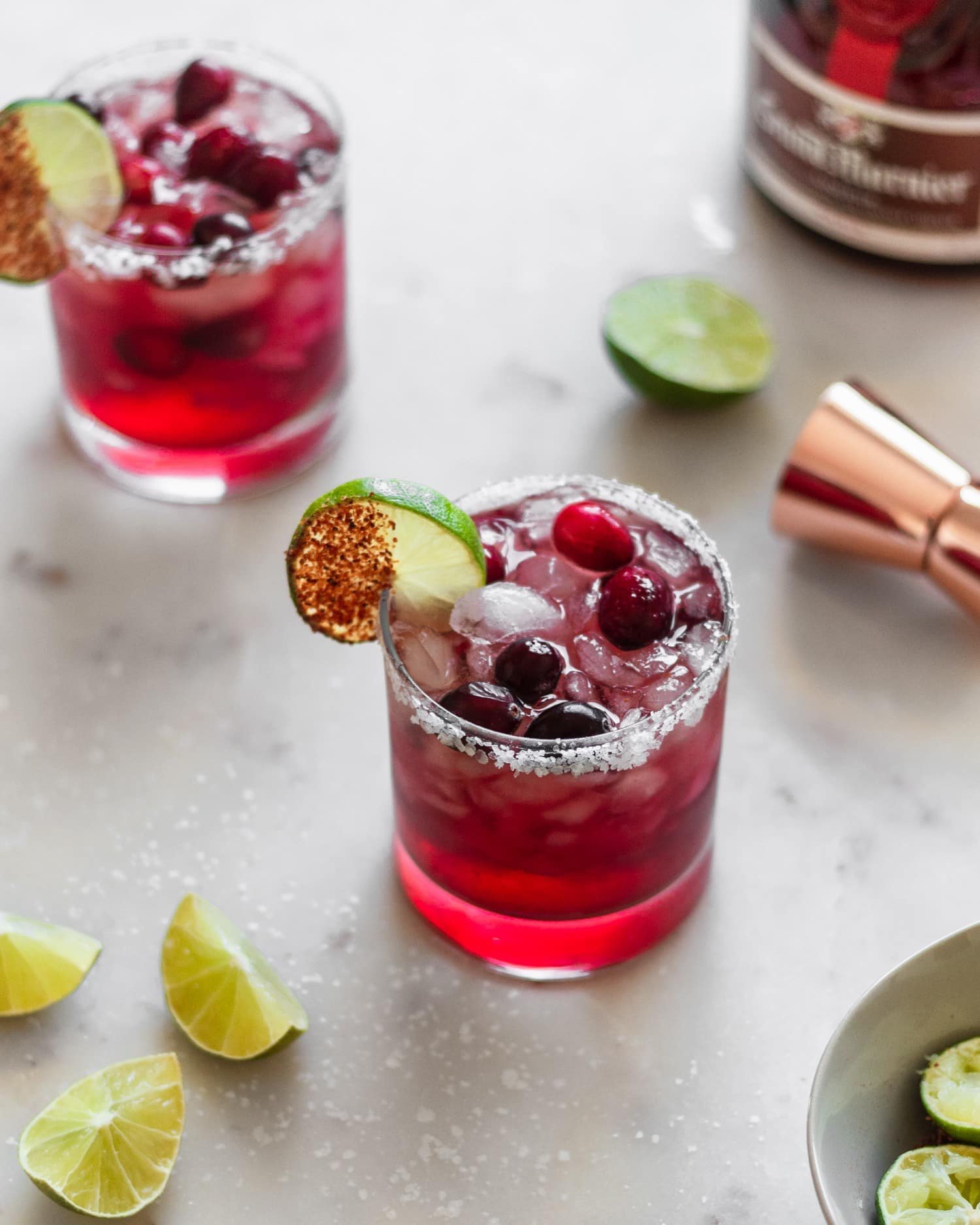 Well, the holidays are quickly approaching, and this year is going to be a little weird. Seems like we should get extra silly with some margaritas, no?
A few weeks ago, I had the opportunity to meet a super cool professional bartender and learn how to make a few drinks from him! As much as I love home bartending, I have yet to get to the point where I use smoke and vapor and fire to make show-stopping drinks. Most of my cocktails are citrus-heavy, a little extra boozy, and a pretty, aesthetically-pleasing color. You know, crowd pleasers! Not that this cranberry margarita isn't all of those things. But, I got some cool tips on how to make a perfect Cadillac cranberry margarita, so that's what I'm going to do here for you today!
About these cranberry margaritas
If we're being completely honest, typing out a margarita recipe on the Notes section of my phone after a few cocktails was an exercise of perseverance. But, I managed to decipher my tipsy texting, and here we are. After a few tweaks, I think we finally have a perfect rendition of Cadillac cranberry margaritas. It's a hard job, but someone's gotta do it.
These cranberry margaritas have everything. A nice mix of sweet simple syrup with tart cranberry and lime. A good dose of reposado tequila. Just a tipple of Grand Marnier. Plus a couple little secrets to take this margarita over-the-top. It's the best! You must make them for Thanksgiving, Christmas, or holiday parties, cause you and your friends need them, ok?
Thanks to Joe for helping me create this recipe! Let's have some tequila-fueled fun now, shall we?
The ingredients
You only need a few ingredients to make Cadillac cranberry margaritas! Here's the full ingredient list:
Reposado tequila – reposado is lightly aged in oak barrels so it has a bit of a floral, wood flavor. You can always use blanco (silver) if you prefer! You can also use mezcal for a smoky flavor.
Simple syrup – store-bought or homemade. I usually just make my own, it's so easy. Just boil equal parts sugar and water until syrupy and cool before using in cocktails.
Lime juice – freshly-squeezed. Trust me, this recipe will not work with bottled lime juice!
Triple sec – this is an orange liqueur that will add to the citrus flavor in these margaritas.
Unsweetened cranberry juice – cranberry cocktail usually has juices like pear and apple which will affect the overall flavor and sweetness. Make sure you're using 100% unsweetened cranberry juice!
Grand Marnier – an orange liqueur with Cognac which we'll use for a float.
Tajin – to add a little kick. Totally optional!
Salt – for the rim.
Shake, shake, shake it
Which is my dumb, 2000s pop-punk way of saying "let's make a cranberry marg"! Here's how to do it.
Start by shaking a bit of salt onto a plate or a shallow bowl. Next, rub the rim of a rocks glass or margarita glass with a wedge of lime, and dip the rim of the glass into the salt. Fill the glass with ice!
Then, to a cocktail shaker, add the tequila and simple syrup.
Next, add the lime juice, Triple sec, and a shot of unsweetened cranberry juice! At this point, I also like to add a small pinch of salt to balance all the flavors, but that's totally optional.
Next, add a handful of ice to the cocktail shaker, and shake it up until the outside is frosty, about 30 seconds. Pour the margarita into the glass.
Finish the cranberry margarita with a float of Grand Marnier (about one ounce). Garnish with a lime wheel. If you like chili, you can dip the wheel of lime halfway in a dash of Tajin. Drink and enjoy!
Cadillac vs. regular margaritas
If you've ever wondered what makes a margarita 'Cadillac' in the first place, the short answer is that it's an elevated margarita using premium ingredients. First of all, Cadillac margaritas have a float of a float of Grand Marnier where regular margaritas don't.
Cadillac margaritas also use a high-end reposado tequila to complement the the Cognac in the Grand Marnier. With regular margaritas, you can use any tequila (or mezcal) that you like. Lastly, Cadillac margaritas have Triple Sec and Grand Marnier (both orange liqueurs). Regular margaritas sometimes have Triple Sec but not always!
A couple of variations!
If cranberry isn't your thing, you have a couple of other options. Pomegranate would make an excellent sub, and so would unsweetened grapefruit juice! Basically any tart juice would work here.
In terms of tequila, I like the reposado, which is a blanco tequila aged in oak barrels. The oak adds a lovely aged, vanilla flavor without spending beaucoup bucks on añejo tequila. Some margarita aficionados claim the secret of a Cadillac marg lies in the quality of the tequila, but I used a mid-tier option with great results. Also, if you want a "smoky" flavor, sub the tequila with mezcal!
Now, let's talk about Grand Marnier. It's a bit on the pricey end of the booze spectrum but I think it's totally worth it! First off, it lasts forever. And second, it's basically what makes a margarita "Cadillac". However, if it's not your thing, you can always use a splash of Cointreau or Triple Sec. Or, just leave it out all together and go with a regular cranberry margarita!
For a (slightly) spicy version, mix the margarita salt with a few dashes of Tajin. The chili in the Tajin adds a nice smoky, mildly spicy flavor.
If you don't have a cocktail shaker
I know that not everybody has a cocktail shaker laying around. If you're looking for an alternative, just use a mason jar! First, add all the ingredients to the jar with ice, screw on the lid, and shake. Then, strain the cocktail through a fine mesh strainer into the glass. Or, just pour the entire cocktail (ice and all) into the salted glass. V easy!
A make-ahead pitcher version!
As fun as it seems to play bartender all night while also cooking an entire Thanksgiving dinner, your best bet is to go with a pre-made pitcher margarita. So, I basically just figure out how many cocktails I want to make, and shake the ingredients up in a pitcher. Then, when it's time to serve, just salt the glasses, give the Cadillac cranberry margaritas a quick stir, pour over ice, and finish with a float of Grand Marnier. To make things a little easier, here are the measurements for eight cocktails:
1 1/2 cups of reposado tequila
3/4 cup simple syrup
1/2 cup of freshly squeezed lime juice
3/4 cup Triple Sec
1 1/2 cup unsweetened cranberry juice
A few pinches of salt
Grand Marnier, for floating (about 8 ounces)
A few tips & Tricks
Remember that pinch of salt that I talked about? You should definitely do that! Because of the sweetness of the simple syrup and booze, the saltiness adds a nice balance and enhances the cranberry and lime flavors.
When you're making the margs, throw the leftover lime wedge into the shaker. I like to do this because the oils from the peel will give the cocktail a deep citrusy flavor.
When it comes to shaking up the cranberry margaritas, you'll want to add a handful or two of ice, and shake it rapidly. Do this for about 30 seconds, or until the outside of the shaker is very cold and frosty.
Chill the glasses for about 30 minutes before mixing up the cocktails. It will make the Cadillac cranberry margaritas extra cold and keep them from getting watered down.
more holiday cocktails!
Eggnog White Russians
Blood Orange Bourbon Aperol Cocktails
Winter Sangria with Pears & Pomegranate
Apple Cider Bourbon Cocktail
Sage Greyhound Cocktails
Vegan Irish Coffee with Coconut Cream & Hawaij
Thyme French 75
If you make this recipe, I would love it if you left a star rating and review! I read every single comment and love hearing what you think about my recipes. Thank you for supporting Sunday Table!
---
Cadillac Cranberry Margaritas
Tart, sweet, and citrusy Cadillac cranberry margaritas are a unique and boozy cocktail for the holidays! They are simple to mix up and always a crowd-pleaser!
Ingredients
1 1/2 oz reposado tequila
3/4 oz simple syrup
1/2 oz lime juice freshly squeezed
3/4 oz Triple Sec
1 1/2 oz unsweetened cranberry juice
Grand Marnier to float
Lime wheels/wedges, Tajin, margarita salt, and cranberries for serving
Instructions
Shake some salt onto a small plate or shallow bowl. Rub the rim of a rocks glass or margarita glass with a lime wedge. Dip the rim of the glass in the salt, and fill the glass with ice. Dip half of a lime wheel into a bit of Tajin and set aside (optional).

In a cocktail shaker, combine the reposado tequila, simple syrup, lime juice, the leftover wedge of lime, Triple Sec, cranberry juice, and a pinch of salt. Fill the cocktail shaker with a handful or two of ice. Cover, and shake vigorously until the outside of the shaker is very cold and frosty, about 20-30 seconds.

Strain the margarita into the prepared glass. Finish with a float of Grand Marnier (about 1 ounce). Garnish with a few cranberries and the Tajin-coated lime (or a regular lime wheel). Enjoy!
Notes
If you're not a fan of cranberry juice, try unsweetened pomegranate or grapefruit juice. Add the leftover wedge of lime to the cocktail shaker. When shaking, the oils from the lime peel will add a lovely, more complex flavor! If you can't find reposado tequila, use blanco tequila or mezcal if you like a smoky cocktail.
Serving: 1cocktail, Calories: 259kcal, Carbohydrates: 18g, Protein: 0.1g, Sodium: 149mg, Potassium: 50mg, Fiber: 0.1g, Sugar: 27g, Calcium: 2mg
xo Sara Lynn
*Song of the day: Desire Lines by Deerhunter