Cornbread Stuffing with Sausage & Sage
This homemade cornbread stuffing with sausage and sage is the Thanksgiving dish I dream about all year long. With shallots and lots of fresh herbs, it's flavorful, super easy to throw together, and reheats like a dream!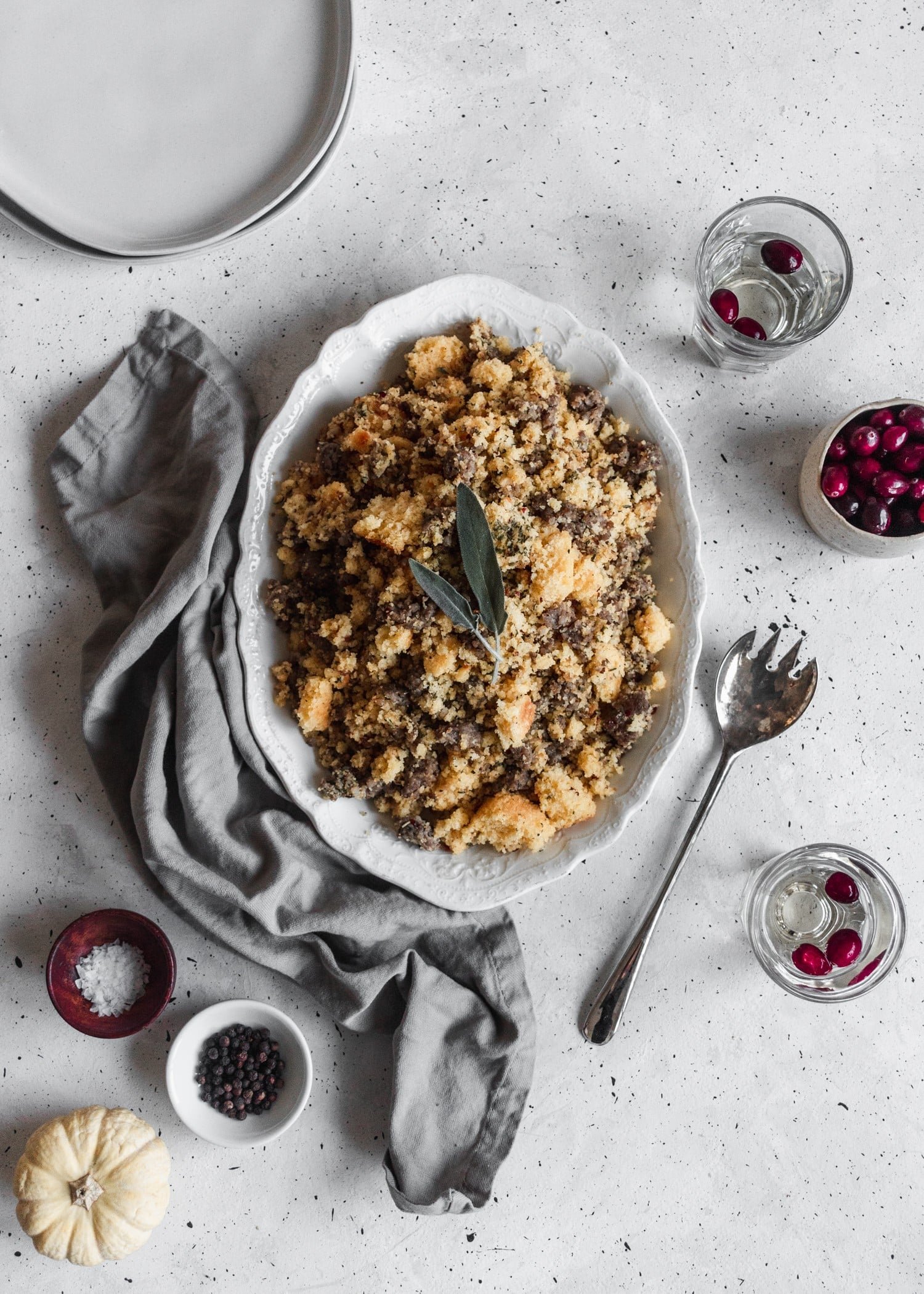 It's the most wonderful time of the year a.k.a. Thanksgiving a.k.a. my favorite holiday ever! I don't think there's anything better than listening to music and cooking all day and eating and drinking for hours and hours and hours. And now that Marc and I are celebrating our first holiday in our new home, we're really going all-out in terms of food. The holidays are going to be a little different this year, but I'm going to cook a million things regardless and live off of leftovers until I start baking Christmas cookies.
The best cornbread stuffing
Every year, the dish that I get most excited for is stuffing. I know that stuffing is divisive and if you're a stuffing-hater, I really do get where you're coming from. Stuffing can be mushy and bland and weird and not at all what you want to be filling your plate with when there are a million other good options.
But, this stuffing is different, and I know you're rolling your eyes now like, "yeah yeah I've heard that before" but I wouldn't lie to you. This stuffing is courtesy of my mom, and she's been making it since before I was even a thought bubble in her mind. It's filled with homemade cornbread, sausage, and all the fresh herbs, and we have to double (sometimes triple) it every year so that we can all enjoy leftovers on our turkey sandwich the next day.
This cornbread stuffing is also like, the easiest recipe ever and reheats beautifully if you want to make it in advance. Maybe I'm overselling it at this point, but truly, it's the best stuffing ever.
Here's the ingredients you're going to need!
The ingredient list here is pretty basic, but just a quick head's up that you're going to need to make some cornbread! Truth be told, I use the recipe on the back of the Alber's box, but any cornbread will do. If you really want, you could even go store-bought, and I wouldn't even judge you for it.
Cornbread – store-bought, boxed, or homemade all work!
Sausage – part of the charm of this stuffing is that we're using breakfast sausage. It's completely unfussy, simple, and adds tons of delicious flavor. If you're not into the breakfast sausage thing, you could always go with Italian sausage or the like. Just don't get maple-flavored or anything too crazy!
Veggies – shallots & a few celery stalks.
Herbs – sage, thyme, rosemary, parsley, and garlic. All fresh!
Chicken broth – this will keep the stuffing from getting dry.
Kitchen basics – butter or oil, red pepper flakes, Kosher salt, and freshly-ground black pepper.
Let's make stuffing!
First thing's first, you're going to want to start off by making some cornbread! You could even do this a day or two in advance if you want to save the oven space. (In fact, I recommend making the cornbread in advance but more on this later).
To make the stuffing itself, you're going to start off by cooking the breakfast sausage, using a spatula to crumble the meat. Place the sausage in a bowl, and set aside.
Add a little oil or butter to the pan if necessary, and cook the shallots and celery until very soft, about five minutes. Then, add the sage, thyme, rosemary, and garlic and cook for about 30 seconds.
Crumble up the cornbread and add it to the pan with the sausage, salt, and pepper.
Add chicken broth, about 1/4 cup at a time, to add a little moisture. Remove from heat, and stir in the parsley and red pepper flakes. The end!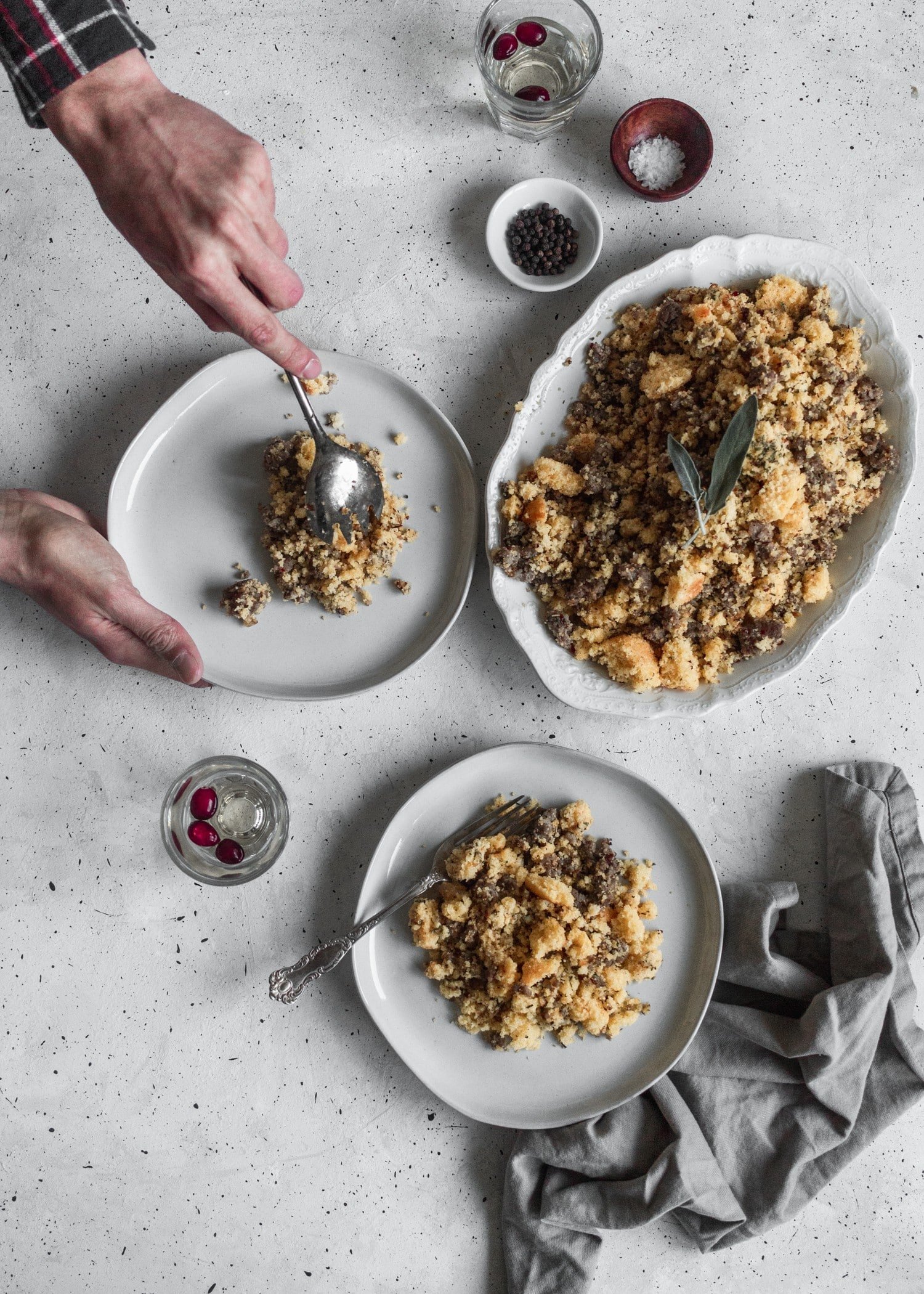 A make ahead option
If you want to save precious time on Thanksgiving Day, no worries at all! Cornbread stuffing is beyond easy to make ahead, and reheating it is a breeze. Just make the stuffing up until the point where you stir the cornbread, sausage, and herbs together. Don't add the chicken broth!
Let the stuffing chill in an airtight container in the fridge overnight. When you're ready to warm it up, just add a little chicken broth and bake for 30 or so minutes at 350°F until warm. Then, right before serving, stir in the parsley and red pepper flakes. Easy peasy!
For my vegetarian friends
Don't worry, I got you! I know that I have vegetarian friends here, and some people just aren't into sausage. If you want to make this dish veg friendly, simply leave out the sausage. It'll still taste just as delicious! However, if you want to add a little bulk to make up for the meat, you can always add some chopped mushrooms, sautéed apples, Brussels sprouts, or any other vegetable you enjoy.
Serving & leftover ideas
Personally, I just serve cornbread stuffing as a stand-alone side dish, but you have options here! One recipe will yield enough stuffing to fill an 8 pound turkey. If you have anything over 12 pounds, I would probably recommend doubling the recipe.
In terms of leftovers, my favorite is the classic post-Thanksgiving turkey sandwich with cranberry sauce, mayo, and provolone on toasted sourdough! I've also eaten leftover stuffing for breakfast the next day topped with runny eggs. Of course, there are a million ways the internet has come up with to eat leftover stuffing, but my favorite idea in particular might just be the Thanksgiving poutine, because wowowow that sounds insane!
Tips & tricks
Cornbread prep! If you have time in between cleaning the house and setting the table the night before Thanksgiving, I would recommend making the cornbread! I like the cornbread to dry out a bit so that it doesn't become a soggy mess in the pan. Trust me, it's the only way! Plus, it saves you cooking stress day-of.
Use just the right amount of chicken broth. You don't want the cornbread stuffing to be dry, but you also don't want it to be soggy. I like to add chicken broth about 1/4 cup at a time, so that it comes together and gets perfectly *moist*. When in doubt give it a taste! If the texture is sandy/stale, add more chicken broth. But, don't let it get to the point where the broth is puddling at the bottom of the pan!
Don't over-season. With the cornbread, sausage, and chicken broth, it's easy to over-salt this stuffing. Start by salting the veggies while they're sweating, and taste test as you go. You can always add more salt later!
Go easy on the crumbling. Crumble the cornbread into large chunks so that when you fold it in with the rest of the ingredients, it doesn't turn to mush.
Brown = flavor. Don't undercook the shallot-celery mixture! Let it get soft and browned on the edges. It adds a nice deep flavor and the veggies won't be undercooked and crunchy.
Oh look, I planned out the rest of your Thanksgiving side dishes too!
Cheddar Mashed Potatoes with Rosemary
Crispy Brussels Sprouts with Fried Shallots, Bacon, & Dijon Vinaigrette
Farro Salad with Acorn Squash, Kale, & Pomegranate
Turmeric & Za'atar Roasted Carrots
If you make this recipe, I would love it if you left a star rating and review! I read every single comment and love hearing what you think about my recipes. Thank you for supporting Sunday Table!
---
Cornbread Stuffing with Sausage & Sage
Cornbread stuffing with sausage & sage is the side dish I look forward to most every Thanksgiving! Delicious, quick to throw together, and it's a breeze to make ahead and reheat.
Ingredients
16 oz package breakfast sausage
2 tbs neutral oil or butter
2 large shallots (or 1 onion) finely diced
2 large celery stalks finely diced
2 garlic cloves minced
1 1/2 tsp fresh sage finely chopped
1 1/2 tsp thyme leaves
1 tsp rosemary finely chopped
4 c corn bread crumbled
1/2-1 c chicken broth
1/4 c fresh parsley finely chopped
1/2 tsp Red pepper flakes more or less to taste
Salt and pepper to taste
Instructions
In a large pan, cook the sausage over medium-high heat, crumbling it with a spatula, until no longer pink. Place the sausage in a bowl and set aside.

If the pan is dry, add the oil or butter and let heat. Add the shallots, celery, and a pinch of salt. Cook until the shallot and celery are soft and starting to brown on the edges, about 5 minutes. Add the garlic, sage, thyme, and rosemary and cook for another 30 seconds, until everything is nice and fragrant.

Reduce the heat to medium, and add the cornbread along with the cooked sausage. Gently fold all of the ingredients together, being sure not to crumble the cornbread too much. Add chicken broth about 1/4 cup at a time, until the stuffing is moist (but not soggy)!

Add the fresh parsley, red pepper flakes, and lots of freshly ground black pepper. Taste, and add more salt if necessary. Serve hot!

To make ahead:Make the stuffing up to the point where you mix the cornbread and sausage into the veggie-herb mix. Don't add the chicken broth! Let cool to room-temperature, and store the stuffing in an airtight container in the fridge.To reheat:Preheat the oven to 350°F. Place the stuffing in a greased 9×13 baking dish. Add the chicken broth, 1/4 cup at a time until the mixture is perfectly moist. Bake for 30 minutes, or until nice and warm. (Check halfway through baking time that the stuffing isn't drying out. Add more chicken broth if necessary). Stir in the parsley, red pepper flakes, pepper, and salt to taste.
Notes
Crumble the cornbread in larger chunks so that when you fold it in with the rest of the ingredients, it does not get too mushy. Add chicken broth slowly to ensure the stuffing doesn't get soggy. If you're vegetarian, or not a fan of sausage, just leave it out or add mushrooms, Brussels sprouts, etc.!
Serving: 1scoop, Calories: 426kcal, Carbohydrates: 46.9g, Protein: 12.6g, Fat: 20.1g, Saturated Fat: 4.5g, Cholesterol: 47mg, Sodium: 528mg, Potassium: 306mg, Fiber: 1.5g, Sugar: 5.3g, Calcium: 97mg, Iron: 2mg
xo Sara Lynn
*Song of the day: Motion Sickness by Phoebe Bridgers