London Fog Tiramisu with Lavender
No-bake London fog tiramisu made with lavender earl grey tea, delicate mascarpone cream, and a light dusting of cocoa powder. A simple, light, and delicious dessert for dinner parties and get-togethers.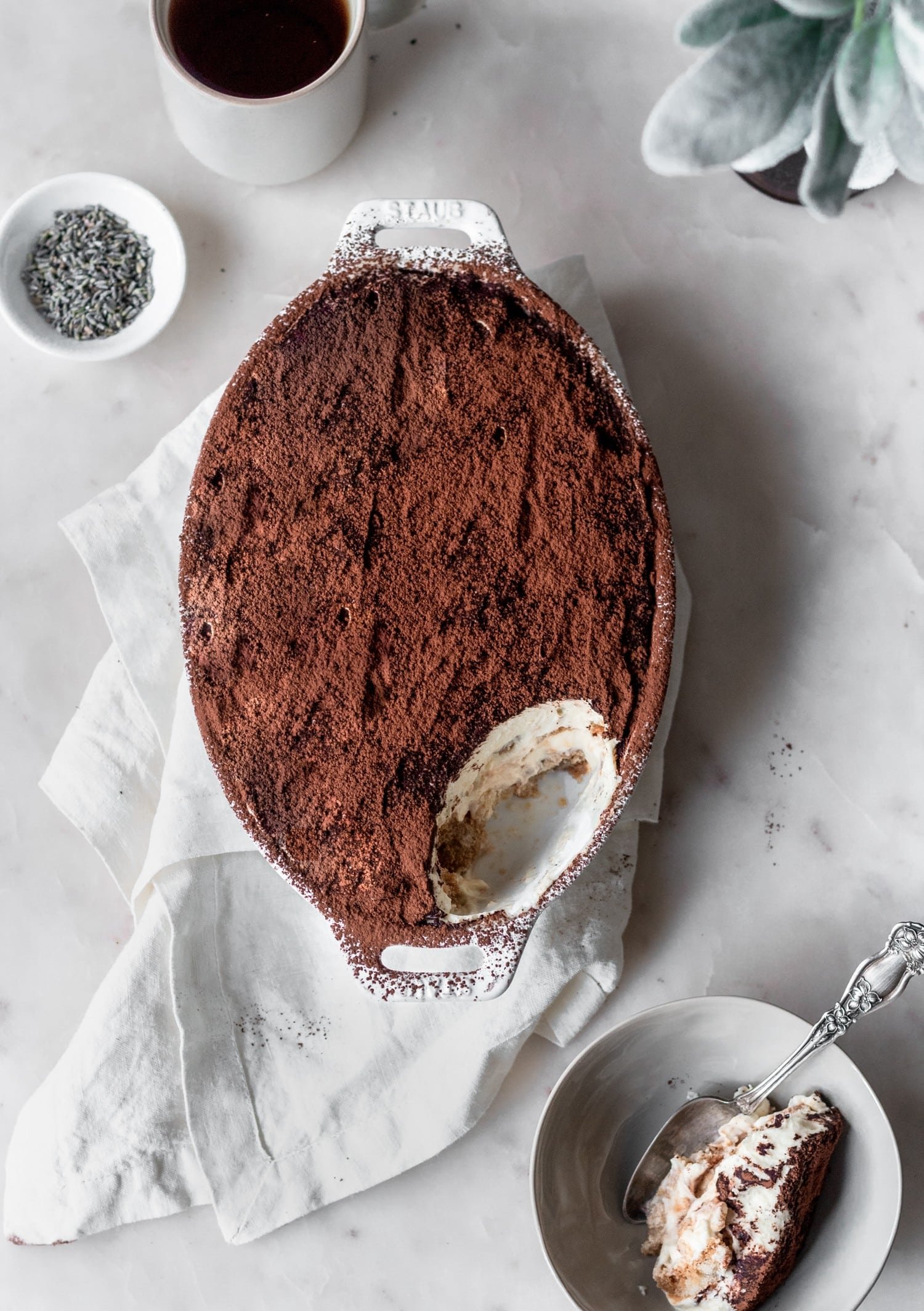 I have had the craziest past few weeks with lots of fun travel! First, there was Boston where I ate lots of pasta and had one of the best breakfasts of my life at Tatte. Then, I went to Portland and got to visit one of my favorite breweries, Ecliptic, which is very conveniently located next to ¿Por Qué No? which has the most delicious carnitas. Now, I'm off to Sacramento tomorrow where Marc and I will see Mac DeMarco as a very late V-Day present. After, we will drive back to Reno and then wake up a few hours later to get on a plane to Vegas! Once we land, we head straight to Marc's brother's law school graduation. And then I will probably sleep for hours and hours and hours.
However, I will not sleep too long, because I do have some very important plans which include hitting up my fave Indian restaurant, finding a dress for Marc's cousin's wedding, and then trying Gabi! Apparently Gabi is the hippest new bakery in town. And I have all kinds of new coffee shops to try!!
Now let's talk about London fog tiramisu! London fogs remind me of perfect, rainy spring days and also the actual city in England. The London part makes no sense because my reliable sources (re: Google) tell me that the drink was invented in California. Which is more on-brand anyways since I live about 20 minutes from the state border. Other than that, apparently London fogs have absolutely no connection to the actual city. But in the end, it doesn't matter because earl grey + milk + vanilla = a totally perfect drink.
On another note, does anyone else have a love-hate relationship with tiramisu? I kind of love it, especially the intense coffee flavor, but I feel like it can also be a very "meh" dessert. I have had tiramisu that is wayyyy too strong and some that's borderline soupy. But, I've also had tiramisu that was dreamy and cloudy and perfect. And then I made London fog tiramisu and it's the best of all worlds!
I wanted to create a tea-ramisu, if you will, using matcha but I feel like that's been said and done. There was also a brief chai phase, but I eventually moved on from that idea. And somehow I landed on the idea of a London fog tiramisu and the idea never left my head. That was honestly probably a year ago. So even though it took me a whole year to get here, we finally have London fog tiramisu, and it was v worth it!
London fog tiramisu is light, delicate, velvety, and perfect. Also, I added lavender which gives it this beautiful hint of floral. I get loose-leaf lavender and earl grey tea at a local shop, but you can find it online too! (Or, you can just use regular earl grey which is totally fine). When served cold out of the fridge, it's all I want to eat on a warm spring day. And, it only takes 30 minutes to make, so really you can't lose.
London Fog Tiramisu
---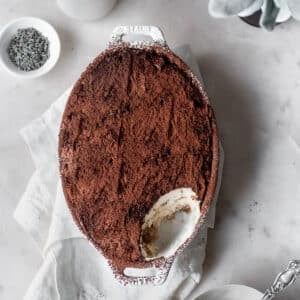 London Fog Tiramisu
Creamy London fog tiramisu makes for the perfect no-bake treat! Lady fingers, mascarpone filling, lavender earl grey tea, and a dusting of cocoa powder come together for a lovely, light dessert.
Ingredients
3 egg yolks
1/2 cup sugar
1/2 cup whole milk
1 tbsp butter
3/4 cup heavy whipping cream
1 1/2 tsp vanilla extract
1/2 lb Mascarpone cheese
2 tbsp lavender earl grey tea (regular would work too!)
2 tbsp brandy (orange liqueur would also be good)
3 oz package of lady fingers
Cocoa powder, for dusting
Instructions
In a medium saucepan, whisk together the egg yolks and sugar until well combined. Whisk in the milk, and cook over medium heat, stirring constantly, until it gets thick. Remove from heat, and add the butter. Place the custard in a bowl, and press wrap against the surface to prevent a skin from forming. Let cool to room temperature.

Meanwhile, beat the heavy whipping cream and vanilla extract until stiff peaks form. Whisk the mascarpone cream into the custard, and fold in the whipping cream until fluffy. Set aside.

In a small bowl, brew the 2 Tablespoons of lavender earl grey with 1 cup of hot water. Brew for about 4-5 minutes, until very strong. Let cool slightly. Mix in the brandy (or orange liqueur if you prefer!)

If your lady fingers are whole, cut them in half length-wise. (Mine came cut in half). Dip each half into the tea mixture, and place them at the bottom of a 8×8 baking dish (the dish I used was 8.5×5.5). Break the lady fingers in half to fill the bottom if necessary. Some gaps are ok. Spread half of the mascarpone filling over the lady fingers, and then repeat with the remaining lady fingers and cream. Refrigerate for at least four hours, preferably overnight.

Before serving, dust the top of the surface with a couple Tablespoons of cocoa powder. Serve cold with earl grey tea!
Notes
I highly recommend making this tiramisu at least a few hours in advance (preferably overnight) to let the flavors meld. I use loose-leaf tea, but tea bags are fine too! As a general rule, 1 Tbs. of tea = 1 tea bag.
Serving: 1scoop, Calories: 305kcal, Carbohydrates: 29.1g, Protein: 8.4g, Fat: 16.8g, Saturated Fat: 9.6g, Cholesterol: 183mg, Sodium: 85mg, Potassium: 153mg, Fiber: 0.7g, Sugar: 18.1g, Calcium: 131mg, Iron: 1mg
---
xo Sara Lynn
*Song of the day: Skyless Moon by Mac DeMarco