Marc's Meatball Subs with Garlic Rolls
Meatball subs with homemade fried meatballs, marinara, garlic bread, and lots of melty mozzarella. These come together in about 30 minutes for the perfect Sunday dinner.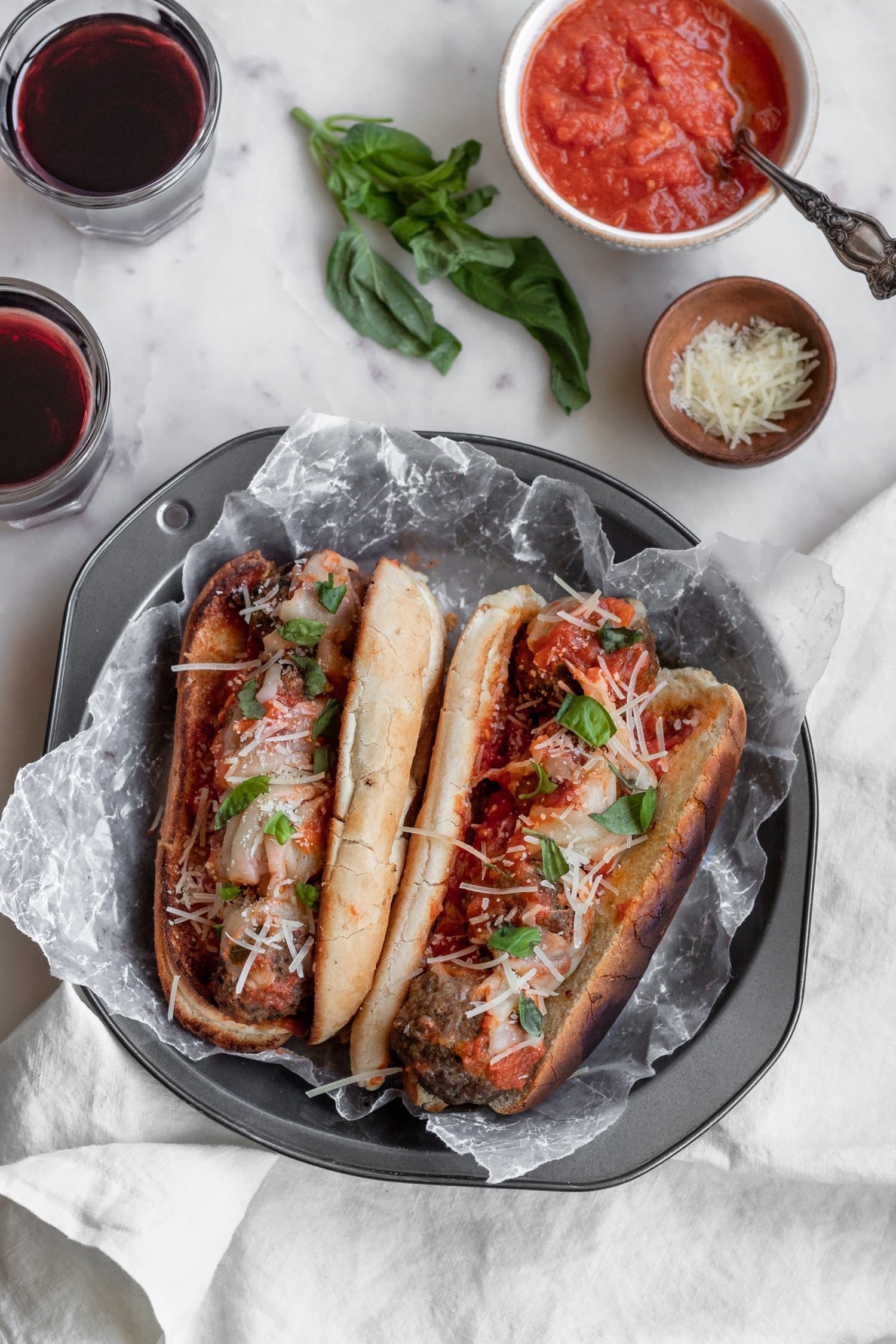 I was thinking about forcing Marc to write a post, but he's an electrical engineer, so writing is his personal hell. And I knew asking him to do such a thing would be taking advantage of my girlfriend privileges. So, it's just more of me, you're welcome. BUT for a change, I have a recipe that isn't one of mine and is in fact, one of my boyfriend's.
Marc's family is Italian and they are incredible cooks. Like, I dream of their ravioli. The first family event I attended was actually his great grandfather's 96th birthday party, and I met a large chunk of his family. This was actually only a few weeks after we started dating. But, coming from a big family, this was not overwhelming for me, and the food was insane. We ate an entire meal, and then at approximately 11 p.m., there were ribs and grilled chicken out of nowhere. We stood around the bar eating ribs and drinking old-fashioned, it was perfect. And, I've already told you about his family's First Thanksgiving and Second Thanksgiving.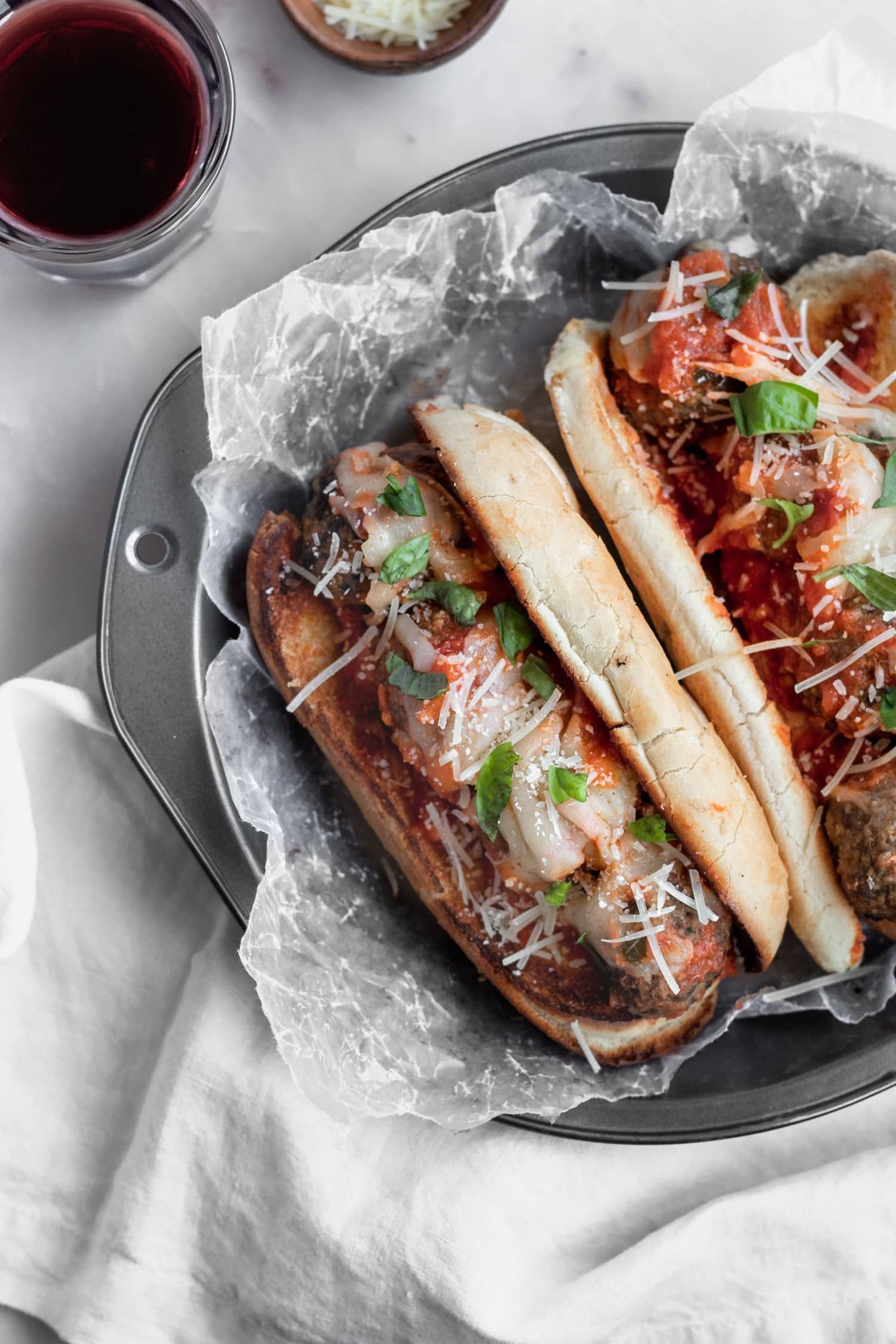 So now you have proof that Marc's family can cook. But, since I am mainly the cook in our relationship, I had always been under the impression that his cooking capabilities were that of most men in their early 20s. That is, can boil pasta, throw stuff in a crockpot, and pour cereal. But one day, he was telling me all about his amazing meatball subs. How he fries the meatballs. And cuts them before placing them on the sandwich for the perfect melty-cheese distribution.
And I was like ???????? Why haven't you made meatball subs for me?
So, he made meatball subs using his grandma's meatball recipe and his slice-and-cheese technique. Team, they were SO GOOD. I am not even being biased. The meatballs were tender and had a perfect crunch. There was a ton of melty mozzarella. The rolls were garlicky and soft. And I won't lie to you, this was my first time actually having a meatball sub. But, I think I'm ruined from any possible meatball subs I may have in the future. These are perfect and come together in about 3o minutes. They are the ideal Sunday dinner recipe.
For the intents and purposes of the blog, Marc made up his own measurements, because like most Italian grandmothers, his just eyeballs everything. He also fried them, but they are very easily baked if you want a hands-off dinner solution. We used the three ingredient sauce from Modern Proper. But any marinara will work. Lots of Parmesan and mozzarella is non-negotiable.
Marc's Meatball Subs
---
Marc's Meatball Subs
Meatball subs with garlic rolls are the perfect Sunday dinner that can be put together in about 30 minutes!
Ingredients
For the meatball subs…
2 lb ground beef (80%/20%)
3 cloves garlic, minced
2 tsp parsley
2 large eggs
1/4 cup Parmesan cheese
1/2 cup breadcrumbs
2 tbsp milk
Salt and pepper, to taste
Oil, for frying
For the sandwiches…
4 soft hoagie rolls
1/4 cup butter, softened
2 cloves garlic, minced
1 cup marinara sauce
1 cup whole milk mozzarella, shredded
Basil and Parmesan, for serving
Instructions
Add the ground beef, garlic, parsley, eggs, Parmesan, and 1/4 c. of breadcrumbs to a large bowl. Using clean hands, mix everything together until it's thoroughly combined. Add the milk to soften the breadcrumbs a bit. Mix in up to 1/4 c. more breadcrumbs, until the mixture holds and doesn't stick to your hands. Roll the meat mixture into 2 Tablespoon-sized meatballs.

Heat 1/4-inch of neutral cooking oil in a large skillet over medium heat. Fry the meatballs making sure not to crowd the pan. Roll them around to ensure they get evenly cooked, about 10-15 minutes. Alternatively, you can bake them at 350* F for about 30 minutes. Test a meatball with a meat thermometer – they should reach 165* internal temperature.

Heat the broiler on the oven. To make the sandwiches, begin by combining the butter with the garlic. Split the rolls in half, and spread 1/2 Tablespoon of garlic butter on each side of the hoagie rolls.

Spoon a few tablespoons of marinara sauce on each hoagie roll. Slice 3-4 meatballs per sub, and fan them evenly over the marinara sauce. Sprinkle the mozzarella over the meatballs. Broil for 3-4 minutes, until the cheese is melted and bubbly. Garnish with basil and Parmesan. Enjoy!
Notes
You will probably have leftover meatballs. Use them in pasta or soup, or freeze them in an airtight container for up to 2 months!
Serving: 1sandwich, Calories: 687kcal, Carbohydrates: 42.7g, Protein: 40.4g, Fat: 39.9g, Saturated Fat: 11.2g, Cholesterol: 195mg, Sodium: 800mg, Potassium: 636mg, Fiber: 3.4g, Sugar: 9g, Calcium: 204mg, Iron: 6mg
---
xo Sara Lynn
*Song of the day: Patience by Tame Impala