Pumpkin Crème Brûlée Tart
A smooth and creamy spiced pumpkin crème brûlée tart with buttery shortbread crust and a caramelized, crackly lid. This tart is beyond delicious and may just be my new favorite dessert!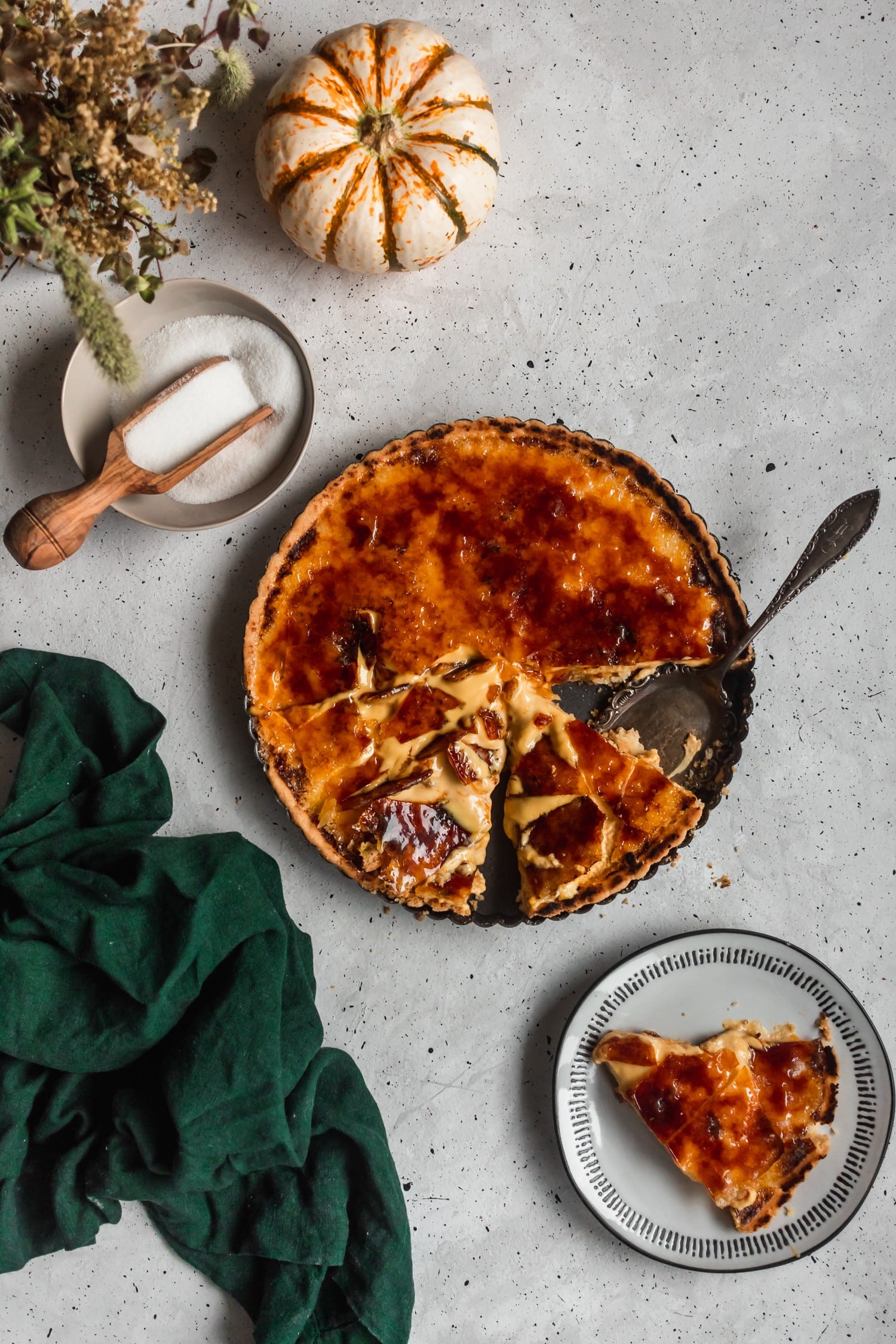 I know most of the food blog corner of the internet is completely gingerbread-spiced, eggnog-scented, and peppermint-flavored right now, but I truly couldn't help myself from sharing this pumpkin crème brûlée tart. It's too damn good. I would probably be doing all of my readers a disservice by not sharing this recipe? But I promise, I'll bake some cookies this weekend and stare at my Christmas tree a little more, and get into the holiday spirit soon enough. Just bear with me for a second.
The inspiration for this tart came from a variety of places. First off, crème brûlée is probably my favorite dessert. It's everything I could ever want in one tiny ramekin. I ask for it on my birthday every year! Also, I kept seeing brûléed pumpkin pies all over Instagram, and I was like, "But what if we put literal crème brûlée in a pie crust?!"
Turns out if was already a thing.
So I made it pumpkin-flavored. The end!
JK Not the end, we need to discuss ingredients
This tart screams elegant, but ingredient-wise, she's a simple gal. Kind of like the Meryl Streep of pies! For the shortbread crust, make sure you have the absolute basics: all-purpose flour, salt, white sugar, and very soft unsalted butter.
The filling is made up of egg yolks, white sugar, heavy whipping cream, cinnamon, pumpkin pie spice, vanilla extract, and pumpkin purée. That's it!
Oh, and you'll need a little extra sugar for the caramelized top a.k.a. the best part!
Let's make a pumpkin crème brûlée tart
I know many people find making crème brûlée a little overwhelming, but I promise, it's beyond easy. In fact, I think this tart is even easier, because you don't have to scoop the custard into little ramekins, deal with a water bath, etc. You simply pop the pudding into the crust, and bake away! Basically a regular tart but this is way better. Let's get started.
Step one: The shortbread crust
While many tarts traditionally use more of a pie-crust type dough, I really wanted the crunchy, sweetness of a shortbread. Which is good, because shortbread is the easiest crust ever and requires no rolling.
Simply cream the butter and sugar together, add the flour and salt, and press the dough into the pan. You don't even need to use pie weights. Yay!
Bake at 350°F until lightly golden brown, about 20 minutes. Place the crust on a rimmed baking sheet and set aside for later.
Step 2: The custard
If you thought the crust was simple, the custard might be even more foolproof. Start by whisking together the egg yolks and sugar until thick and pale yellow. Then, heat the heavy whipping cream with the cinnamon and pumpkin pie spice until simmering. Remove from heat.
Whisking vigorously, add about 1/3 cup of the cream mixture to the egg mixture to temper the eggs and prevent them from scrambling. Continue whisking and add the rest of the cream mixture. Then, stir in the vanilla extract and pumpkin purée.
Step 3: Bake
Place the rimmed baking sheet with the crust in the oven, and carefully pour the custard over the crust. Bake at 300°F until the custard is just set on the edges, and still a little jiggly in the center. Let cool for thirty minutes, at room-temp, and then let the tart cool in the fridge for another 2 hours.
Step 4: Finish it off!
Right before serving, remove the tart from the fridge. I like to let it warm up for 30 minutes or so to take the chill off, but that's just me. Sprinkle the whole tart with sugar, and use a torch (or broiler, more on this later) to caramelize the sugar. Slice, serve, and enjoy!
Torch vs. Broiler
While I heavily stan a cooking torch, I truly believe you don't need any fancy equipment to make a fancy dessert. The torch makes it much easier to control the flame, and it's honestly fun to use! It's also great to have around for meringues, cocktails, and melting cheese on a sandwich. This is the one I use in my kitchen.
However, if you don't want to buy yet another cooking tool, you can just use the broiler! I would go with a high-temp and keep a close eye on the custard to prevent over-cooking. If the crust start to get a little too brown, line the edges with tin foil. Broil just until the sugar is bubbling and browned.
A make ahead option
If you want to make the pumpkin crème brûlée tart in advance, you have a couple of options. One, make the tart and the next day (right before serving), finish it off with the caramelized sugar.
Or, you can make the crust the night before, and finish the rest the next day. Either way, just make sure to do the sugar part right before serving. The moisture of the fridge turns the sugar to mush. I'm not saying it's bad. It's just not ideal. Which, speaking of…
If you expect to have leftovers…
Like I said, the moisture in the fridge will usually make the caramelized sugar turn into a gloppy mess. However, if you're not expecting to serve the tart to eight people, there's a way to save your leftovers! In these instances, I like to cut the tart into slices, and individually sprinkle/caramelize each slice. Then, your leftovers stay delicious in the fridge and each guest gets to crackle their own slice.
Tips & Tricks
Chill the dough to prevent shrinkage: If you want to be sure that the dough will not shrink during the baking process, I always recommend pricking the dough with the tines of a fork. However, you can also refrigerate the dough for about 30 minutes or so, which will also help prevent it from shrinking.
Whisk to prevent lumps: When we add the hot cream to the egg mixture, we risk scrambling our eggs. To avoid a lumpy pumpkin crème brûlée tart, you will want to temper the eggs by adding a small amount of cream to the eggs (about 1/3 cup) while whisking vigorously. Then, add the remaining cream!
But if you do have lumps: Simply strain the mixture through a fine mesh sieve to remove any scrambled egg. This will only work if there are a few small lumps. If it's full-on scrambled, I am sad to inform you that you will have to start over.
Don't over bake custard: The custard should be just set on the edges and will have a little jiggle in the enter. Don't worry, it will set as it cools!
Cutting the tart: When you cut the tart, the sugar will break. It's rustic! But if you really can't deal, just caramelize sugar on each individual piece, like I was talking about above.
Pies, Tarts, & Galettes to try out next
Chocolate Cream Pie with Bourbon Butterscotch
Apple Galette with Butterscotch
S'mores Tarts
Coconut Cream Pie with Macadamia Nut Caramel
If you make this recipe, I would love it if you left a star rating and review! I read every single comment and love hearing what you think about my recipes. Thank you for supporting Sunday Table!
---
Pumpkin Crème Brûlée Tart
This pumpkin crème brûlée tart features buttery shortbread crust, smooth and creamy pumpkin custard, and a caramelized sugar topping.
Ingredients
Shortbread Crust
1 1/2 c all-purpose flour
1/4 tsp salt
6 Tbs sugar
1 1/2 sticks unsalted butter, very soft
Pumpkin Custard
5 egg yolks
1/3 c sugar
1 pt heavy whipping cream
1/2 tsp cinnamon
1/4 tsp pumpkin pie spice
2 tsp vanilla extract
1/3 c pumpkin purée
Instructions
Shortbread Crust
Preheat oven to 350°F. Whisk the flour and salt together in a small bowl. Set aside.

In a medium bowl, cream together the butter and sugar until smooth, about 2 minutes. Add half of the flour mixture, and then repeat with the remaining flour mixture. The dough will be crumbly, but should form together when you pinch it.

Spoon the dough a 9-10 inch tart pan, and press it with your fingers until evenly distributed. Poke the dough all over with the tines of a fork. Bake until lightly golden brown, about 20-22 minutes.

When the tart is finished baking, let it cool for 15-20 minutes. Lower the temperature of the oven to 300°F.
Pumpkin Custard
Whisk egg yolks and sugar in a medium bowl until thick and pale yellow, about 3 minutes.

In a small saucepan, combine the heavy whipping cream, cinnamon, and pumpkin pie spice. Heat over medium, and let the mixture simmer for two minutes.

Slowly add about one-third cup of the cream mixture to the egg mixture, whisking vigorously to avoid scrambling the eggs. Once tempered, slowly whisk in the remaining cream mixture until frothy. Add the vanilla extract and pumpkin purée.
Bake
Make sure your oven is set to 300°F! Place the tart pan on a four-sided sheet pan, and put it on the middle rack of your oven. Pour the custard mixture into the tart pan. Bake until just set but a little wobbly in the center, about 30-35 minutes (it will continue setting as it cools).

Let the tart cool at room-temperature for 30 minutes. Then, let it finish setting in the fridge for at least two hours.
Caramelized Sugar
Right before serving, sprinkle the crème brûlée with 2 tablespoons of sugar. Torch the sugar until it is melted and caramelized. Repeat the process with the remaining 2 tablespoons of sugar. Slice and serve immediately.
Notes
If you do not have a torch, caramelize the sugar under a broiler in the oven, watching it very carefully and pulling it out right when the sugar melts. Cover the edges of the tart shell with tinfoil if it starts to get too browned.
Serving: 1slice, Calories: 575kcal, Carbohydrates: 45.1g, Protein: 5.6g, Fat: 42.5g, Saturated Fat: 25.8g, Cholesterol: 259mg, Sodium: 225mg, Potassium: 110mg, Fiber: 1g, Sugar: 24.7g, Calcium: 66mg, Iron: 2mg
xo Sara Lynn
*Song of the day: Acetone by Vundabar