Pumpkin Millionaire's Shortbread
Soft pumpkin shortbread, spiced pumpkin-infused caramel, dark chocolate topping, and a sprinkling of flaky salt. These pumpkin millionaire's shortbread bars are the ultimate fall treat!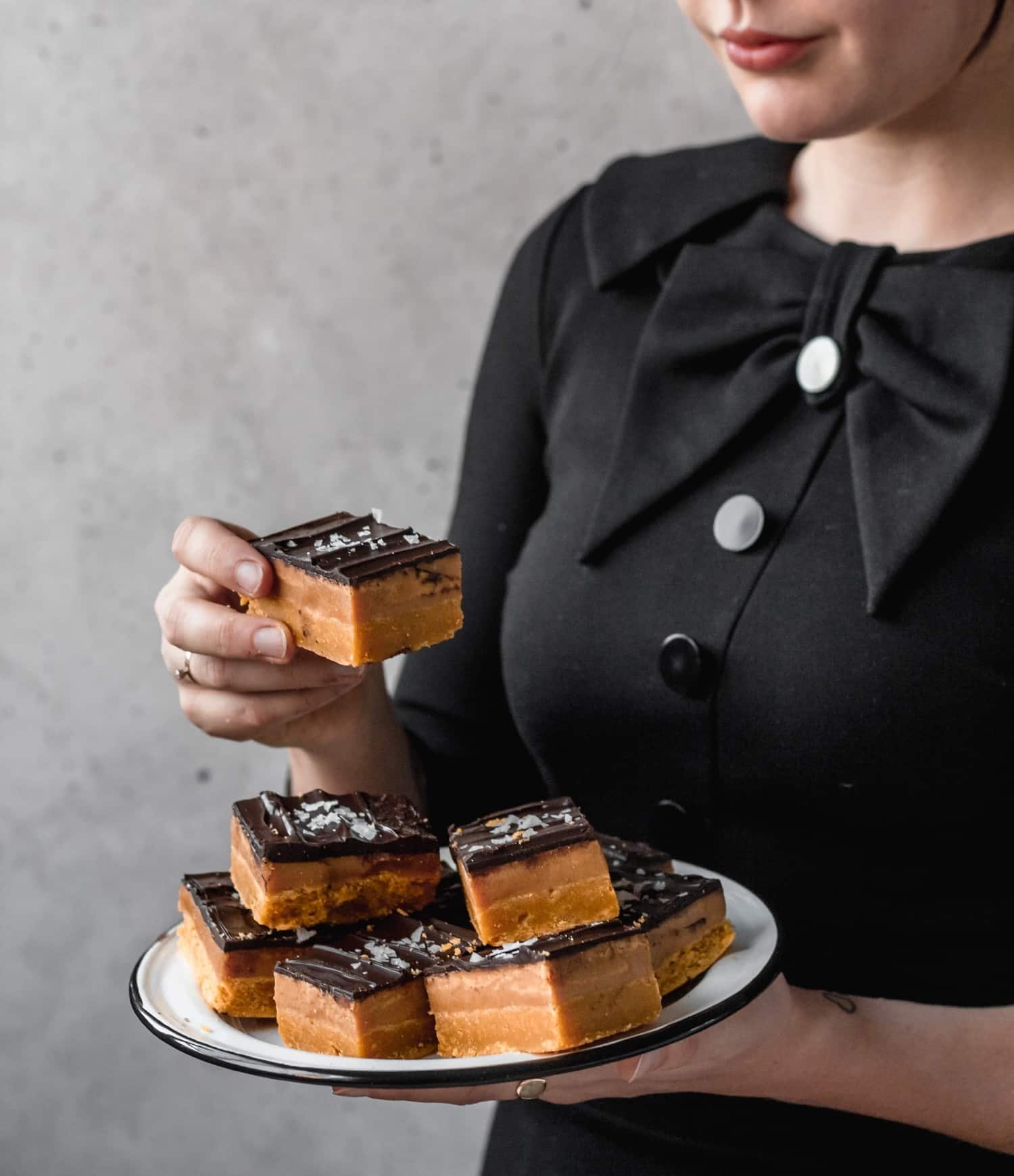 It's supposed to reach a balmy -15°F tonight, so I'm starting to wonder how trick-or-treating is going to go for the neighborhood kids. For that matter, I'm wondering how I'll deal with my costume tomorrow night. 😬 It's going to be like every year in elementary school when I had to wear a windbreaker over my very cool princess dress. So lame. It was literally like, 78° the other day, so I'm not even sure how it turned so quickly. I am wildly unprepared! Please send hot coffee and cozy sweaters.
Anyways, I am vvv ready for Halloween. Halloween-time is one of my favorite times! We even threw an impromptu pumpkin-carving party the other night like good little Millennials. I made a ton of food and we drank wine. Then, I carved a kitty face into my pumpkin. There were Halloween movies playing in the background and we stayed up wayyy too late for a Sunday. It was the best! Although, to be honest, I'm a little disappointed in myself for not yet watching Hocus Pocus or It's the Great Pumpkin, Charlie Brown this year. I need to get my ish together.
On the other hand, I found the perfect hat for my costume at a vintage store this past weekend! I was getting worried there for a second and really thought I would be doing some last-minute bullshit per usual. But, I found the hat! And it's amazing! You definitely should tune in to Insta on Thursday and check out our costumes.
Pumpkin Millionaire's shortbread is the best treat for Halloween or your Thanksgiving table!
On a side note, I have officially decided that adult trick-or-treating should totally be a thing. Imagine walking around in 90s-style costumes while also drinking wine. 🎉 We can all decorate our houses and apartments with spooky stuff. And the treats would be mini alcohol bottles and uber-delicious homemade candy. Peanut marshmallows are not allowed in this world!!! This is a strictly-enforced rule.
What is allowed in my adult trick-or-treating fantasy is pumpkin millionaire's shortbread. Imagine a Twix and pumpkin pie got down and dirty. This would be the result! The pumpkin shortbread is soft and perfectly-spiced. The pumpkin has an eggy effect, which makes the shortbread a bit less crunchy than a regular Twix. But it's so lovely! Then, I made a super quick caramel infused with pumpkin for extra autumn flair. Lastly, we top the bars with dark chocolate and flaky salt for obvious reasons.
If you want to be extra meta, you can wrap these little bars in parchment paper and decorate them with stickers! Or, you can stack the pumpkin millionaire's shortbread on a cute tray and serve them at Halloween parties, potlucks, Friendsgiving, or even Christmas cookie exchanges!
Tips for making pumpkin millionaire's shortbread
They're so easy! But, just a few things. First, this shortbread is not the typical crunchy shortbread. The added pumpkin has an "eggy" effect, so it will be a bit more cake-y than an actual Twix bar.
Also, the caramel is not quite as smooth as a regular caramel. This is because we are adding pumpkin to it. Honestly, I didn't even notice it when I was eating the bars. However, if you want a super smooth caramel, just leave out the pumpkin. You'll still get a pumpkin-y flavor from the shortbread!
Lastly, if you want to cut the bars in neat little squares, make sure they're completely cooled but still at room-temperature. Then, dip a knife in hot water, wipe it dry, and cut the bars in one smooth, quick motion. Dip and wipe the knife in-between each cut to keep the chocolate and caramel from smearing. You can cut either 9 bars total, or you can go with 12 bars like I did. They're pretty rich, so I like the smaller size!
Pumpkin Millionaire's Shortbread
---
Notes: The pumpkin caramel won't be as smooth as regular caramel due to the addition of canned pumpkin. It's really not noticeable in the bars, but if you would like a smoother texture, leave out the pumpkin entirely.
You will need a few hours of cooling time for this recipe. It's super easy, but leave enough time to let all of the layers cool!
Store leftover bars in an airtight container for up to one week. You can also freeze them by wrapping the individual bars in tinfoil and storing them in an airtight container. They will last up to 3 months in the freezer.
Pumpkin Millionaire Shortbread
These pumpkin millionaire's shortbread bars are similar to homemade Twix but with all the autumn flavors! Pumpkin shortbread is layered with creamy caramel, dark chocolate, and flaky salt for the best Halloween treat.
Ingredients
Pumpkin Shortbread
3/4 cup unsalted butter, softened
1/3 cup sugar
1/3 cup canned pumpkin (not pie filling)
1 1/2 cup AP flour
1/4 tsp salt
1 1/2 tsp pumpkin pie spice
Pumpkin Caramel
14 oz can sweetened condensed milk
1/2 cup unsalted butter
3/4 cup brown sugar
2 tbsp maple syrup
1/4 cup canned pumpkin (not pie filling)
1 tsp vanilla extract
1/4 tsp salt
Chocolate Topping
1 cup dark chocolate chips
1 tbsp vegetable oil
Flaky salt, for sprinkling
Instructions
Pumpkin Shortbread
Preheat the oven to 350°F. Line an 8×8 baking pan with parchment paper, and set aside.

In a medium bowl, beat the butter and sugar until light and fluffy. Add the canned pumpkin, and beat until smooth.

Stir in the flour, salt, and pumpkin pie spice until it's just mixed. Don't overbeat the dough! A little crumbly is fine.

Drop the dough into the prepared 8×8 pan, and press firmly with your hands until it's even and packed. I use the bottom of a measuring cup to get it as level as possible.

Bake for about 20-25 minutes, until the shortbread is a light golden brown. Let it cool for about 15 minutes while you make your caramel.
Pumpkin Caramel
Combine the sweetened condensed milk, butter, brown sugar, maple syrup, and canned pumpkin in a medium saucepan over medium heat until the mixture is smooth. Attach a candy thermometer to the side of the pan. Bring the mixture to a boil, constantly stirring.

Lower the heat until the mixture is simmering. Continue to stir constantly for about 15 minutes, or until it reaches 225°F and has thickened slightly. Remove the caramel from the heat, and stir in the vanilla extract and salt.

Immediately pour the caramel over the slightly cooled shortbread. Use an offset spatula or butter knife to spread it if you need to. Allow it to cool to room temperature. Alternatively, stick it in the fridge for an hour (or overnight!)
Chocolate Topping
Combine the chocolate and vegetable oil in the top pan of a double boiler. Cook over medium heat, stirring frequently until the chocolate is just melted. (Alternatively, you can melt it in the microwave in 30-second increments). Don't overheat the chocolate!

Pour the chocolate over the caramel layer, using an offset spatula or butter knife to spread it if necessary. Let the chocolate harden, about 30-60 minutes. Cut into 9-12 bars, and sprinkle with flaky salt. Enjoy!
Notes
This recipe makes 12 large bars, but you could easily cut them into smaller bars for a smaller treat or bite-sized serving.
Serving: 1bar, Calories: 481kcal, Carbohydrates: 58.2g, Protein: 5.6g, Fat: 25.9g, Saturated Fat: 16.2g, Cholesterol: 58mg, Sodium: 281mg, Potassium: 122mg, Fiber: 1.3g, Sugar: 44.1g, Calcium: 132mg, Iron: 1mg
---
Happy Halloween!!
xo Sara Lynn
*Song of the day: Little Dark Age by MGMT