Pumpkin Morning Buns
Pumpkin morning buns made with my all-time favorite soft dough, filled with a spiced pumpkin pie-like filling, and finished with butter and a sprinkle of sugar. A lovely (make-ahead) breakfast situation for the holidays!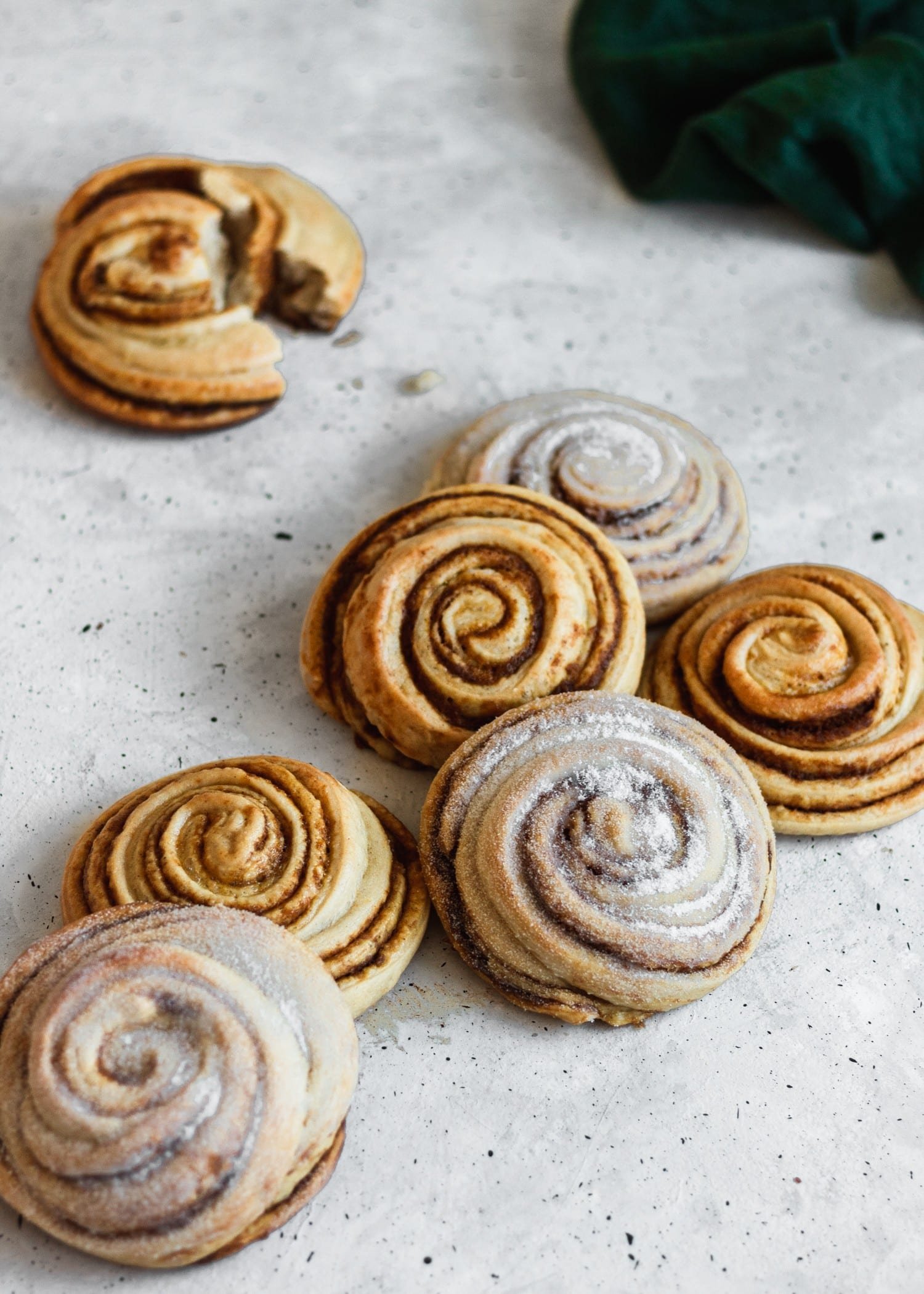 So apparently it's the end of October now? Time has become completely irrelevant in my little world except for when I want to tune in to listen to my favorite murder mystery podcast every Sunday. I guess there's even a holiday this weekend? Who knew!
Anyways, Reno is in full-on fleece-donning, leaf-falling, When Harry Met Sally autumn mode, and I am here for it! I basically only live in my favorite knit sweater which is cozy and soft but makes me feel chic enough to hop on a Zoom call.
Like my favorite sweater, these pumpkin cinnamon rolls are the obvious choice for when you want to feel comfy and warm and pumpkin-spiced. First, we take the *softest* dough ever and roll it up with filling that is borderline pumpkin pie-ish! Then, we brush the baked rolls with melted butter and sprinkle with sugar for good measure. These are *eyes roll into the back of your head* good.
To make up for all of the coffee shop hangs I am not participating in this year, I have been keeping these pumpkin rolls in the freezer to warm up and eat with hot coffee as desired. So far, it's been an excellent decision! Join me, won't you?
Ingredients & Substitutions
The ingredients we're using are pretty basic, but we definitely want to make sure that we have a few key items!
Dough: For this classic leavened sweet dough, make sure you have the basics on hand: all-purpose flour, salt, yeast, whole milk, a pinch of sugar, unsalted butter, and eggs. You're also going to want some kind of pumpkin spice on hand, although this is totally optional! You can always use cinnamon, replace it with vanilla extract, or leave it out.
Pumpkin filling: The filling is made up of even more unsalted butter, canned pumpkin puree (not pumpkin pie filling!), brown sugar, cinnamon, and pumpkin spice. Again, pumpkin spice is not totally mandatory. If you're not a fan, just use more cinnamon, cardamom, ginger, or whatever warm, cozy spice you like!
To finish: Since these are morning buns and not cinnamon rolls, we're going to finish off the pumpkin morning buns with melted butter and sugar. As you can see, this recipe, like many of my creations, is butter-heavy. I'm just here to give the people what they want!
Prepping the dough & Filling
Here we're using my favorite leavened sweet dough, which I've posted on this blog quite a few times! The process is pretty basic. Activate the yeast in warm milk with a pinch of sugar. Add the softened butter, eggs, and pumpkin spice. Then, mix in the flour and salt until the dough is tacky but not sticky.
Let the dough rise until doubled for 1 1/2-2 hours! While that's going on, make the filling by combining the butter, pumpkin, brown sugar, and spices until smooth. The filling might look a little funky and have small chunks of butter, but no worries! Those little butter chunks are going to melt while baking, and it'll create these buttery pockets that are just…the best thing ever?
Shaping Pumpkin Morning Buns
The "hardest" part of making these pumpkin morning buns is shaping each roll. I was inspired by Anna's hazelnut version and actually used her blog post to learn how to shape these cuties. (Thanks, Anna!) Anyways, the process is v easy, and I'm going to show you how to do it right here.
First, you'll roll out your dough into a large rectangle! Spread your filling on the dough, leaving a bit of a border.
Fold 1/3 of the dough over, and then fold the other 1/3 of the dough over the first fold (kind of like a brochure). Trim off any wonky edges with a pizza cutter or sharp knife.
Cut the dough lengthwise into 8 equal-ish pieces. Roll each piece, tucking the last of the dough strip under the roll when you get to the end.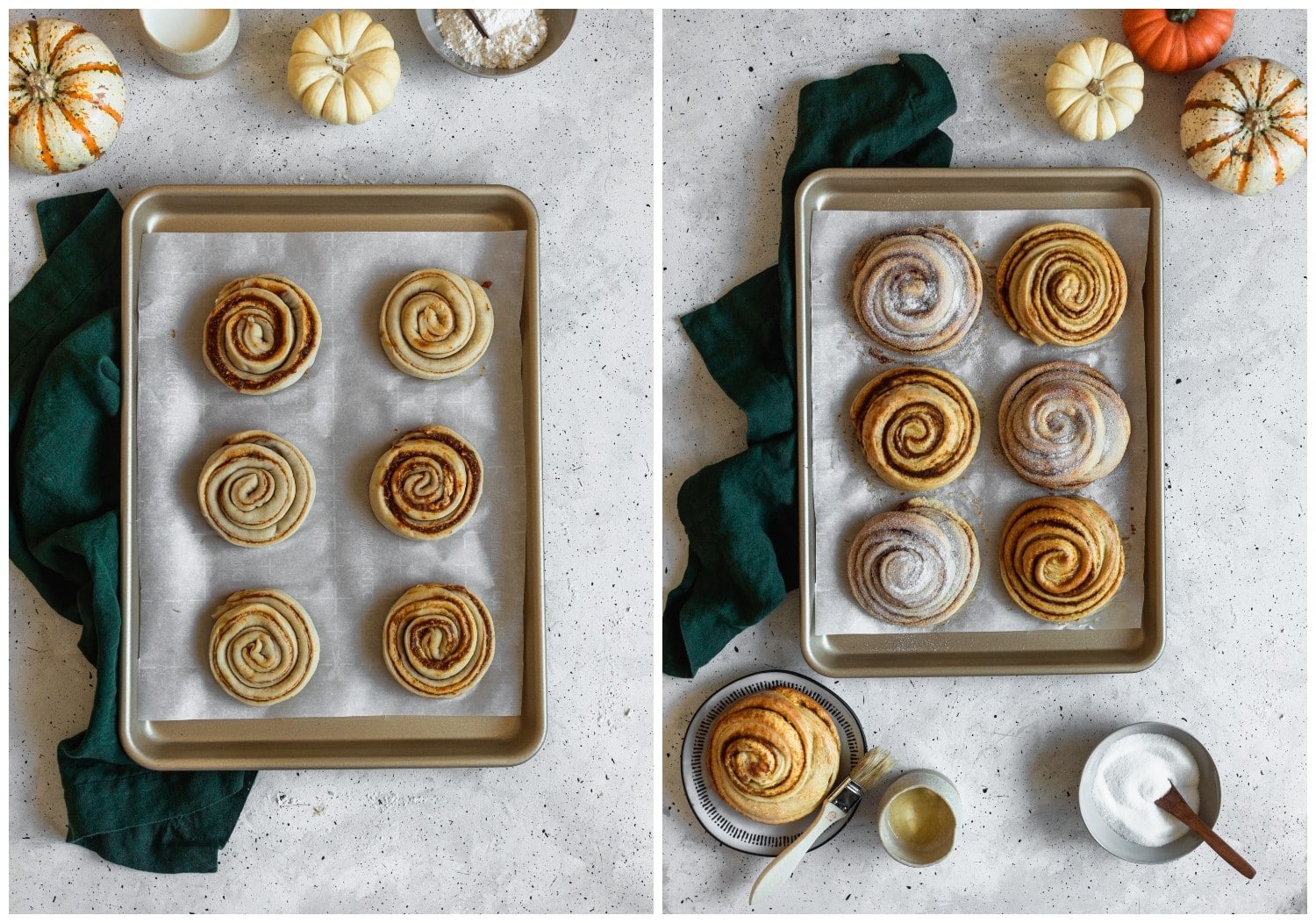 Once the rolls are shaped, you'll let them get puffy for a hot sec. Then bake, brush with melted butter, and sprinkle with a little sugar! Serve with all the hot coffee. Preferably on a moody, autumn day.
Tips on working with yeast
I know a lot of people are afraid of yeast, but it's really no big deal! Just make sure to follow a few simple tricks to get that dough to rise.
First, always make sure that you're yeast is alive and well. I know a lot of people just throw the yeast into the flour, but I'm paranoid. So, I always make sure to activate the yeast with a little sugar and warm milk so I don't waste my time with the dead stuff.
Speaking of warm milk, you're going to want the temperature of the milk between 105-115°F. Usually, this is about a minute in my microwave, but I alwayyyys give it a stir and check the temp with a thermometer. If the milk is too hot, it'll kill your yeast, but if it's not hot enough, your yeast won't activate.
Give it a stir, then walk away. Many times, I'm convinced my yeast is dead, and then I give it a little stir, come back, and it's bubbling and happy. Just save yourself the anxiety attack and stir it from the beginning. Come back in 5-10 minutes and it should be foamy and smell like a brewery.
Bonus tip! Yeast usually dies after a year at room-temp, so buy more if you have literally no clue when you bought that little packet you found in the back of your pantry when you were guilt-cleaning after binging Get Organized with The Home Edit.
The importance of a good rise
I know it feels like morning buns take forever, but rising the dough appropriately is important! Letting the dough rise will help develop the dough and make it super fluffy and soft. Also, the flavor will be way tastier if you just let it do its thing.
If you struggle with getting a good rise, try this handy trick! Turn your oven to its lowest setting (170°F in my kitchen), let it warm for a couple of minutes, and turn it off. Meanwhile, get some water boiling. Place your covered bowl of dough into the oven, and then place a bowl of boiling water below. Shut the oven, and leave it for 1 1/2-2 hours. This method mimics a proofing oven, which is how bakers achieve flawless dough!
Stand mixer vs. by hand
If you have a stand mixer, I always recommend using it! Not only is it easier, but it will save you from a workout. However, if you don't have a stand mixer laying around, making this dough by hand is totally an option!
Just make the dough as instructed, but use a wooden spoon and your hands to get everything incorporated. Once the dough is tacky (not sticky!), knead the dough by hand by folding the dough over itself repeatedly for about 7-10 minutes.
Storing & reheating
Pumpkin morning buns are best fresh out of the oven. But, they're also great reheated! To save the buns for later, let them cool completely, and then store in an airtight container for up to 2 days. You can also freeze them for later!
To reheat, simply place the buns in the microwave for 30 seconds (if fresh) or 1 minute (if frozen).
To make ahead…
If you want to make these buns in advance and bake them morning of, you have two options!
First, you can place the covered dough in the fridge for an overnight rise and take it out the next morning. Let it sit at room temp for about 30 minutes, and then proceed with the recipe as normal. The coldness of the fridge will allow for a long, slow rise that will develop the flavor of the dough. However, that also means more work morning-of!
The second option is to make and shape the rolls, and then place them covered in the fridge overnight. Let them come to room temp the next morning for about 30 minutes, and then bake. This is my preferred method, although I wouldn't recommend letting the shaped rolls sit in the fridge for more than 9ish hours. Eventually, they could rise too much, become soggy, and/or lose their shape.
Other flavor options!
If pumpkin isn't your thing, fill the rolls with nut spread, jam, apple butter, cookie butter, etc. You could also go with classic cinnamon roll filling. There's a lot of room for creativity here!
In terms of toppings, a sugar finish is more traditional on morning buns. But, if frosting is more you're thing, you can always go with Irish cream cheese frosting, brown butter frosting, or a drizzle of icing! Just mix one cup of powdered sugar with 2 Tablespoons of milk and 1/2 teaspoon vanilla extract. Add more powdered sugar or milk until you get your desired consistency, and drizzle over the rolls!
Other Rolls to make for the holidays
Cookie Butter Cinnamon Star Bread
Apple Butter Cinnamon Rolls with Brown Butter Frosting
Rose Cardamom Buns
If you make this recipe, I would love it if you left a star rating and review! I read every single comment and love hearing what you think about my recipes. Thank you for supporting Sunday Table!
---
Pumpkin Morning Buns
Pumpkin morning buns are soft, perfectly spiced, and so cozy for a delicious (make ahead!) holiday breakfast.
Ingredients
Sweet Dough
4 1/4 cup all purpose flour + more as needed
1 tsp salt
1 cup whole milk, warmed to about 110°F
2 1/4 tsp active dry yeast (1 packet)
1/3 cup + 1 tsp. granulated sugar
1/2 cup unsalted butter, very softened
2 eggs, room temperature
1 tsp pumpkin pie spice
Pumpkin Filling
1/4 cup unsalted butter, very soft
3/4 cup canned pumpkin puree (not pumpkin pie filling)
1/3 cup brown sugar
1 tsp cinnamon
1/2 tsp pumpkin pie spice
To Assemble
Egg wash (1 egg + 1 Tbs. water whisked together)
2 tsp unsalted butter, melted
Granulated sugar, for sprinkling
Instructions
Make the dough…
Combine the flour and salt in a medium bowl and set aside.

Pour the warm milk into the bowl of a stand mixer. Sprinkle the yeast and 1 teaspoon of sugar over the top, mix, and let it stand for 5-10 minutes, until foamy. Add the remaining sugar, butter, eggs, and pumpkin pie spice until well combined.

Mix in the flour mixture until the dough starts to come together. Using a dough hook (or your hands), knead for 7-10 minutes, until the dough is smooth and slightly tacky. It should be a little sticky but shouldn't leave any dough on your hands. If it's too sticky, add flour 2 Tbs. at a time until it's the right consistency.

Place the dough in an oiled bowl, and cover with a towel or plastic wrap. Place it in a warm, draft-free spot and let it rise until doubled in size, about 1 1/2-2 hours.
Make the filling…
While the dough is rising, make the filling. Stir together all of the ingredients. The filling may be a little lumpy from the butter – that's ok! Set aside until ready to use.
Assemble & bake…
When the dough is doubled in size, gently punch it down. Transfer the dough to a clean, lightly floured surface, and roll until you have an 9×13" rectangle. Spread the filling on the dough, leaving a 1/2" gap on all sides.

With the wider part of the dough facing you, fold 1/3 of the dough over the center. Then, fold the other 1/3 of the dough over the first fold (kind of like a brochure). Use a rolling pin to gently roll the 3 layers together.

Using a pizza cutter or sharp knife, cut the edges off each side of the dough rectangle until they are even. Cut the dough lengthwise into 8 equal pieces. Roll each strip of dough into a tight swirl, tucking the ends under the bottom. Repeat with remaining strips.

Place each roll on a baking sheet lined with parchment paper. Cover with a linen, and let rise until puffy, about 20-30 minutes.
Bake…
While the rolls are going through the second rise, preheat your oven to 350°F. When the rolls are puffy, brush each of them with the egg wash. Bake on the middle rack for 16-18 minutes, until they're light golden brown.

Brush the warm rolls with melted butter, and sprinkle generously with granulated sugar. Enjoy!
Serving: 1bun, Calories: 537kcal, Carbohydrates: 73.3g, Protein: 10.2g, Fat: 23g, Saturated Fat: 13.8g, Cholesterol: 97mg, Sodium: 466mg, Potassium: 217mg, Fiber: 2.9g, Sugar: 21g
---
xo Sara Lynn
Song of the Day: Shelter Song by Temples