Rose Cardamom Buns
Rose cardamom buns filled with spiced brown sugar and finished with a pink rose glaze. Perfect with black coffee for fika or Sunday brunch.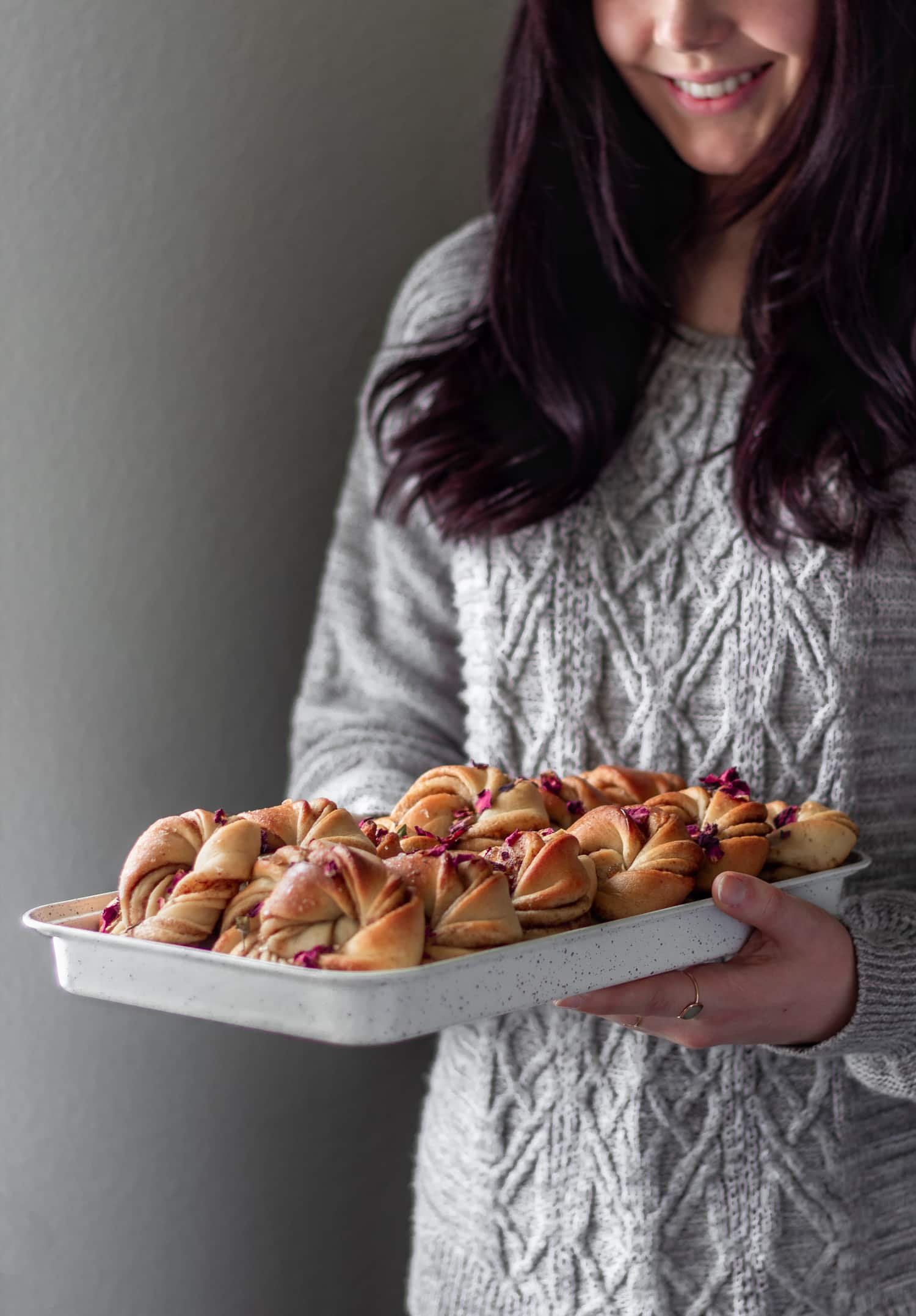 The snow has turned to rain which I think means it's springtime. You really never know in Reno, because it could be 75 degrees one minute and snowing the next. But seeing as I'm really tired of the snow, I'm optimistic that we are past the worst of the weather. And listen, team, I am totally pro-snow, but at this point, it's just sludgy and gross. Bell has tracked in a million muddy footprints all over my hardwood floors, and I honestly don't want to use my foot to wipe the floors with a wet paper towel mop anymore. Plus, I'm ready to plant some flowers. Because spring means flowers. And flowers mean roses. And roses mean rose cardamom buns!!!
I have already talked about my failed attempt to track down authentic lefse in Norway, but I have yet to inform you of the best side effect that came along with that adventure, that is, cardamom buns. For those who are unfamiliar, cardamom buns are the Scandinavian answer to American cinnamon rolls. But also, I think they're better, and here's why. First, they are 100x less sweet than American cinnamon rolls. Second, they are more delicate and snacky, since they don't make it feel like you've eaten three desserts in a row. And three, LOOK HOW PRETTY! Now don't think that I won't eat American cinnamon rolls, because like, obviously I will. It's just that, as someone who doesn't love too-sweet desserts, cardamom buns just get me.
In a technical sense, I think cardamom buns originated in Sweden, but I have seen Norwegian and Finnish versions as well. The majority of cardamom buns I ate were in Norway, but I also enjoyed a few over fika in Sweden. They are available in almost every bakery and coffeeshop, and I think they are absolutely perfect with a hot coffee. Which makes sense because coffee + Scandinavia + cardamom + doughiness = me in pastry form???
The base of the rose cardamom buns are pretty traditional. I put cardamom in the dough itself and a bit in the filling, because I think we all know how I feel about cardamom. And then, in a more non-traditional move, I brushed them with a rose-infused simple syrup. I really love how the bitter-herbaceousness of rose matches the floral, spicy cardamom. However, if you can't find food-safe rose petals easily, these are just as great brushed with a regular simple syrup!
Lastly, while these rose cardamom buns are surprisingly easy, they can be a bit of a mess to fold. I honestly ended up twisting strands of the dough, and then folding it into a knot. If you don't get it down, no worries. They'll still taste amazing at the very least. Happy cardamom-bunning!
ROSE CARDAMOM BUNS
---
Rose Cardamom Buns
Rose cardamom buns filled with spiced brown sugar and finished with a pink rose glaze. Perfect with black coffee for fika or Sunday brunch!
Ingredients
Dough
1 cup whole milk, lukewarm
6 tbsp brown sugar, divided
2 1/4 tsp instant yeast (1 package)
4 cup flour
1/2 tsp salt
1 tbsp cardamom pods
1 small egg
1/3 cup unsalted butter, softened
Pearl sugar + dried rose petals, for topping
Filling
6 tbsp unsalted butter, softened
1/3 cup brown sugar
1 tbsp cinnamon
1 tbsp cardamom pods
1 tsp vanilla extract
Glaze
1/3 cup water
1/3 cup sugar
1/2 tsp vanilla extract
2 tbsp dried rose petals
Instructions
Begin by removing the seeds from 2 Tbs. of cardamom pods (this will be for both the filling and dough). Grind them with a mortar and pestle, or in a spice grinder, until fairly fine. I personally don't mind a few chunky bits, but to each their own. Set aside 1 tsp. of the ground cardamom for the filling.

In a small saucepan, heat the milk and 1 1/2 tsp. of cardamom until warm. You don't want it to get too hot, or it'll kill the yeast. Around 100-115* F (38-45* C) should do.

In the bowl of a stand mixer with a dough attachment, or a large mixing bowl, mix the cardamom-milk mixture and 1 Tbs. of brown sugar. Sprinkle the yeast over the top, and let it stand for 10 minutes, until foamy.

Add the remaining sugar, salt, egg, and butter to the milk-yeast mixture. Lightly mix to combine (it's ok if it's still lumpy). With the mixer running, begin adding the flour one cup at a time. Start with 3 cups and add more as necessary up to 4 cups total. You want the dough to be smooth and slightly sticky. When you push it with your finger, it should bounce back. Once it reaches this point, knead the dough for about 4 or 5 minutes, until nice and smooth. Cover the bowl with a tea towel, and let the dough double in size, about 40 minutes – 1 hour.

Make the filling while the dough rises. In a small bowl, combine the butter, brown sugar, cinnamon, cardamom, and vanilla extract. Set aside.

Line two cookie sheets with parchment paper, and set aside. Tip the dough onto a clean, lightly floured surface. Roll into a 22" x 14" rectangle. Spread the filling evenly, out to the edges. Fold the dough into three sections, like a business envelope. Roll the dough slightly, lengthwise, to lightly seal the dough. Cut the dough in about 1" sections. You will have about 18-22 strands.

Working one at a time, twist each dough strand. Fold into a light knot, folding the ends under the bottom. (Refer to the video linked above for an example). Place on a baking sheet. Repeat with the remaining strands of dough, placing them about 2 inches apart from each other. Cover the buns with a tea towel, and let rise for about 30-40 minutes. Meanwhile, preheat the oven to 400* F (205* C).

While the buns are rising, mix the water, sugar, vanilla extract, and rose petals in a small saucepan. Bring to a simmer for a couple of minutes. Remove from heat, and let the rose petals infuse for another few minutes. Strain, if desired.

Once the buns have risen, bake for 8-10 minutes or until golden brown. Remove from oven, and immediately brush with the rose syrup. Sprinkle with pearl sugar, rose petals, and extra cardamom if desired. Store in an airtight container for up to three days.
Notes
Between the dough and filling, you will need about 2 1/2 tsp. of ground cardamom, a little less than 2 Tbs. of cardamom pods. You can use pre-ground. However, I would hiiiighly recommend fresh, because it will give it the intense cardamom flavor you are looking for! These are best day-of, but they are still delicious the next day. If you want to make them fresh, the first rise can be done in the fridge overnight so you can just throw them together the next morning!
Serving: 1bun, Calories: 186kcal, Carbohydrates: 26.9g, Protein: 3.5g, Fat: 7.2g, Saturated Fat: 4.3g, Cholesterol: 25mg, Sodium: 114mg, Potassium: 72mg, Fiber: 1.1g, Sugar: 5.6g, Calcium: 30mg, Iron: 1mg
---
xo Sara Lynn
*Song of the day: Acolyte by Slaughter Beach, Dog