Sweet Poppy Bread
Sweet poppy bread flavored with almond and drizzled with a light vanilla glaze.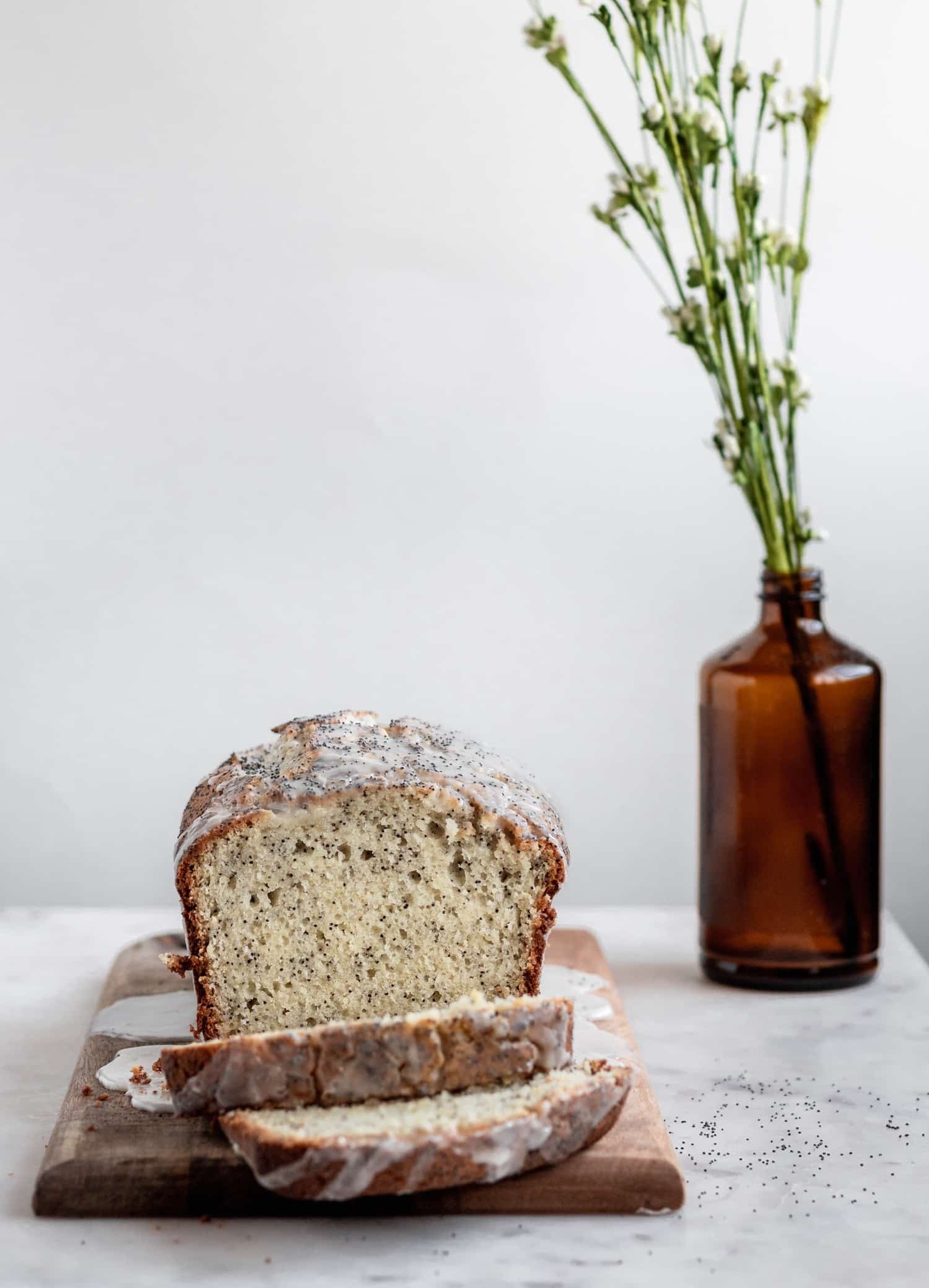 As we speak, I am sitting in one of my favorite coffee shops writing a blog post. I swore I would never be this person, but considering my absolute love for coffee shops I have expressed countless times in the past, it was bound to happen at some point. I'm even wearing a cardigan and my Warby Parker Buddy Holly-esque glasses. The National's older albums are playing in the background. It's almost too cliche to handle, yet I didn't drag in a typewriter, and I have never claimed that I identify with Hemingway on a spiritual level, so I'm still passable.
However, I am knee-deep in caffeine right now, which is making me remarkably honest, so it's confession time. This is not my first visit to a coffee shop today…but it might be my second. Now, before you judge, first let me tell you that my finals today range(d) from 8 a.m. to 9 p.m. And I only got a few hours of sleep last night. In my personal opinion, my multiple coffee shop stops are a little more excusable now. I'm glad I got that off my chest.
If I was a good little student (which I am I swear), I would be studying right now, but I have coffee-drank myself into some full blown anxiety, so I've decided studying would only create harm. However, an hour before a final exam, you either know your stuff or you don't, and I have decided that I know business law. I understand contracts! I understand corporate liability! And the Commerce Clause! It's all going to be okay….!!!
And while I have drank enough coffee for the caffeine to suppress my appetite and make me feel full, I still can only think about food. Specifically, this poppy bread.
My aunt made this recipe a few years ago, and in that instant, I fell in love with poppy bread. It was like eating cake without the frosting, which is actually how I prefer my cake, but it was deemed more socially acceptable. The recipe only has ten basic ingredients. And the batter can be whisked up in literally five minutes if you believe hard enough like I do. Plus, if you have a mini loaf pan (not kidding, mine weighs like, 8 pounds), it makes the cutest tiny loaves of bread to distribute to friends and family. Which is obviously more fun than muffins.
A few notes: 1. Please use 1 c. + 2 Tbs. of oil in the recipe. Last time I made it, I accidentally only used 2 Tbs. and it led to a rather disappointing product. 2. I prefer to make a simple syrup (1/4 c. sugar + 1/4 c. water heated until boiling) and brush it on the bread hot out of the oven. It keeps the bread tasting fresh. However, this is not necessary, especially if you're drizzling it with vanilla glaze! 3. This needs to be served with plenty of softened butter. Hot poppy bread + melty butter = <3 <3 <3
(And on a completely different note, a guy at the next table just told his friend that he met a girl that "didn't have the best face, but he couldn't get past her midriff". PSA: If you're going to be a caveman, please be one in your head or in private but not in a room full of intelligent, beautiful women shooting you death glares. Oh the joys of living in coffee shops! You hear some interesting stuff for sure).
Sweet Poppy Bread with Almond
---
Sweet Poppy Bread with Vanilla Glaze
Soft, sweet poppy seed bread with a drizzle of vanilla glaze. Perfect with a cup of coffee for a snack or breakfast!
Ingredients
For the bread…
3 cup AP flour
1 tsp salt
1 1/2 tsp baking powder
3 eggs
1 1/2 cup milk
1 cup + 2 Tbs. canola oil
2 cup sugar
1 1/2 tbsp poppy seeds
1 tsp vanilla extract
1 tsp almond extract
For the glaze…
3/4 cup powdered sugar, sifted
2 tbsp milk
1/2 tsp vanilla or almond extract
Instructions
Preheat oven to 350* F. Butter and flour a 1 lb. loaf pan. Set aside.

In a small mixing bowl, whisk together the flour, salt, and baking powder. In a medium bowl, stir together the eggs, milk, canola oil, sugar, poppy seeds, vanilla extract, and almond extract. Gently fold the flour mixture into the sugar mixture in two batches until just mixed.

Pour the batter into the prepared pan and bake, checking for doneness at 50 minutes. It may take up to 1 hour + 15 minutes to bake. It will be ready when a cake tester comes out clean. Flip the loaf onto a cooling rack and let it cool to room temperature.

While the loaf is baking, prepare the glaze. Mix all the glaze ingredients together until smooth. Add more milk if the glaze is too thick. Pour over the cooled loaf and garnish with more poppy seeds.
Notes
For my husband and friends with nut allergies, I use only vanilla extract, but I prefer half almond, half vanilla for myself. If you want to add a little zhuzh to the glaze, you can mix in some lemon or orange zest!
Serving: 1slice, Calories: 413kcal, Carbohydrates: 48.7g, Protein: 3.3g, Fat: 23.9g, Saturated Fat: 2.5g, Cholesterol: 44mg, Sodium: 222mg, Potassium: 131mg, Fiber: 0.4g, Sugar: 42.9g, Calcium: 84mg, Iron: 1mg
---
XO SaraLynn
*Song of the Day: Baby, We'll be Fine by The National