Vanilla + Cardamom Scones with Strawberry Curd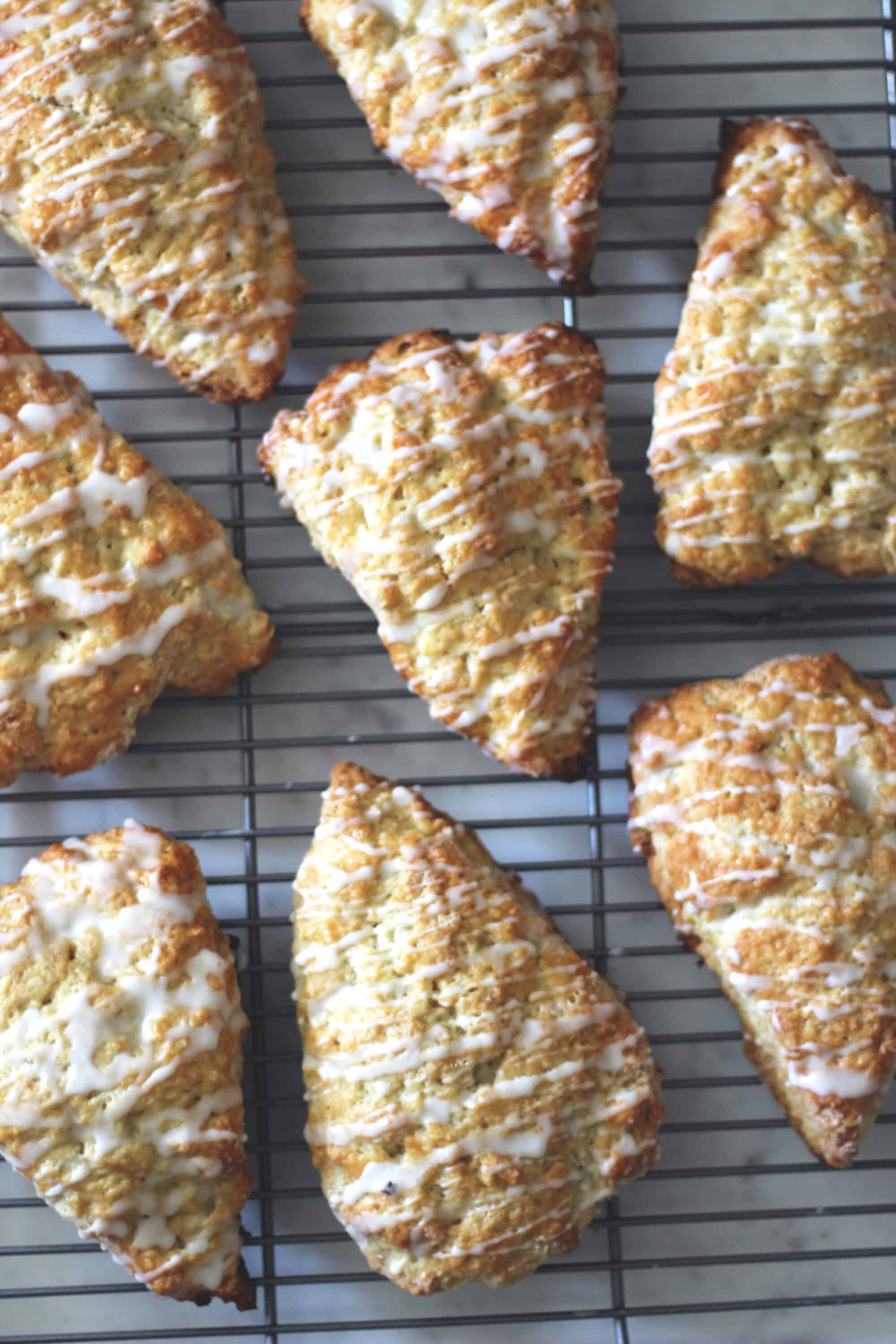 Yesterday, we had a rare March day with wonderful weather, and it was also the first day in three weeks that I haven't felt like utter garbage. I am currently in the midst of the longest sinus infection of my life, but even so, it could not ruin my spirits prompted by warm weather. And by warm, I mean 45* F. But, still… the sun was out for a change! I had planned on spending the day cleaning my house after looking around and realizing that it looks like my closet threw up my entire shoe collection and I have a very impressive herd of dust bunnies breeding in my hallway. But life is short, and sunny, windless Sundays are rare in March, so I forced myself to put on pants and get out of the house. I got a coffee and took Bell to run around the dog park, and it wasn't even muddy! It was freezing, but every once in a while, the clouds would clear for a minute, and the sun would warm everything up. The air smelled so good. I always forget how lovely early spring is until it comes back around again.
Other than toughing it through the freezing-warm weather for as long as I possibly could, I spent the whole day cooking up some new recipes. I love all the produce that's out right now, and I'm taking advantage of it for as long as I can. It inspired me to make some roast chicken with lots of potatoes and fresh herbs and then watch Julie & Julia, because what else would you watch when food is inspiring you?
Another one of my spring favorites in the produce section is all of the fresh strawberries! Strawberry shortcake has always been a very Easter-y dessert in my family. We make our strawberry shortcake with biscuits instead of angel food cake, and I am convinced it's the only way to even eat strawberry shortcake. Also, you have to absolutely drench it in whipped cream, it's a rule.
Like I was talking about last week, I'm trying to take advantage of my very short weekends by getting up earlier and brunching more. Without some sort of goal, I have the tendency to sleep in and then lay in bed on my phone scrolling through embroidery instagrams for three hours. SO, instead of scrolling, I'm sconing. And eggs-benedicting. And waffling. If it's brunchy, I want something to do with it.
But I digress. This is about scones. And strawberries. And mixing it all together to create some sort of strawberry-shortcake inspired scone. And also adding cardamom, because cardamom + strawberries = lalalala one of the best combos ever!! Why didn't I do this earlier, it's such a good idea? Cardamom is fairly expensive, but a tiny bit goes a long way, so you'll definitely notice a little hint of it in these scones. The strawberry curd is a little extra step, but if you don't want to go that far, you could always just serve these with jam or chop up some fresh strawberries to throw on top! These are perfect for Easter brunch, especially because they can be made a day in advance! Aaaaand they are best served with lots of fresh coffee, obviously.
---
Vanilla + Cardamom Scones with Strawberry Curd
Serves 8-16
Ingredients
3 c. flour
1/3 c. sugar
2 tsp. baking powder
1/2 tsp. baking soda
1/2 tsp. salt
1 tsp. ground cardamom
1 1/2 sticks butter, cut in 1/2 in. cubes
1 egg, whisked
3/4 c. buttermilk
1/2 c. whipping cream + more for brushing
2 1/4 tsp. vanilla extract, divided
1/4 c. powdered sugar
1 Tbs. milk or cream
Preheat oven to 375* F. In a medium bowl, mix flour, sugar, baking powder, baking soda, salt, and cardamom. Toss very cold butter in the flour. Using your hands, work quickly to break the butter into the flour until it is pea-sized. You may have some larger, flatter pieces.
Make a well in the center. Add the egg, buttermilk, cream, and 2 teaspoons of vanilla. Mix until just incorporated. The dough will be sticky.
Turn dough onto a floured surface. Press into a 1-inch disk. Cut into 8 sections. Alternatively, for smaller scones, you could press it into two 1/2 in. disks and cut each of those into 8 sections. Space on a baking sheet 2 inches apart. Brush each scone with cream. Bake for about 25-30 minutes, or until lightly browned. Remove from oven and let cool.
Meanwhile, whisk the powdered sugar, 1 Tbs. of milk, and 1/4 tsp. of vanilla extract until smooth. Drizzle over scones. Serve with curd (recipe below).
Strawberry Curd
1 lb. strawberries, finely chopped
Zest + juice of 1 lemon
1/4 c. sugar
3 eggs
1 Tbs. corn starch + 2 Tbs. water whisked
6 Tbs. butter
Combine strawberries, zest, lemon juice, sugar, and eggs in a saucepan. Cook over medium heat, stirring frequently, for about 5 minutes, or until bubbling. Add the cornstarch slurry and stir until mixture thickens.
Remove from heat. Whisk in the butter. Cool curd and serve with scones + whipped cream.
---
xo Sara Lynn
*Song of the day: Let it Happen by Tame Impala