Watermelon-Rhubarb Margaritas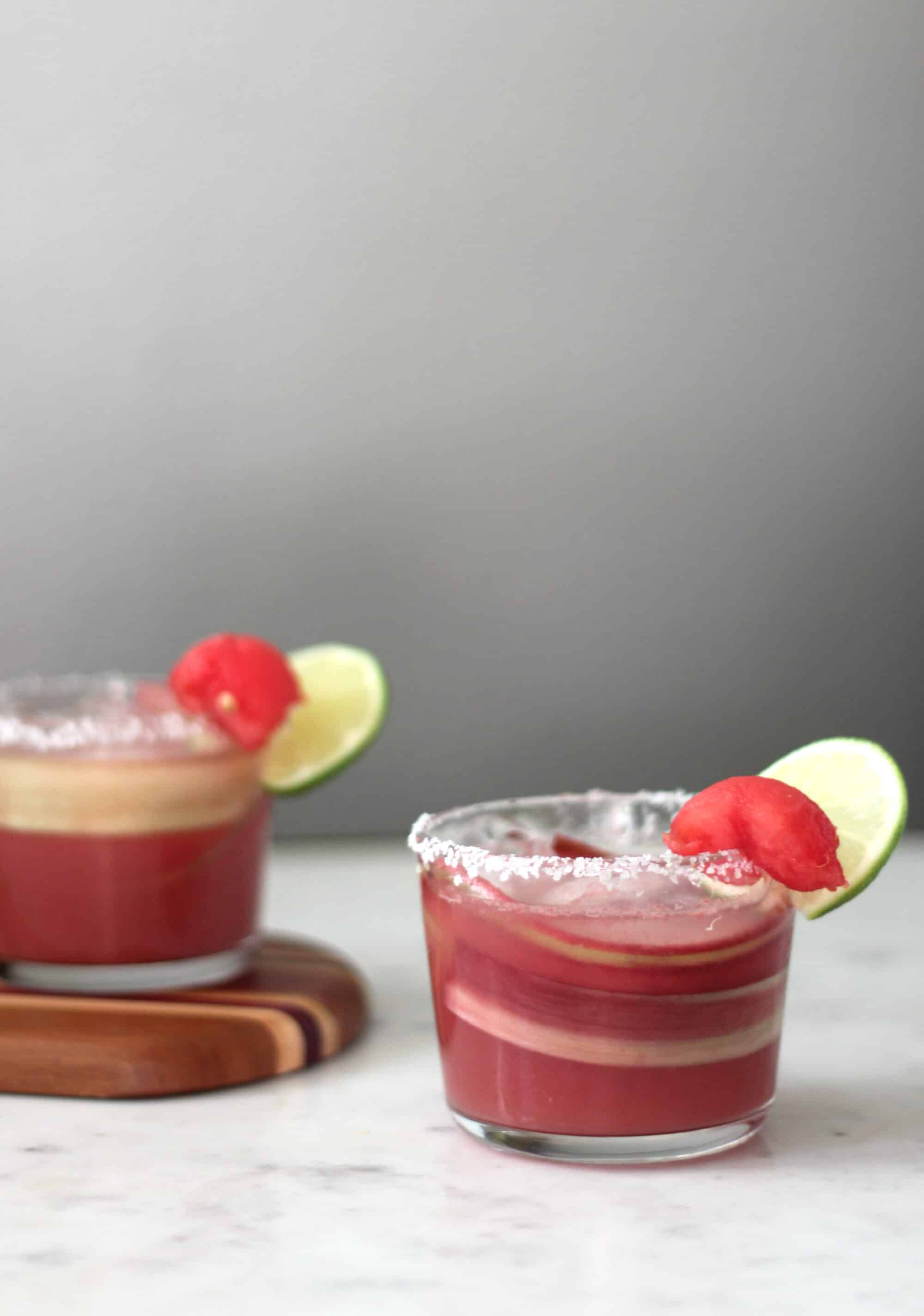 I have a fairly strict criteria when it comes to my margs: fresh lime, on the rocks, salt.  I'm pretty leery of  margarita mixes that are the color of Dipsy the Teletubby and taste like lime-flavored candy in all the wrong ways.  My favorite Mexican restaurant in town makes perfect margaritas made in what can only be described as fish bowls, so usually I just use a margarita craving as an excuse to go eat chile rellenos + all the chips and salsa in the restaurant.  However, this weekend is both Cinco de Mayo and my cousin's sixth birthday, so we're going to throw a unicorn-themed Mexican food night!  I'm bringing a pitcher of margaritas + unicorn cupcakes.  Rumor has it there will also be a piñata and coloring books.  It's going to be off the chain!!!
On another note, I'll be in Napa next weekend visiting lots of family and celebrating Mother's Day with my mama and grandma!  We're going to stop at Ikeda's on the way to eat cheeseburgers and buy lots of fresh produce and then we'll spend Saturday night making a birthday dinner for my grandma.  I'm hoping there's going to be lots of good wine involved!  Maybe I'll make a super special cake??
I'm fairly late to the game when it comes to rhubarb, meaning I never had it until it was baked into a strawberry pie I tried a few years ago.  Also, I've never cooked with it.  I know, am I even a food blogger?!  Luckily, Instagram inspired me this week, and even though I had to go to multiple grocery stores to find it, I walked victoriously out of the store with armfuls of rhubarb!  Then I threw it in a blender with some watermelon and tequila, because what else would I do the week of Cinco de Mayo?  They turned out the most beautiful shade of pink, which obviously is perfect for a unicorn party.  The mix of sweet watermelon + tart rhubarb is amazing and so refreshing with tequila.
This recipe makes a large pitcher that will serve eight people, but you can easily halve it or even quarter it for just a few drinks.  You could also blend it if you like frozen margaritas – just add 3-4 cups of ice or freeze the watermelon before blending it all up.  For this recipe, I added about half a cup of simple syrup, but if your watermelon is especially sweet, I would start with a quarter cup and work your way up.  Once the summer melons come out, you probably won't need very much simple syrup at all!
Happy Cinco de Mayo!
---
Watermelon-Rhubarb Margaritas
Serves 8
Ingredients
6 c. watermelon (about 3-3.5 lb. personal watermelon)
2 c. rhubarb (about 1/2 lb.)
1 1/2 c. white tequila
1/2 c. Triple Sec
1/4-1/2 c. simple syrup
4 limes, juiced
Salt, for rim
Watermelon, limes, and rhubarb, for garnish
In a blender, juice the watermelon and rhubarb together (you may have to do this in two separate batches).  Immediately strain through a fine-mesh sieve, pushing out all the juice with a spoon.  You will have about a half cup of fibrous pulp leftover.
Mix the watermelon-rhubarb juice with the tequila, triple sec, simple syrup, and lime juice in a pitcher.  Salt the rims of 8 glasses, and divide the margaritas between each glass.  Garnish with extra watermelon, lime slices, and rhubarb.
*Note: Try your watermelon before you make these.  If it's really sweet, start with 1/4 c. of simple syrup, and add more as necessary.
---
xo Sara Lynn
*Song of the Day: Grita el Silencio by Alfonso André