Apple Galette with Butterscotch Sauce
This is a classic apple galette, but the butterscotch sauce makes it over-the-top good!  I like to make it ahead to let the flavors infuse, which makes it the perfect dessert for a picnic or party.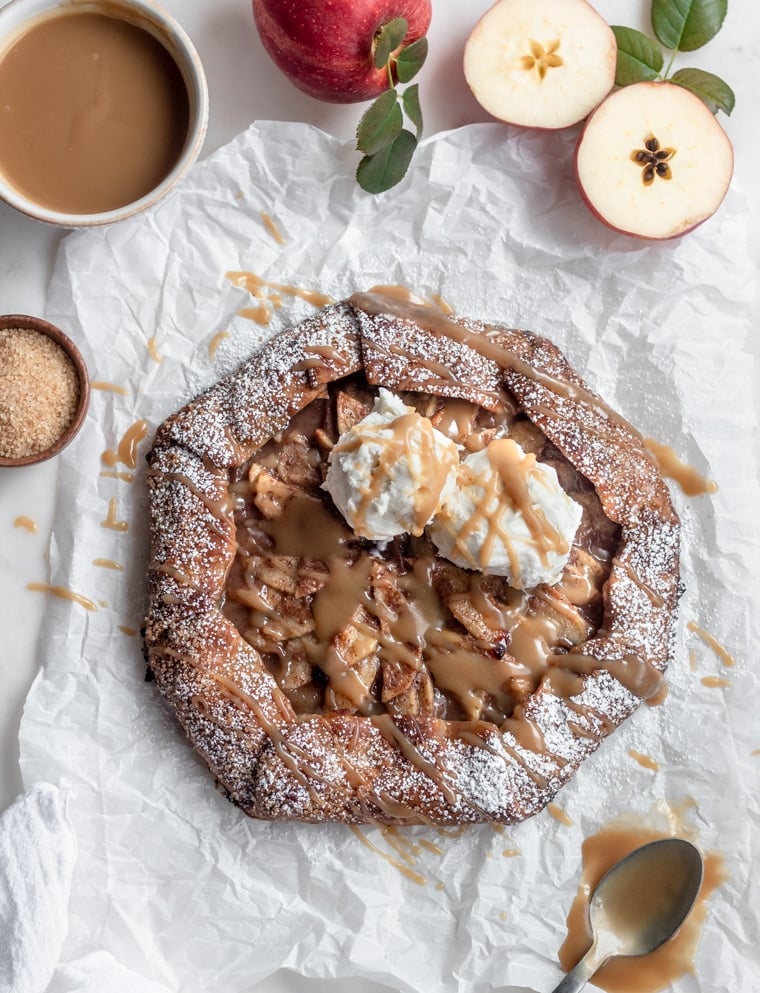 This past weekend, I started to organize my closets and had a *traumatic* experience. I organize my house about twice a year, but I never enjoy it until it's finished. Of course, I had to watch pretty much the entirety of Marie Kondo's new show beforehand. It actually inspired me to get started. I was so proud of myself until I came across The Spiders.
If you're wondering, The Spiders were a family of big gross anthropods that had, idk, had formed a death-pact of some sort under my sink? (Re: I can handle a lot of things, but I don't do spiders). All I know is that I pulled out some old bottles, and the whole gang was crumpled up dead in a pile. I had a small panic attack and vacuumed their carcasses. It almost ruined my spirit and scarred me from organization in general. But, Marc agreed to move any boxes or items that lead to dark corners, so I think I'll be ok.
After that whole episode, I felt all creepy crawly and pouty and decided I deserved a treat. Soooo I made another galette, because I'm predictable. I don't know when or how they became my signature dessert, but they have, and I'm not mad about it. And I realize that an apple galette is not necessarily groundbreaking, but Marc said I "really outdid myself with this one", so like, maybe it kind of is? We ate the apple galette for breakfast with coffee on Sunday morning while it was raining. It was such a warm and cozy day, I never wanted to leave. While the apple galette was simply perfect, I think what it really came down to was the butterscotch sauce. Which we drizzled with abandon, of course.
I never quite realized what butterscotch sauce was until I made it for this galette. Turns out, I've been making it for years, and calling it an "easy caramel recipe", who knew?! It's essentially just brown sugar + butter + vanilla, which is all of the best ingredients. Obviously mine involved brandy, because I add liquor to all of my dessert sauces. Warm apple galette served with cold ice cream and brandied butterscotch drizzle tastes like absolute heaven. Words are not enough.
Anyways, this weekend I'm moving onto all of my clothes and shoes. So hopefully there are no more disasters. However, if I should find a hoard of tarantulas or a gaggle of rats or something, what should I make to calm myself? Donuts? Everything bagels? If it's that bad, I may have to pull out the big guns and make homemade French fries or something. Don't worry, I'll keep you updated.
*A quick note on the pie crust: You can use a super easy homemade pie dough recipe (I like to double it and freeze it in four batches. Then, you can just defrost whenever you need some!). Or, you can use the roll-out pie dough from the refrigerator section, which is just as good!
Apple Galette with Butterscotch Sauce
Apple Galette with Butterscotch Sauce
This is a very classic apple galette, but the butterscotch sauce really makes it over-the-top good. I like to make it in advance to let the flavors infuse, which also makes it super easy for a dinner party!
Ingredients
Apple Galette
1 9-inch pie crust
1 1/2 lb baking apples, peeled and sliced
1 tbsp lemon juice
1/3 cup sugar
2 tbsp flour
1 tsp cinnamon
1/2 tsp cardamom, ground
1/2 tsp allspice
Pinch salt
1 egg
Demerara sugar (optional)
Butterscotch Sauce
1/4 cup unsalted butter
1/2 cup dark brown sugar
1/2 cup cream
1/4 tsp salt
1 tsp vanilla extract
2 tbsp brandy
Instructions
Preheat the oven to 400* F. Roll out the pie dough until it's 1/8 inch thick. Place in the fridge while you prepare the remaining ingredients.

In a medium bowl, toss the apple slices with the lemon juice. Add the sugar, flour, cinnamon, cardamom, allspice, and salt. Toss to combine. Place the apple filling in the center of the pie dough, leaving a two inch rim on all sides. Fold the rim over the apples, ensuring the filling stays inside.

Whisk together the egg with 1 Tablespoon of water. Brush the crust with the egg wash, and sprinkle with demerara sugar. Bake for 45-60 minutes.

While the galette is baking, combine the butter, dark brown sugar, cream, and salt in a small saucepan. Heat over medium-high, stirring constantly. Bring to a boil, and let it cook for two or three minutes. Remove from heat, and add the vanilla and brandy. It will bubble up, just keep stirring! Let it cool slightly, and store it in a jar. Refrigerate until use (you may have to heat it up before serving).

Serve the apple galette warm with ice cream or whipped cream and the butterscotch sauce.
Notes
For a non-boozy version, leave the brandy out of the butterscotch sauce. Pears are a delicious sub for apples.
Serving: 1slice, Calories: 313kcal, Carbohydrates: 45g, Protein: 1.8g, Fat: 14.2g, Saturated Fat: 5.7g, Cholesterol: 18mg, Sodium: 294mg, Potassium: 100mg, Fiber: 1.7g, Sugar: 33.4g, Calcium: 24mg, Iron: 1mg
xo Sara Lynn
*Song of the day: It's That Talk Again by Broken Bells