Pumpkin + Sage Cake with Brown Sugar Icing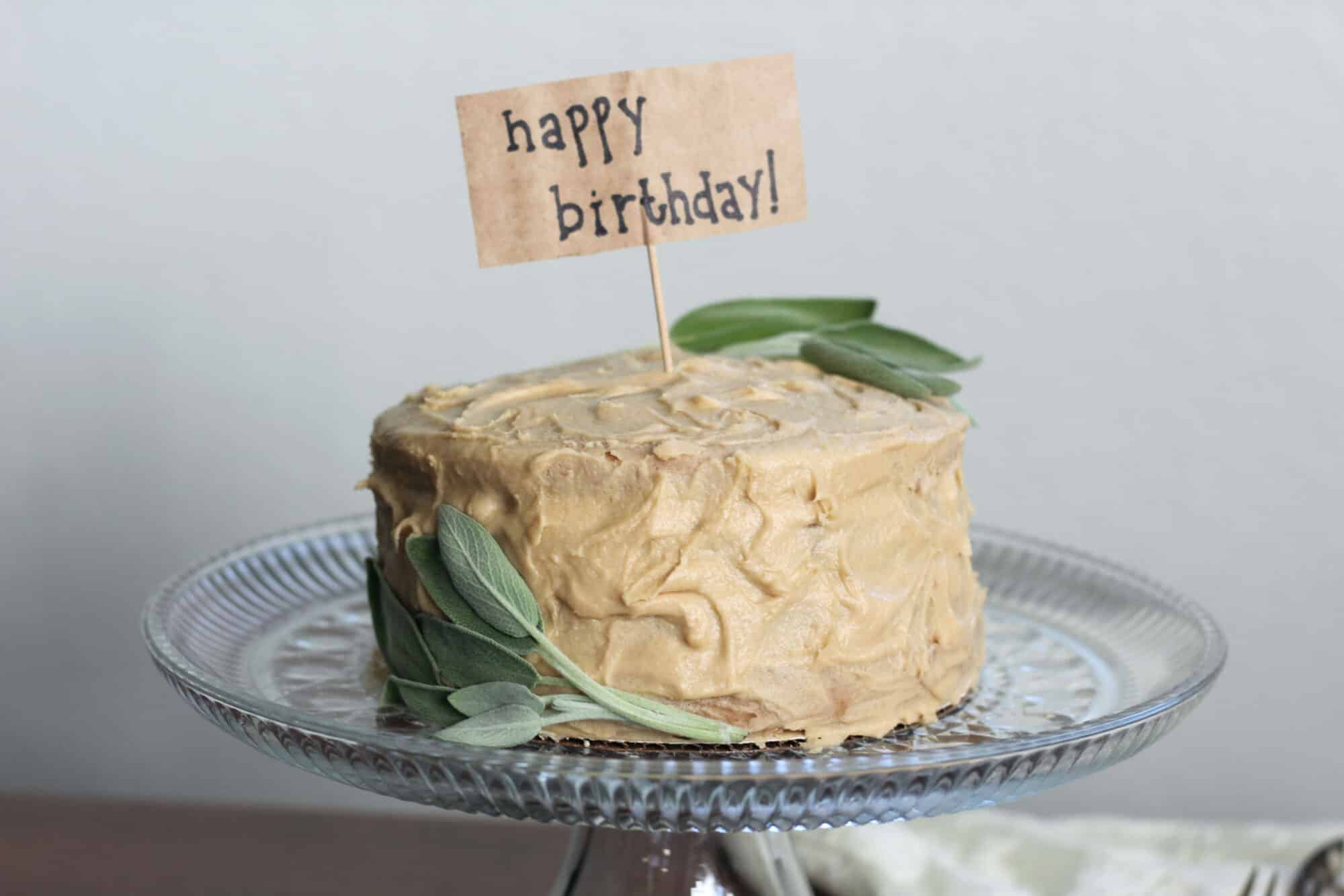 While Insta has proven to me that the ~hip~ people of the world have been spending their weekends partying in bunny costumes, I have spent mine doing laundry, petting my hedgehog, and watching Stranger Things. *raises the roof*. I just got back from Toronto, where my friend Stephen took me to all kinds of breweries, Niagara Falls, aaaaand (!!) I had poutine for the first time! Where can I get poutine in Reno?? I need it more frequently in my life! Usually when it comes to deep-frying foods at home, I dodge it like it's hot (the messssss), but for poutine, I might be willing to pull out all the stops. Or maybe I can rig it with some extra-crispy tater tots right out of the oven? Canadians: would that be sacrilege??
On another note, I will be spending my Halloween night eating white chili with my cousins and taking the kids trick-or-treating! I found an amazing vintage 1960s dress at a thrift store the other day that I was planning on utilizing in my costume, but now that I'll be walking around in the cold weather, I'm thinking of pulling out my classic Rosie the Riveter costume and calling it a day. It's almost a tradition at this point after all.
A couple of weeks ago, I surprised my parents for their birthdays by coming home from London a week earlier than I told them. (Although, they did end up going on vacation for their birthdays, so I had to pretend I was still in England for a few extra days yikes!). I showed up at their front door and rang the doorbell cake-in-hand. They were so excited, we went to a delicious steakhouse for dinner, and then we celebrated with this cake for dessert! It was exactly what I wanting, and they loved their birthday present (me, obvs). This cake was the perfect addition: a lightly sweetened pumpkin cake with a touch of sage flavor and a sticky brown sugar icing that tastes faintly of caramel and butter. It's the perfect fall dessert and makes a great addition to a Halloween party or even a Thanksgiving dessert table (it has sage in it after all!). Plus, you can decorate it like a pumpkin or turkey or something if you really want to make it festive. Obviously, I went the easy way with a few sage leaves and a rustic 'happy birthday' sign. Have a spooky night!
---
Pumpkin + Sage Cake with Brown Sugar Icing
Serves 6-8
*Cake is for High-Altitude baking. Please refer to alternative measurements if you do not live at high-altitude!*
Cake Ingredients
1/2 c. sugar
1/4 c. brown sugar
1 c. + 6 Tbs. flour
1/2 tsp. salt
1/2 tsp. baking powder*
1/2 tsp. baking soda**
1 egg
1/2 c. Tbs. buttermilk
1/2 c. pumpkin puree
1 tsp. pumpkin pie spice
1/2 tsp. cinnamon
1/4 c. vegetable oil
1 tsp. vanilla extract
1/2 c. milk
Preheat oven to 350* F. Grease and flour two 6-inch cake pans. Combine the flour, salt, baking powder, and baking soda in a small bowl. In a medium bowl, cream the brown sugar, sugar, egg, buttermilk, pumpkin puree, pumpkin pie spice, cinnamon, vegetable oil, and vanilla extract. Add half of the flour mixture and half of the milk. Then add the remaining flour mixture and milk. Divide the batter between the two cake pans.
Bake the cakes for 20-25 minutes or until an inserted toothpick shows a few crumbs. Let the cakes cool. Meanwhile prepare the icing (below). Level each cake, and cut each cake in half so you have 4 even layers. Spread frosting between each layer, stacking them until there are 4 cake layers. Frost the outside of the cake. Decorate as desired.
* Use 3/4 tsp. baking powder for regular-altitude recipes.
**Use 3/4 tsp. baking soda for regular-altitude recipes.
Icing Ingredients
1/2 c. butter
1 c. brown sugar, packed
1/4 c. milk
1 3/4 – 2 c. powdered sugar
Melt butter in a saucepan. Add brown sugar. Boil over low heat for 2 minutes, stirring constantly. Cool to lukewarm – add milk. Gradually add powdered sugar, and beat until thick. If it becomes too stiff, add a little hot water to thin. Frost over cake!
xo Sara Lynn
*Song of the day: Atmosphere by Joy Division