BBQ Chicken Nachos with Cilantro-Lime Crema
These BBQ chicken nachos with cilantro-lime crema are tangy, cheesy, and delicious. With melty cheese, guacamole, and slices of fresh jalapeños, these nachos are perfect for a movie night or game day!
There's a Weeknd concert this Sunday, and I guess also a football game? What is the over-under that he'll show up with puffy AF cheeks all wrapped up in gauze? Lemme know what you think!
As I'm sure you can gather, I remain firmly committed to Team Snacks! Even though my hometown officially has its very own football team (hi, Raiders), sportsball is just something I don't think I'll ever truly understand. I think I'm going to choose to be ok with this decision. I'm comfortable with who I am! Go snacks!
This year, when planning my menu, my goal was to make things simple AF. No waiting for pretzel dough to rise, no wrapping a million tiny sausages in pastry, no finicky fondues in sight. I just want cheesy, saucy, ridiculously delicious snackies, and these BBQ chicken nachos are *it*.
Ingredients you'll need
Like I said, these BBQ chicken nachos are meant to be easy breezy, but there are a couple of specific things you'll want to have on hand:
Tortilla Chips – Really good ones! I love Late July. They are thin and crispy and perfectly salted while being sturdy enough to withstand toppings.
BBQ Sauce – Make sure to get a nice, high-quality BBQ sauce! I like sweeter BBQ sauces, but spicy would complement the nachos perfectly!
Crema – Mexican crema is a bit less sour and more creamy than regular sour cream. Of course, if you can't find crema, sour cream or even plain Greek yogurt would work too!
Monterey Jack Cheese – Nothing crazy here, except you *must* shred by hand. Ugh, I know shredding is the worst! But pre-shredded cheese leaves a weird grainy texture and doesn't melt right. Trust!
Toppings – The most important part! I like guacamole, pickled onions, and fresh jalapeño slices. But avocado chunks, corn, sliced red onion, and chilis are all good options too!
Other than that, you'll just need chicken thighs or breasts, basic spices, and a few pantry staples like beans and limes.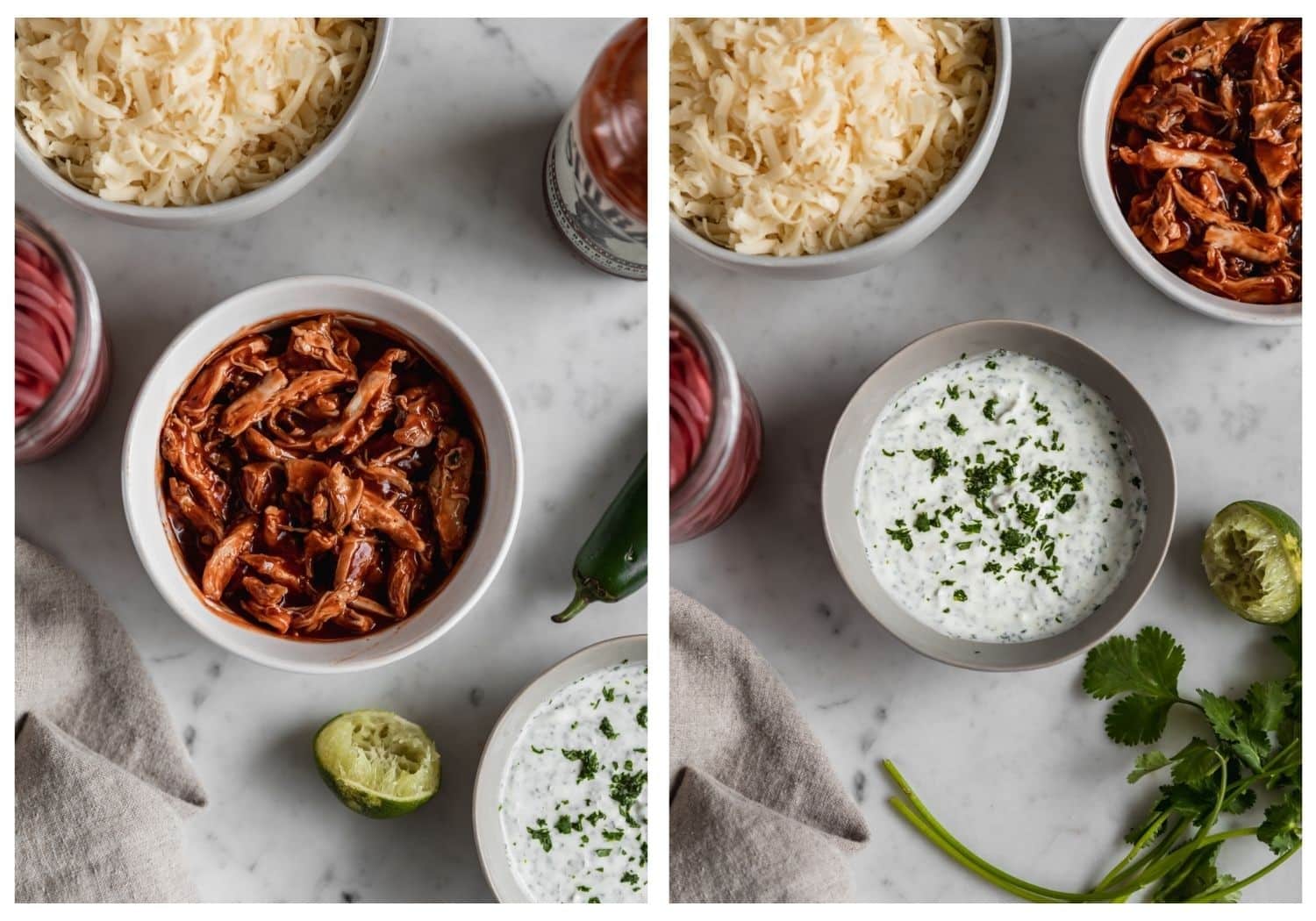 Let's make 'em
Shredded BBQ Chicken – We'll start with the BBQ chicken, and it's beyond simple and delicious! You'll just sear the chicken until it's nice and browned, add some broth, simmer, and shred. Toss with BBQ sauce, and you're good to go.
Cilantro-Lime Crema – Next, you'll whisk up the crema with lime juice, lime zest, cilantro, and a pinch of salt.
Nachos & Assembly – Lastly, it's time to assemble! Top half of the tortilla chips with half of the cheese, BBQ chicken, and beans. Repeat! Bake for a few minutes, and then top with guac, jalapeños, pickled onions, cilantro-lime crema, or any other toppings you're into. Serve with beer!
The importance of layers
Onions have layers, ogres have layers, and your nachos should have layers! We all know what a bummer it is to order nachos at a restaurant, eat a decadent top layer, and then be left with a plate of plain tortilla chips. 🙁 So let's fix it!
To get perfect BBQ chicken nachos, you have a couple options. One, you can layer all of the ingredients in 2-3 batches on a metal plate or baking dish. Or, you can do one even layer on a big sheet pan! For prettiness purposes, I love a plate, but for ease, I love a sheet pan. Do you!
Topping ideas
I like to keep it simple with some beans, guac, pickled onions, and sliced jalapeños, but you have lots of options! Here are a few more ideas:
Veggies – Tomatoes, corn, peppers, green or red onions, and fresh avocado.
Cans/Jars – Olives, pickled jalapeños, pickled radishes, or refried beans.
Meat – Ground beef or pulled pork would also be delicious with BBQ!
For a vegetarian option
If you want to keep things meat-free, here are a few alternatives that would be great tossed with some BBQ sauce:
Canned Jackfruit – Shredded or chopped.
Beans or Lentils – Omit the black beans from the toppings and just use a can of pinto, black, or lentils.
Seitan or Tofu – Crumbled or chopped.
Tips & Tricks
Keep hot and cold ingredients separate – hot cheese = delicious but hot guac = sad. Anything that you want to serve warm like meat, cheese, and beans should be layered and baked. But, anything cold like salsas, avocado, and crema should be added last!
There's never too much cheese – make sure every chip is covered and feel free to add more if necessary! You can also try a few different options like white cheddar, Colby, or a mix.
Sauces on the side – I know, there's guac all up on my nachos in these pics! It's for the *aesthetics*. But, in reality, I would highly recommend serving salsas, guac, and any other sauce or condiment on the side.
More sportsball recipes!
Beer Cheese Fondue
Seedy Soft Pretzels + Bleu Cheese Mustard
Little Smokies in a Blanket with Puff Pastry
Tempura Fried Cheese Curds with Sriracha Mayo
Palmiers with Parmesan + Everything Spice
---
BBQ Chicken Nachos with Cilantro-Lime Crema
These BBQ chicken nachos with cilantro-lime crema are tangy, cheesy, and delicious. With melty cheese, guacamole, and slices of fresh jalapeños, these nachos are perfect for a movie night or game day!
Ingredients
BBQ Chicken
1/2 tsp cumin, ground
1/4 tsp chili powder
1/4 tsp coriander, ground
1/4 tsp garlic powder
1/4 tsp onion powder
1/8 tsp cayenne
1 lb chicken thighs, boneless and skinless
2 tbs neutral oil
3/4 c chicken broth
Salt and pepper, to taste
1/2 c BBQ sauce of choice, plus more as desired
Cilantro-Lime Crema
1/2 c crema or sour cream
2 tbs lime juice, plus more as necessary
1/2 tsp lime zest
2 tbs cilantro, finely chopped
Pinch salt
Nachos & Assembly
8 oz tortilla chips
3 c Monterey Jack cheese, shredded
1/2 c black beans
Thinly-sliced jalapeños, pickled onions, guacamole, etc. for serving
Instructions
BBQ Chicken
In a small bowl, combine the cumin, chili powder, coriander, garlic powder, onion powder, cayenne, and a pinch of salt. Sprinkle half the spice mix over the chicken, flip, and sprinkle the remaining spice mix over the other side of the chicken. Pat the slice mix to the chicken to adhere.

Heat the oil in a pan over medium-high heat. Add the chicken to the pan, and sear for 2-3 minutes per side, until golden brown. Reduce heat to medium.

Add the chicken broth to the pan, and bring to a simmer. Cover, and let cook for 8-10 minutes, until the chicken reaches an internal temperature of 165°F.

Remove the chicken from the pan, and shred on a cutting board with two forks. Coat with 1/3 cup of BBQ sauce. Taste, and add more sauce and salt, if necessary.
Cilantro-Lime Crema
Whisk all of the ingredients together in a small bowl. Add additional lime juice or water until desired consistency is reached.
Nachos & Assembly
Preheat oven to 400°F. Spread half the tortilla chips on a sheet pan or in a baking dish. Sprinkle half the cheese over the chips followed by BBQ chicken and black beans. Layer remaining ingredients on top.

Bake the nachos for 5-6 minutes, until the cheese is melty. Sprinkle the jalapeños and pickled onions over the top, and drizzle with the cilantro lime crema. Serve wtih guacamole, salsa, and other desired toppings!
Notes
To make these vegetarian, use a can of beans in place of chicken. Use white cheddar or pepper Jack cheese if you want something a little stronger than Monterey Jack. Nutrition facts do not include jalapeños, pickled onions, guacamole, or any other optional topping.
Serving: 0.25of recipe, Calories: 895kcal, Carbohydrates: 53g, Protein: 60.1g, Fat: 47.5g, Saturated Fat: 23.1g, Cholesterol: 182mg, Sodium: 1217mg, Potassium: 849mg, Fiber: 7.8g, Sugar: 9.7g, Calcium: 716mg, Iron: 3mg
xo Sara Lynn
Song of the day – Stay Home by American Football