Pumpkin Whoopie Pies with Masala Chai Buttercream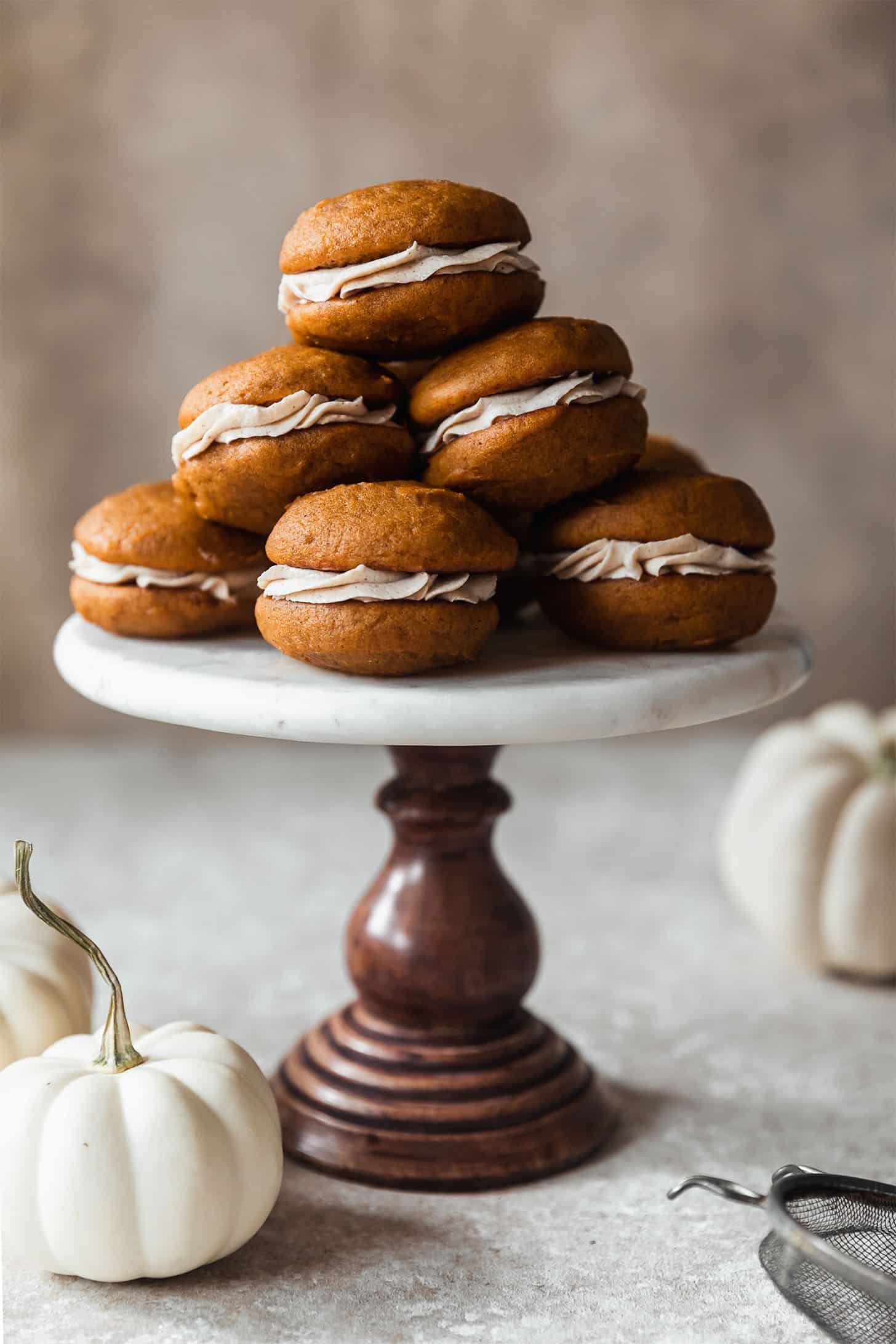 Because I am exactly like other girls, the first autumn treat I baked up this year was full of pumpkin, spice, and two different kinds of sugar. I wore a sweater and lit my cardamom candle and sweat into a puddle the whole entire time cause as it turns out, Reno was going through a heat wave lol. Just September things!
Anyways, I think I actually managed to will autumn into being because within a couple of days, the weather cooled down significantly and I got to eat these pumpkin whoopie pies curled up on my couch while it rained outside. Just in time for spooky season, I used some kind of witchy powers to summon fall and one of my new favorite cookies ever.
Pumpkin whoopie pies are the best!
Long story short, if you've never had a whoopie pie, they're a cookie sandwich made up of cake-like cookies (usually chocolate) with icing or marshmallow-y filling. Apparently, they originated somewhere in New England, although it seems like there are a few states duking out who created the true original. I basically think of them as an inside-out-cupcake but maybe even better because they're suuuper soft and pillowy and the cake-to-frosting ratio is way more on point. These were made for people who like frosting-less cake a.k.a. me.
Anyways, since we've all collectively decided it's fall, I obviously wanted to make these pumpkin whoopie pies! The cookies are super fluffy thanks to an absolute ton of pumpkin. For the filling, I decided on a Masala chai-inspired buttercream to add a little extra warmth and because I love how the tea adds just a hint of earthiness to offset the sweetness of the buttercream. Ahhhh so good!
Shall we make 'em?
The ingredient list
All of the ingredients you need should be pretty straightforward! I like to stock up on all the warm spices at the beginning of autumn – they should last you well into the holidays. Here's everything you'll need!
Canned pumpkin – you're looking for 100% pumpkin purée, not pumpkin pie filling.
Spices – pumpkin pie spice, cinnamon, ginger, cardamom, cloves, and black pepper.
Brown sugar – I personally like dark brown for extra molasses flavor but light works too.
Black tea – my go-to for this recipe is loose-leaf Assam but any strong black tea will work.
Baking basics – flour, baking powder, baking soda, salt, neutral oil, eggs, vanilla extract, unsalted butter, powdered sugar, and whole milk.
How to make these cookies | Recipe Video
Maybe one of the best parts of this recipe is that the cookies are super easy and you can whip them up in less than an hour. Here's how to make them!
Pumpkin cookies
First, whisk together the flour, baking powder, baking soda, salt, and spices.
Next, mix together the oil, brown sugar, pumpkin, eggs, and vanilla. Add the flour in two batches, mixing just until combined.
Scoop the batter onto parchment-lined sheet pans. Bake at 350°F just until they're cooked through, about 10-11 minutes.
Lastly, let the cookies cool completely while you prepare the filling.
Masala chai buttercream
Start by heating the milk on the stove. Add the tea and bring to a simmer for 1 minute.
Remove the milk tea from the stove and let it steep for about 5 minutes. Then, strain to remove the tea leaves. Cool completely.
Meanwhile, beat the butter, sugar, and spices until fluffy. Add the milk tea to the frosting and beat until fluffy, 4-5 minutes.
Assemble the cookies
Lay half of the cookies bottoms-side up on a sheet pan.
Pipe or spread the buttercream on the bottoms of the cookies.
Then, place the remaining cookies on top. Gently press to sandwich the whoopie pies together. Enjoy!
Storing & freezing
Storing the pumpkin whoopie pies properly is key or they'll stick together! To store them, line a large airtight container with parchment paper. Place the cookies in a single layer on the parchment paper, but make sure they aren't touching. Do not stack the cookies or they will stick. They'll be good for up to 2-3 days!
To freeze the cookies, wrap each individually in parchment paper or plastic wrap. Place them in an airtight container and pop them in the freezer for up to 2 months. To enjoy, just unwrap and let the cookies defrost for at least an hour at room temperature.
How to get round cookies
Because the pumpkin whoopie pie batter is thick, it tends to bake in whatever shape it gets placed in. If you care about getting round cookies, I have a few easy tips and tricks. (And if not, they'll still taste delicious at the very least!)
Use a cookie scoop for uniform size – I use a #40 scoop (2 Tablespoons).
Don't move the scoop around too much when you release the batter or you'll get wonky shapes. Try to keep the scoop in place until the batter is completely on the sheet pan.
Smooth the tops with clean fingers or a small rubber spatula if they don't come out round.
Why are they sticky?
Since pumpkin whoopie pies are similar to cake, they tend to be pretty soft and fluffy. However, unlike cake, they're not baked in pans that create a 'crust' on the outside. And, since there's quite a bit of moisture in the batter, they'll get just a tad sticky when they sit out. It's just kind of the nature of whoopie pies, nothing to worry about! To prevent sticking (as much as possible anyways), I recommend eating these day-of and/or making sure that you're storing leftovers properly.
Preventing flat cookies
Pumpkin whoopie pies should have a nice 'dome' to them. Although I've never had an issue with this recipe, there are a few ways you can make sure that your cookies stay nice and puffy!
Don't use expired baking powder/soda – using old ingredients can cause the cookies to deflate. Make sure to check those expiration labels going into baking season!
Avoid over-mixing the batter – you want to stir everything together just until you have a nice, thick batter.
No thin batters – thin batter will definitely cause flat cookies. Luckily, this isn't a problem with this recipe – it has the perfect mix of moisture and sturdiness so the cookies come out perfect every time!
Don't let the batter warm up – sometimes if the batter gets too warm, it can cause the cookies to fall. If your batter starts to get warm, just pop it in the fridge for a few minutes!
The secret to Masala chai buttercream
I've noticed that a lot of 'chai' buttercreams and desserts don't have tea in them! But like, 'chai' literally translates to 'tea' haha. So in this recipe, we're definitely going to make sure to add some tea and not just the spices!
The best way to get that signature tea flavor is to infuse milk with loose-leaf tea, cool it, and add the mixture to the buttercream. You don't need a lot of milk (we don't want the filling to be too thin) so you'll want to make sure to infuse the milk for a bit longer than usual to get a strong flavor. I usually let it sit for about 5 minutes before straining!
Recipe tips & tricks
Let the cookies cool completely before filling. Otherwise, they'll melt the buttercream! Usually, they cool pretty quickly on their own, but you can also pop them into the fridge or freezer to speed up the process.
For a thicker filling, just double the frosting. I personally prefer a thin filling but that's just me!
Use cream cheese frosting if you want something a little tangier. I like to add a dash of cinnamon when I use cream cheese! You can also use marshmallow buttercream.
If you don't have a piping bag, you can use a zipper bag with a corner cut off instead. You can also just spread the filling on the cookies with a butter knife!
Serve pumpkin whoopie pies day-of for the best results. They get a little sticky over time, even though they'll still taste amazing!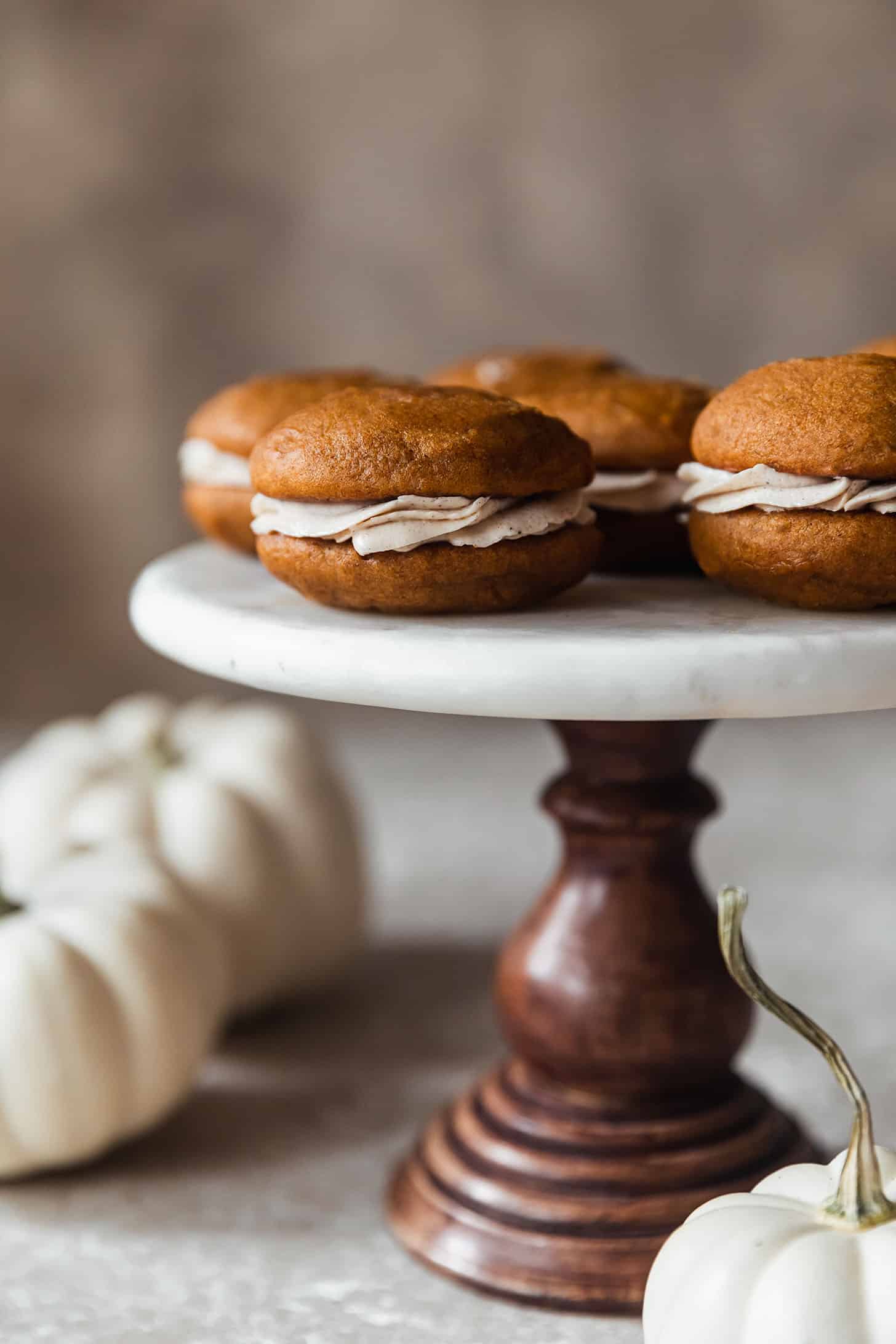 More pumpkin treats for autumn
Pumpkin Crisp with Maple Oat Streusel
Pumpkin Crème Brûlée Tart
Pumpkin Morning Buns
Pumpkin Millionaire's Shortbread
If you make this recipe, I would love it if you left a star rating and review! I read every single comment and love hearing what you think about my recipes. Thank you for supporting Sunday Table!
---
Pumpkin Whoopie Pies with Masala Chai Buttercream
These pumpkin whoopie pies are one of my all-time favorite autumn desserts! They have soft, pillowy pumpkin cookies and spiced chai-inspired buttercream for a decadent fall treat. Serve them at parties, holidays, or just for a quick weekend bake!
Ingredients
Pumpkin Cookies
2 c all-purpose flour, sifted
1 tsp baking powder
1 tsp baking soda
1/2 tsp Kosher salt
1 tsp pumpkin pie spice*
1/2 tsp cinnamon
1/2 c neutral oil
1 c dark brown sugar
1 1/4 c canned pumpkin (not pie filling!)
2 eggs, room temperature
1 1/2 tsp vanilla extract
Masala Chai Buttercream
1/2 c unsalted butter, softened
2 c powdered sugar, sifted
1/4 c milk, plus more as-needed
2 tsp loose-leaf Assam tea (or other strong black tea)
1/2 tsp ginger, ground
1/2 tsp cinnamon
1/2 tsp cardamom, ground
1/4 tsp cloves, ground
Pinch finely ground black pepper
Equipment
#40 cookie scoop (2 Tablespoons), optional
Instructions
Pumpkin Cookies
Preheat oven to 350°F. In a small bowl, whisk together the flour, baking powder, baking soda, salt, pumpkin pie spice, and cinnamon. Set aside. Line two cookie sheets with parchment paper.

In a medium bowl, whisk together the neutral oil, dark brown sugar, pumpkin, eggs, and vanilla. Add half of the flour, and mix until just combined. Repeat with the remaining flour.

Using a #40 scoop, spoon two-tablespoon mounds two inches apart on the prepared baking sheets. You should have about 32 cookies total. Bake, checking for doneness at ten minutes, or until the tops spring back when touched. Mine were consistently perfect at eleven minutes.

Let the cookies cool for a few minutes on the sheet pan and then transfer to a rack to cool completely.
Masala Chai Buttercream
While the cookies are baking, heat the milk and loose-leaf tea in a saucepan over medium-low heat until it comes to a simmer. Allow it to gently simmer for about 1 minute and then remove the mixture from the heat. Steep for 5 minutes. Then, strain the tea leaves out of the milk, pressing the leaves with a wooden spoon to release all of the milk. Let it cool completely.

Meanwhile, beat the butter, sugar, ginger, cinnamon, cardamom, cloves, and black pepper until the frosting comes together, about 3 minutes.** Add the milk tea to the frosting. Beat until the frosting is light and fluffy, about 4-5 minutes.
Assembly
Place half of the cookies bottom-side up on a sheet pan or plate. Using a piping bag, pipe the Masala chai buttercream onto the bottoms of the cookies.*** Place the other half of the cookies on top of the frosted ones, gently sandwiching them together. Enjoy immediately or store the whoopie pies in a single layer in an parchment-lined airtight container for 2-3 days.****
Notes
*If you don't have pumpkin pie spice, you can use more cinnamon or a mix of other warm spices like ginger, cardamom, cloves, and/or nutmeg. **If the buttercream is too runny, add more powdered sugar two tablespoons at a time, until it is your desired consistency. If the buttercream is too thin, add milk 1 Tablespoon at a time. ***If you don't have a piping bag and tip, you can just cut the corner off a zipper bag and use it as a piping bag. Or, spread the frosting on the cookies with a butter knife. ****I store these at room-temperature on the counter. Storing them in the fridge can dry out the cookies.
Serving: 1cookie, Calories: 248kcal, Carbohydrates: 33.8g, Protein: 2.4g, Fat: 11.9g, Saturated Fat: 4.7g, Cholesterol: 32mg, Sodium: 186mg, Potassium: 102mg, Fiber: 1g, Sugar: 21.7g, Calcium: 35mg, Iron: 1mg
xo Sara Lynn
*Song of the day: Turn Your Love by Half Moon Run