Funfetti Cupcakes with Marshmallow Buttercream
These homemade funfetti cupcakes with lots of rainbow sprinkles and creamy marshmallow buttercream are the best! They are a huge crowd-pleaser and are great for parties and get-togethers.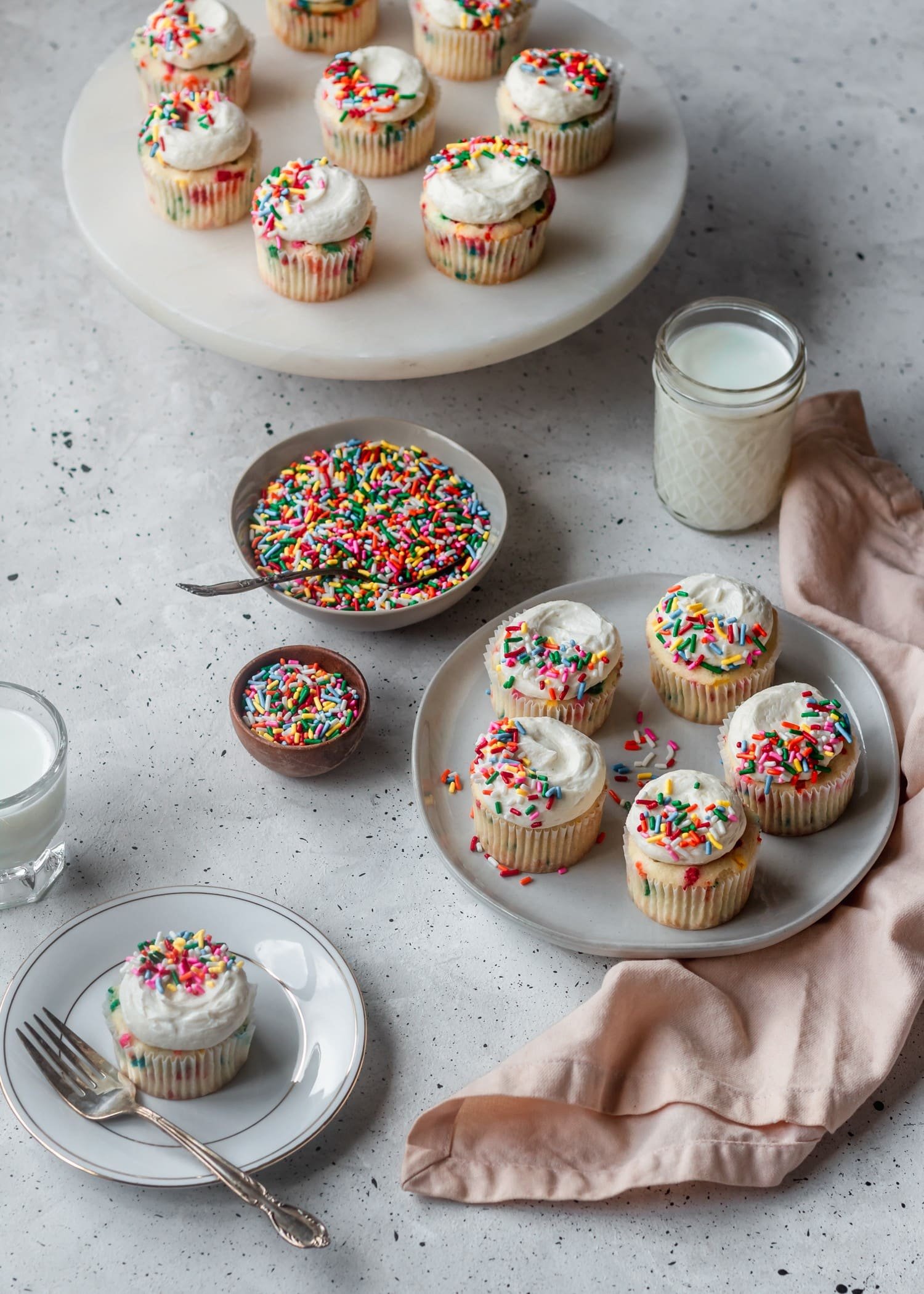 Cue a flashback to troll dolls, jelly shoes, VHS tapes, and handlebar streamers on bikes. Think back to the days when your only concerns in life were seeing your favorite Saturday morning cartoons and worrying about waking up in the middle of the night with Furby standing two inches from your face. And puh-lease tell me you were a Back Street Boys fan? Or were you team NSYNC? We can be friends either way.
Yes, my sweet summer children of the nineties, this one's for you. We've grown up in some weird times, but at least we got to experience Polly Pockets and All That and Mr. Sketch scented markers. There's nothing better than growing up with prime delicacies like Capri Suns, gushers, and Trix when they still were fruit-shaped. Also, don't tell me I'm the only one who accidentally inhaled some Bubble Jug over the years??
But, if there's one food of the 90s I think we can all agree we experienced at least once, it's the funfetti cupcakes that adorned every birthday party. Only the real ones had that uber-sweet, artifically-flavored vanilla cake filled with dots of rainbows and topped with the toxic sludge that is canned frosting. Oh the memories. ❤️
Now let's talk about how we make homemade funfetti cupcakes taste deliciously artificial!
Have you ever gotten the craving for funfetti cupcakes, and you mix together your Madagascar vanilla extract and European butter and organic, natural rainbow sprinkles from Whole Foods and then…you're disappointed. That's because what you are eating is an embellished (albeit, mostly likely delicious) vanilla cupcake with sprinkles. But what you were looking for is the artificial quality of labratory-curated vanilla flavor and sprinkles chock full of Blue No. 1. Would I typically eat these items in anything else? Hell nah. But will I do it in the name of funfetti? Absolutely, 100% always. A few fake ingredients once or twice a year is not going to kill you. As The Strokes would say, "YOLO".
TL;DR – you need some fake AF vanilla extract and regular rainbow sprinkles. Stifle the health-conscious Millennial screaming in the back of your head with a head of kale, and *let it go*.
Oh, and P.S. this is a high-altitude cake recipe. I have included sea-level instructions below. I haven't recently made this cake at sea-level but used to when I lived in Vegas, so I'm pretty sure (although not 100% sure) it will work, so don't yell at me, thanks!
Ingredients for Funfetti Cupcakes
Now that it's cleared up that the secret ingredient to funfetti cake is, ahem, chemicals 😬 let's talk about all the ingredients you're going to need!
All-Purpose Flour: You could use cake flour for a lighter crumb, if you prefer!
Baking Powder: Classic cake ingredient.
Salt: For balance.
Sour Cream: Whole milk, plain Greek yogurt would work too!
Whole Milk: Make sure it's whole!
Unsalted Butter: We're going for a buttery cake here.
Sugar: Plain white is good.
Imitation Vanilla Extract: Imitation!!!
Eggs: Large is best.
Canola Oil: For, ugh ok here we go, moisture (I'm sorry).
Sprinkles: Go for the real deal and get the kind without the dreaded chocolate sprinkles mixed in, trust me.
Marshmallow Fluff: For the best buttercream everrrr.
Powdered Sugar: For the frosting!
Cool, let's make funfetti cupcakes!
This is your basic, run-of-the-mill cake recipe. Here's how we do it!
Whisk together all of the dry ingredients (flour, baking powder, and salt). Then, whisk together the whole milk and sour cream, and set aside.
Cream the butter and sugar together until it's nice and fluffy! Add the eggs on at a time and then mix in the vanilla extract and oil.
Add half of the flour to the butter mixture, followed by half of the milk mixture. Repeat with remaining flour and milk mixtures. Don't overmix, a few streaks is ok!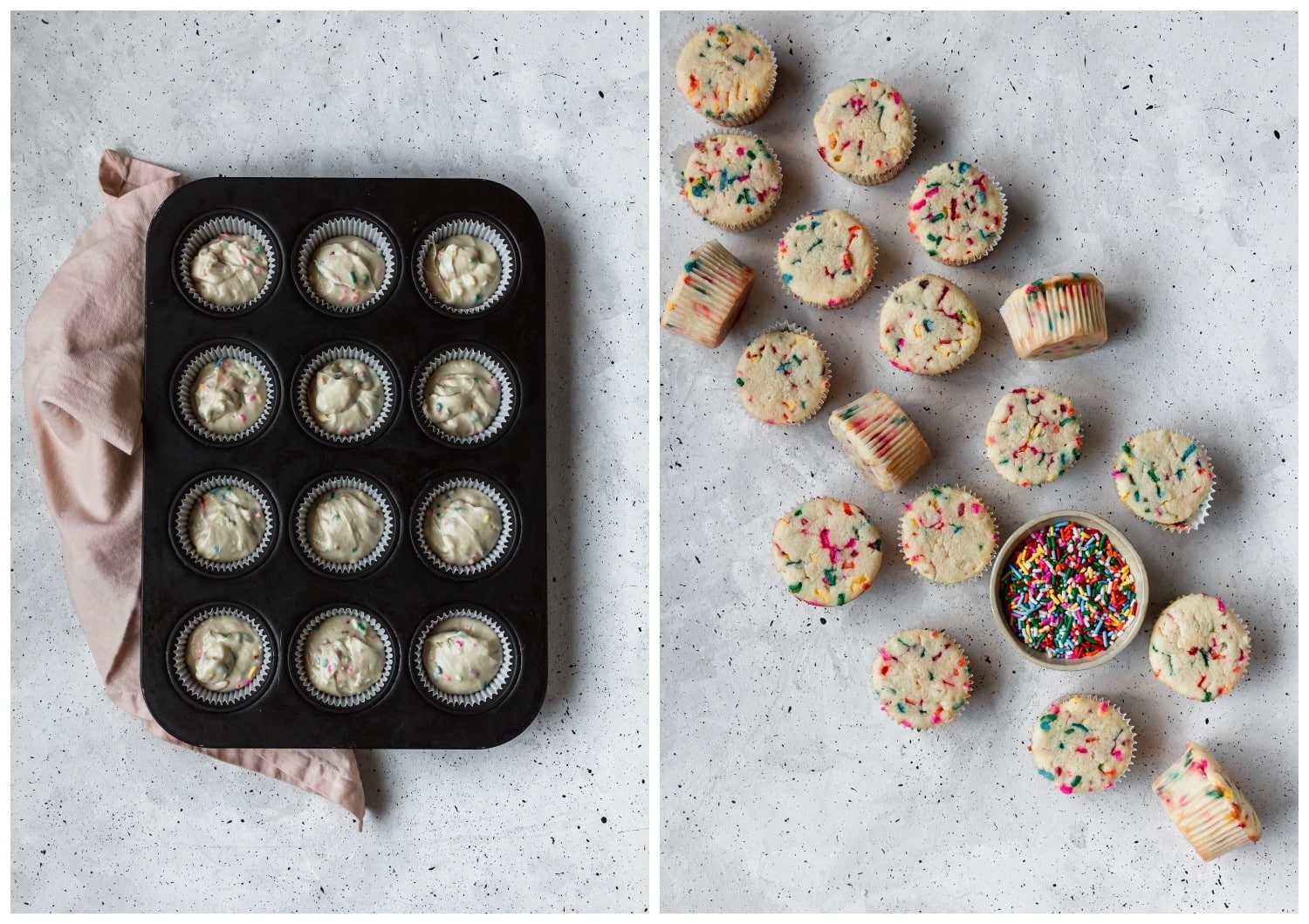 Lastly, gently stir in the sprinkles, mixing in any last flour or milk streaks. Make sure to stir in the sprinkles last, so they don't bleed too much color in the batter! Divide the batter between 18 prepared cupcake tins.
Bake at 375°F (high altitude) or 350°F (sea-level) for 14-16 minutes, until an inserted toothpick has just a few moist crumbs sticking to it. Let the cupcakes cool completely.
Meanwhile, beat more butter, marshmallow fluff, powdered sugar, and a pinch of salt together until combined. Thin with a couple splashes of milk, if necessary.
When the cupcakes are cooled, frost with the marshmallow buttercream. Decorate with sprinkles, and enjoy all the nostalgia.
Baking funfetti cupcakes at sea-level
This recipe is for high altitude around 5,000 feet. Please keep in mind that I have not recently tried this recipe at sea-level, although I used to make it at sea-level when I lived in Vegas with these directions:
1 1/2 tsp. baking powder
1/2 c. milk
Bake at 350°F for 15-16 minutes.
Can I make this into a cake?
Yep! Just use three 6-inch cake pans or two 8-inch cake pans. Keep the amount of frosting the same. (You may even need more if you plan on frosting the outside). Bake at the same temperature, but start checking for doneness around 18-21 minutes.
Storing funfetti cupcakes
Keep cupcakes in an airtight container at room-temperature for 2-3 days at most (they will start to dry out eventually). Or, you can freeze them for up to 3 months! Just let them defrost at room-temp for about 30 minutes before serving.
I would not recommend refrigerating these cupcakes, because the moisture in the fridge can cause the cake to dry out. Left at room temperature, the frosting will "protect" the cake and keep it from getting dry!
Sprinkles for Funfetti Cupcakes
I haven't done much of a comparison between sprinkles, because it's been said and done, and I don't have much to add to the conversation. But, I will say that I have tried the 365 rainbow sprinkles (my faaaaave), and they don't show up very well. I would definitely just stick to the regular rainbow sprinkles that you get in the baking or ice cream aisles. I've heard rainbow sequin sprinkles work too, but I have never personally used them! In a pinch, nonpareils work, but I find that they bleed color too much when you mix them in the batter.
Yellow vs. White funfetti cupcakes
For this recipe, I choose to use whole eggs, because I honestly just hate having egg yolks sitting around the house. I rarely find the motivation to make pastry cream or Hollandaise before the yolks go bad. So, I just live with the yellow-hue of the cupcakes, and it doesn't bother me!
However, if you really want that white-white, crisp, clean cake studded with rainbows, just use four egg whites and save the egg yolks for another use!
This cake is thicc
Thicc is maybe not the best word, but it is a bit more dense than your average vanilla cake! This is because 1. I just personally like denser cakes a bit better, and 2. We need a thicker batter that is going to keep our sprinkles suspended! If the batter is too runny, the sprinkles are more likely to disperse un-evenly and sink to the bottom of the cake. If you are looking for more of a "fine crumb", try using cake flour instead!
How to keep the sprinkles from sinking to the bottom of the cupcakes
To prevent the sprinkles from sinking, all you have to do is toss the sprinkles with a few pinches of flour before adding them to the batter! Seriously, don't get too crazy with the flour because we don't want to affect the outcome of our cake. But, just a few small pinches should coat them nicely and leave you with evenly-distributed, beautiful rainbow cupcakes!
Decorating Ideas
I just went ahead and did the typical baker's swoop with some sprinkles. To do the bakers swoop, just pipe the frosting on with a circular tip, and then use a butter knife to "swoop" the center. First of all, I'm 100% sure that this style is not actually called the "baker's swoop". That is a made up term. Secondly, I'm not great at even doing it, so I covered my decorating inabilities with some sprinkles! You could also:
Use tinted frosting (pink would be cuuuute).
Pipe the frosting with a decorative tip.
Pipe on some frosting, and dip the whole thing in sprinkles if you want to be extra.
Make cute little flowers or figures out of marzipan or fondant!
Tips and Tricks
Make sure your butter and eggs are at room-temperature to ensure the batter mixes evenly.
Add the sprinkles last so the colors don't bleed before you can bake.
Halve this recipe if you don't want a million cupcakes laying around.
Use 4 eggs whites instead of 2 eggs if you prefer a white cake.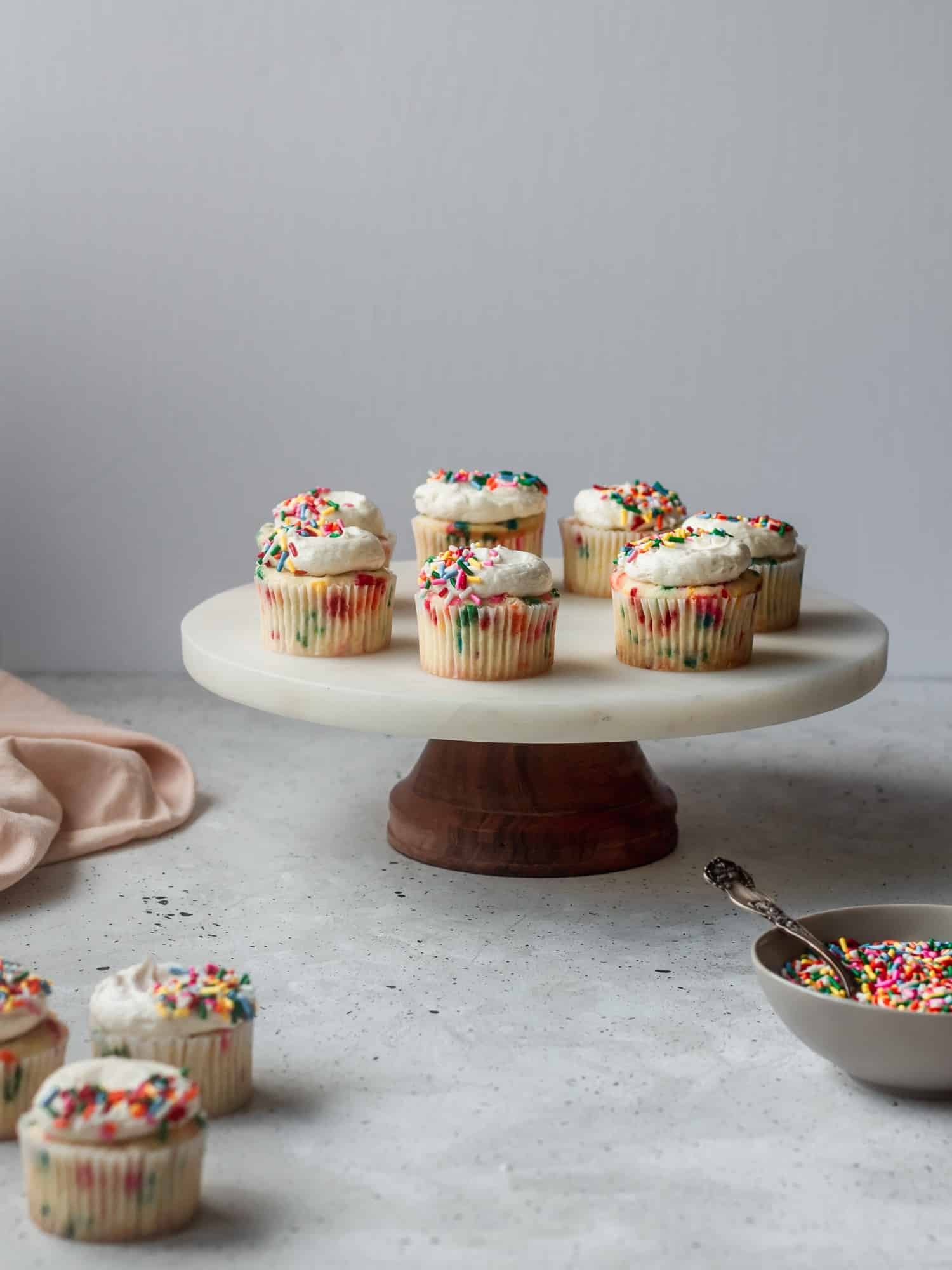 Other cake recipes you should definitely try
Chocolate Stout Cake + Irish Cream Cheese Frosting
Vanilla Cake with Peach Filling + Caramelized White Chocolate Buttercream
Orange Liqueur Cupcakes with Marzipan Buttercream
Chocolate Peanut Butter Lava Cake Skillets
funfetti cupcakes with marshmallow buttercream
---
Funfetti Cupcakes with Marshmallow Buttercream
You're never too old for some sprinkle cupcakes. These are super fluffy, filled with plenty of sprinkles, and topped with the creamiest marshmallow buttercream. They are the absolute best for birthday parties or just for fun!
Ingredients
Funfetti Cupcakes
1 3/4 cup all-purpose flour
3/4 tsp baking powder
3/4 tsp salt
1/4 cup sour cream (or plain Greek yogurt)
1/2 cup + 2 Tbs. whole milk
1/2 cup unsalted butter, softened
1 cup sugar
1 tbsp imitation vanilla extract
2 eggs, room-temperature
1/4 cup canola oil (or vegetable oil)
1/2 cup rainbow sprinkles
Marshmallow Buttercream
7 oz jar of marshmallow fluff
1 cup unsalted butter, softened
2 tsp imitation vanilla extract
3 cup powdered sugar
Pinch salt
2 tbsp whole milk
Instructions
*This recipe is for high altitude. Please refer to the recipe notes for sea level instructions*. Preheat the oven to 375° F. Line two cupcake tins with 18 liners. Whisk together the flour, baking powder, and salt in a small bowl and set aside. In a liquid measuring cup, mix together the whole milk with the sour cream (or Greek yogurt) and set aside. Then, mix the sprinkles with a few pinches of flour in a small bowl until they are lightly coated.

Using a mixer, cream the butter and sugar on medium-high until light and fluffy, about 4 minutes. Add the eggs one at a time until incorporated. Then, mix in the imitation vanilla extract and oil.

Reduce the mixer to low, and add half the flour mixture followed by half the milk mixture until just combined. Repeat with remaining flour and milk mixtures. Do not overmix. Gently stir in the sprinkles until evenly combined. Divide the batter evenly between the cupcake liners.

Bake for 14-16 minutes, or until the cupcakes are just baked and when a toothpick inserted into the center of the cakes has a few crumbs on it. Let the cupcakes cool for a few minutes in the pan, and then completely cool on a wire rack.
Marshmallow Buttercream
In a medium bowl, mix together the butter and marshmallow fluff until creamy. Add the powdered sugar, one cup at a time, until thoroughly mixed. Add the imitation vanilla extract, 2 Tbs. of milk, and a pinch of salt and mix on medium-high until whipped, about 5 minutes. Add more milk or powdered sugar, 1 Tbs. at a time, until you reach your desired consistency (if necessary).
Assembly
Pipe the frosting onto the cooled cupcakes. Decorate with sprinkles or other confections as desired. Store leftovers in an airtight container for up to 3 days. Enjoy!
Notes
**This recipe is for a high-altitude cake (about 5,000 ft.), but if you live at sea-level, you can try 1 1/2 tsp. of baking powder and only 1/2 c. milk. Bake the cakes at 350° for 18-22 minutes.**
Serving: 1cupcake, Calories: 338kcal, Carbohydrates: 50.5g, Protein: 2.4g, Fat: 14.9g, Saturated Fat: 7.5g, Cholesterol: 48mg, Sodium: 191mg, Potassium: 65mg, Fiber: 0.3g, Sugar: 39.1g
---
*Song of the Day: You Only Live Once by The Strokes