Marinated White Beans with Toast
Marinated white beans with vegetables, rosemary, garlic, and a quick vinaigrette. served over whole wheat toast for a light, delicious dinner!
When Marc and I went to Minneapolis, we had dinner at Bar La Grassa, and it was life changing. Everything from our red pepper bruschetta to the apple crespelle made my eyes go into the back of my head. I actually think Marc and I would move to Minneapolis just to be close to this restaurant. (If it wasn't for the massive snowstorms and mosquitoes, that is). However, I think the thing that really got me was the free marinated white beans they gave us before we even ordered. It was literally just butter beans mixed with Giardiniera (Italian pickled vegetables) served with fresh bread. And it was the best ever. To this day, I still haven't quite figured out how to perfectly recreate it. But, I've come pretty close. This may just be one of those recipes I'm constantly perfecting, ya feel?
Side note: Is it silly that out of all of the amazing food I ate on that trip, my favorite dish may have been beans? Maybe. Idk. Who cares! I like what I like and I have a new breakfast/lunch/dinner/after-dinner snack go-to. I'm not mad.
Marinated White Beans are my go-to when I don't want to cook
The absolute best thing about this recipe is how easy and versatile it is. I make these beans pretty much any time I'm just straight up not in the mood to cook. (Or in those times when I don't make it to the grocery store a.k.a. any time it's snowing or I'm feeling lazy). I pretty much always have the ingredients for these marinated beans in my pantry!
This recipe is also perfect, because you can pretty much use anything you have on hand. Butter beans are my favorite, but you can use cannellini, navy beans, chickpeas, etc. As for bread, I love TJ's whole wheat Pain Pauline. But, I've also used sourdough, boule, baguette, regular whole wheat bread slices, and seed crackers with great results! As long as it's toasty and/or crunchy, you'll be good to go.
Oh! And this recipe is vegan. In case that's your kind of thing!
Ingredients you'll need for marinated white beans
You'll need some pretty basic pantry-staples to make this recipe! Just make sure that you have:
White Beans: Whatever you like! I prefer butter beans, but cannellini, navy, and chickpeas are all great.
Veggies: You'll need about 1/2-1 cup of mixed, finely diced veggies. I like carrots and bell pepper, but zucchini, celery, cauliflower, hot peppers, and onion are also great!
Rosemary: Fresh if possible. Any herbs you like would work here!
Bread: Crusty is best, but I've also used sandwich bread and crackers before. Whole wheat is my favorite with these beans!
Apple Cider Vinegar: For that pickled-veggie flavor we're looking for. Red wine vinegar works too!
Olive Oil: Whatever you have on hand is great.
Garlic: Always need garlic!
Oregano: Necessary in any Italian recipe, I'm pretty sure.
Onion Powder: For flavor.
Dijon Mustard: Adds a little creaminess to the dressing.
Lemon: Optional, but I like it!
How to make marinated white beans!
This is the easiest recipe everrrrr. First, you'll start by finely dicing the veggies and rosemary. You can do this by hand, but I personally like pulsing the veggies in a food processor to keep everything even. (And because I would rather clean a food processor than finely dice a ton of vegetables. Up to you though!). Set aside.
Next, whisk up the dressing! You'll mix together some apple cider vinegar, garlic, oregano, onion powder, Dijon, salt, and pepper until smooth. Then, you'll whisk in the olive oil until emulsified.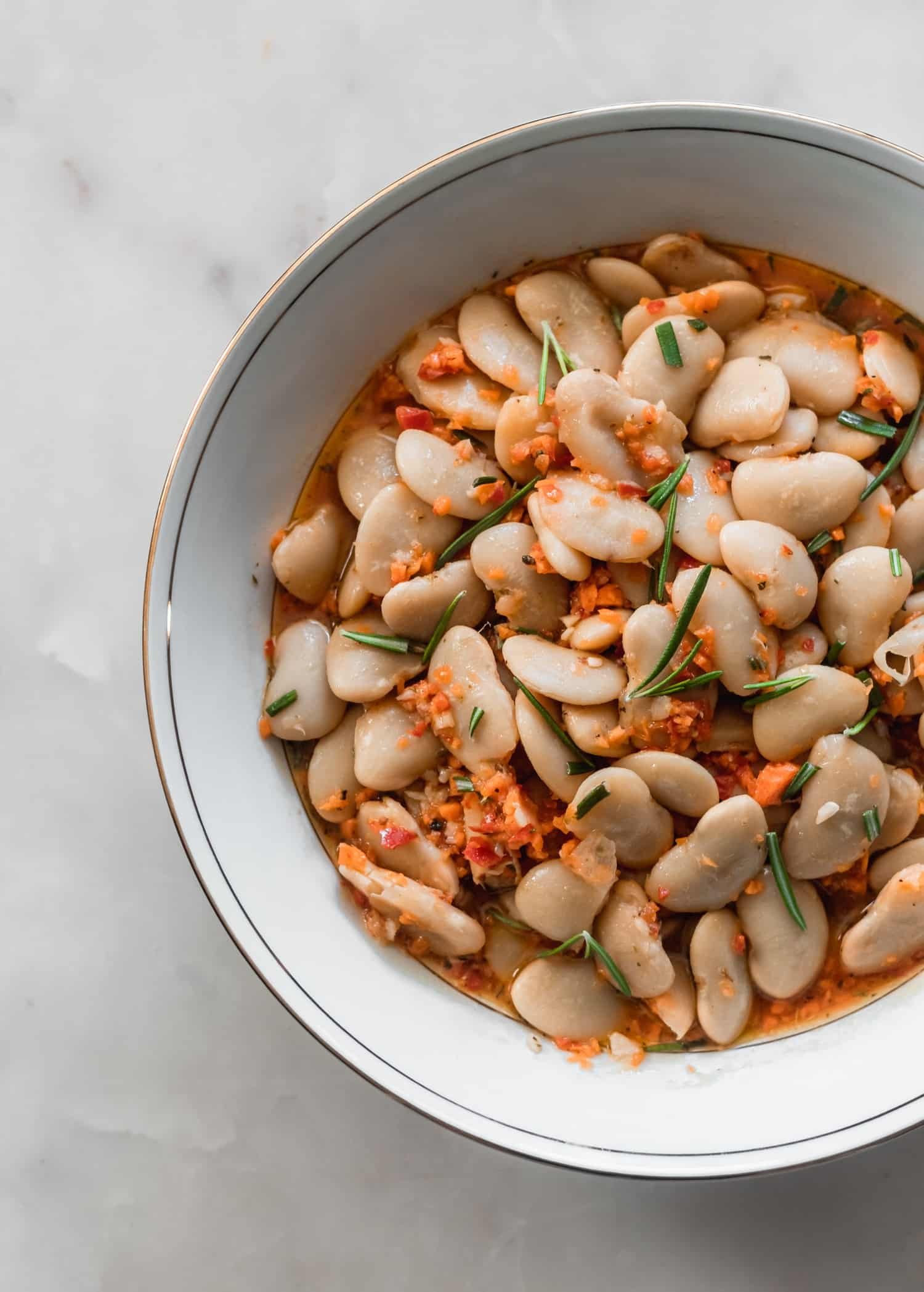 Combine the beans with 1/2-1 cup of finely diced vegetables, and toss with dressing. Taste, and add more herbs, vinegar, and seasoning. Top with a squeeze of lemon if desired. Eat with toast of choice!
What kind of beans should I use in this recipe?
I use canned butter beans, but any white beans would work! Cannellini, chickpeas, and navy beans are all great choices. You can also make beans fresh, which would probably taste amazing! I have never done this before, but it's on my list to-try. If you need a guide on cooking dried beans, check out this article on cooking dried beans.
How to store marinated white beans
I keep marinated white beans in a jar in the fridge for up to 4-5 days. You can also store them in a plastic food storage container, just make sure it's airtight! The oil may solidify in the fridge a bit, so take the beans out about half an hour before you plan on eating them. I think they taste best at room-temperature anyways! Give the beans a little shake before you eat to get all of the ingredients mixed around again.
How to serve marinated white beans
I like to serve these beans on crusty, whole wheat toast with a small drizzle of olive oil. However, there are plenty of ways to eat marinated white bean salad if you want to switch things up!
On an antipasto platter with meats, cheeses, breads, olives, and other vittles.
In a green salad!
Warm, with a fried egg on top.
As a side with grilled protein (chicken, fish, etc.)
On top of fresh or grilled vegetables.
With wine. Always.
A few tips for making marinated white beans
This salad gets better as it sits in the fridge! All of the flavors meld together, and it just gets more delicious over time. The salad will last in the fridge for about 4-5 days before it gets soggy!
The olive oil will solidify a bit in the fridge, so just let the beans sit at room-temp for about 30 minutes before eating. I think these beans are best at room-temp anyways!
If serving as an appetizer, let everyone assemble their own toasts. The marinade will make the bread soggy if you assemble them too far in advance.
Dried + cooked beans or canned beans both work. I usually use canned, because #lazy.
You also may like these veggie dishes…
Crispy Brussels Sprouts with Fried Shallots, Bacon, & Dijon Vinaigrette
Spring Panzanella Salad
Turmeric & Za'atar Roasted Carrots
Guferati (Indian Green Beans)
Thai Cucumber Salad
MARINATED WHITE BEANS WITH TOAST
---
Marinated White Beans with Toast
If you're looking for a super quick and easy appetizer, this is it! A can of white beans is tossed with vegetables, herbs, garlic, tangy vinaigrette, and served over olive oil toast for a refreshing, flavorful appetizer or lunch.
Ingredients
Dressing
1/4 cup apple cider vinegar (plus more, to taste)
2 garlic cloves, finely minced
1/2 tsp oregano
1/2 tsp onion powder
1 tsp Dijon mustard
Salt and pepper, to taste
3 tbsp olive oil
Beans
1 small carrot, peeled
1/2 red bell pepper, de-seeded
1 sprig fresh rosemary, finely chopped
2 15 oz. cans butter beans (or white beans of choice), drained and rinsed
Squeeze lemon, to taste (optional)
Olive Oil Toast
4 slices of crusty bread
1 Tbs. good quality olive oil
Instructions
Dressing
In a small bowl, whisk together all of the ingredients except the olive oil until smooth. Slowly drizzle in the olive oil until the dressing is emulsified. Taste, and add more vinegar and seasonings to taste. (I personally like 5-6 Tbs. of vinegar in my recipe!)
Marinated Beans
In a food processor, pulse the carrot, bell pepper, and rosemary until finely chopped. Alternatively, finely dice everything by hand. You can use any veggies you want here, just make sure you have about 1/2-1 cup of finely chopped veggies!

In a large bowl, mix together the veggies and beans. Toss with the dressing, and squeeze a little lemon over the top if desired! Taste, and add more seasoning or herbs if necessary. Serve over toast, crackers, etc.
Olive Oil Toast
Brush each slice of bread lightly with olive oil. Flip, and brush the other side.

Place the slices of bread on a sheet pan, and broil on low for about 2 minutes per side, until lightly toasty. Keep an eye on the toast, it will burn quickly!

Alternatively, heat a pan over medium heat, and pan-fry the bread for 30 seconds-1 minute per side until toasty. Serve immediately.
Serving: 1toast, Calories: 299kcal, Carbohydrates: 34.2g, Protein: 6.9g, Fat: 15.6g, Saturated Fat: 2g, Sodium: 310mg, Potassium: 96mg, Fiber: 6.8g, Sugar: 2.3g, Calcium: 48mg, Iron: 1mg
---
xo Sara Lynn
*Song of the day: Dream On by Culture Abuse