Carrot Salad with Pistachios + Queso Fresco + Shallot Dressing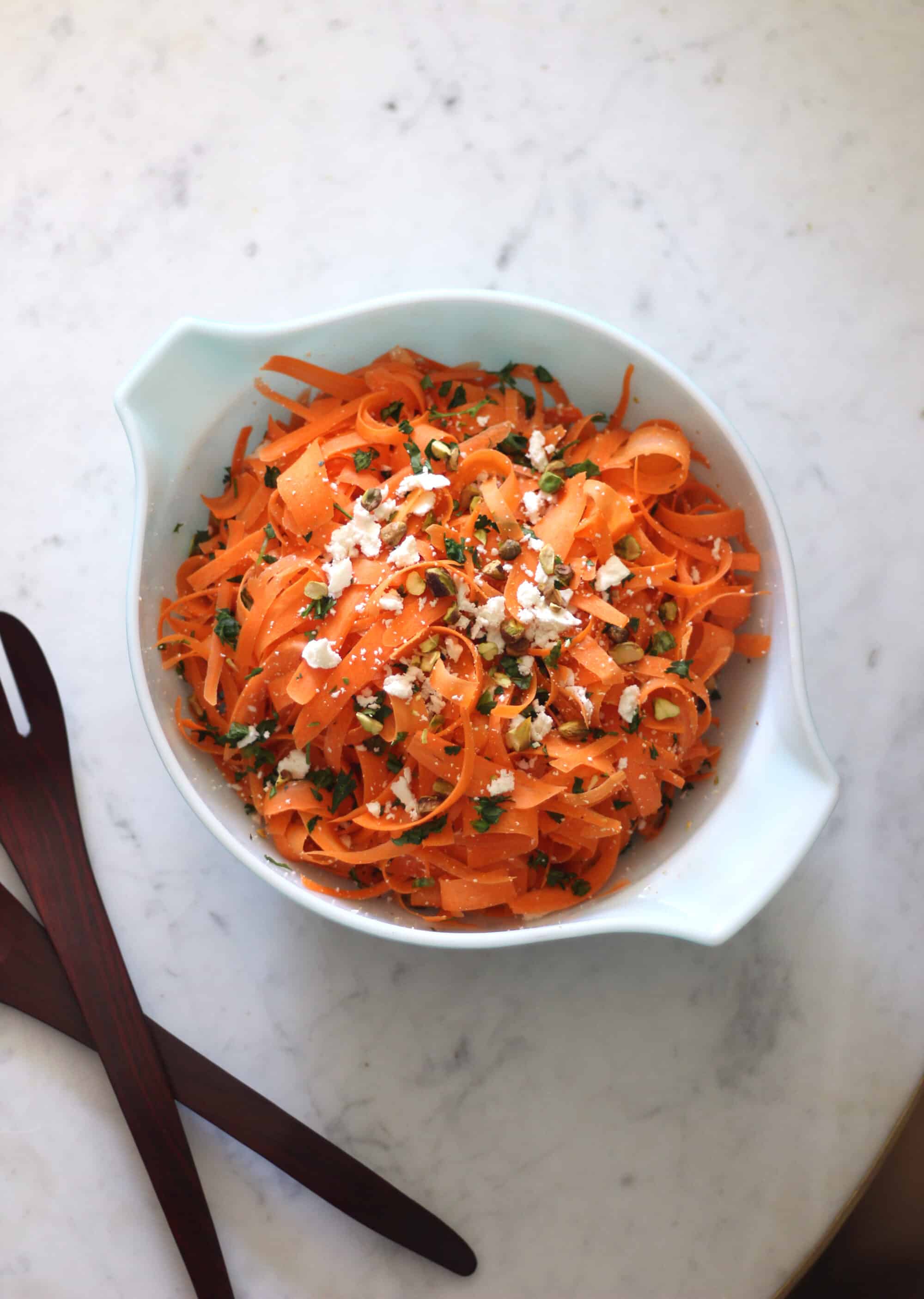 I feel like I don't have any good stories to share with you guys lately. I just work and cook and do a little yoga. Is this what post-grad life is?? I get a degree, and I become someone who looks forward to coming home on Fridays and eating takeout pupusas in my sweatpants while watching Arrested Development reruns? Because that's exactly what I did this past Friday, and it was kind of amazing. Although Saturday I went to a party and had two whole beers sooooo…yay? Raise the roof? I don't know how to be young anymore. Help!!!
In other exciting news, we also got a new Indian restaurant in town, and it's the best one yet! And this weekend, I'll be in Seattle hopefully going to lots of fun bars and coffeeshops. So, things are looking up in the 'cool department'!
On another note, may I introduce you to one of my new favorite recipes? I didn't know it was possible to like veggies this much, but omg this carrot salad is sososo good!! I don't think we appreciate carrot salad enough in the states, because I've never seen one here unless I was at an authentic-European deli of some sort, but I'm starting a petition to make it a thing.
I made this salad for Easter, and it was perfect with ham and scalloped potatoes. Then, I used the leftover dressing to make more carrot salad for work lunches the next few days. I'm pretty sure I ate like, 8 servings of vegetables a day that week. I hope this obsession lasts and eventually upgrades to a spinach obsession.
For this salad, you can peel the carrots into long, pretty ribbons like I did. Texturally, it's my favorite, but peeling carrot ribbons takes a long time, and you end up with weird little carrot pieces once you can't peel anymore. In this case, I just turn them into carrot sticks and snack on them alone. When I was being lazy with it, I just used grated carrots which is way faster and can be done with a food processor. Either way, the real star here is the shallot dressing. It's slightly-spicy and creamy from the yogurt. I would dip anything into it. If you don't like carrots, at least make the dressing and put it on some kale or something.
Also! This salad can be made a day in ahead, but put the pistachios on right before serving or they will lose their crunch. Ok? Ok!
---
Carrot Salad with Pistachios + Queso Fresco + Shallot Dressing
Serves 8-12
Ingredients for the Salad
2 lbs. carrots, washed, trimmed, and peeled
4 oz. queso fresco, or feta, crumbled
1/2 c. pistachios, toasted
2 Tbs. Italian parsley, chopped
Ingredients for Dressing
1 small shallot, peeled and coarsely chopped
3 Tbs. white wine vinegar
3 Tbs. plain Greek yogurt
1 Tbs. Dijon mustard
2 tsp. honey
1/3 c. olive oil
Salt and pepper, to taste
Using a vegetable peeler, peel carrots into long ribbons. Alternatively, you can shred them in a food processor. Cover carrots with a wet paper towel to keep fresh.
To make the dressing, add shallot, white wine vinegar, Greek yogurt, Dijon mustard, and honey to a food processor. Pulse until combined. Drizzle in olive oil until emulsified. Add salt and pepper to taste.
To prepare salad, add the queso fresco, pistachios, and parsley. Toss with the shallot dressing, to taste. Start with half the dressing and add more as needed. Serve immediately. To make the recipe ahead, combine everything but the pistachios. Add the pistachios right before serving.
---
xo Sara Lynn
*Song of the day: Sleep Apnea by Beach Fossils