Creamy Lemon Pasta with Fried Pine Nuts
Creamy lemon pasta combines bright lemon, rigatoni, pine nuts, and basil for a delicious, summery dinner. Inspired by the traditional Italian dish, pasta al limone, this meal is cozy yet light.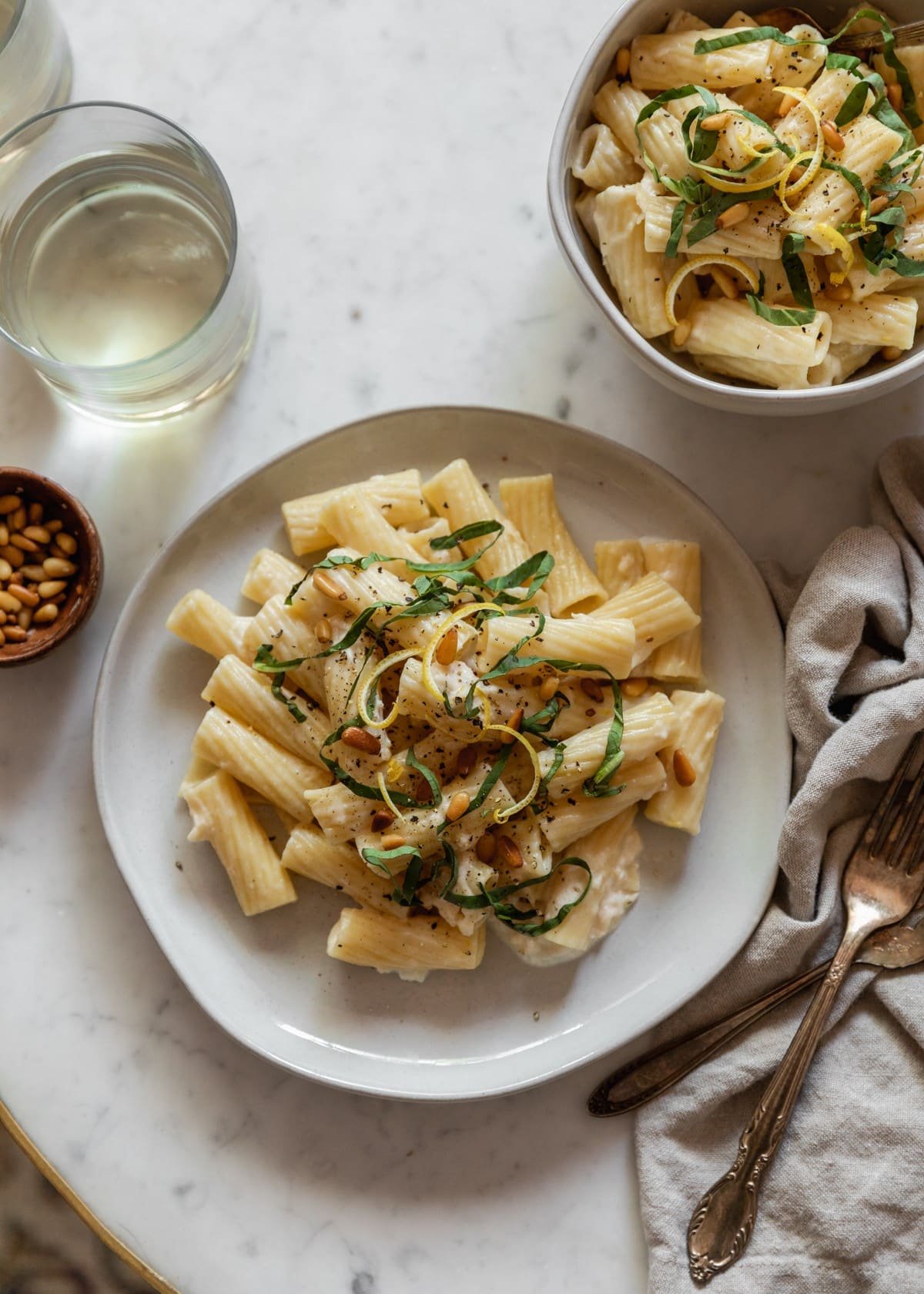 Maybe it's just that I haven't been on a vacation since 2019, but lately, all I can think about is Italy and its incredible food (amongst other things of course). What I especially love about some of the more traditional Italian cooking that I sampled abroad is that the dishes are so light and fresh while still being comforting. Of course, a decadent Sunday sauce and sweater weather is one of my favorite combos of all time. But, in the summer when the sun shines late into the evening, I dream of light dinners and Aperol spritzes on the Italian coast.
About this creamy lemon pasta…
To take me back to my glory days when I was a cool post-grad traveling Europe, I decided to make this creamy lemon pasta inspired by pasta al limone! If you've never had pasta al limone, it's a Southern Italian dish made up of basic pantry staples like spaghetti, lemon, cream, and Parmesan. In this recipe, we're keeping things pretty basic with the sauce, swapping spaghetti for rigatoni, and adding a little crunch + freshness with some fried pine nuts and basil. The sauce manages to be uber cozy, yet light and refreshing, with a bright (but not sour!) lemon flavor. Even better, the whole thing comes together in less than 30 minutes. Perfect for when you're not in the mood for standing over a hot stove in the summer months. We do not have time for that!
The Ingredients you'll need
Creamy lemon pasta can be made lots of different ways. Some recipes have white wine, some don't use garlic, and some recipes include olive oil instead of butter. For this recipe, I decided to keep it simple with as few ingredients as possible. With the exception of a couple of toppings, of course. Here's everything you'll need:
Pine nuts – for frying! If you want to skip the pine nuts, walnuts or almonds would make an excellent sub.
Pasta – I went with rigatoni for this recipe. However, any long and/or tube-shaped pasta would work great. Spaghetti, fettuccine, bucatini, and penne are all great options.
Lemons – the zest and juice. You'll need at least 2-3 so stock up!
Heavy cream – cream is essential in this recipe. Lower fat dairy like whole milk will curdle when it hits the lemon. The fat in heavy or regular whipping cream will prevent any curdling and keep your sauce smooth.
Pasta water – not really an ingredient necessarily but very important in this recipe! We'll talk about that later, but just know that you need to save some before you drain the pasta.
Parmesan – freshly grated if possible! Pre-grated has additives that can prevent the cheese from melting.
Herbs – I like basil but parsley would work too!
The basics – olive oil, unsalted butter, garlic, salt, and black pepper.
Let's make some pasta!
Perhaps one of the best parts of creamy lemon pasta is that you can make the sauce while the pasta is cooking. Basically, it comes together in 15-20 minutes. Here's how to make it!
Fry the pine nuts in a pan with a little olive oil until toasty and browned. Drain the nuts on a plate and sprinkle with a pinch of Kosher salt.

Next, cook the pasta in a pot of salted boiling water one minute less than al dente. Stop! Wait! Save about 1 1/2 cups of the starchy pasta water before you drain.

While the pasta cooks, make the sauce. Melt the butter, saute the garlic, and add the lemon zest, lemon juice, and cream until smooth.

Add some of the pasta water, stirring until the sauce is smooth and slightly thickened. Toss the drained pasta with the sauce. Add the Parmesan a little at a time until fully melted. Add more pasta water to thin if necessary.

Divide the pasta between four bowls. Top with fried pine nuts, basil, lots of black pepper, and lemon zest. Enjoy!
Pasta water = important
You must, and I cannot stress this enough, save your pasta water! That stuff is like starchy, liquid gold. That is because the starch in the liquid itself helps thicken sauces and beautifully coat the pasta (as opposed to it just clumping on). Also the salt in the pasta water adds lots of flavor! Trust me, it's essential to creating perfect creamy lemon pasta.
Serving Ideas
We usually enjoy this dish as a meal with a green salad. However, it's also great as a side dish or with protein! Try creamy lemon pasta with:
Grilled or seared chicken, shrimp, or scallops
Chicken piccata or fried cutlets
Caprese or green salad
Garlic bread
Melon wrapped in prosciutto
Tips & Tricks
We want the pasta to be fairly al dente. Once it's tossed with the sauce and pasta water, it will keep cooking!
Toss the pasta over low heat. We want the pan to be hot enough to finish the pasta and melt the cheese. But, if you go too hot, the sauce may curdle.
When in doubt, go saucy. This sauce thickens a lot as it cools, so if you add a little too much pasta water, don't stress! Just keep stirring.
Throw the grated Parmesan just a little at a time. If you add too much at once, it will clump up instead of melting.
Don't be afraid of salt! The acidity of the lemon and the richness of the cream allow for plenty of salt. After you're happy with the consistency of the sauce, taste and add pinches of Kosher salt as needed.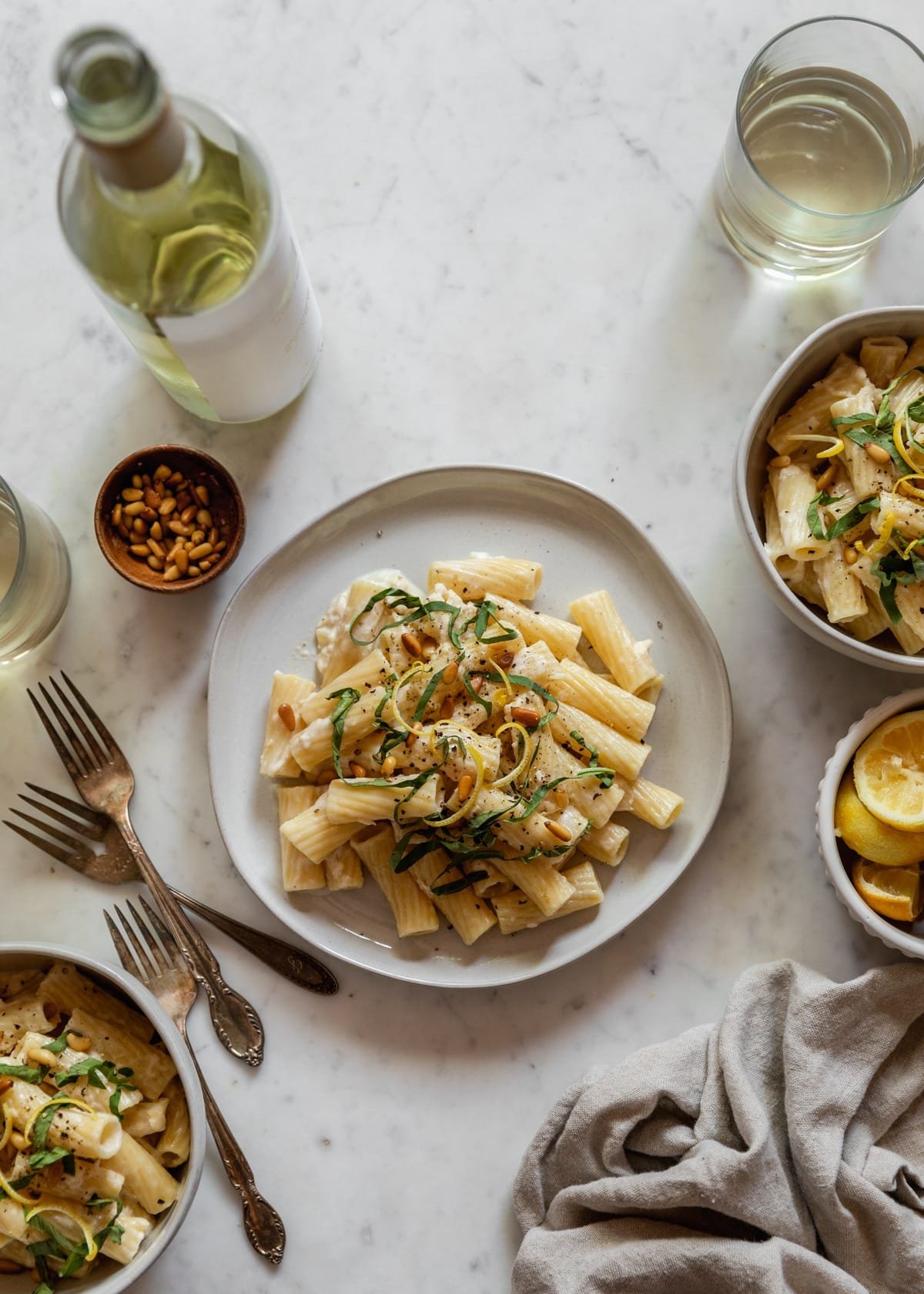 More cozy pasta recipes
Bucatini Carbonara with Sausage & Greens
Cacio e Pepe with Fried Shallots
White Lasagna with Pesto & Pancetta
If you make this recipe, I would love it if you left a star rating and review! I read every single comment and love hearing what you think about my recipes. Thank you for supporting Sunday Table!
---
Creamy Lemon Pasta with Fried Pine Nuts
Cozy creamy lemon pasta with fried pine nuts and fresh basil is a simple, flavorful meal for summer! Serve on its own with a light side salad or alongside grilled chicken or shrimp for a crowd.
Ingredients
Fried Pine Nuts
1/4 c pine nuts
1 Tbs olive oil
Pinch of Kosher salt
Creamy Lemon Pasta
1 lb rigatoni, or other long/tube-shaped pasta
6 Tbs unsalted butter
2 small garlic cloves, minced
1 Tbs lemon zest (about 1 lemon)
1/4 c lemon juice (about 2 lemons)
1 c heavy cream
1 1/2 c pasta water
2.5 oz grated Parmesan (about 3/4 cup)
Kosher salt and freshly-ground black pepper, to taste
Julienned basil, Parmesan, and lemon zest, for serving
Instructions
Fried Pine Nuts
In a small pan, heat the olive oil over medium heat. Add the pine nuts, and cook, stirring constantly, until toasty. Spoon the pine nuts onto a plate and sprinkle with salt. Set aside.
Creamy Lemon Pasta
Bring a large pot of salted water to a boil. Cook pasta, stirring frequently, one minute less than al dente according to package directions. Remember to reserve 1 1/2 c. of pasta water before draining!*

While pasta is cooking, melt the butter in a saucepan over medium heat. Add the garlic, and cook for about 30 seconds, until fragrant. Stir in the lemon zest, lemon juice, and cream until emulsified. Let cool over low heat, stirring frequently, until the pasta is finished cooking.

Add 1/2 cup of pasta water to the sauce and stir until smooth and slightly thickened. Toss the drained pasta with the sauce, and add the grated Parmesan in small handfuls until melted and smooth. If the sauce is too thick, add more splashes of pasta water until nice and creamy – I usually end up using about 1 cup total.** Taste, and add salt if necessary.

Divide the pasta between four bowls. Top with the fried pine nuts, basil, more Parmesan, and black pepper. Enjoy!
Notes
*Starchy pasta water is essential for this sauce! Make sure to save at least 1 cup, but preferably 1 1/2 cups to be safe. **The sauce will thicken as it cools, so go saucier when in doubt. If you add too much pasta water, just stir over low heat until it thickens a bit.
Serving: 1bowl, Calories: 821kcal, Carbohydrates: 87.8g, Protein: 22.6g, Fat: 43.6g, Saturated Fat: 21.8g, Cholesterol: 100mg, Sodium: 308mg, Potassium: 108mg, Fiber: 4.5g, Sugar: 4.8g, Calcium: 189mg, Iron: 5mg
xo Sara Lynn
*Song of the day: These Days by Wallows