Homemade Fruit and Nut Crisps + Za'atar Whipped Feta
Homemade fruit and nut crisps made with just a few pantry staples, plus the most delicious whipped feta with za'atar and lemon!
"This calls for some cheese!" is my exclamation essentially every time I have any reason to celebrate. New job? Cheese! Got re-grammed on The Bake Feed? Cheese! Folded all of my laundry in one day. Oh yeahhhh, I deserve some cheese!
When I was in college, I worked at a place called The Cheeseboard, and we would all stand around and snack on Cowgirl Creamery Triple-Cream Brie or port salut scraps after the lunchtime rush. Oftentimes, after my Saturday shift, I would pack myself a mini cheese plate in a takeout box and eat it with whatever Pinot Noir I could find on sale. Usually, I would be wearing my largest, comfiest sweatshirt and watching like, Arrested Development or Friends or The Bachelor. (Honestly, I think I peaked in college).
As much as I loved the actual cheese part of the boards, let's be real. A cheese board isn't complete without some primo vehicles with which to transport all the creamy goodness into your mouth. (That sounded dirtier than I intended, but uh, let's move on). I can dig a crusty baguette or some water crackers. But really, it's all about the fruit and nut crisps!
So let's talk about how to make these homemade fruit and nut crisps!
Um, it's SO EASY! I was surprised at how quickly I was able to throw these together considering how expensive they are to buy. Plus, they're the most fun ever, because you can easily customize the ingredients. I had quite a bit of fun with the flavors and add-ins, although you can keep it at simple as you like. We made the following flavors: apricot + hazelnut + rosemary and cranberry + pistachio + orange. I don't really know which one I liked best. Both? I liked both best.
Also, I tested a few different methods of making these homemade fruit and nut crisps because other recipes on the web seem to be all over the place. Essentially, I wanted the quickest, easiest method for making these crackers, and I think I did it! Which is good, cause honestly? No one would make homemade fruit and nut crisps if they were complicated 🤷. But, in just a few hours (most of that freezing time), these crackers are ready to party!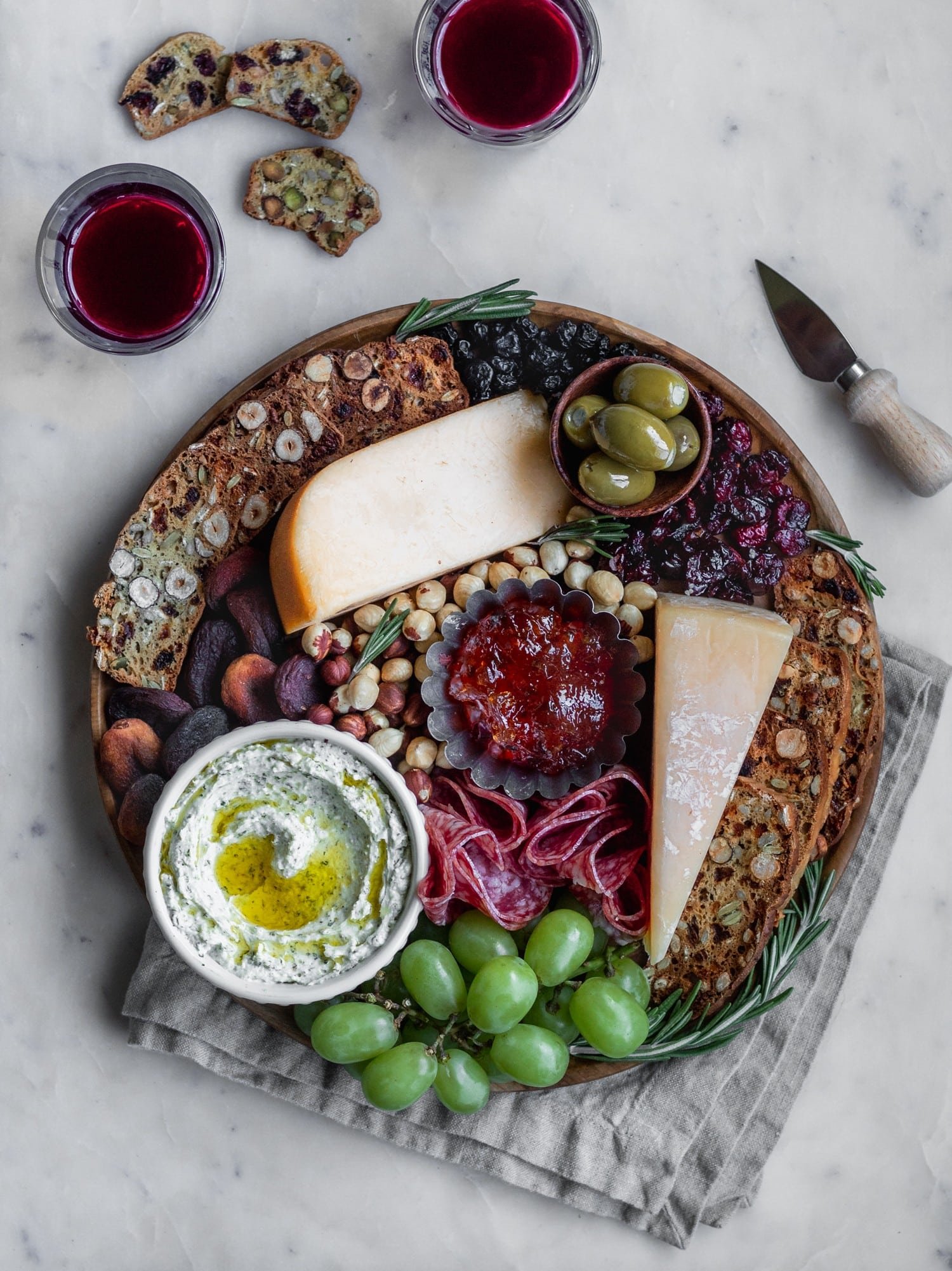 What goes best with homemade fruit and nut crisps? Za'atar whipped feta!
In the cheese board of my dreams, there is always something funky and spreadable. Sometimes it's a creamy bleu cheese, and sometimes it's basic Boursin. I'm not picky! But this time, it was za'atar whipped feta, and it was worth the extra five minutes!
All you have to do is whip up a few basic ingredients. Although, you will need za'atar, which you can easily get on Amazon or a specialty spice shop! Sometimes, you can even find it at your local grocery. This za'atar whipped feta goes perfectly with the homemade fruit and nut crisps. Salty cheese + earthy nuts + hints of fruit? Omg, my dream. I'm not saying you have to make the whipped feta, but like, you have to make the whipped feta!
Happy cheesin'.
Homemade fruit and nut crisps + Whipped Za'atar feta
---
Notes: I made apricot + hazelnut + rosemary and cranberry + pistachio + orange, but get creative with your flavors! Also, I like to make two batches at a time (it's easier!), but feel free to make just one. Lastly, these crackers can be kept for a couple weeks in an airtight container, or you can freeze them for up to three months. Have fun!!
Homemade Fruit and Nuts Crisps + Za'atar Whipped Feta
These homemade fruit and nut crisps are so easy and way more affordable than store-bought! They are great on a cheese board, charcuterie platter, or spread with whipped feta. Plus, they're customizable so you can make them with all of your favorite nuts and dried fruits!
Ingredients
Fruit and Nut Crisps
1 cup all-purpose flour
1/2 tsp baking soda
1/2 tsp salt
1/2 cup dried fruit, roughly chopped if large (cranberries, raisins, blueberries, apricots, etc.)
1/2 cup nuts of choice (pecans, walnuts, hazelnuts, pistachios, etc.)
1/4 cup seeds of choice (sunflower, pumpkin, poppy, sesame, etc.)
2 tbsp oats (optional)
2 tbsp brown sugar
1 cup whole milk
2 tbsp maple syrup or honey
Fresh herbs and/or spices to taste (rosemary, thyme, cinnamon, allspice, orange zest, etc.)
Za'atar Whipped Feta
4 oz feta, crumbled
4 oz cream cheese, softened
1 clove garlic, minced
1/2 tbsp za'atar
1 tbsp parsley, chopped
1/2 tbsp oregano
1 tbsp lemon juice
1 tsp lemon zest
3 tbsp olive oil + more for drizzling
Black pepper, to taste
Instructions
Fruit and Nut Crisps
Preheat the oven to 350° F. Grease and line a loaf pan (or multiple small loaf pans) with parchment paper. I used both a 9x5x2.5 loaf pan and four 4×2.5×1.5 pans for my crisps. I think I preferred the shape and size of the 9x5x2.5!

In a medium-sized bowl, stir together the flour, baking soda, salt, dried fruit, nuts, seeds, oats, brown sugar, and any spices/herbs. Add the milk and maple syrup/honey, and stir until just mixed. It will look kind of like pancake batter.

Pour the mixture into your loaf pan. Bake for 18-24 minutes, until an inserted toothpick comes out clean. Let cool to room temperature on a cooling rack. Place the loaf(ves) in an air-tight container, and freeze for at least 1 hour (or up to 3 months!).

Once you're ready to bake the crackers, preheat your oven to 250° F, remove the loaf(ves) from the freezer, and let them sit for about 15 minutes. Then, use a very sharp serrated knife to cut the crackers into 1/8" slices.

Place the crackers on a sheet pan (two if necessary). It's ok to cram them in, they won't expand or anything! Bake them for about 15-20 minutes, until a light golden brown. Flip the crackers, and bake them for another 15-20 minutes. They should be firm, slightly crisp, and a nice golden brown when finished. *(I also tried a method where I baked them at 400° F for about 8 minutes per side, but they cooked unevenly – I would definitely recommend the low and slow method).*

Let the crackers cool completely. They should make a "snap" sound when you break them. (If not, just throw them in the oven at 250° F for another few minutes!) Store the cooled crisps in an airtight container for a couple of weeks, or store them in the freezer for up to 3 months.
Za'atar Whipped Feta
In the bowl of a stand mixer, combine all of the ingredients. Beat the mixture on medium-high for about 5 minutes, until light and fluffy. Place the mixture in a bowl, and drizzle with good olive oil. Enjoy!
Serving: 1serving, Calories: 185kcal, Carbohydrates: 15.2g, Protein: 4.6g, Fat: 12.1g, Saturated Fat: 4.6g, Cholesterol: 21mg, Sodium: 292mg, Potassium: 113mg, Fiber: 1g, Sugar: 5.4g, Calcium: 92mg, Iron: 1mg
---
xo Sara Lynn
*Song of the day: Dust Bunnies by Kurt Vile