Ricotta Lemon Poppy Seed Muffins
These ricotta lemon poppy seed muffins are the absolute best! Unlike many muffins, these ones are tender, fluffy, super flavorful, and are bursting with bright citrus. They are great for breakfast, brunch, or just a quick weekend bake!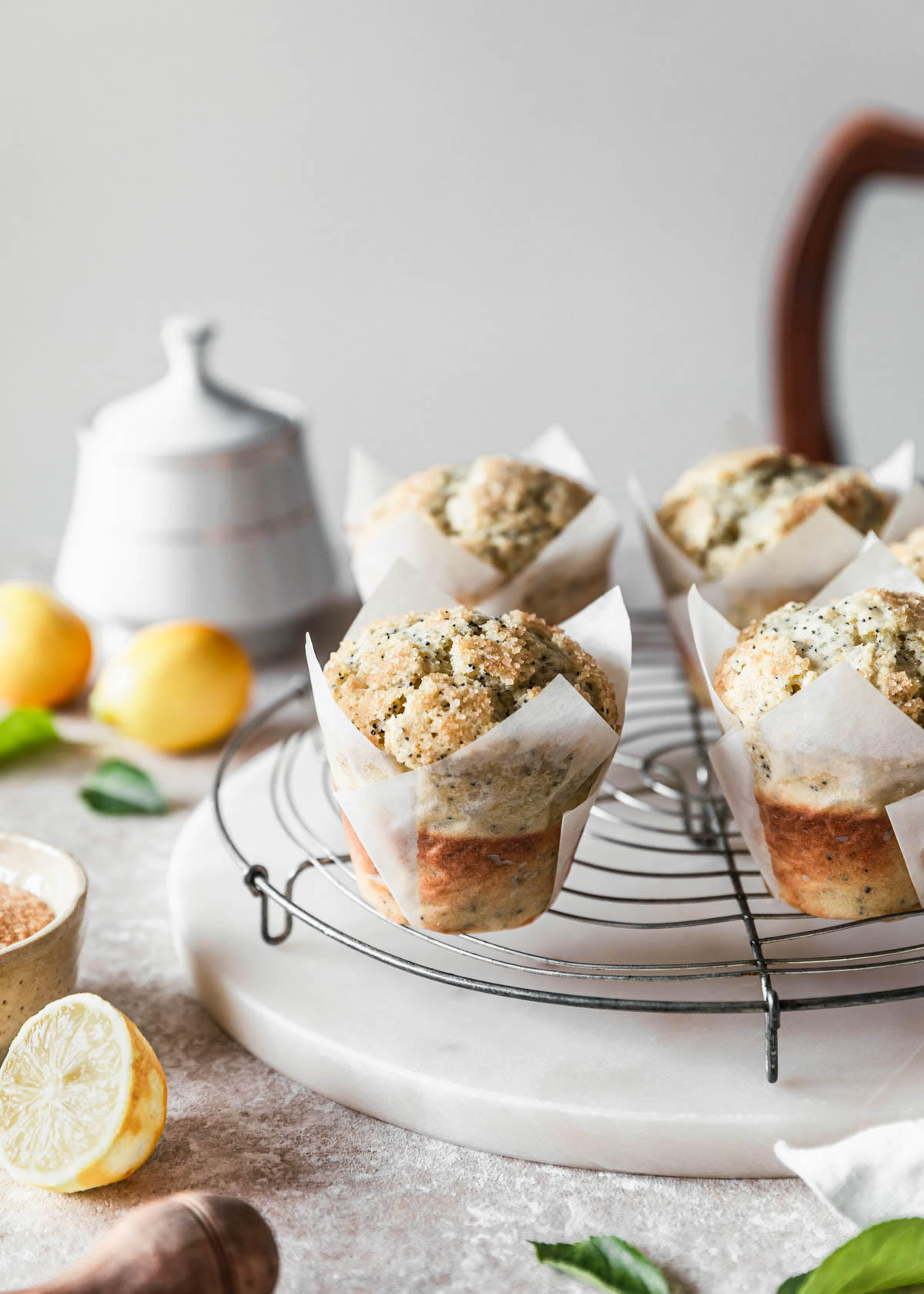 Should you ever find yourself with an excess of lemons and an extra 30 or so minutes on your hands, I sincerely hope you give yourself the gift that is ricotta lemon poppy seed muffins. Muffins honestly get a bad rap and it's not entirely unjustified. I think we've all had our fair share that were just straight up a bummer. I swear I could count the number of really great muffins I've tasted on half a hand.
When it comes to these though, I can assure you that is not the case. These muffins are light and fluffy and have the *most* lemon flavor. Plus, they have a nice rich tanginess thanks to the addition to ricotta. I also went bakery-style with them and made sure that they are very tall with a crunchy, sugary top. And if you don't want all of that wrapped up in a little folded square of parchment, then I think it's about time we have a heart-to-heart about our priorities. Let's chat about muffins, ok?
Ricotta lemon poppy seed muffins are the best
In case you actually needed a reason to make cake for breakfast, let me talk you into it real quick! First off, these muffins are super tender and fluffy but still a bit dense like a good muffin. There's no stale, dry, gummy, rubbery muffins going on here, promise. I would even go so far as to say that they're…moist. I know, sorry.
Anyways, here's a few other highlights!
Thanks to my secret trick, these have a ton of lemony flavor without extract. No shade to lemon extract but in these muffins, I wanted pure lemon flavor to shine through.
They are basically one bowl. (Ok, and one small bowl, but you get the gist).
All you need is a whisk to whip them up. No need to pull out your mixer.
The batter takes just minutes to stir up. The hardest part is zesting the lemons.
The muffins are lovely with a cup of coffee or tea. While I like enjoying them at breakfast or brunch, they also make for a nice quick weekend bake when you are in the mood for baking but not necessarily the commitment of a project. I love bringing leftovers to the office or casual get-togethers with friends!
Get it? Got it? Good! Let's make 'em.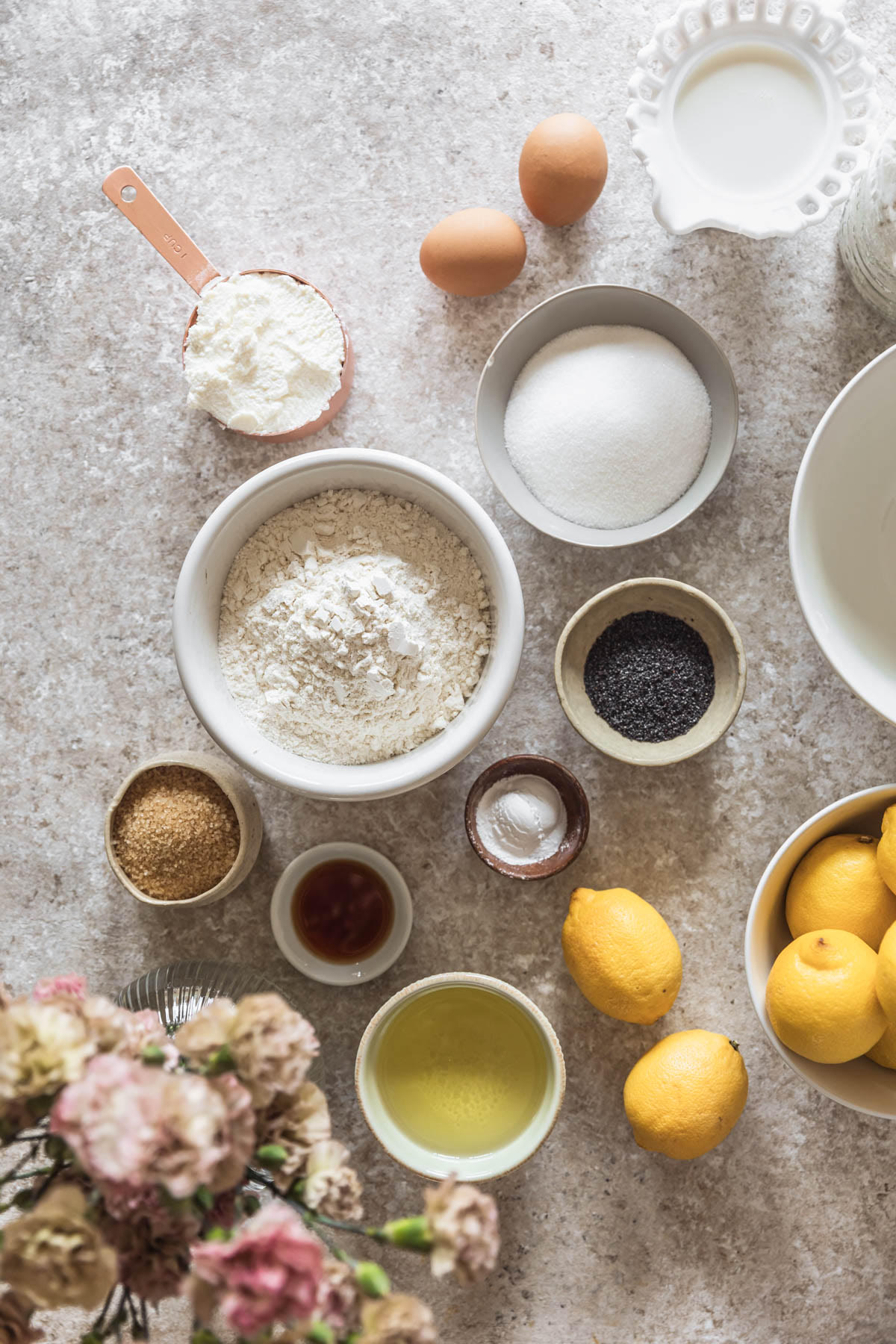 The ingredient list
Here's everything you'll need to make bakery-style ricotta lemon poppy seed muffins from scratch!
Lemons – we'll need plenty of fresh lemon zest, so plan on getting at least 3-4 big ones. I usually just buy a bag. Never a bad idea to have extra lemons around!
Poppy seeds – these muffins are poppy seed heavy for extra crunch and a little earthy flavor.
Ricotta cheese – make sure it's whole milk and not part skim!
Vanilla extract – this will give the muffins even more flavor.
Demerara sugar – for sprinkling over the top. My favorite part to be honest!
Baking basics – sugar, flour, baking powder, table salt, eggs, whole milk, & neutral oil.
Watch how to make the muffins
These muffins really are simple to mix up in just a few minutes! Here's how to make them:
Start by zesting the lemons into a large bowl. Add the sugar, and use your fingers to rub the ingredients together until the sugar is fragrant, about 30-60 seconds.
Next, whisk together the flour, baking powder, salt, and poppy seeds in a small bowl. Set aside.
To the lemon sugar, add the eggs, ricotta, whole milk, oil, and vanilla. Whisk until smooth.
Then, stir in the flour in 2 batches. Don't over-mix! The batter will be thick.
Divide the batter between 8 muffin cups. Sprinkle with Demerara sugar.
Bake the muffins at 400°F for about 5-6 minutes until you have a good rise on the muffins. Then, reduce the heat to 350°F and bake another 12-15 minutes until an inserted toothpick has just a few moist crumbs on it.
Allow the muffins to cool in the muffin tins for about 5 minutes. Then, transfer to a rack to cool completely.
Enjoy the muffins with coffee or tea!
Storing & freezing
Honestly, I always recommend enjoying muffins the day you make them. But, I know leftovers are sometimes inevitable. Storing muffins is a delicate balance because if you do it wrong, they can come out soggy, gummy, and sticky. Here is how I store muffins to ensure that they stay as fresh as possible overnight! Again, these muffins are best day-of, but these tricks should keep them relatively fresh for up to 1-2 days at most.
Storing leftovers
Allow the muffins to cool completely on a wire rack. This is very important!
Line the bottom of a large, airtight storage container with paper towels. Place the cooled muffins on top.
Next, place another paper towel on top of the muffins. Cover the container with a lid and store at room temperature until you're ready to enjoy the leftovers!
You'd think that muffins would get stale as time goes on, but as it turns out, that's just not how muffin science works! The liquid in muffins evaporates quickly and when covered, the condensation will cause the muffins to get sticky.
So, here we use a paper towel to absorb all of that moisture as best as possible. It's super important that you cool the muffins completely or the warmth will speed up the condensation. Also, avoid putting muffins in the fridge or it will dry them out!
P.S. I have also seen that you can place a few crackers (like Saltines) or a slice of sandwich bread in with the muffins to absorb the extra moisture. I've never tried it but it's worth a shot if you don't have paper towels!
Freezing muffins
The good news is that freezing muffins is way less technical. I highly recommend freezing leftover muffins after 1-2 days. Here's how I freeze them!
Place the muffins on a sheet pan and pop them in your freezer until firm, about 1-2 hours. I like to do this so they don't crumble apart during storage!
Next, cover each frozen muffin with wrap. Place them into an airtight bag or container.
Freeze the muffins for up to 2 months.
To reheat, unwrap the muffins and place them on a plate. Let them defrost at room temperature for 30-60 minutes. Once they're partially defrosted, you can also reheat them in the microwave in 30 second intervals.
How to prevent the muffins from drying out
Although these muffins don't get too dry thanks to the ricotta, dryness is always a concern with any quick bread. Here are a few tips to keep the muffins from drying out!
Measure your flour correctly – I typically do the spoon and sweep method but the best way is to measure out ingredients with a scale.
Never over-mix – this will cause the gluten to develop too much which makes the muffins dense, dry, and rubbery.
Do not over-bake – the muffins are ready when an inserted toothpick comes out with just a few moist crumbs.
Don't let them cool in the pan – since the pan is hot right out of the oven, it will cause the muffins to continue baking and could cause them to become over-baked. Let them cool for about 5 minutes and then transfer the muffins to a rack to cool completely.
Avoid refrigerating leftovers – the fridge is not a friend to any cake or bread. It actually draws all of the moisture out of the muffins, causing them to dry out faster.
Enjoy the muffins day-of – while they can last for a day or so, muffins really are best when you eat them right away.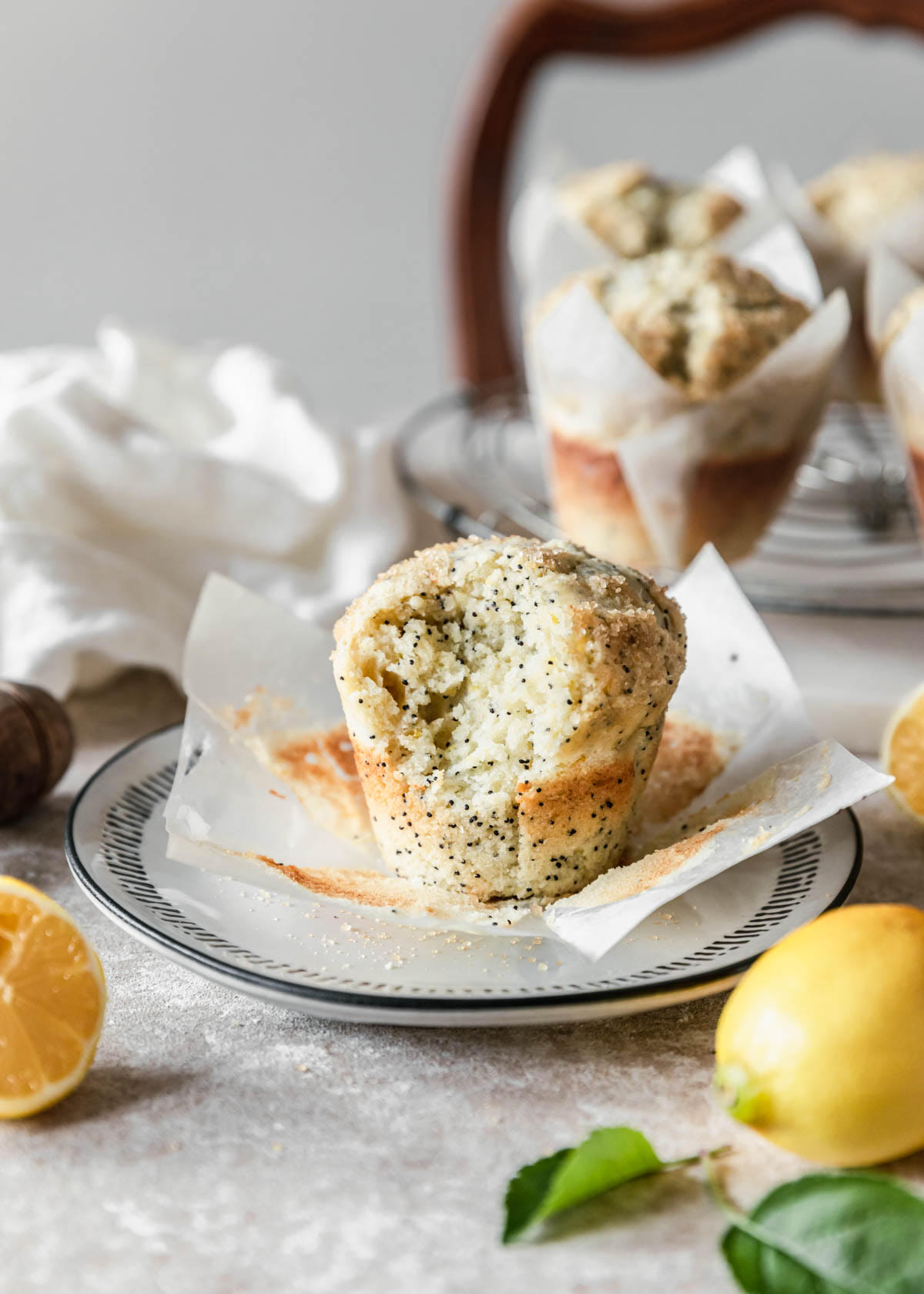 Getting the bakery-style look
If you want to get those tall, browned bakery-style muffins, the key is to fill tall muffin cups completely to the top. While we try to avoid doing this with cakes, it's actually what gives muffins that signature dome! I like to use a large ice cream/cupcake scoop to divide the batter into the muffin tins. I make sure that they're filled all the way to the top, sprinkle with sugar, and bake!
My other trick is to start baking the muffins at 400°F for a few minutes to help them rise quickly. Then, I bump down the temperature to 350°F and finish them off just until they're baked. Works every time!
The secret to lemony flavor
When it comes to ricotta lemon poppy seed muffins, I like to skip the extract. While I like it in cakes, I just prefer a natural lemon flavor in these muffins! To get a super concentrated flavor, I rely on a secret ingredient: homemade lemon sugar!
To make the lemon sugar, you'll just combine the zest and sugar in a bowl. Then, using your fingers, rub the mixture in-between your finger tips until it is very fragrant, about 30-60 seconds. The lemon sugar is ready when it's pale yellow and starting sticking together a bit due to the oils in the zest.
Do I need to strain the ricotta?
Store-bought ricotta is pre-strained, so there's no need to strain it before adding it to your recipe. If for some reason, you're using homemade or very fresh ricotta, and it's very liquidy, straining before you add it to the batter might be helpful. Also, if you see some liquid in store-bought ricotta, just avoid it when spooning it into your measuring cup. You can always just tip it into the sink as well to get rid of it!
Recipe tips & tricks
Don't over-mix the batter or the muffins will come out gummy and dry. A few lumps are ok!
Avoid over-baking the muffins so they stay tender and light. The muffins are done when an inserted toothpick has just a few crumbs on it.
Use a batter scoop to make sure that the muffins are all the same size. This will also help them bake evenly.
Line every other cavity in the muffin tin with a liner. By spacing out the muffins, it helps them rise even more in the oven.
For jumbo bakery-style muffins, use tall muffin liners like these ones. You will end up with 8 muffins total. If you have regular muffin liners, you will end up with 12-16 muffins total.
Enjoy the muffins day-of for the best flavor and a crunchy top. Muffins tend to get a bit soggy when stored overnight. For storage tips see above!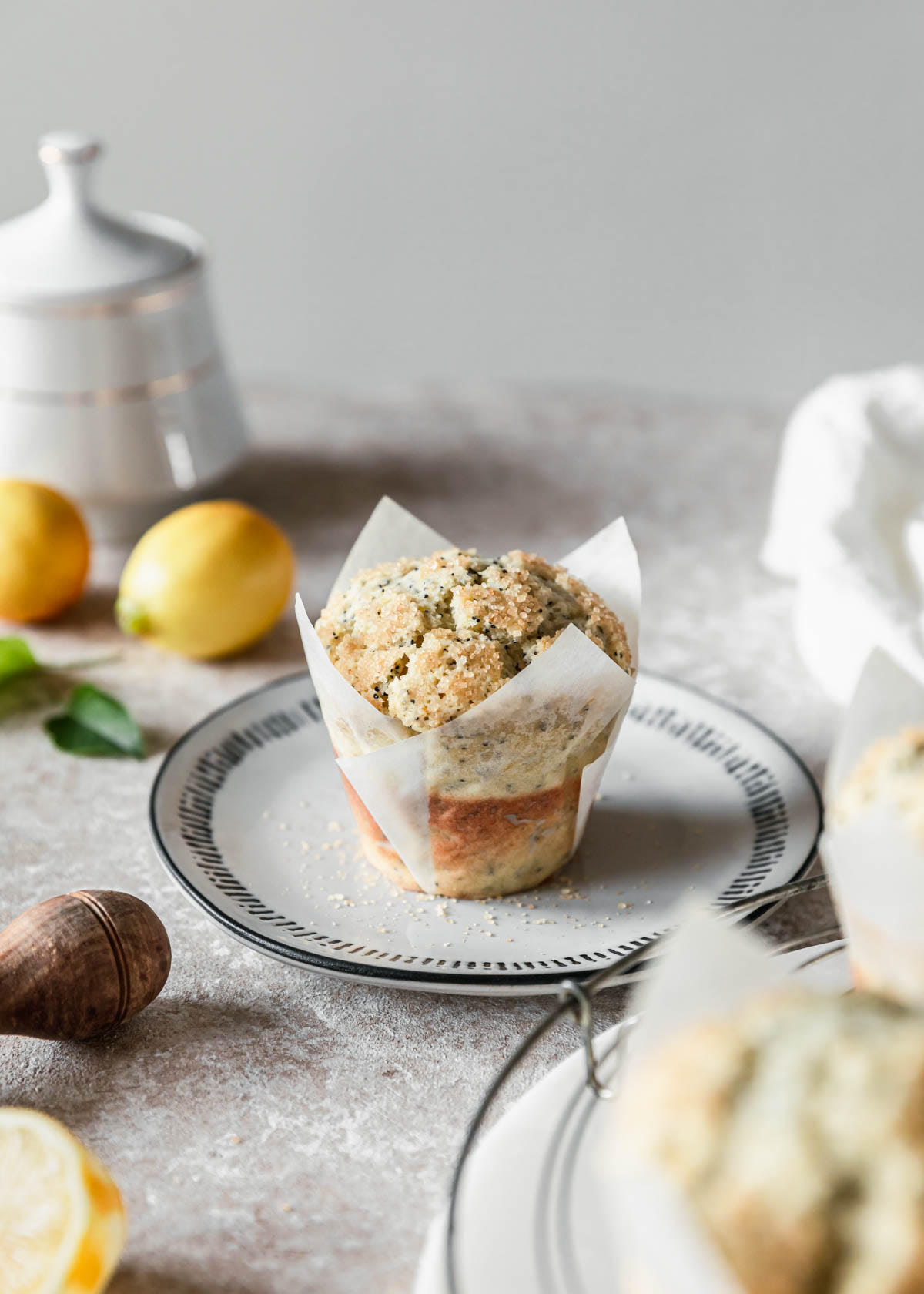 More of my best bread recipes!
Cinnamon Swirl Bread with Streusel
Cookie Butter Banana Bread
Rose Cardamom Buns
Sweet Poppy Bread
If you make this recipe, I would love it if you left a star rating and review! I read every single comment and love hearing what you think about my recipes. Thank you for supporting Sunday Table!
---
Ricotta Lemon Poppy Seed Muffins
These muffins are the best! They're fluffy, tender, and bursting with lemony flavor. I love making them for breakfast, brunch, or just a simple weekend bake! *Please keep in mind that this is a high-altitude baking recipe. Please see recipe notes for sea-level recommendations.
Ingredients
2 Tbs fresh lemon zest (about 3-4 large lemons)
2/3 c sugar
2 1/2 c all purpose flour
1 1/2 tsp baking powder*
3/4 tsp table salt
3 Tbs poppy seeds
2 large eggs, room-temperature
1 c whole milk ricotta cheese
2/3 c whole milk
1/2 c neutral oil
1 Tbs vanilla extract
Demerara sugar, for sprinkling
Instructions
Preheat oven to 400°F. Line every other cavity of a muffin tin with jumbo muffin liners.**

In a large bowl, combine the lemon zest and sugar. Using your fingers, rub the lemon zest into the sugar until the mixture is pale yellow, very fragrant, and starting to clump together a bit. This should only take about 30-60 seconds. Let it sit for a couple of minutes.

In a small bowl, whisk together the flour, baking powder, salt, and poppy seeds until combined. Set aside.

Add the eggs, ricotta, whole milk, oil, and vanilla extract to the lemon sugar. Whisk until smooth.

Add half of the flour to the wet ingredients. Stir with a whisk or rubber spatula, just until you have a couple streaks of flour left. Then, add the rest of the flour mixture and stir just until combined. The batter will be thick. A few lumps are ok!

Divide the batter evenly between the 8 muffin liners. Make sure to fill the liners to the very top with batter. Sprinkle each muffin generously with Demerara sugar.

Bake the muffins at 400°F for 5-6 minutes until the muffins have a good rise on them. Without opening the oven, reduce the heat to 350°F. Bake the muffins for 12-15 more minutes, turning the pan halfway through, until an inserted toothpick has just a few moist crumbs on it.

Remove the muffins from the oven and allow them to set in the pan for about 5 minutes. Then, transfer the muffins to a rack to cool completely. Enjoy fresh with hot coffee or tea!
Notes
*This is a high-altitude recipe at 5,000ft. If you live at sea-level, you can try increasing the baking powder to 1 Tablespoon. The muffins also may take 1-2 minutes longer to bake. I have not yet tested this recipe at sea-level yet but in my experience, doubling the leavening agents usually works. **If you do not have tall bakery-style muffin liners, you can use regular muffin liners. You will end up with 12-16 muffins instead of 8. Reduce the cook time by a couple of minutes to prevent over-baking.
Serving: 1muffin, Calories: 422kcal, Carbohydrates: 50.8g, Protein: 10.4g, Fat: 19.9g, Saturated Fat: 5.2g, Cholesterol: 58mg, Sodium: 284mg, Potassium: 251mg, Fiber: 1.5g, Sugar: 18.8g, Calcium: 209mg, Iron: 3mg
xo Sara Lynn
*Song of the day: Petty Crime by Vundabar