Apple Butter Cinnamon Rolls with Brown Butter Frosting
Apple butter cinnamon rolls are doughy, simple to make, and topped with the most perfect brown butter frosting! These are one of my all-time favorite desserts for autumn.
Autumn had me in the first half, not gonna lie. For a few weeks, I would drive to work every morning all cozied up in my thick knits, and by lunch time, my liquid eyeliner would have melted to my jawline. But no more! It's borderline too cold in the mornings now which means it's perfect by mid-day. I'm really looking forward to the most pumpkin-spiced autumn I've ever had. Also, I think this might even be the year that I commit to buying a Patagonia jacket like a real Reno-nian.
In other news, how is you're Halloween plans going? We've really been getting into the Halloween spirit around here. Marc even got us tickets to a Halloween party at a local bar! (I'm so proud of us for being young and ambitious. Let's see how long that actually lasts). We've been getting our costumes ready, and I won't spoil the surprise, but if you're a fan of Parks and Rec, you're going to dig it. Stay tuned. 🙌
Getting into the autumn spirit with apple butter cinnamon rolls
Marc and I have also started planning our annual trip to Apple Hill, which is my favorite time of the year! Hopping from pumpkin patch to pumpkin patch to winery to apple cider donut stand to brewery whilst driving on windy roads between rows of golden aspen trees? Ugh, so dreamy. Apple Hill is also the prime time to pick out all the best apples that you can't find in the grocery store. My goal this year is to find pink pearls, so wish me luck on that!
Anyways, in the spirit of apples, I introduce these apple butter cinnamon rolls which you need to make ASAP! They're great for having around on the weekend. You can pretty much just walk up and take a bite whenever you feel like it and when you probably should be cooking something more nutritious. (But whatever, YOLO, you need to pack on that extra layer of winter pudge anyhow). They're doughy, spiced, and full of not-too-sweet, slightly tart, apple butter filling. And, they're covered in a nutty, caramel-y brown butter frosting. I would recommend eating them with coffee and a heavy dose of Saintseneca in the background but that's just me. Wool socks are bonus points.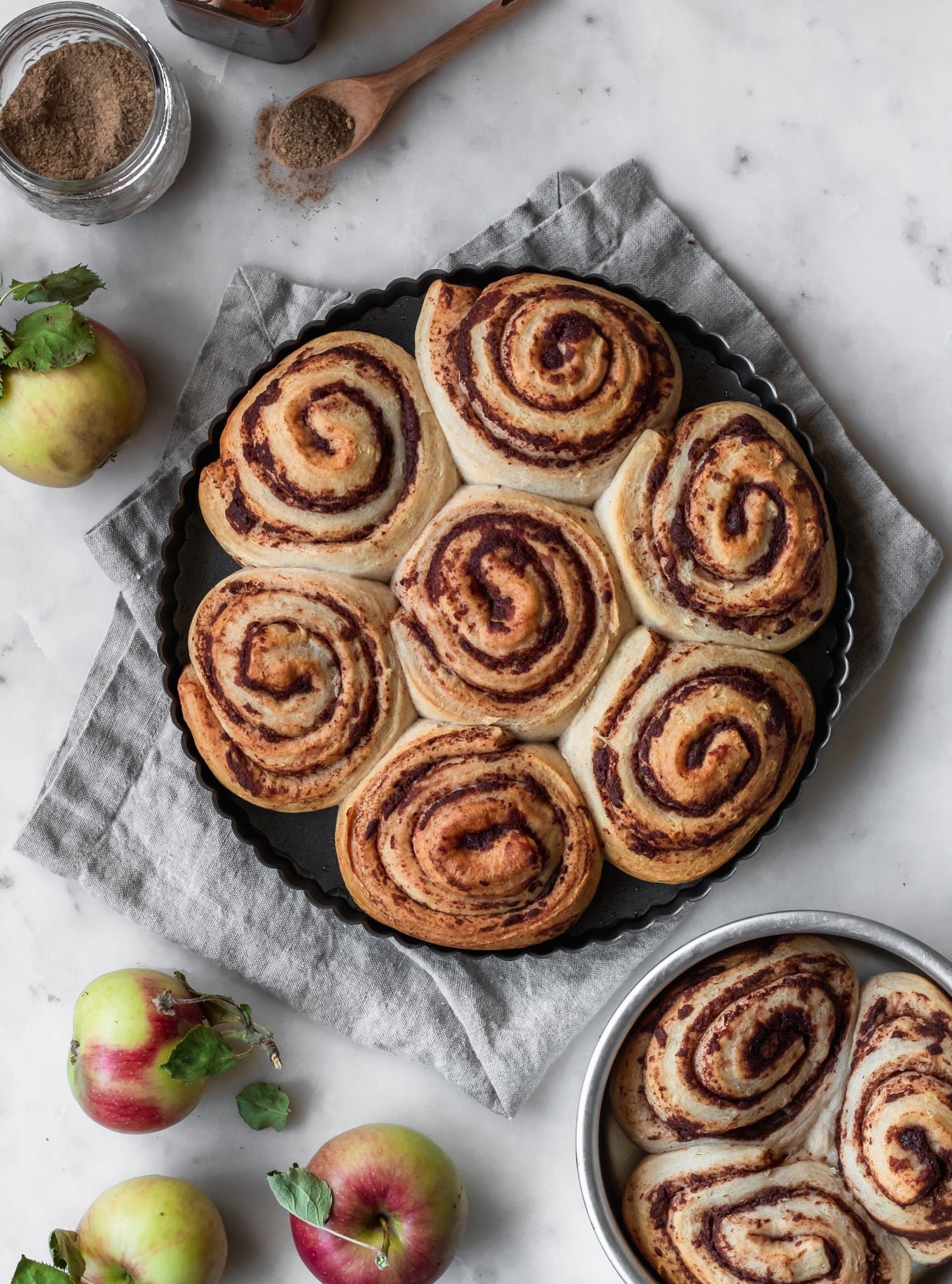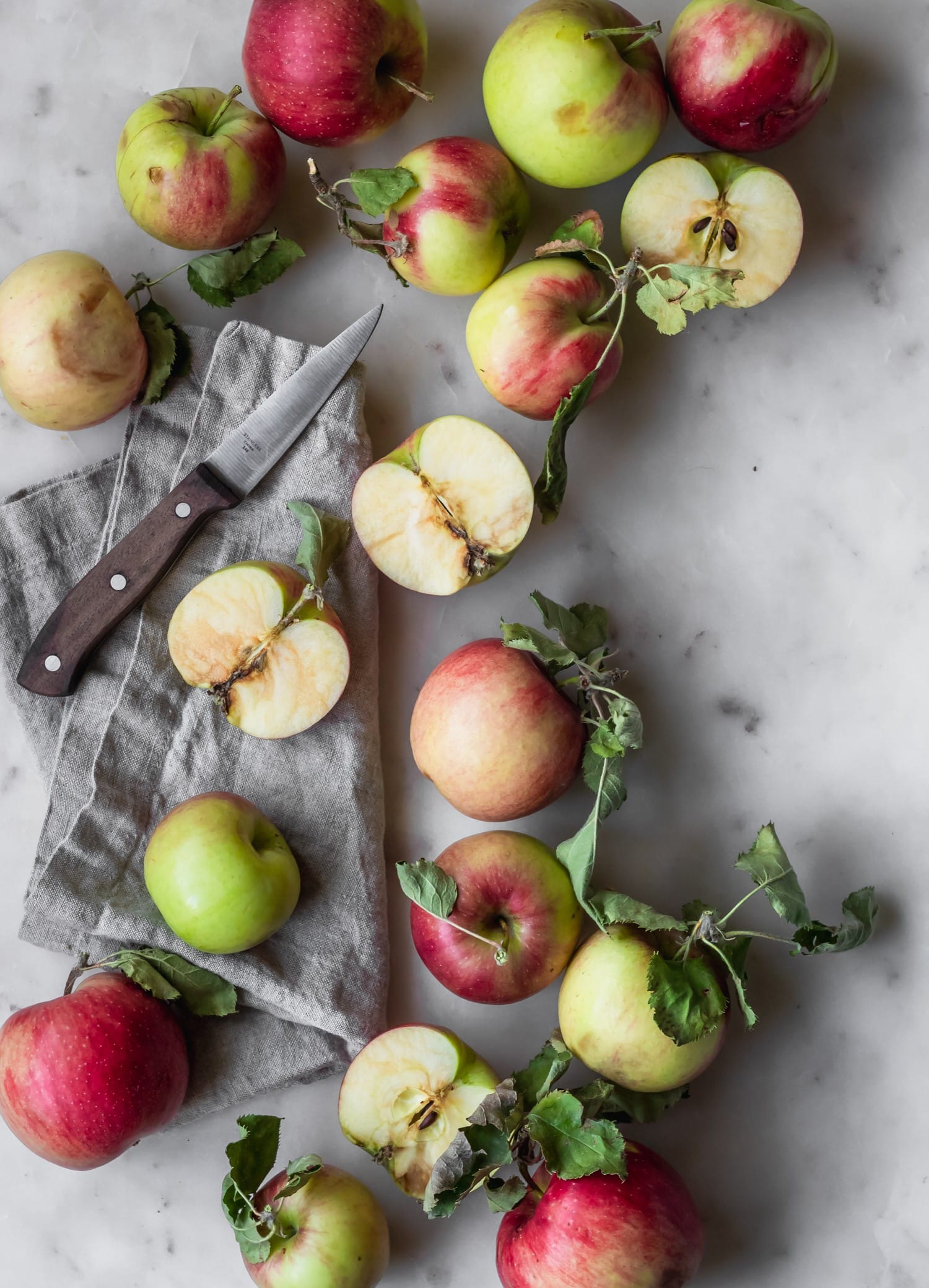 Ok so let's talk about making these doughy, simple apple butter cinnamon rolls!
Don't freak out, but I'm going to make you use yeast. I know some people have a huge aversion to yeast, but it's really so easy to use! Trust, ok? You will also need apple butter. If you feel so inclined, make some at home. Or, go store-bought which is totally fine! I went with some good-quality, store-bought apple butter for these cinnamon rolls and it was *worth it*. Lastly, you will need to brown some butter for the frosting. Is it an extra step? Yes. Is it 100% completely worth the extra 10 minutes. YES.
Lastly, the apple butter cinnamon rolls can be made a night in advance. Or, if you like watching sunrises, you can make them just in time for Sunday breakfast! Add some chopped apples or walnuts if you'd like a little crunch or leave them as-is. And don't forget to brew a big pot of coffee. Happy cinnamon-rolling!
APPLE BUTTER CINNAMON ROLLS WITH BROWN BUTTER FROSTING
---
Notes: Make sure to give yourself a few hours to make these apple butter cinnamon rolls. You will need them to rise for about 3 hours total (or overnight)!
To make overnight rolls, prepare the cinnamon rolls up to the second rise. Place them in the fridge overnight. Before baking, let them sit at room temperature for 1-2 hours, until puffy (directions below).
Apple butter can be store-bought or homemade! Try this recipe (just omit the sage).
Increase the apple flavor by adding some chopped, peeled apples. I would recommend sautéing them with some butter and brown sugar until they get soft, or they may not cook all the way in the oven.
Alternatively, add some pecans or walnuts for a little crunch!
Apple Butter Cinnamon Rolls with Brown Butter Frosting
These are one of my all-time favorite recipes! These cinnamon rolls are soft, fluffy, filled with sweet-and-spiced apple butter, and topped with nutty brown butter icing. They are seriously the best!
Ingredients
Dough
4 cup flour + more as needed
1 tsp salt
1 cup whole milk, warmed (about 110° F)
2 1/4 tsp active dry yeast (1 packet)
1/3 cup sugar + 1 tsp.
1/2 cup unsalted butter, melted
2 eggs, room-temperature
1 tsp vanilla extract
1/4 cup cream
Filling
3/4 cup apple butter, store-bought or homemade
1/3 cup brown sugar
1 tsp cinnamon
1/2 tsp apple pie spice
Frosting
1/2 cup unsalted butter
1 1/2 cup powdered sugar
1 tsp vanilla extract
Pinch salt
1/4 cup whole milk
Instructions
First, make the dough. Combine the flour and salt in a medium bowl. Set aside.

Mix warm milk and 1 tsp. of sugar in the bowl of a stand mixer. Sprinkle the yeast over the top and let it stand for 5-10 minutes, until foamy. Add the remaining sugar, butter, eggs, and vanilla until well combined. Then, mix in the flour mixture until the dough starts to come together. Using a dough hook (or your hands), knead for 7-10 minutes, until the dough is smooth and slightly tacky. It should be a little sticky but shouldn't leave any dough on your hands. If it's too sticky, add flour 2 Tbs. at a time until it's the right consistency.

Place the dough in an oiled bowl, and cover with a towel or plastic wrap. Place it in a warm, draft-free spot and let it rise until doubled in size, about 1 1/2-2 hours.

While the dough is rising, make the filling. Stir together all of the ingredients. Set aside until ready to use.

Butter a 9×13" rectangle pan (or a 12" round pan). Set aside. When the dough is doubled in size, punch it down. Transfer the dough to a clean, lightly floured surface, and roll until you have an 18×12" rectangle. Spread the filling on the dough, leaving a 1/4" gap on all sides. Tightly roll the dough length-wise, and pinch the edges to seal. Place the large roll in the freezer for 10-15 minutes (it makes it easier to cut!).

Once the dough is cold, cut the long roll into 10-12 cinnamon rolls and place them evenly in the buttered pan. Cover with a towel or plastic wrap, place it in a warm, draft-free area, and let the rolls rise for another 30-60 minutes, until puffy but not bubbly. Alternatively, skip the second rise, and refrigerate the rolls overnight to bake them the next day.

*Note: To bake them the next day, remove the rolls from the fridge and let them rise at room temperature for 1-2 hours, until puffy.

Preheat the oven to 350° F. Lightly warm 1/4 c. of cream, and brush it over the rolls. Bake until the rolls are a light golden brown, about 18-20 minutes. (I always under-bake them a little, because they will continue cooking once you take them out of the oven). Let them cool for about 5-10 minutes before frosting.

Make the frosting while the rolls rise/bake. Melt the butter in a saucepan over medium heat. Cook, swirling occasionally until the butter is toasty brown and smells nutty. (Be careful at this step as it burns quickly). Pour the butter into a bowl, and let it solidify on the counter or fridge until it's a softened texture.

Combine the brown butter, powdered sugar, vanilla extract, and salt. Add milk 1 Tbs. at a time until it reaches your desired consistency (it should drizzle a bit when poured). Frost the cinnamon rolls, and serve warm.
Serving: 1roll, Calories: 446kcal, Carbohydrates: 65.7g, Protein: 6.6g, Fat: 17.7g, Saturated Fat: 10.7g, Cholesterol: 71mg, Sodium: 330mg, Potassium: 136mg, Fiber: 1.7g, Sugar: 32.1g, Calcium: 54mg, Iron: 2mg
---
xo Sara Lynn
*Song of the day: Wait a Minute by Saintseneca