Chocolate Cream Pie + Bourbon Butterscotch
An easy from-scratch chocolate cream pie with a dark chocolate pudding filling. Served with whipped cream topping and creamy bourbon butterscotch for some warm autumn vibes.
Last night, I spent one solid hour watching No Doubt music videos to avoid packing for my trip this weekend. When I was 7 years old, "Hey Baby" was my all-time favorite song, and I would listen to Rock Steady on repeat for hours. (Totally normal 7-year-old-stuff!) Besides ignoring obligations, I also had to reiterate to Marc what a babe Gwen Stefani is. The woman doesn't age. Also, packing is hard, and I will find any excuse to avoid it even if it means watching early 2000s videos in order to do so. However, I also folded all of my laundry, so I guess I don't totally suck at being an adult!
In other adulting news, this road trip is totally getting me in the holiday spirit. The packing debacle was worth it! I don't know what it is about being all cozied up in sweatpants while driving for hours on end, but it works. I even started planning my holiday menus which is v exciting. This farro and kale salad will be making an appearance, and obviously garlic mashed potatoes are a must-have.
Another Hunt-family Thanksgiving necessity is chocolate cream pie. It is very important to us! In fact, I actually didn't know that most families only have pumpkin pie on Thanksgiving until a few friends filled me in during lunch in fourth grade. But, Thanksgiving isn't complete in our family without it.
P.S. I would like to dedicate this chocolate cream pie to my Uncle Jim!
Speaking of family and chocolate pie and holiday traditions, we are currently in Las Vegas for my uncle's celebration of life. He was a huuuuge chocolate lover, so it actually turns out that this post is going out at a very convenient time. My uncle unfortunately passed away a few months ago from the flu, so to honor him, we are having a big celebration complete with a chocolate buffet! He would have loved this pie so much! And because of that, I would like to dedicate this post to my uncle and his chocolate-loving ways.
Easy chocolate cream pie made from scratch!
If you need to switch up your Thanksgiving table this year, I would highly recommend adding some chocolate pie to the mix. That does not mean that you shouldn't make pumpkin pie. Absolutely not! The trick is to take a slice of each and absolutely smother it with whipped cream. Then, repeat the next day for breakfast.
Anywho, I know that chocolate cream pie doesn't necessarily sound uber-Thanksgiving-y. So, I whipped up some bourbon butterscotch to add in those warm autumn flavors. Also, this is honestly one of the easiest, most delicious desserts of all time. The dark chocolate keeps the pudding from getting too sweet. The crust is flaky and buttery as hell. We finish it with a lightly whipped cream, a drizzle of bourbon butterscotch, and a sprinkle of cacao nibs. Utter perfection.
But how do I make chocolate cream pie from scratch?
Traditionally, my family's chocolate pie recipe was a Pillsbury roll-out and a box of instant Jello chocolate pudding. But, I knew we could do better. And luckily, this chocolate cream pie recipe isn't much more difficult than the instant version! I know that sounds like total BS, but I'm not even playing with you! It really is so simple.
To start, I'm not going to get all uppity about homemade vs. store-bought pie crust. I absolutely love homemade and think it makes a big taste difference. However, am I above using a roll-out? No! I frequently use roll-out pie dough in my pie and galette recipes. It's all good if you want to use a roll-out. But, I also linked my pie dough recipe for those who want to be a little extra. 😛
For the filling, you're honestly just going to stir a bunch of delicious ingredients together until they turn into a smooth, thick pudding. I really like this particular filling because it's rich and holds up, but it's not too sweet. However, if you really want to go for a sweeter option, use semi-sweet or milk chocolate!
Lastly, we're going to whip some cream and make a very simple bourbon butterscotch. If you don't want to go that extra step with the butterscotch, this chocolate cream pie will be so amazing on its own. But it's just a great way to add a little something special to a basic recipe!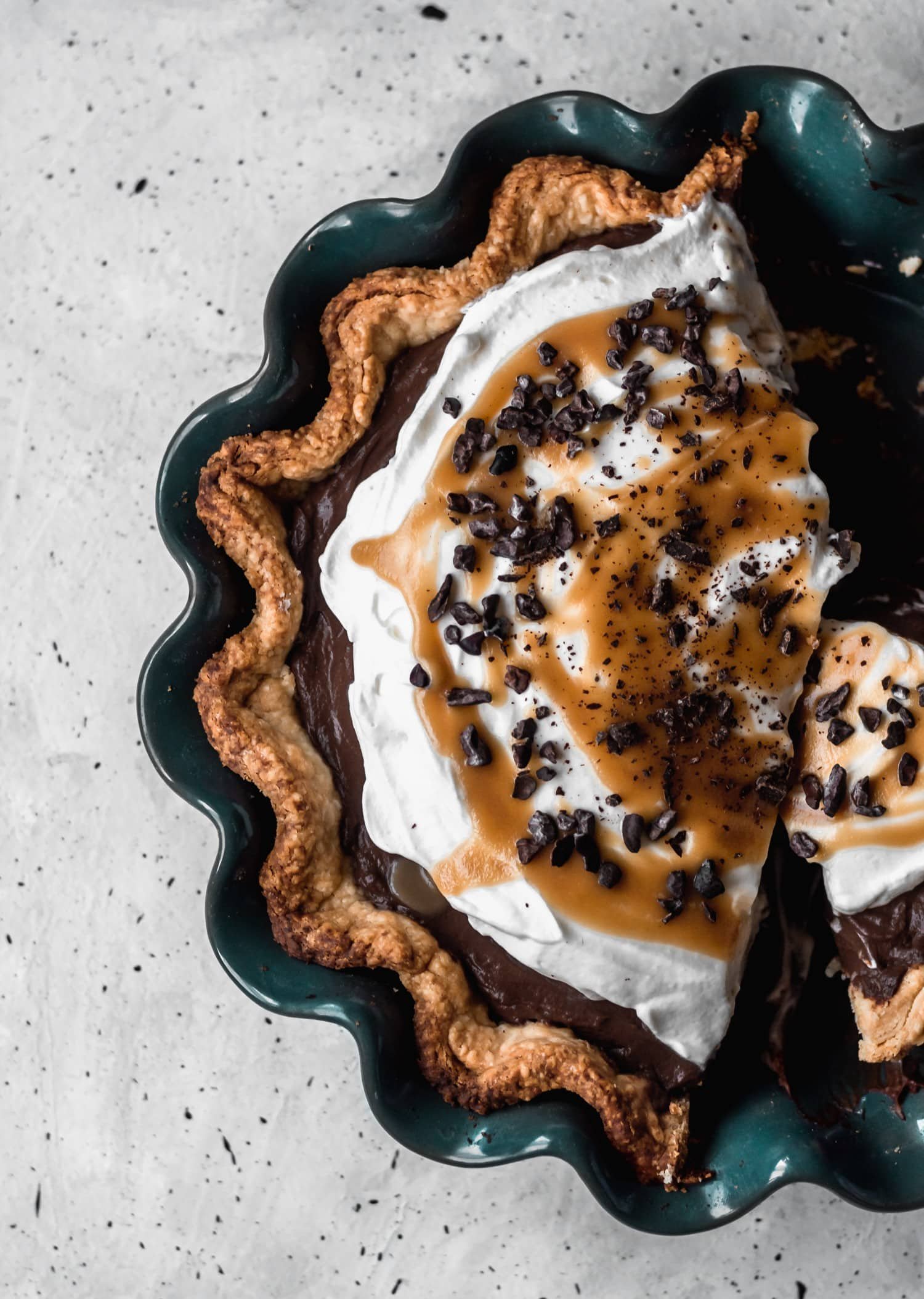 Ok, but can I make this chocolate cream pie ahead of time.
Yesssss! The all-time best part of this pie is the make-ahead-ability. Here's how I would go about it…
First, start with the pie dough if you're going homemade. Get it all mixed together, and then wrap it up. You can refrigerate it for up to one week, or it can be frozen for up to three months! If you freeze it, just remember to let it defrost in the fridge for a day or two!
Then, you'll make the pudding and bourbon butterscotch. Both of these things can sit in the fridge for a few days. Store the butterscotch in a jar, and it can honestly stay in the fridge for up to a week. For the pudding, I would make it no more than three days in advance. Remember to press a piece of plastic wrap against the surface to keep a weird skin from forming!
The night before you want to serve the pie, bake the crust. Wrap it up, and it can hang out on the counter overnight!
On the day of, spoon the pudding into the pie crust. Whip the cream, and spread it over the pie right before serving. Drizzle it with plenty of bourbon butterscotch, and sprinkle the pie with cocoa nibs or chocolate shavings for fun! Refrigerate leftover chocolate cream pie for up to three days.
Happy Thanksgiving menu planning!
Chocolate Cream Pie + Bourbon Butterscotch
---
Notes: For the crust, you can either go store-bought or homemade. This is my all-time favorite pie crust recipe!
You will need to blind bake the crust to keep it from totally falling apart. Read why we do this here!
This chocolate cream pie is sooo easy to make-ahead! Read my timeline above to make it all go as quickly as possible.
Chocolate Cream Pie + Bourbon Butterscotch
This is the best chocolate cream pie ever! Buttery, flaky pie crust is filled with creamy dark chocolate pudding, topped with whipped cream, and drizzled with bourbon butterscotch. It's creamy, rich, and great for special occasions.
Ingredients
Chocolate Cream Pie
1 9-inch pie crust, store-bought or homemade
2/3 cup sugar
1/4 cup cornstarch
1/4 tsp salt
3 egg yolks
3 cup whole milk
2 tbsp unsalted butter
1 1/2 cup good-quality dark chocolate, chopped (I used 70%)
2 tsp vanilla extract
Cacao nibs or chocolate shavings, for serving (optional)
Bourbon Butterscotch
4 tbsp unsalted butter
1/2 cup dark brown sugar
1/4 tsp salt
1/2 cup heavy cream
1 1/2 tsp vanilla extract
2 tbsp bourbon
Whipped Cream
1 cup heavy whipping cream
2 tbsp powdered sugar
1/2 tsp vanilla extract
Instructions
To prepare the crust…
Preheat oven to 400°F. Roll out the pie dough, and place it in a 9-inch pie pan. Crimp as desired. Place the prepared crust in the freezer for about 15-20 minutes to prevent shrinking. Then, press a piece of aluminum foil or parchment paper into the center, and fill the center with dried beans, dried rice, sugar, or pie weights. (This will keep the dough from puffing up).

Bake for about 15-20 minutes, until the edges of the pie crust start to brown. Remove the pie from the oven, and carefully remove the foil/parchment paper with the weights out of the pie. Using the tines of a fork, prick the surface of the pie dough all over the bottom and sides to further prevent bubbling. Bake for another 15-16 minutes, until it's a nice golden brown. Let cool and wrap well if you're not using it right away.
To make the pudding…
In a medium saucepan, whisk together the sugar, cornstarch, and salt. Add 1 cup of milk, and whisk together until it's smooth. Whisk in the egg yolks until thoroughly mixed.

Cook over medium heat, slowly whisking the rest of the milk into the custard mixture. Bring to a boil, whisking constantly and focusing on the edges to prevent burning. Let it boil for 2 minutes. It should be thick.

Remove the pudding from the heat, and stir in the chocolate, butter, and vanilla extract until smooth. If it's at all lumpy, strain the pudding through a fine-mesh sieve. Let it cool slightly. Press a piece of plastic wrap to the surface to prevent a skin from forming. If you're making it ahead of time, refrigerate the pudding until you're ready to use.
To make the bourbon butterscotch…
While the pudding is cooling, make the bourbon butterscotch. Heat the butter in a small saucepan over medium heat. Add the brown sugar, salt, and heavy cream, and stir until the sugar is dissolved.

Bring the mixture to a boil, and stir constantly scraping the sides of the bowl to prevent burning. Let it boil for about 7-10 minutes, until it's thickened. Remove from heat and stir in the vanilla extract and bourbon. Pour the butterscotch into a heat-proof jar and let it cool completely. Refrigerate until you're ready to use.
To make the whipped cream…
Stir together the cream, sugar, and vanilla extract in a medium bowl. Beat with a whisk attachment until stiff peaks form.
To assemble…
When you're ready to eat the pie, pour the chocolate pudding into the prepared pie crust. Smooth the whipped cream over the top, drizzle the pie with bourbon butterscotch, and sprinkle with cacao nibs or chocolate shavings if desired! Enjoy!
Serving: 1slice, Calories: 689kcal, Carbohydrates: 63.6g, Protein: 8.1g, Fat: 44.4g, Saturated Fat: 25.4g, Cholesterol: 179mg, Sodium: 396mg, Potassium: 324mg, Fiber: 1.3g, Sugar: 49.5g, Calcium: 214mg, Iron: 1mg
---
xo Sara Lynn
*Song of the day: Wildflowers by Tom Petty