Fried Burrata with Roasted Peppers & Pesto
This fried burrata is crispy, melty, and creamy! Fresh burrata is fried until it's golden brown, served over roasted peppers, and drizzled with garlicky pesto. This is my favorite impressive appetizer for a dinner party, the holidays, or happy hour!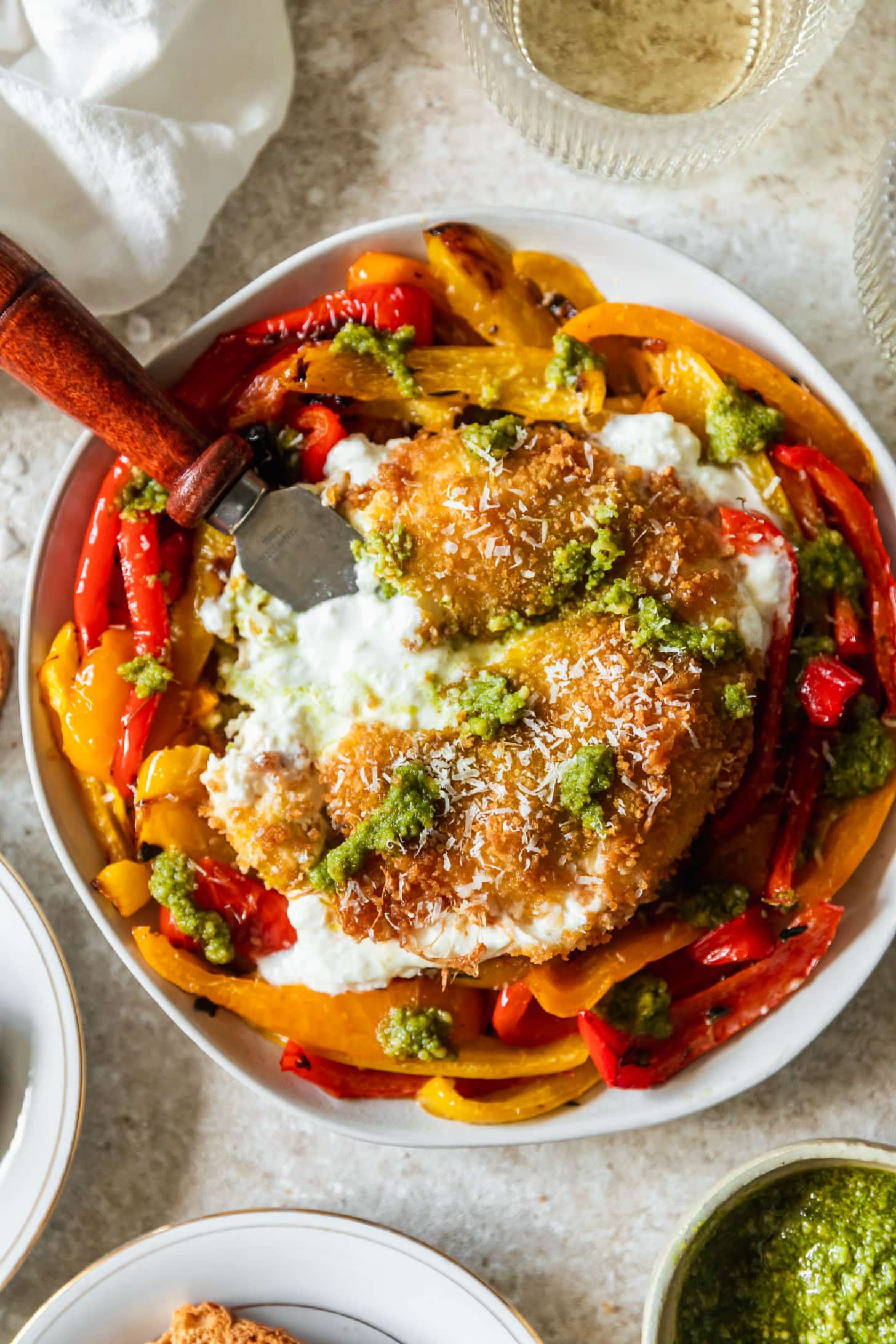 If there's anything I love in this life, it's a good appetizer-for-dinner situation. A series of small plates, tapas, izakaya, anything of that nature. And, on more than one occasion, half a bag of potato chips with onion dip or a whole boiled artichoke with mayo and butter. But I digress. Today, we're talking about fried cheese, which is perhaps my favorite app of all.
If you've ever wanted to know what it's like to eat a giant mozzarella stick, then you're in luck! Because fried burrata is basically just that. But, we're taking it up a notch by adding some charred roasted peppers and a drizzle of fresh pesto. This appetizer is ridiculously good, a huge crowd-pleaser, and for those of you who hate frying (me), don't worry, it's sooo easy.
Let's discuss fried burrata
After carefully testing this recipe way more times than I care to admit, I have come to two conclusions. One, there's nothing better than deep-fried cheese. And two, it's actually really easy! This is definitely a recipe I'd make as an impressive, elevated appetizer for happy hour at-home, a dinner party with friends, or the holidays. Honestly, sometimes I just make it just as a fun weekend Sunday dinner to enjoy on the couch with a bottle of wine.
In terms of flavor, we have a lot of good things happening. First, we have the burrata cheese. It's creamy and soft and has the most lovely buttery flavor. The roasted peppers and pesto in this recipe add a nice brightness to the crispy fried coating and the rich burrata. You can serve this app with toasted slices of baguette or crackers.
What is burrata?
Burrata is honestly having a moment right now but it's for a good reason! Burrata is a soft Italian cheese made with cow's milk or buffalo milk. The outside is made up of a mozzarella shell, but when you cut into it, the inside is basically a river of stracciatella (shreds of mozzarella) and cream. Burrata has a sweet, buttery flavor with a rich center and I could probably eat it for every meal. Ugh, it's so good.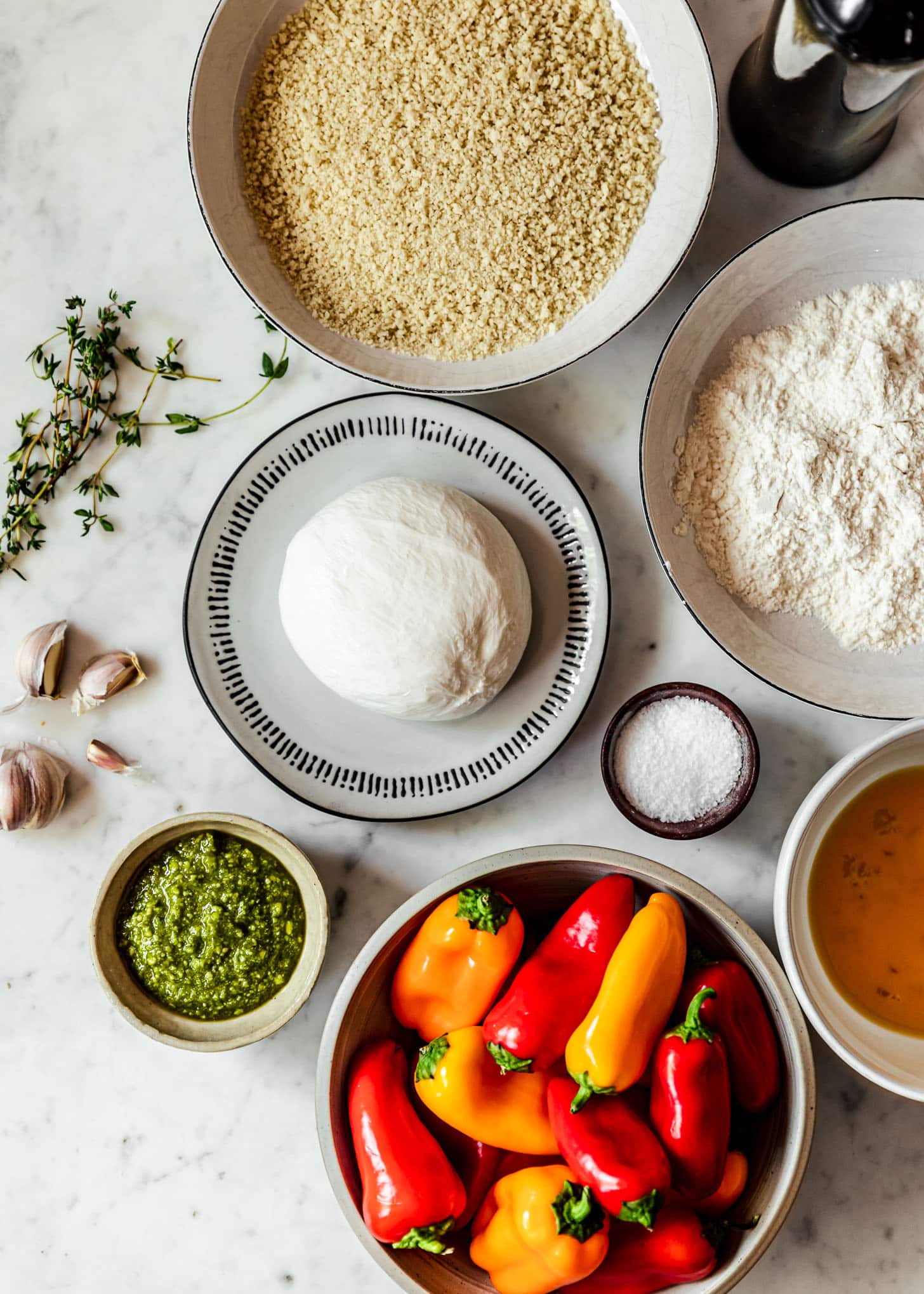 Ingredients you'll need
Burrata – you can usually find this in the 'fancy cheese' section next to the mozzarella. This is the brand that's usually at my nearest store. If you can't find any in your store, we'll discuss substitutes below!
Panko – this is my go-to breadcrumb for frying. It always has a light, airy texture.
Bell peppers – you can use either mini bell peppers or regular. I like to use a variety of colors.
Spices – garlic and thyme!
Neutral oil – vegetable or canola are my favorite for frying because they have a high smoke-point.
Pesto – store-bought or homemade.
Crackers or baguette – for serving! I usually serve up toasted slices of baguette. You could also use sliced bread like ciabatta!
Flaky salt – for extra flavor (totally optional).
Parmesan – for sprinkling on top.
Kitchen basics – all-purpose flour, Kosher salt, an egg, and olive oil.
Ingredient alternatives
Maybe you can't find burrata or maybe you just want to switch things up! Here are a few ideas on how you can switch up this recipe depending on the season:
Mozzarella – if you can't find burrata, you can easily fry mozzarella! I tested this substitute and it's just as delicious, it just has a thicker, meltier texture with intense cheese-pull action. Since mozzarella is denser than burrata, you'll need to add an extra minute or two of cooking time.
Tomatoes – roasting tomatoes instead of peppers is so delicious! You can use one pound of cherry tomatoes – roast them at 400°F for 30-35 minutes until they burst and have a soft, jammy texture.
Sauce – if you want to skip the roasted veggies, you can also just serve the fried burrata over sauce. Pesto, roasted tomato sauce, vodka sauce, arrabbiata, or any other tomato-based sauce would be delicious!
Let's make this recipe! | Video
Frying burrata or mozzarella is really simple as long as you follow a few basic tips + tricks! We're going to do this in a couple of steps to make things easy.
Roast the peppers
First, preheat the oven to 450°F.
Toss the sliced peppers with olive oil, garlic, fresh thyme and Kosher salt in a roasting pan.
Bake for 35-40 minutes until the peppers are soft and have some charred spots.
Frying the burrata
While the peppers are roasting, fry the burrata. Start by gently patting the burrata dry to remove any moisture. Heat the oil in a deep, large sauce pan on the stove until it reaches 350°F.
Next, dredge the burrata in the flour followed by the egg and then the Panko. Repeat once more until you have a thick, even coating. Burrata is very delicate, so work carefully so it doesn't fall apart!
Place the burrata on a plate in the freezer for 20 minutes.
After 20 minutes, fry the burrata until it's golden brown and cooked through, about 4-5 minutes. Drain on a paper towel and season with Kosher salt.
Assemble & serve
Spoon the roasted peppers on a large plate or tray.
Next, place the fried burrata on top of the peppers.
Finish with a drizzle of pesto, a pinch of flaky salt, and Parmesan. Serve with crackers, bread, or toasted baguette.
Tips for frying
I have tested this recipe quite a few times and come up with some tips for frying the burrata along the way! Here's how to guarantee that your recipe will come out perfectly every time.
Use clean oil – using old oil can affect the taste of the breading.
Use enough oil – you need to cover the cheese completely so that all of the shell is golden-brown. Otherwise, you'll end up with soggy breading in some spots and not others.
Heat it properly – it needs to be 350°F to ensure that it quickly fries the breading before the cheese gets too melty and falls apart.
Double-dredge – one layer of breading is not enough. The cheese will 100% fall apart if you don't get a good, thick coating.
Freeze – do not skip this part! It's essential in helping the cheese stay together when you add it to the oil.
Move it around – be very careful so the cheese does not break. But, moving the cheese around a couple of times during cooking will prevent it from sticking to the bottom.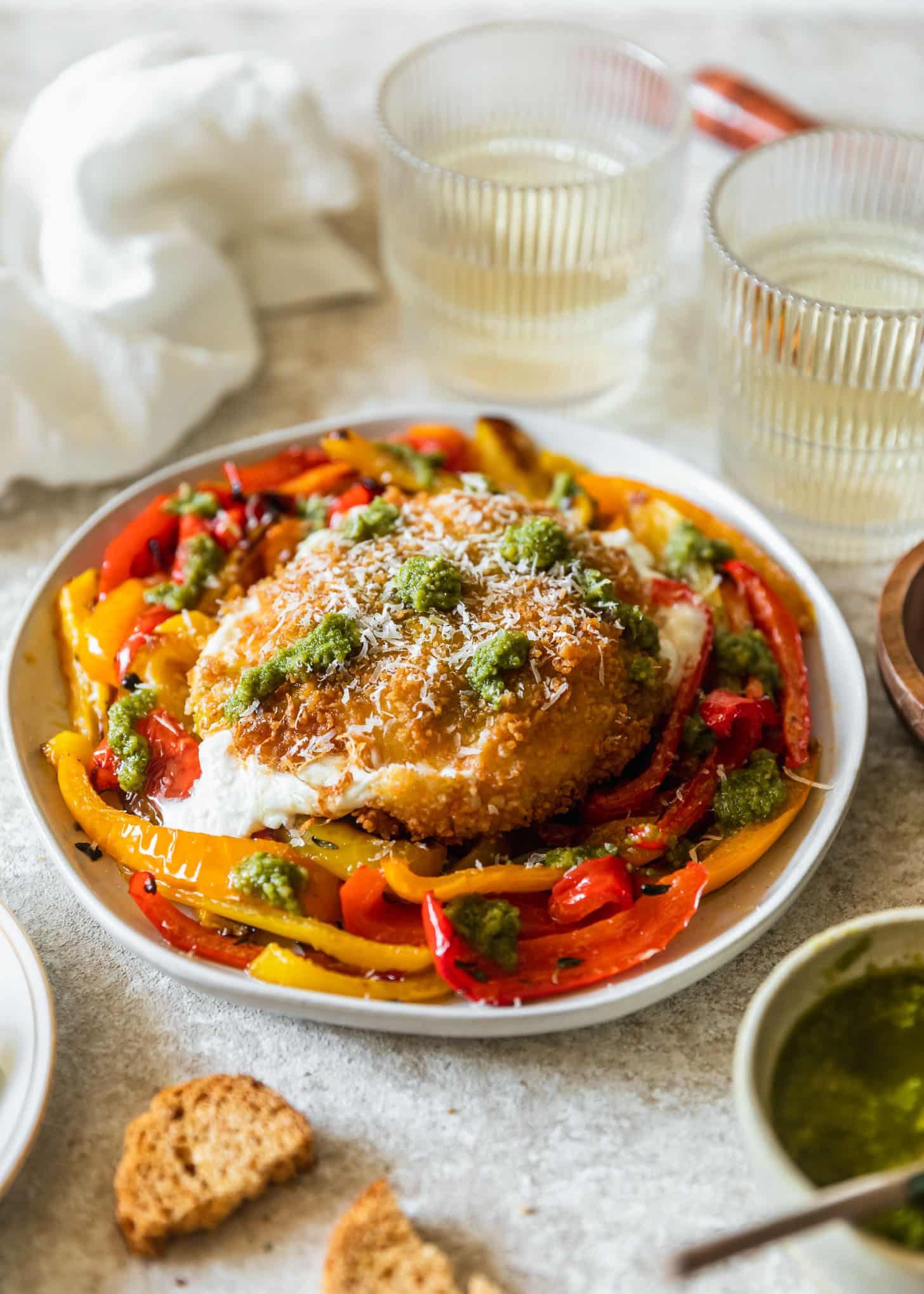 Serving ideas
When I make this fried burrata as an appetizer, I like to serve it up on a big platter so that my guests can dig in. Make sure to have some cheese knives on hand to make cutting into the burrata easier. I even like to have little tongs or forks to get the peppers on the baguette. It's also great with a dry red wine for happy hour at home or a light, snacky dinner!
To get the timing right, I like to have the burrata in the freezer 20 minutes before I expect my guests to arrive. I also have the oil heating on the stove and the peppers warming in the oven. Then, when my guests show up, I just pop the burrata in the oil for a few minutes and serve!
Also, if you want to serve this up with sauce instead of peppers, you can spread the sauce in the bottom of a cast iron skillet. Heat it up, and add the burrata to the center to keep everything nice and warm.
Storing leftovers & reheating
So, to be honest, this is not my favorite snack to enjoy as leftovers. But, I know that leftovers happen so let's chat about it!
To store any leftover fried burrata, just place it in an airtight container and store in the fridge for up to 1 day. Place the roasted peppers in a separate container so they don't make the coating soggy. It will get soggier the longer it sits, so you don't want to hold onto the burrata for too long.
To reheat the leftovers, place them in a small roasting dish or cast iron skillet. Bake in the oven at 350°F, rotating the burrata every once in a while to crisp up all of the coating. Cook for 10-15 minutes until the outside is crisp and the center is warmed-through.
Recipe tips
Be very gentle when handling the burrata. It falls apart very easily, so you want to work gently. Sometimes, I just use my hands to "pat" the Panko so that I don't have to move it around too much.
Serve this dish immediately or it will get soggy and the cheese will start to harden.
To keep the burrata warm, just pop it in an oven at 170°F until your guests arrive or you're ready to serve. I wouldn't recommend letting it warm for more than 20 minutes, or it could get too melty.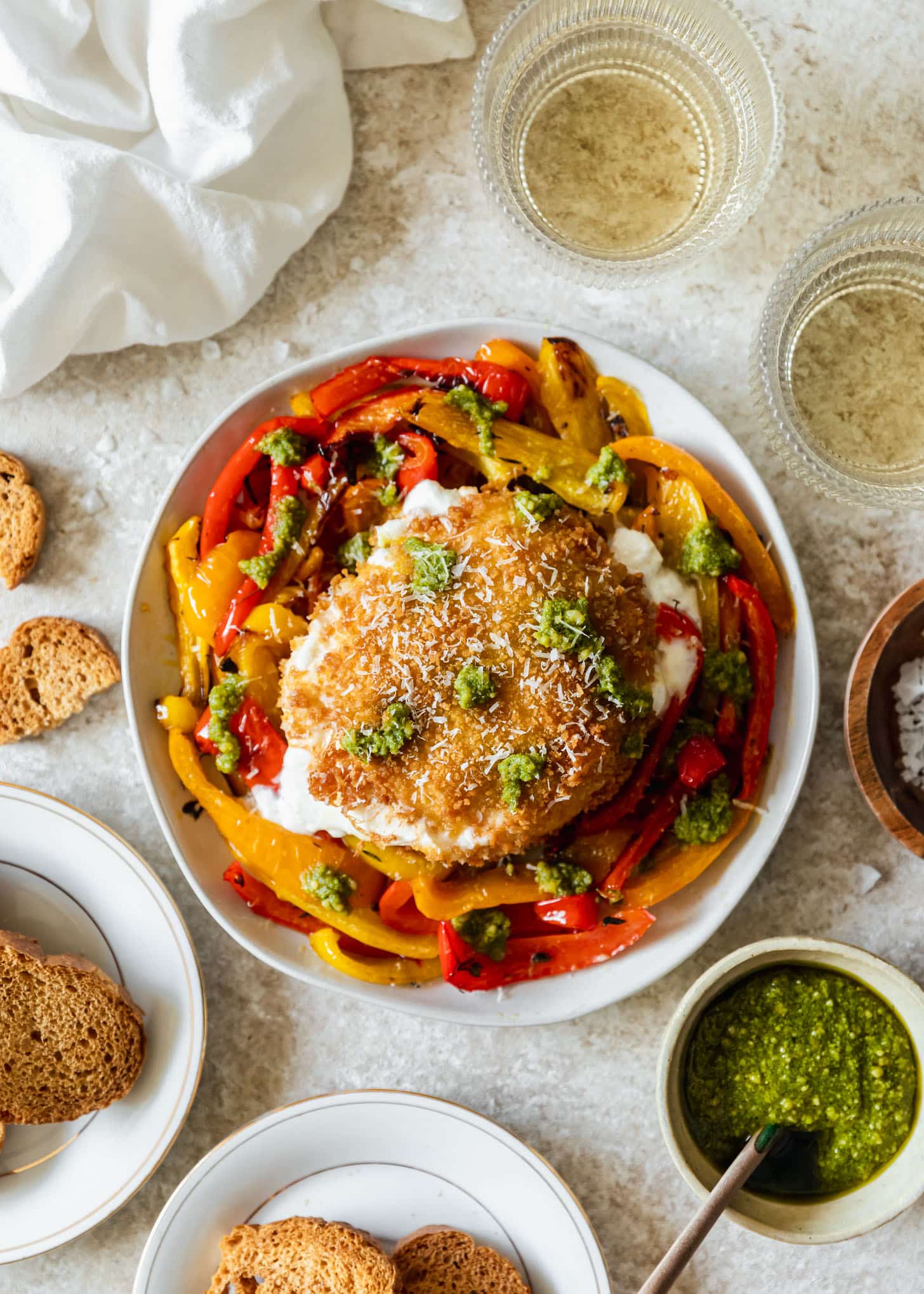 More appetizers to try
Bacon and Corn Fritters with Chipotle Aioli
Marinated Mozzarella Balls with Basil & Lemon
BBQ Chicken Nachos with Cilantro-Lime Crema
Homemade Fruit & Nut Crisps with Za'atar Whipped Feta
Little Smokies in a Blanket with Puff Pastry
Beer Cheese Fondue + Game Day Snacks
If you make this recipe, I would love it if you left a star rating and review! I read every single comment and love hearing what you think about my recipes. Thank you for supporting Sunday Table!
---
Fried Burrata with Roasted Peppers & Pesto
This fried burrata is crispy on the outside and creamy-melty on the inside. It's a huge crowd-pleaser for dinner parties, holidays, happy hour at home, or a snacky dinner! Serve it with toasted baguette or crackers for a simple, elevated appetizer.
Ingredients
Roasted Peppers
1 lb bell peppers* (about 3 large, any color)
2 Tbs. olive oil
2 large cloves of garlic, minced
8-10 sprigs of thyme
Kosher salt, to taste
Fried Burrata
8 oz burrata cheese**
1/4 c all-purpose flour
1/2 tsp. Kosher salt, plus more to taste
1 egg
3/4 c Panko breadcrumbs
Canola or vegetable oil, for frying
Flaky salt, for serving (optional)
Assembling & Serving
1/3 c pesto, homemade or store-bought
1/4 c Parmesan, shredded
Bread, toasted baguette slices, or crackers, for serving
Instructions
Roasted Peppers
Preheat oven to 450°F. Grease a 9×13'' roasting pan with neutral oil.

Add the peppers to the roasting pan with the olive oil, garlic, thyme, and a few pinches of Kosher salt. Toss to combine.

Bake for 35-40 minutes, until the peppers are tender and have a few charred spots.
Fried Burrata
Pat the burrata dry to remove any extra moisture. Place the all-purpose flour and 1/2 teaspoon of Kosher salt into a shallow dish and whisk together. Crack the egg into another shallow dish and whisk until smooth. Then, pour the Panko breadcrumbs into another shallow dish.

Very gently dredge the burrata in the flour followed by the egg and then the Panko. Double-dredge the burrata in the egg and Panko to get a thick coating.*** Place the burrata on a plate and freeze for 15-20 minutes.

While the burrata is in the freezer, heat the oil in a deep, large sauce pan until it reaches 350°F.**** Using a spatula or frying spoon, carefully lower the chilled burrata into the hot oil. Fry for 4-5 minutes, until the outside is golden brown and crisp. Carefully move it around with the spatula/frying spoon to ensure the cheese doesn't stick to the bottom.

Gently place the fried burrata on a paper towel to soak up extra oil. Season with a pinch of flaky salt (or Kosher salt).
Assembling & Serving
Spoon the roasted peppers onto a plate or platter. Place the fried burrata on top. Drizzle with pesto and sprinkle Parmesan over the top. Serve immediately with sliced bread, toasted baguette slices, or crackers. Enjoy!*****
Notes
*You can also use mini bell peppers or tomatoes instead of bell peppers! For tomatoes, season 1 lb. of cherry tomatoes and bake at 400°F for 30-35 minutes until they burst and are jammy and soft.
**If you can't find burrata, just use a ball of mozzarella! It'll be less creamy and more cheesy. You'll also have to fry it for another 1-2 minutes to make sure it cooks through. Just keep a close eye to make sure it doesn't burn!
***Work very carefully when dredging. Burrata is delicate and will break apart if you work too roughly.
****Make sure you have enough oil to fully cover the burrata.
*****If you want to make things easier, you can serve the fried burrata over pesto or roasted tomato sauce and skip the peppers altogether!
Serving: 1serving, Calories: 379kcal, Carbohydrates: 16.7g, Protein: 13g, Fat: 31.4g, Saturated Fat: 8.9g, Cholesterol: 61mg, Sodium: 545mg, Potassium: 83mg, Fiber: 1.3g, Sugar: 2.8g, Calcium: 319mg, Iron: 1mg
xo Sara Lynn
*Song of the day: From the Subway Train by Vansire