Apple Pork Chops with Bourbon & Sage
These apple pork chops with sage and bourbon make for a cozy autumn dinner that comes together in just 30 minutes! Serve these chops as a quick weeknight meal or impressive dinner party main. They're seriously the best – juicy, flavorful, one-skillet, everything you could need on a chilly fall night!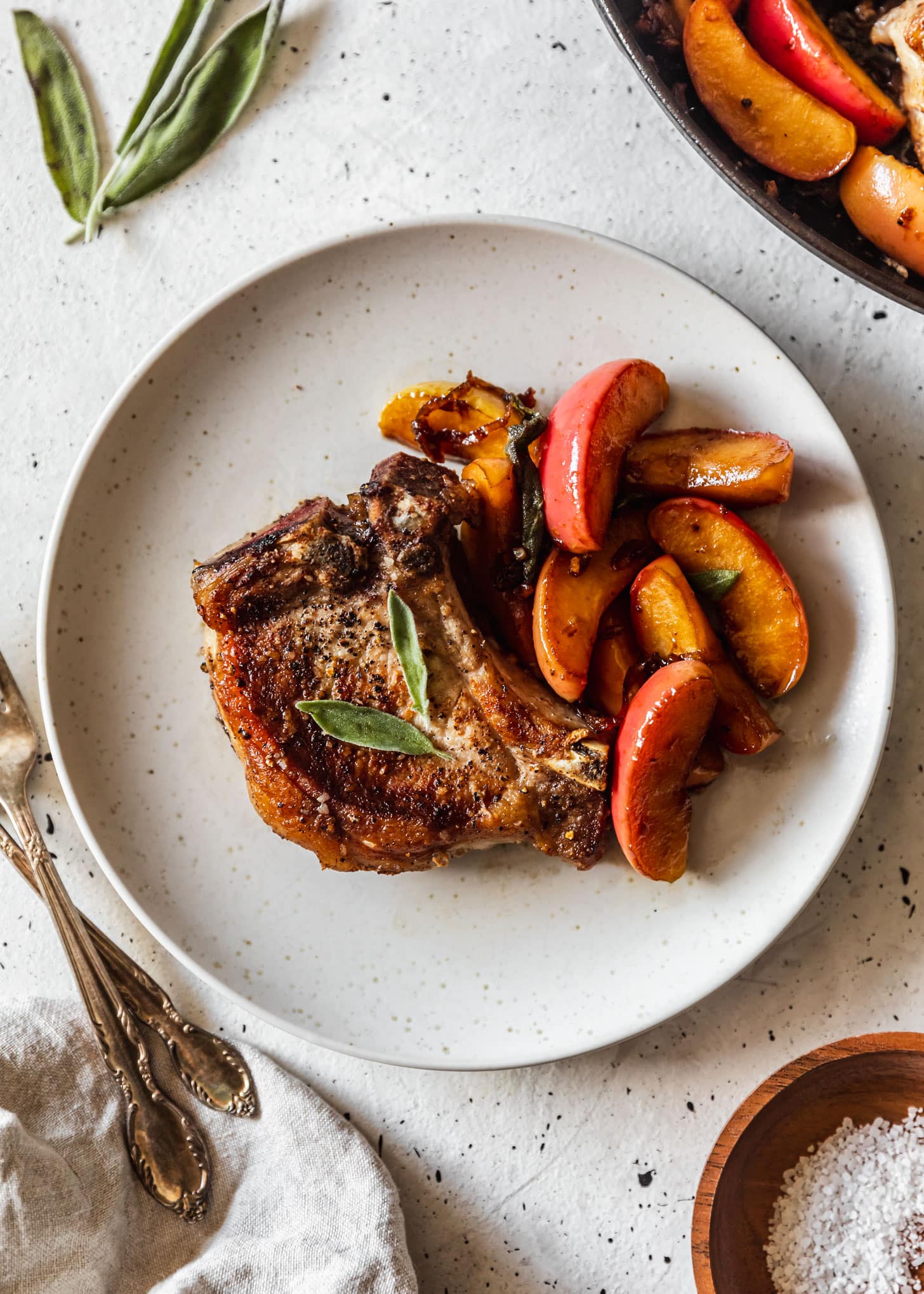 After staring at your apple tree day after day, slowly dropping apples into a hot mess on your lawn, you start to get creative with ways to use them up and mitigate said hot mess. Not that I don't love my apple tree, trust me I'm obsessed. It's just that it's a special kind of hell when they start to smell like vinegar and you pick one off the sidewalk and a million ants come tumbling out.
Anywhoooo, now that I've thoroughly ruined your appetite, let's chat apple pork chops with bourbon and sage! This recipe was developed in honor of my lovely little apple tree but it's quickly become a favorite autumn dinner around here.
First, I think we all know that apples and pork go together like Cory and Topanga. But, in this recipe, it's even better because there's sage and shallots and bourbon and a good dose of butter! They're sweet and savory, cozy and warm, and have a rich, smoky glaze that I just want to bathe in.
The best apple pork chops
This recipe is kind of a fancier play on pork chops with applesauce. Growing up, pork chops always came with a side of applesauce, and it's such a nostalgic combo for me! In this version, we're making it a little more grown up with a splash of bourbon, a bit of fresh sage, and caramelized shallots for extra flavor.
The result is a comforting, one-skillet meal that is totally perfect for a chilly autumn evening! The recipe is easy, comes together in just 30 minutes, and goes with so many different side dishes. These pork chops are one of my new go-to weeknight dinners but I also love them for a simple-but-elegant dinner party option!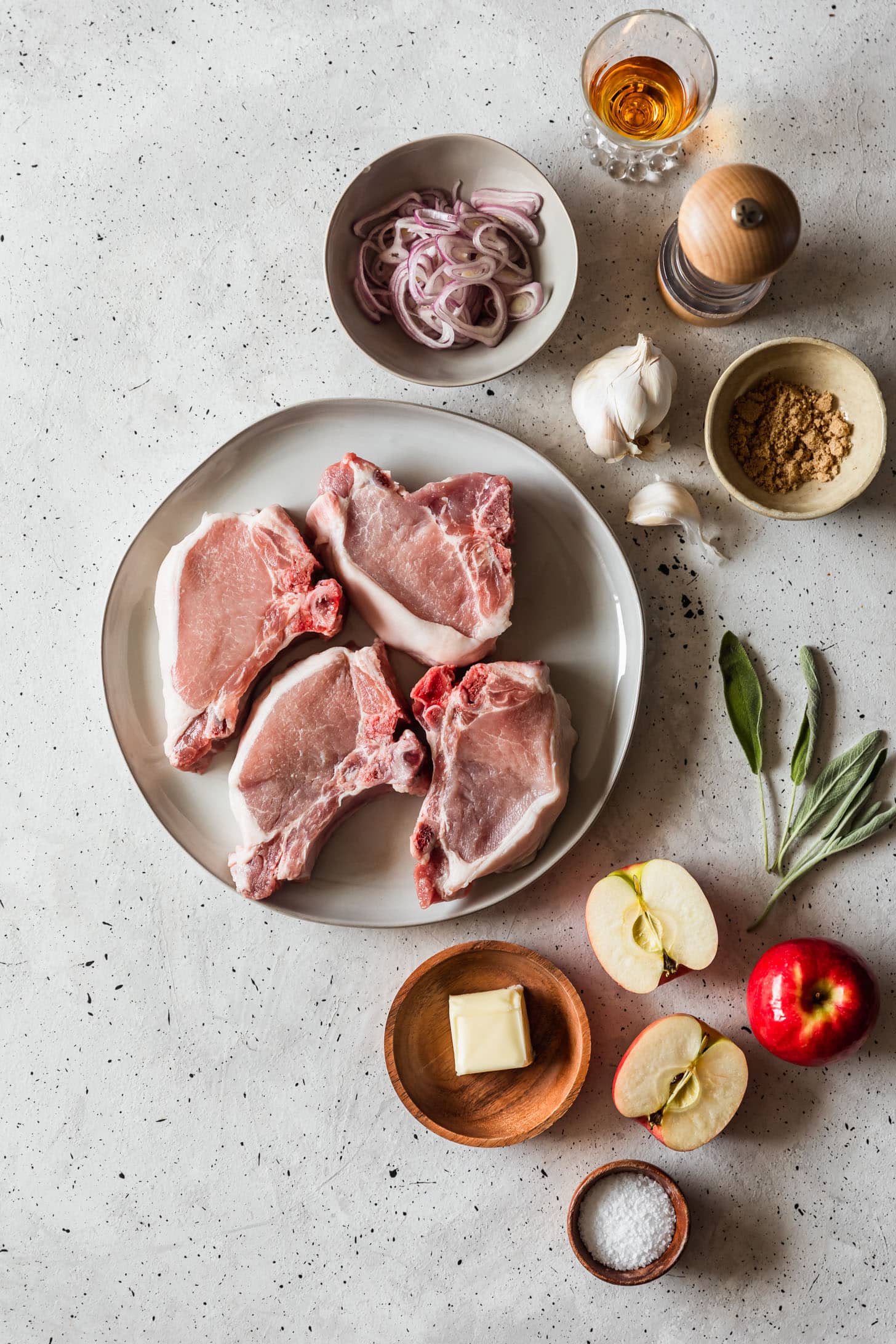 The ingredient list
One of the best parts of this dinner is that it has less than 10 ingredients (not including salt and pepper). Here's everything you'll need to make these apple pork chops!
Pork chops – bone-in is my preference but we'll chat on this later. Just make sure they're at least 1" thick so they don't dry out!
Apples – Honeycrisp are my go-tos for cooking.
Sage – you'll definitely want fresh sage for this recipe. Dried sage won't add the same level of flavor.
Shallots & Garlic – I mean, obviously.
Bourbon – nothing too fancy but something you still like to drink.
Kitchen basics – unsalted butter, neutral oil (like canola or vegetable) brown sugar, Kosher salt, and freshly-ground black pepper.
Ingredient substitutions
If you forgot something on the list, can't find an ingredient, or want to switch things up, here are a few ideas. Although I haven't tried these alternatives, I think they'd all be delicious!
Pork chops – this recipe would be great with boneless, skinless chicken thighs or breasts. Just keep in mind, you'll need to adjust the cooking time – if they're large, they may take longer to cook. Always refer to a meat thermometer to make sure the chicken is 165°F!
Apples – pears would be so good! If the pears are too soft, they could fall apart, so go with firmer pears (Bosc and Anjou are the best for cooking).
Shallots – you can also use a small red or sweet onion.
Sage – try rosemary or thyme instead!
Bourbon – white wine or sherry would work too.
How to make this recipe | Video
30 minutes, one-skillet. That's all it takes my friends. Let's make these apple pork chops with bourbon and sage!
Start by seasoning the pork chops with salt and pepper.
Then, sear the chops over medium-high heat in a skillet until they're nice and golden-brown on each side. Let them rest for a few!
While the pork chops rest, cook the apples and shallots in the pan until they're tender. Add the sage followed by the garlic.
Sprinkle the brown sugar into the shallot-apple mixture and deglaze the pan with bourbon. Spoon the butter into the pan and stir until you have a buttery glaze.
Lastly, return the pork chops to the pan. Drizzle with the bourbon-butter glaze and enjoy!
Bone-in vs. boneless pork chops
The age-old question: bone-in vs. boneless pork chops. Honestly, I think it mostly comes down to personal preference! I love bone-in chops because the bone adds a ton of flavor and locks in the moisture. Bone-in pork chops tend to be a bit more flavorful and juicy, but they do not cook as quickly.
Boneless pork chops will also work. They're a great option if you really only have a few minutes to make dinner and want them to cook quickly! Boneless is also leaner and easier to find in the grocery store but they do dry out more easily. Whatever option you choose, just make sure to get thicker pork chops (at least 1" thick).
Best apples for cooking with pork
When I'm serving apples with pork, I like them to be tart but sweet, and sturdy enough to hold up to high temperatures. (Mushy apples are the worst). Here are my picks!
Honeycrisp – these are definitely my favorite! I love the sweetness they add to the recipe and that they're a bit crisp, even when cooked.
Pink Lady – my second choice in terms of flavor and texture.
Gala – a good grocery store staple. I can always find Galas!
Granny Smith – if you want a more tart apple, Granny Smith is the way to go.
Golden Delicious – these are one of the best for cooking. They have a light flavor and don't fall apart when sautéed.
3 tips for juicy chops
Pork has a bad rap for being dry and flavorless, but it's totally untrue! If you cook them correctly, they'll come out perfectly every time.
Bring the chops to room-temperature for about 30 minutes so they cook evenly.
Don't overcook the pork. Sear the chops just until they reach 140°F. Don't worry, they'll come up to 145°F while they rest. Which, speaking of…
Make sure the cooked pork chops rest for about 5-10 minutes so the juices distribute around the meat. This will help them stay nice and juicy!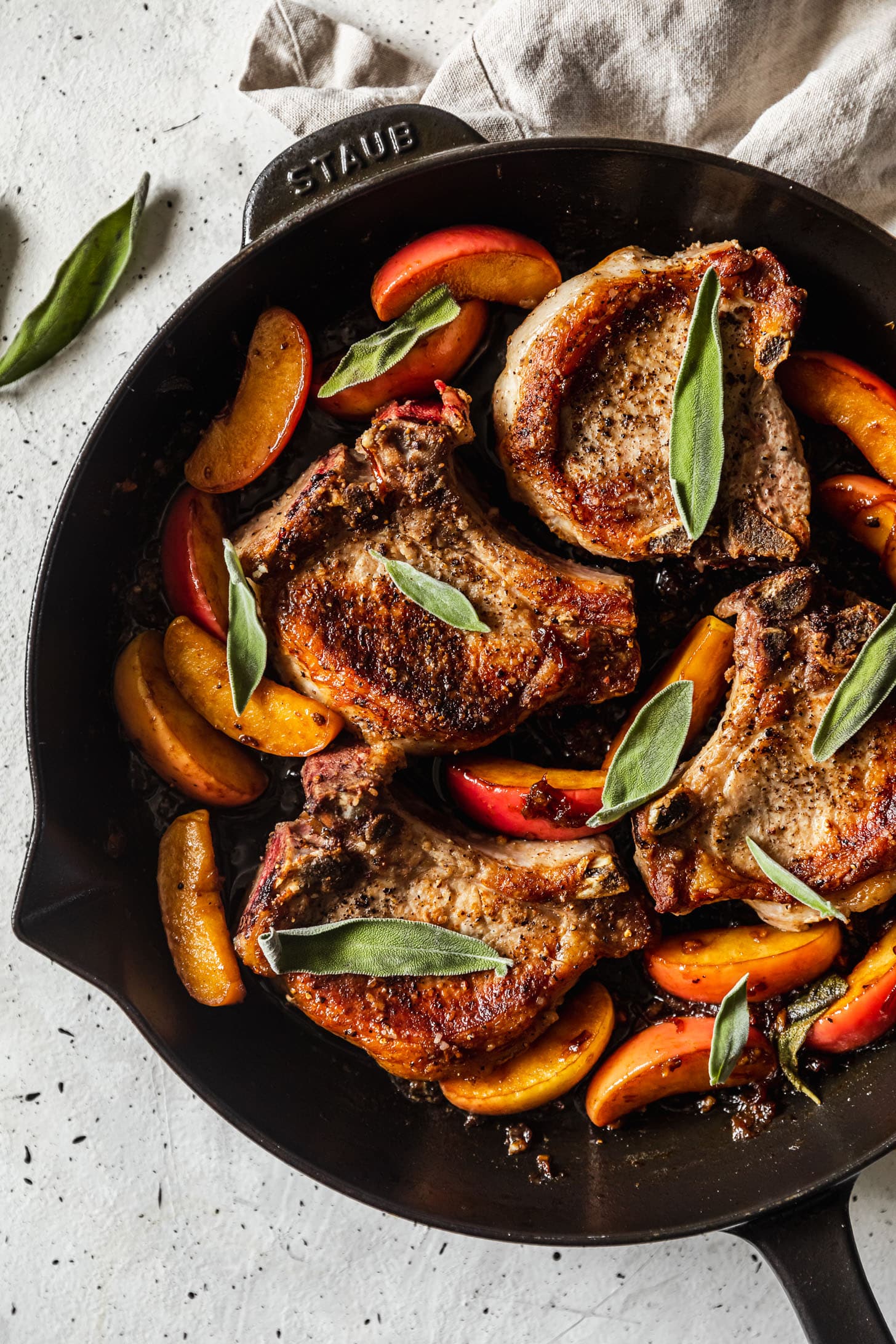 Serving Ideas
Apple pork chops go great with all kinds of side dishes! Here are some of my faves.
Storing & reheating
To store leftovers, just place everything in an airtight container and refrigerate. They will be good for about 3-4 days. I actually love making this dish as a meal prep option so I can have delicious apple pork chops for lunch all week!
To reheat the chops, your best bet is popping them in the oven to keep them from drying out. Place the pork chops in a ceramic baking dish. Then, add a splash of chicken broth (or even apple cider!) and cover with a lid or tinfoil. Bake at 350°F for 10-15 minutes until they're warmed through.
Recipe tips
Slice the apples the same thickness so they cook evenly. I like slicing them into 1/8ths so they still have a bite, but you can cut them thinner if you prefer softer apples.
Use a meat thermometer to prevent overcooking the pork chops. I know I'm annoying about meat thermometers lol. But it really is so important if you don't want dry chops! This one is my favorite.
Tent the pork chops with foil so they have time to rest while you finishing cooking but don't lose heat.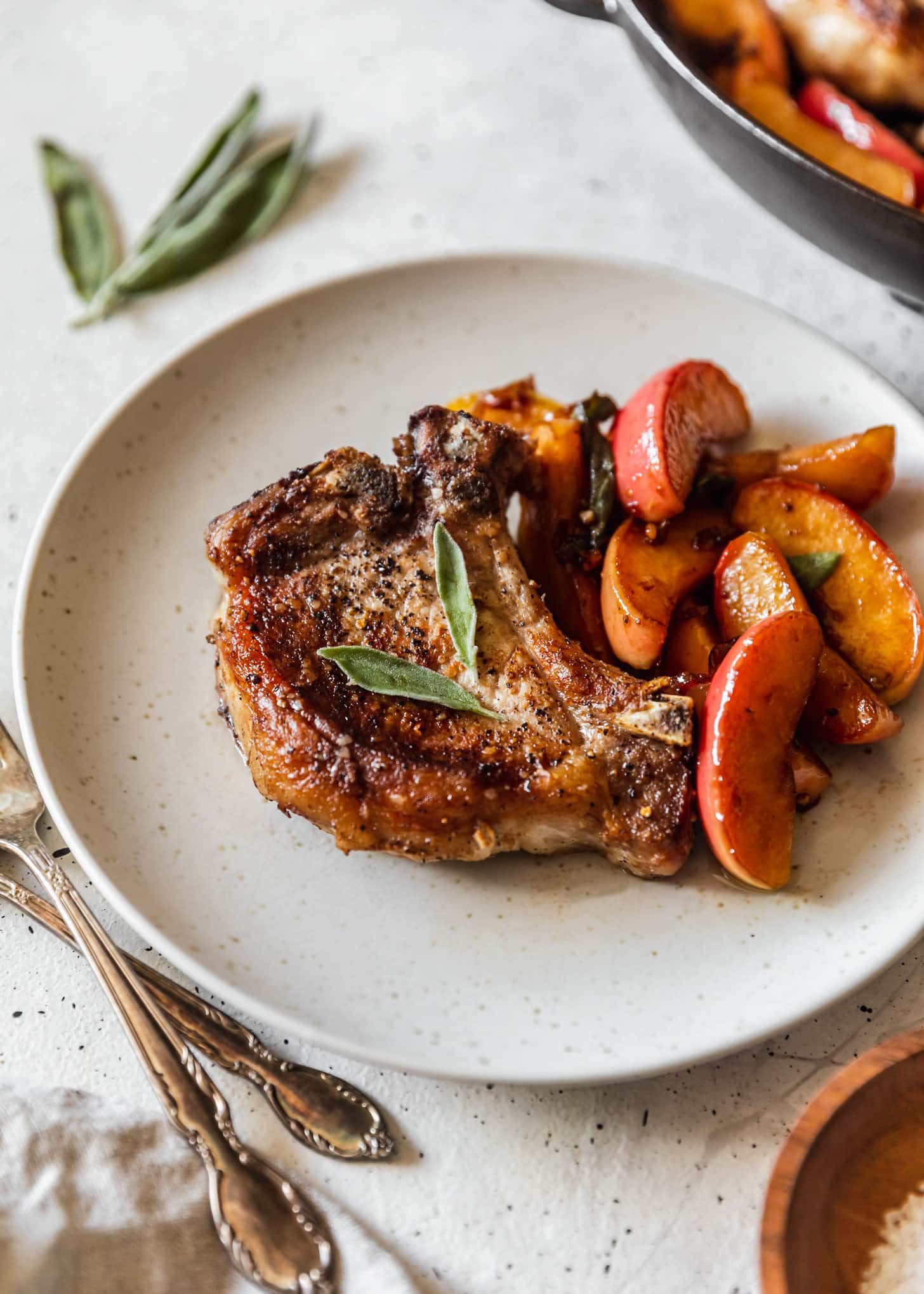 More cozy mains you'll love!
White Lasagna with Pesto & Pancetta
Sheet Pan Chicken Cordon Bleu with Dijon Sauce
Pot Roast with Red Wine & Shallots
Marc's Meatball Subs with Garlic Rolls
Beef Stroganoff with Shallots & Brandy
If you make this recipe, I would love it if you left a star rating and review! I read every single comment and love hearing what you think about my recipes. Thank you for supporting Sunday Table!
---
Apple Pork Chops with Bourbon & Sage
These apple pork chops are the ultimate cozy autumn dinner! They come together in less than 30 minutes with one skillet and just a handful of ingredients. Serve as a comforting weeknight meal or an elegant dinner party option – they're a huge crowd-pleaser!
Ingredients
4 bone-in pork chops (1-inch thick)
Kosher salt and freshly-ground black pepper
1 Tbs neutral oil (such as canola or vegetable)
2 Honeycrisp apples, cored & cut into 8 wedges
1 shallot, thinly sliced
8 sage leaves (fresh)
2 cloves of garlic, finely minced
1 Tbs brown sugar
2 Tbs bourbon
2 Tbs unsalted butter
Equipment
12-inch skillet (I use cast iron)
Instructions
Generously season the pork chops on all sides (including the fat cap) with Kosher salt and black pepper. Let the pork chops sit until they come to room temperature.*

Next, heat the oil in a skillet over medium high until it's shimmering. Add the pork chops to the pan and cook for 4-5 minutes, until the pork chops are a deep golden brown.** Flip and cook another 4-5 minutes, until an instant read thermometer registers 140°F. Remove the pork chops from the pan and set on a clean plate. Tent with tinfoil and let the pork chops rest while you finish cooking (the chops will come up to 145°F as they rest).

Add the apples and shallots to the pan. Cook for about 5-6 minutes, scraping up any brown bits, until the apples start to get tender. Add the sage leaves and cook for another 2-3 minutes until they are wilted. Then, add the garlic and sauté just until it's fragrant, about 30 seconds.

Sprinkle the brown sugar over the apple mixture and stir. Then, deglaze the pan with the bourbon. Let it simmer until the bourbon is reduced by half and the sugar is dissolved, about 1 minute. Remove the pan from the heat and add the butter, stirring until it's melted and the glaze is smooth.

Return the pork chops to the pan. Using a spoon, drizzle the glaze over the pork chops and apples. Enjoy!
Notes
*I let the pork chops sit for about 30 minutes (bringing them to room-temperature prevents them from drying out). 10 minutes is ok if you're short on time. **Be careful when searing pork chops, the oil might spatter.  
Serving: 1serving, Calories: 423kcal, Carbohydrates: 22.8g, Protein: 30g, Fat: 21.6g, Saturated Fat: 8g, Cholesterol: 100mg, Sodium: 755mg, Potassium: 202mg, Fiber: 2.9g, Sugar: 14.8g, Calcium: 62mg, Iron: 2mg
xo Sara Lynn
*Song of the day: Are You Bored Yet? by Wallows ft. Clairo