Kale Salad with Greek Yogurt Caesar Dressing
(May 2018) Note: This is an updated version of a "healthy Caesar dressing" recipe I posted way back in 2013.  The dressing recipe is essentially the same, and changes have been noted in the recipe at the bottom!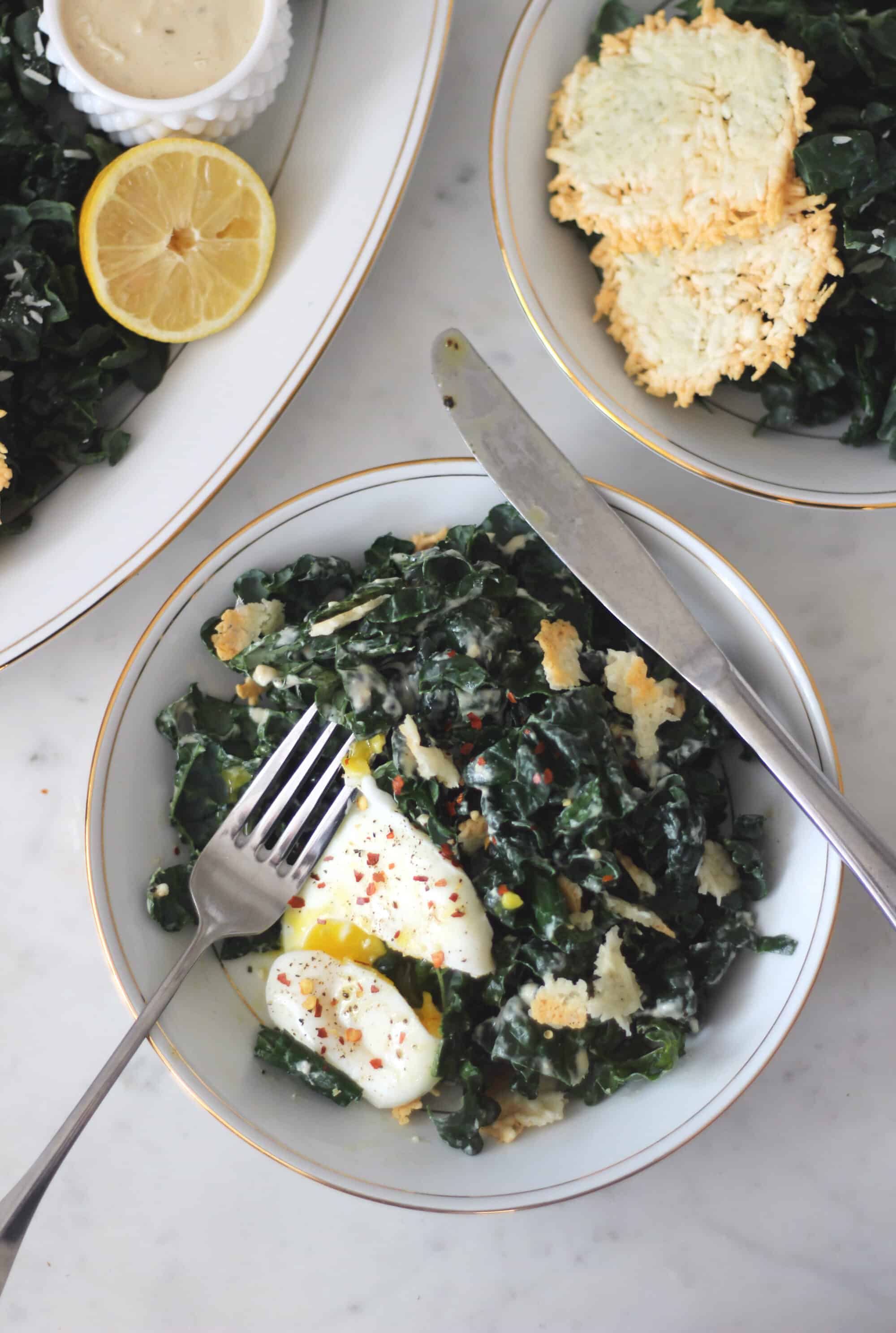 There's a restaurant in Reno called Campo that makes a kale salad and, not even kidding, it makes me crave kale salads.  It's lemony, garlicky, and topped with crispy parmesan and a poached egg.  I think about it a lot and have considered going there just for a kale salad and their caramel budino, but I don't want to be judged by the servers, even though I think kale + caramel pudding is the epitome of balance.  I guess you could call the salad "famous" by Reno standards, and the original owner of the restaurant was even nice enough to post the full recipe online.
In an effort to convince you guys I don't constantly eat potatoes and brownies, I decided to post this kale salad, which is a typical meal I serve on the weekdays.  This came about after I looked through my Insta the other day and noticed that practically everything is covered in cheese or sugar, aside from the carrot salad I've been obsessing over lately.  Obviously, it's inspired by my favorite at Campo, but unfortunately this particular version is not served with the bacon-y bolognese, wine, and a caramel budino that I've grown accustomed to.  However, what I love about this salad is that I can come home from work, take the puppy on a walk, work out, and quickly whip up a full meal in like, 10 minutes, which I eat while watching Friends or Arrested Development for the millionth time.  I have that spring-fever if you can't tell.
A few years ago, back when SSL was just a baby blog, I posted a recipe for "healthy" Caesar dressing made with Greek yogurt.  Back then, I couldn't find recipes for Greek yogurt Caesar online, but I knew it would work, and I was determined to find a healthier Caesar alternative.  I was way big into tags like "healthy", "low-fat" "sugar-free", etc. back then, which I have clearly moved on from.  However, that Caesar dressing was actually pretty healthy, and it quickly became the most popular recipe on my blog thanks to Pinterest.  I was going through it the other day and cringing at the old pictures, which I'm sure were taken on an iPhone in my parent's kitchen.  Inspired by Campo's salad, I decided to recreate the dressing to fit my current tastes.  It is essentially the same recipe aside from a couple tiny changes (which I will note).  I also wanted to update the pictures and show a different way to make a Caesar.  Another plus: beside it being a healthier alternative to regular dressing, I love how creamy and tangy the Greek yogurt makes this dressing, or any dressing for that matter.
P.S. I don't know if it's possible, but I think I might actually like my version of this kale salad better than Campo's (???).  It's creamy, garlicky, lemony, and totally meant for a poached egg.  Of course, no recipe I make will ever beat Campo's caramel budino 🤷
Kale Salad with Greek Yogurt Caesar Dressing
This creamy Caesar dressing is made with Greek yogurt, so it has all the flavor of regular Caesar, but lightened up a little! I like to serve the dressing over kale with Parmesan crisps and poached eggs.
Ingredients
Ingredients for Kale Salad
8 cups dinosaur kale or curly kale
1/2 cup shredded Parmesan
4 poached eggs
Lemon, pepper, + red pepper flakes, for serving
Ingredients for Greek Yogurt Caesar Dressing
1/3 cup plain Greek yogurt
1 tbsp grated Parmesan
2 tsp Worcestershire sauce
2 garlic cloves minced
2 tsp lemon juice
1 tsp Dijon mustard
2 tbsp olive oil
1 tbsp water
Salt + pepper to taste
Instructions
Preheat oven to 400° F. Cover a cookie sheet in parchment paper and spray well with olive oil or cooking spray. Place 1 Tbs. of parmesan in a little mound, making 8 mounds. Spread each mound out into an even layer. Bake for about 6-8 minutes or until crispy. Let cool and remove from baking sheet.

Remove kale leaves from the tough stems. Chop into bite-sized pieces. Set aside.

To make the dressing, whisk together the Greek yogurt, parmesan, Worcestershire sauce, garlic, lemon juice, and Dijon. Drizzle in olive oil while whisking, until incorporated. Whisk in water, to thin. Season with salt and pepper.

To assemble the salad, place kale on a platter. Toss with the desired amount of Caesar dressing. Place parmesan crisps on top whole, or crumble them. Serve with warm poached eggs, fresh pepper, lemon, and red pepper flakes.
Notes
The original dressing recipe had 1/2 Tbs. parmesan, 1 tsp. lemon juice, 1/2 tsp. spicy brown mustard, 1 Tbs. + 1 tsp. olive oil, and 2-3 tsp. of water. The older version is still good although a little less flavorful than the updated recipe.
Serving: 1salad, Calories: 240kcal, Carbohydrates: 16.8g, Protein: 14.9g, Fat: 13.7g, Saturated Fat: 3.9g, Cholesterol: 172mg, Sodium: 358mg, Potassium: 728mg, Fiber: 2.1g, Sugar: 1.4g, Calcium: 321mg, Iron: 3mg
xo Sara Lynn
*Song of the day: Chronic Sunshine by Cosmo Pyke