How to Throw an Oktoberfest Party at Home
Having FOMO while your friends post Insta pics at the Wiesn in their lederhosen fits? Bring Oktoberfest home with a get-together with friends! From food and drinks to decorations and outfits, these are my best tips on how to throw an Oktoberfest party at home.
You know that I love a humble get-together. From brunch parties to intimate dinner parties, I'm basically always looking for an excuse to get everyone over to my house.
But, my favorite celebration probably has to be our annual backyard Oktoberfest party. Drinking beer, laughing with friends, hanging out in the gorgeous autumn weather? Count me in. (Also, it's a great excuse to make all of my husband's German family recipes and bust out his grandma's gorgeous collection of Räuchermann.)
If you can't get your way to Munich this year, buckle up friends. We're bringing Munich to us!
What is Oktoberfest?
Oktoberfest is an annual folk festival that takes place in Munich, Germany. Even though it's commonly thought of as a beer party, it's actually a celebration of Bavarian culture as a whole. The real Oktoberfest has food, drinks, music, rides, and of course, beer tents. A true dream.
Fun fact: the first Oktoberfest was actually a wedding! In 1810, Bavaria's Crown Prince Ludwig married Princess Therese of Saxony-Hildburghausen on Oct. 12. The event had food, drinking, music, and horse races, and I'm willing to bet it was a great time considering we still celebrate it over 200 years later. 🤷‍♀️
What you'll need
When it comes to celebrating Oktoberfest at home, I'm all about keeping it casual and stress-free. (I mean, we're celebrating Bavaria, not hosting a gala. Let's keep it fun, shall we?) Here's a general list of what you're going to need!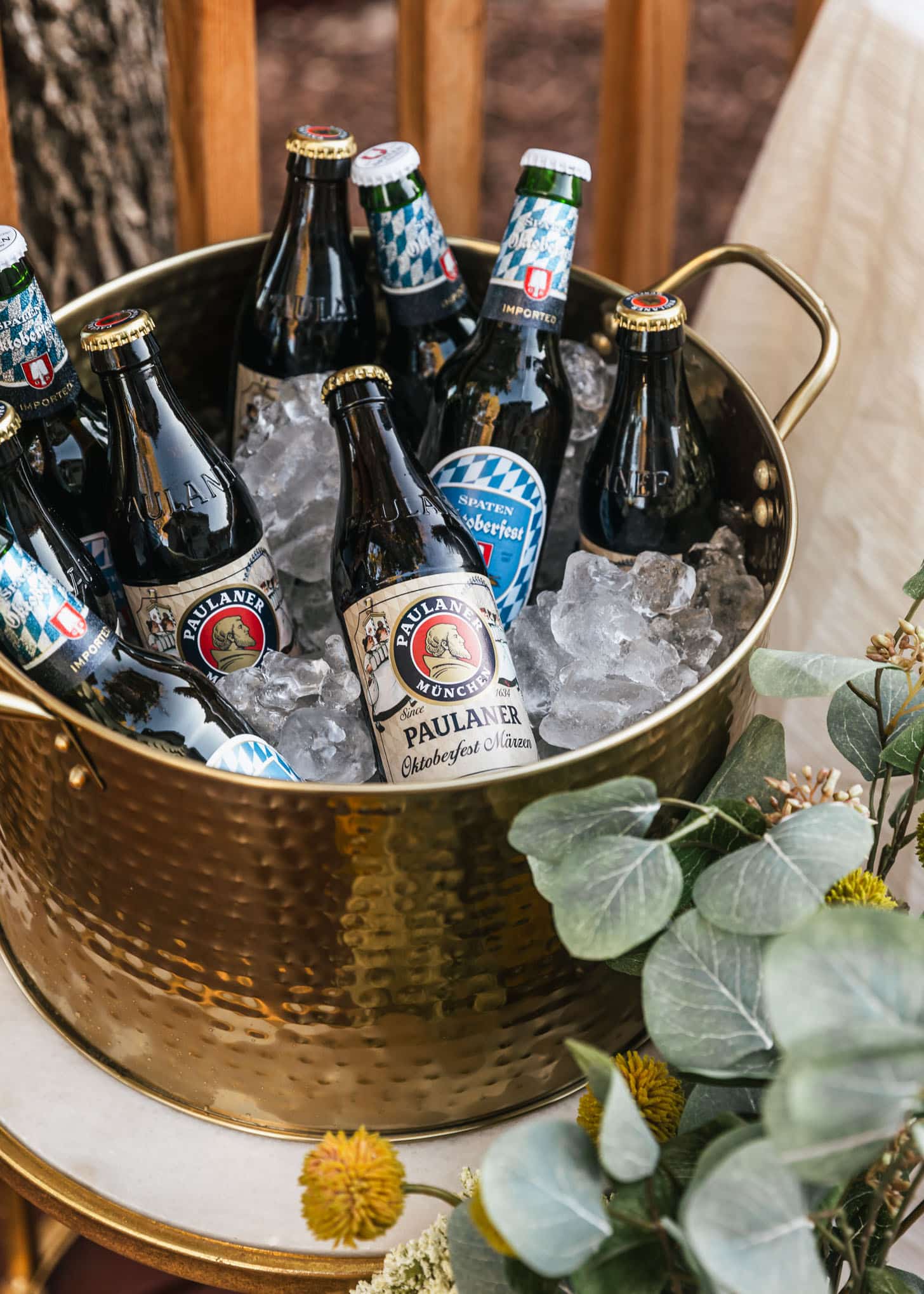 The beer
Munich breweries
Obviously beer is an important part of the Oktoberfest vibe. But, it's actually more complicated than that, because there are only six traditional Munich breweries that are served on the Wiesn. Luckily, most of these breweries are easy to find in liquor stores like Total Wine!
Augustiner
Hacker-Pschorr
Hofbräu
Löwenbräu
Paulaner
Spaten
I definitely recommend getting beer from these breweries for the true Oktoberfest *experience*. But, if you can't find them, go for another Munich beer or try an Oktoberfest-style beer from one of your favorite breweries.
Keg vs. bottles
Depending on how many friends you're inviting over, it may or may not make sense to get a keg or pony keg. If you're inviting a lot of people over, sometimes it's just more affordable to grab a keg and call it a day. Here's my general rule of thumb:
Bottles – 15 people or less
Pony keg – 15-25 friends
Keg – 25 or more people
Quick tip!
The above amounts will totally depend on how much your friends typically drink. Take your group into account and then adjust accordingly. Worst case scenario, you have some extra beer to enjoy throughout the week!
Other drink options
Even though Oktoberfest is all about the beer, it's good to have a few other options for your friends who don't like beer (or friends who don't drink alcohol). Here are my general recommends:
Wine – I like to pick up a few bottles of wine just in case. Look for Bavarian wines like Riesling, Silvaner, or Müller-Thurgau for white wine fans. If you like red, try Domina or Spätburgunder.
Liquor – you don't necessarily need to have liquor on hand but sometimes I like having some Schnapps or brandy as a little after-dinner sipper.
Radlers – for a lighter option, try a homemade Radler with equal parts lemonade and light beer!
Non-alcoholic – pick up non-alcoholic beer, soda, lemonade, or mineral water for your friends who don't drink. And, make sure to also have plenty of water so everyone stays nice and hydrated!
Menu ideas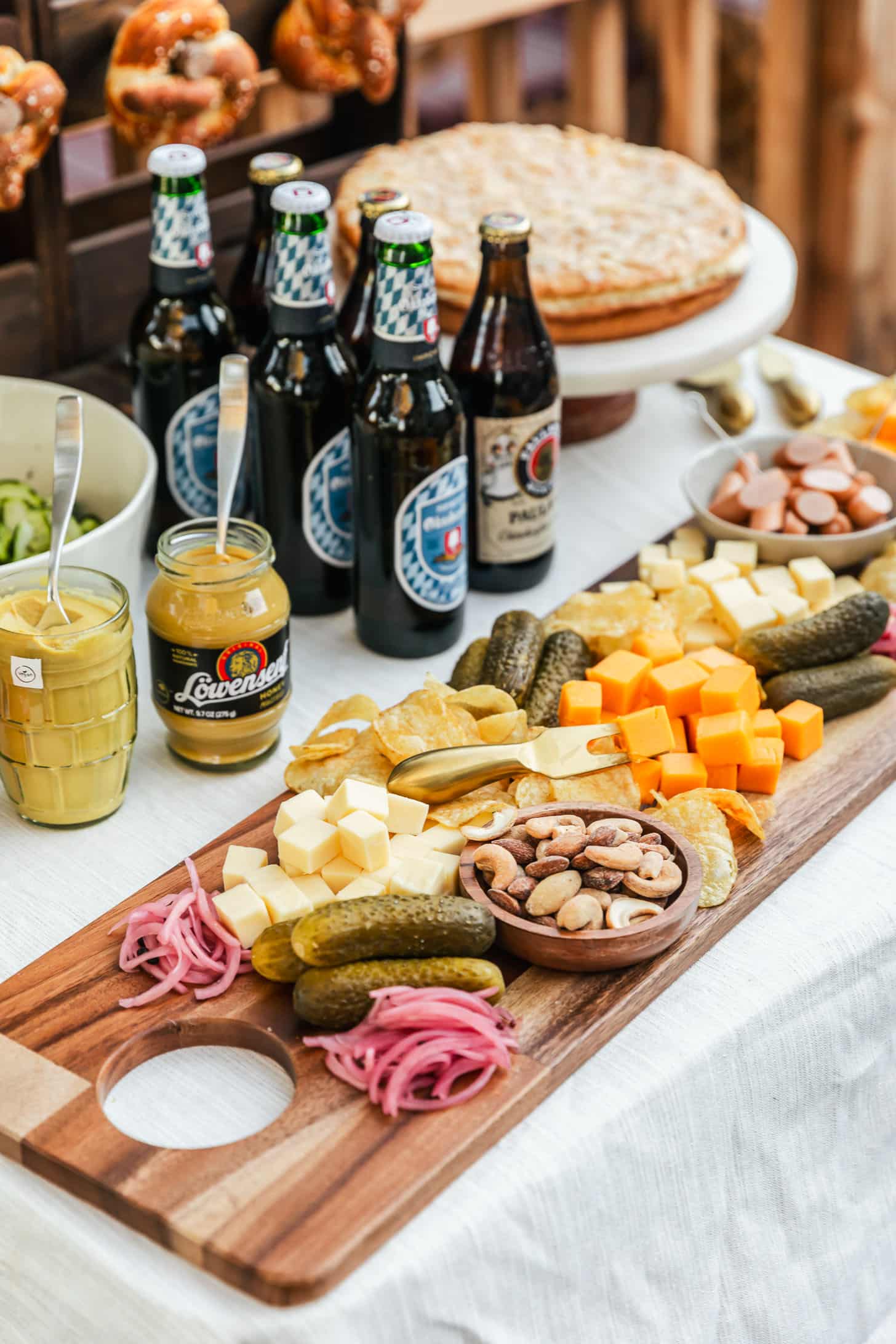 Now that you've figured out the beer situation, you'll need some Bavarian food to go with it! There are a couple of options here. You can either make an entire meal, or you can just serve appetizers for an Oktoberfest-themed happy hour or late-night party. Here are some of my favorite options that are either served at Oktoberfest or German-inspired!
Appetizers & snacks
German charcuterie board
German potato dumplings (Kartoffelklöße)
Potato pancakes (Kartoffelpuffer)
Main meals
Pork or chicken schnitzel
Half roast chicken
Beer brats or currywurst
Pork roast
Beef goulash (Rindergulasch)
Side Dishes
German potato salad
Fried potatoes or pommes (French fries)
Cucumber salad (Gurkensalat)
Sauerkraut
Cheese spätzle (Käsespätzle)
Desserts & sweet treats
Apple ring fritters (Apfelküchle)
Apple streudel
Candied almonds
Plum cake (Zwetschgenkuchen)
Bee sting cake
Pro tip!
If your friends ask to help cook, they want to, let them! After throwing lots of dinner parties, I can promise you that it's so much less stressful than trying to take on the whole menu by yourself. Just ask them to make traditional Bavarian dishes that match the theme and you can have a nice German feast!
Create a biergarten in your backyard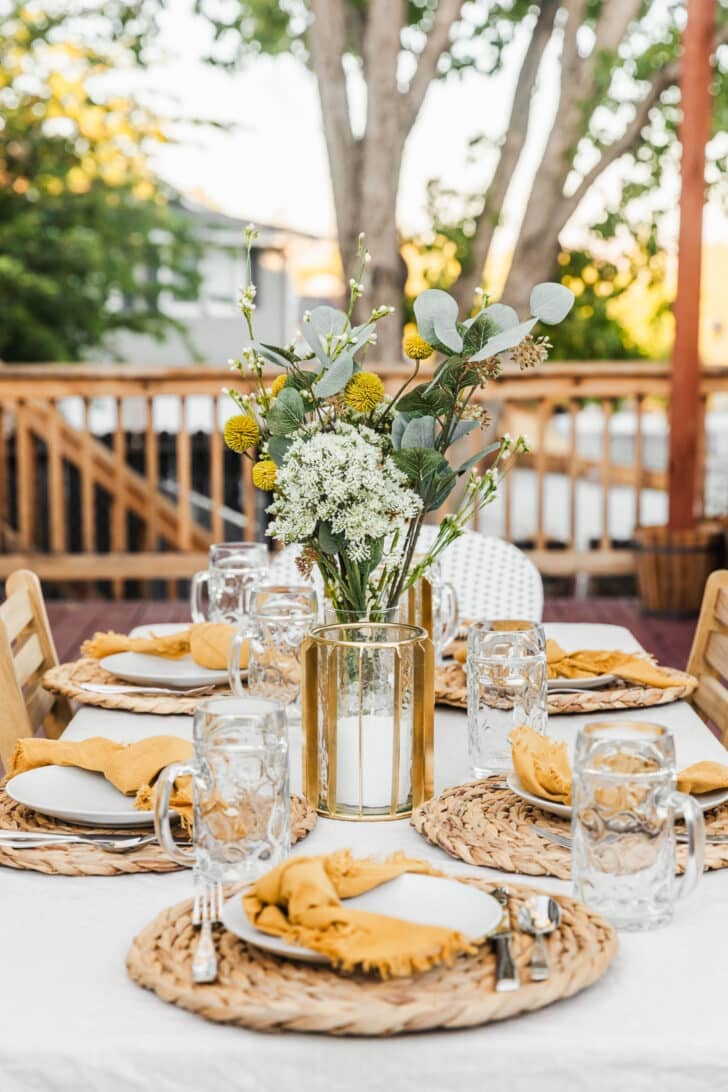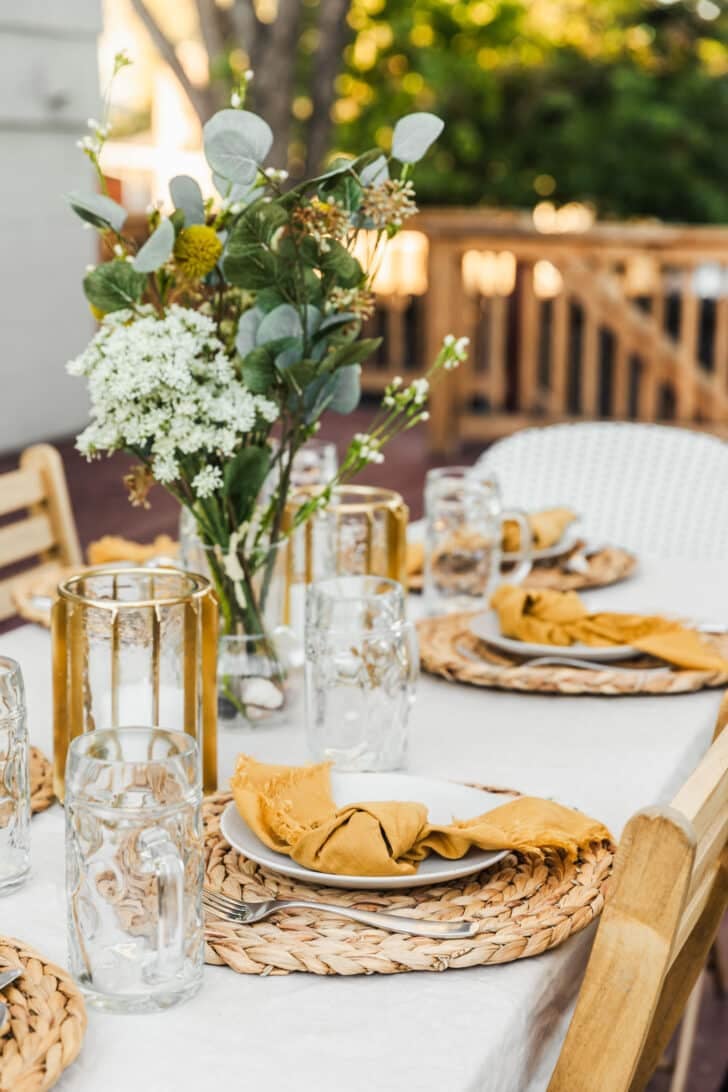 The beer tents are the star of the show at Oktoberfest. Of course, you don't need a full on elaborate tent, just keep things simple with a biergarten vibe. If you have a backyard, patio, deck, or any other outdoor area, that's ideal. If you don't have an outdoor space, or it's too cold, inside totally works too! Here's a few tips:
Have plenty of tables and chairs so people can hang out and enjoy their snacks and beer.
Hang string lights or light some candles for ambience and extra lighting.
Keep things intimate. It's not Oktoberfest if you're not singing loudly and drinking with friends!
The Decor
There are basically two ways you can go with Oktoberfest decorations: the cheesy Pinterest way and the mini Munich way. Instead of overspending on flimsy, one-time-use decorations, keep things simple and classy. Use stuff you already have at home or grab a few affordable items you'll use again.
If you're going for more of a dinner party vibe, a simple table-setting is the way to go! If you're throwing a casual get together, just have a few basic decorations like flowers, string lights, or cute napkins. I also recommend looking up a few classic Oktoberfest beer tents and using them for decor inspiration!
Oktoberfest Tent themes
Augustiner – blue, white, and yellow streamers, lots of string lights, green napkins & accessories.
Hacker-Pschorr – white cloud decorations, star lanterns, gold streamers, green wreaths.
Hofbräu Haus – blue and white checkered flags, sunflowers, hops, and wood tables. (This is probably what comes to mind when you think of Oktoberfest.)
Löwenbräu – yellow and blue flowers, yellow streamers, lion details.
Paulaner – yellow napkins and accessories, beer steins, greenery, oudoors-y vibe. (My inspo for the above tablescape!)
Marstall – for a modern vibe, try red, yellow, orange, and green streamers, pink hearts, and gold horse details.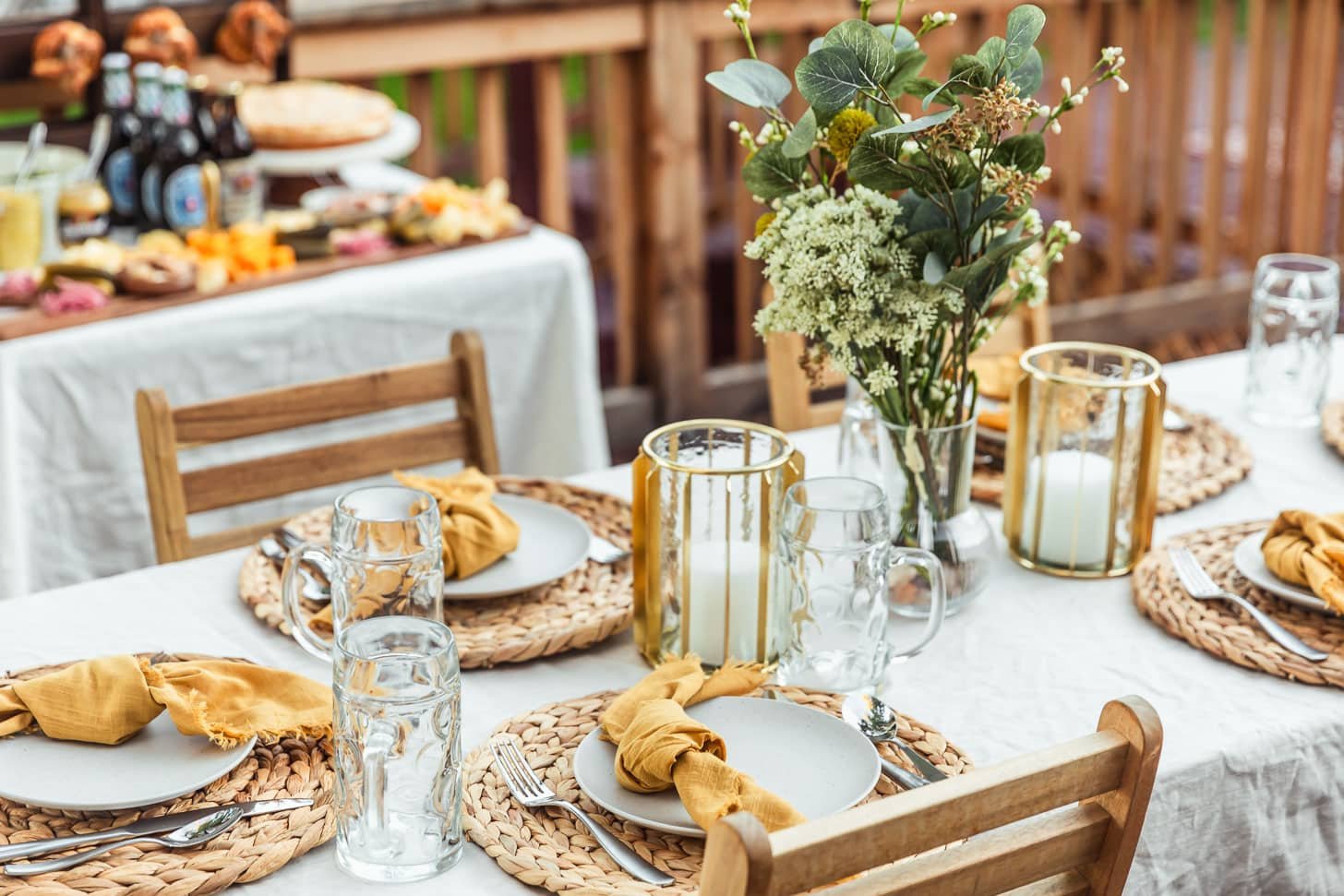 The music
Music is a huge part of an authentic Oktoberfest vibe. At Oktoberfest, each tent usually has bands playing traditional folk music (Volksmusik) during the day. But at night, they turn over to Schlager music, a.k.a. the hits. Schlager music can include everything from German pop songs to classic American rock and country. Think "Take Me Home, Country Roads" by John Denver and "You Shook Me All Night Long" by AC/DC.
That being said, make sure to set the mood with a bit of Oktoberfest-themed music! Just set up a speaker and keep a playlist going all night. There are a ton of Oktoberfest playlists on Spotify! I like this one, this one, and this one.
Games & activities
Let me start off by saying that you totally don't have to plan any kind of activities at your party. My friends are more of a 'hang out and talk' kind of a group. But if your friends are into games, it's good to have some ready to go. Some of these are actual Oktoberfest games and some are just fun ideas to try!
Masskrugstemmen
A.k.a. a stein (maß) holding contest. This is the most well-known Oktoberfest game, and it's super simple to do. Everyone fills a one-liter stein with beer and holds it out in front of them with one hand for as long as they can. The person who can hold their stein the longest is the winner!
Stein racing
This game is probably one of the easiest! Everyone fills their one-liter stein with beer and has to run a certain distance without spilling. You can also do this relay-style if you want to form teams.
Beer Tasting
If you're looking for more of an activity, try a beer tasting instead! Buy an assortment of Oktoberfest beers and do a tasting with your friends. You can also try this with German wine!
Lawn games
To keep things casual, you can't go wrong with simple lawn games. Set out corn hole, ladder ball, giant Jenga, or horseshoes and let your friends play whenever they feel like it!
Quick tip!
If you do a tasting, have each of your friends bring a different Oktoberfest beer. Then, have everyone rate each of the beers on little cards. Whichever beer has the highest rating at the end is the winner. You could even get a special bottle of German liquor or a gift card as a prize if you feel so inclined!
What to wear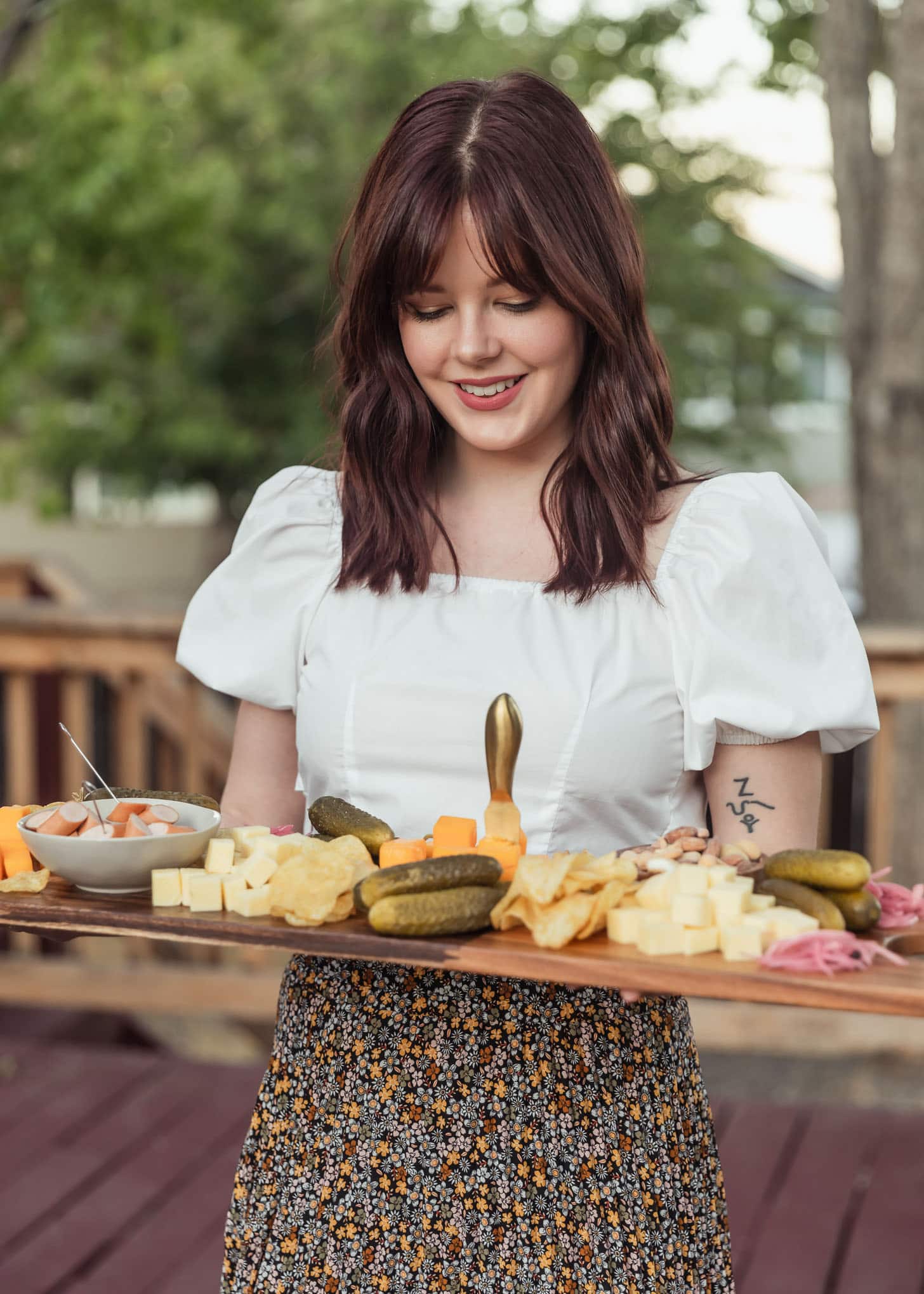 As you probably know, the outfits at Oktoberfest are pretty iconic. Of course, you don't have to go the traditional route if you want to just host a fun, simple party! (As you can see here, I went with more of an Oktoberfest-inspired look.)
Dirndl
Dirndls are the traditional Bavarian folk outfits you see women wearing at Oktoberfest! They're made up of a blouse, bodice, high-waisted skirt, and an apron. They usually have lace, velvet, silk, and/or floral designs. If you already have a dirndl from Oktoberfest, you're set! If not, you can easily find super cute ones online. This is the way to go for a very traditional Oktoberfest party.
Lederhosen
Think of lederhosen as the male equivalent of the dirndl (although anyone can wear them!). Lederhosen are leather shorts with suspenders, which are usually worn over a button-down shirt. This is the traditional Bavarian outfit you usually see people wearing at Oktoberfest!
Bavarian-inspired
Believe it or not, I don't have a dirndl or lederhosen sitting around lol. So, I usually just go with a Bavarian-inspired look. For my party, I went with white summery blouse with puffy sleeves similar to the traditional blouses worn with a dirndl. Then, I paired it with a flowy, floral high-waisted skirt as a nod to the traditional Bavarian dirndl.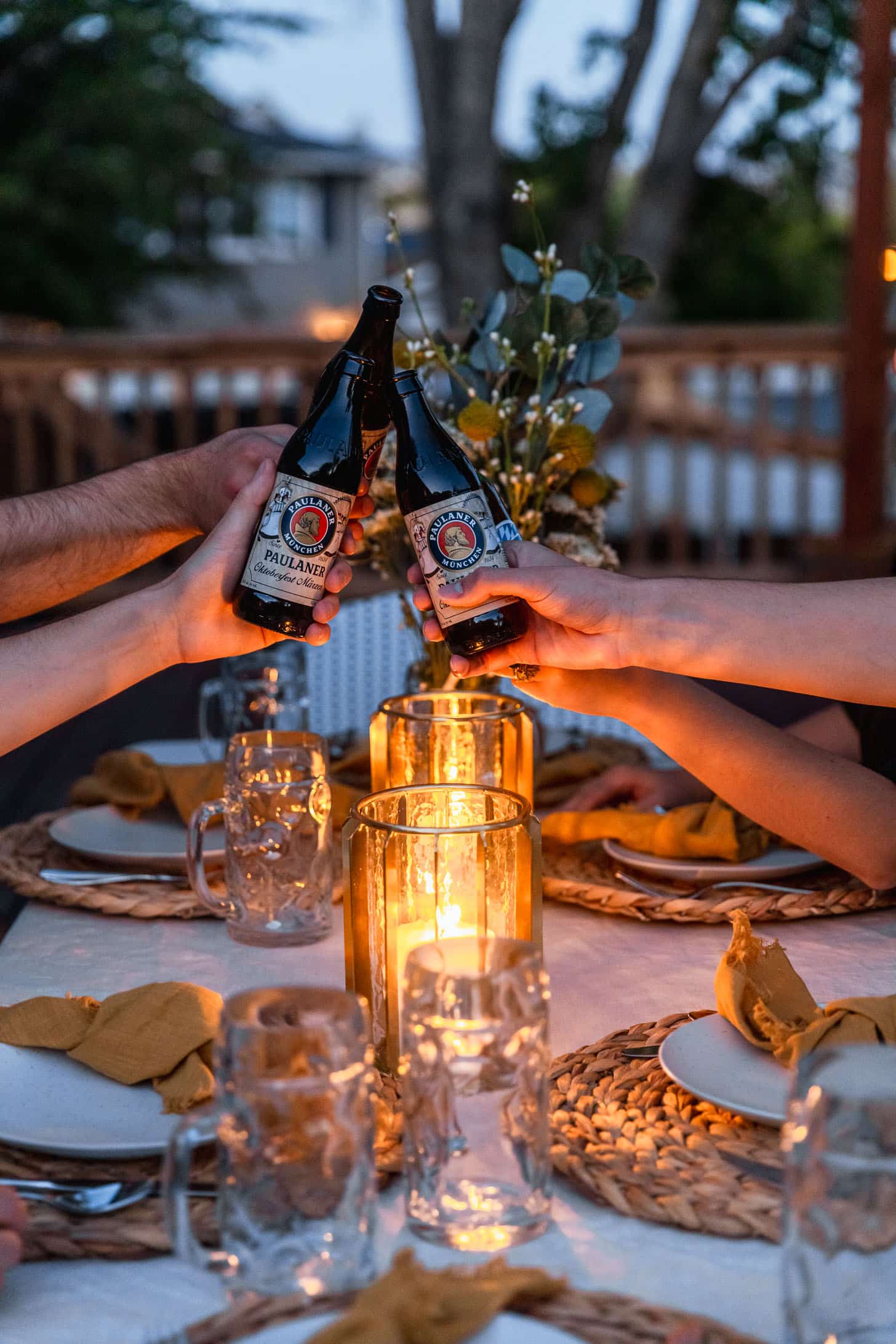 Party supplies
You'll need just a couple of extra things to round out this party! Here's a quick shopping list of things to have on hand:
Beer steins – a.k.a. maß. Go with one-liter mugs for authenticity!
Bottle openers – if not two or three. You'll need them, trust me.
Plates – for snacks or dinner.
Silverware – forks, knives, spoons, etc.
Serving utensils & dishes – for whatever you're serving.
Napkins – and paper towels for any spills.
Ice – and lots of it. You'll need to keep the beer cold!
Trash bags – and a recycling bin for the bottles.
Parting tips
Just a few words of advice before you start planning your party!
Keep the invites simple. A quick text or digital invite is totally fine!
Try to make the party as authentic as possible with food and drinks. Oktoberfest is all about celebrating Bavarian culture!
For easy cooking, make as many room temp dishes as possible. Cheese boards, pretzels, cucumber salad, and apple strudel are all great make-ahead options!
You don't have to make everything yourself. To save a bit of time, try some store-bought options. Visit a local German bakery to pick up soft pretzels, appel strudel, pickles, sauerkraut, and other traditional dishes!
xo Sara Lynn
Song of the day – Synchronize by Milky Chance
For full transparency, while this blog post is not sponsored, the products are from a previous partnership with World Market!