How to Throw an Intimate Dinner Party at Home
If you're looking for a casual way to hang out with friends and family, look no further than the classic dinner party. Not only are they the perfect way to get together with loved ones, but they're a simple way to celebrate the little things in life. From budgeting and timelines to meal ideas and ambience, these are all of my best tips for throwing an intimate dinner party at home!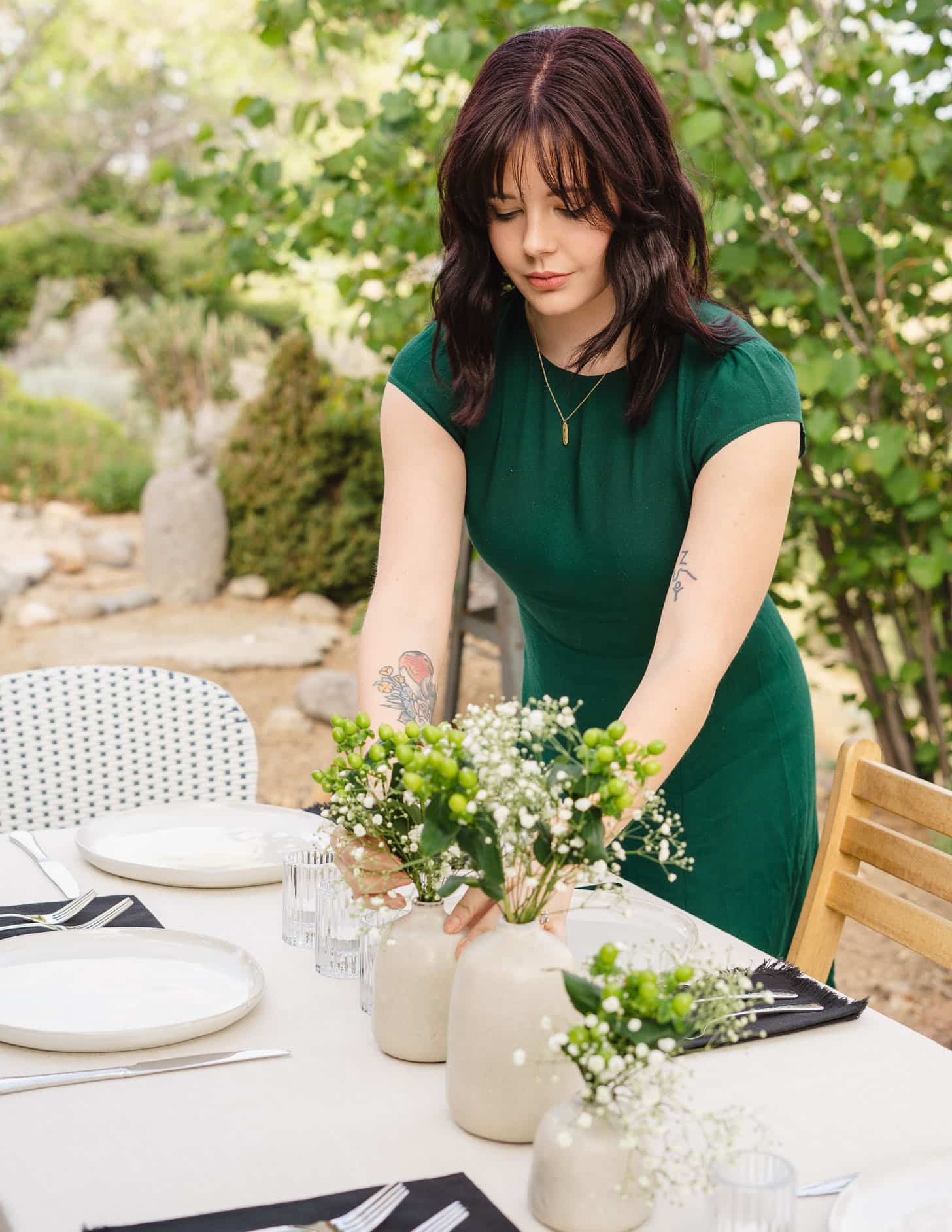 There are two things in life that I know to be true. First, Fast Times at Ridgemont High is the best 80s movie there is. And two, everyone should know how to throw a good dinner party.
Dinner parties get a bad rap because they bring up connotations of fussy recipes and tedious games of charades. But, they don't have to be that way! When it comes to dinner parties at my house, anything goes. In college, when my roommates and I would invite people over to eat pizza and drink beer on the floor? Dinner party. The time we invited our friends over for German food and didn't finish frying the schnitzel until 11pm? Absolutely! Brunch boards and beer-mosas are more of a brunch party situation, but we'll let it slide.
And that's why I'm here to share all of my best tips and tricks to hosting a small dinner party in the comfort of your home! In the end, a dinner party should be about good food, great conversations, and spending time with loved ones.
Table of Contents
What is an intimate dinner?
What qualifies as a 'small' dinner party differs from person to person, but to me, a good number is 6-8 people (including yourself!). Overall, having 8 people or less at the party makes cooking easier, the seating situation simpler, and keeps the vibe from turning into a full on party. Obviously, if you can handle more, go for it! But, keeping the guest list small gives you time to prep, cook, and mingle with friends.
The timeline
I'm a firm believer that dinner parties shouldn't be tediously scheduled events. On the other hand, I am also a firm believer that a little planning will help you pull off the dinner without making you regret inviting people over in the first place.
This is a very general dinner party timeline so feel free to change things up based on your schedule. But I like this one because it's straightforward and still leaves plenty of time for me to apply winged eyeliner and have a sip of wine before guests come over.
2-4 weeks before
– Set the budget.
– Finalize the guest list.
– Send out the invites.
– Plan the menu.
2-3 days before
– Make your grocery list.
– Go grocery shopping.
– Pick up wine, beer, & ice.
– Choose serving trays & utensils.
The day before
– Set the table.
– Pop the drinks in the fridge.
– Cook any make-ahead dishes.
2-3 hours before guests arrive
– Pick up around the house.
– Clean the bathrooms.
– Prep ingredients for dishes that still need to be cooked.
1-2 hours before guests arrive
– Start cooking any dishes that still need to be made.
– Empty the dishwasher & tidy the kitchen.
15 minutes before guests arrive
– Turn on music.
– Set out the appetizers.
Set a budget
First thing's first, you'll want to set a budget if you're trying to throw party on a dime. (Or honestly, even if you're not). Determining how much you want to spend will help you figure out:
A guest list – if you have a small budget, you'll want to invite less people. Or, if your budget is a bit bigger, you can invite an extra friend or two!
The menu – pasta and tacos are great affordable options. But, if you have a bit more to spend, you can treat your guests to something like steak or fish.
Drinks – I always set aside some money for a couple bottles of wine or a case of beer.
Decor – if decorations are important to you, make sure to leave some extra wiggle room in the budget!
The guest list
I know it can be really tempting to fill up a guest list. After all, in my house, more = merrier. But, for a more intimate affair, it's best to keep things small. Sticking to a few close friends or family members will make prepping easier and give you much more time to relax, have a glass of wine, and chat with your guests.
Send out invites
After you figure out your guest list, it's time to send some invites! If you're throwing a formal affair, you could mail printed invitations, but usually, I just send a good old group text. Since this party is meant to be stress-free, just text your friends the date and time. If you want to track RSVPs a bit easier, you could also send a digital invite through Paperless Post or a similar platform!
Pick a theme
This may be an unpopular opinion for some, but I really don't think you need a theme or occasion for a dinner party. I honestly think it adds some unnecessary pressure if you're keeping things small and stress-free. But of course, if you want a theme for a special occasion, go for it! I love a good garden party or wine and cheese night. You can also plan your menu around a theme like:
Italian – try an Italian-inspired menu with dishes like antipasto, pasta, salad, and tiramisu.
Greek – for a Greek-inspired meal, try a meze platter, lemon chicken, Greek salad, pita, and baklava.
Steak night – serve steaks with mashed potatoes, roasted vegetables, and crème brûlée.
Choose the setting
Don't be afraid to think outside the dining room when it comes to a table setting. If you don't have a dining room, or your table isn't large enough for a crowd, try spreading out in other parts of the house like:
The backyard – this is one of my favorite places to host a dinner party in the warmer months. Set up a table on your patio, balcony, or even in the garden.
Living room – sometimes, I'll move the furniture around and set up a table in the living room if I need extra space.
For an apartment or small house – let your guests spread out in multiple areas of your home. You can totally throw a dinner party without a dining table!
Decor & ambience
When it comes to decor, my #1 rule is to keep it simple. If it takes longer than 30 minutes to set a table, it's just not worth it. I usually grab a small bouquet of flowers for the centerpiece, and if I forget, no biggie. But, I always bump up the ambience with some votive candles and relaxing, quiet music.
You'll also want to decide if you're serving the food family-style or as a buffet. If you're going with family-style (my personal fave), set the plates and silverware on the table. Or, if you're setting up a buffet, you can just pile the plates, napkins, and utensils next to the food.
Since this is an informal dinner party, you don't need an elaborate table setting. Depending on what you're serving, just make sure you have:
Plates – for dinner, salad, and dessert
Utensils – dinner and salad forks, butter knives, dessert spoons, and steak knives (if needed)
Glasses – for wine and water
Napkins – either linen or paper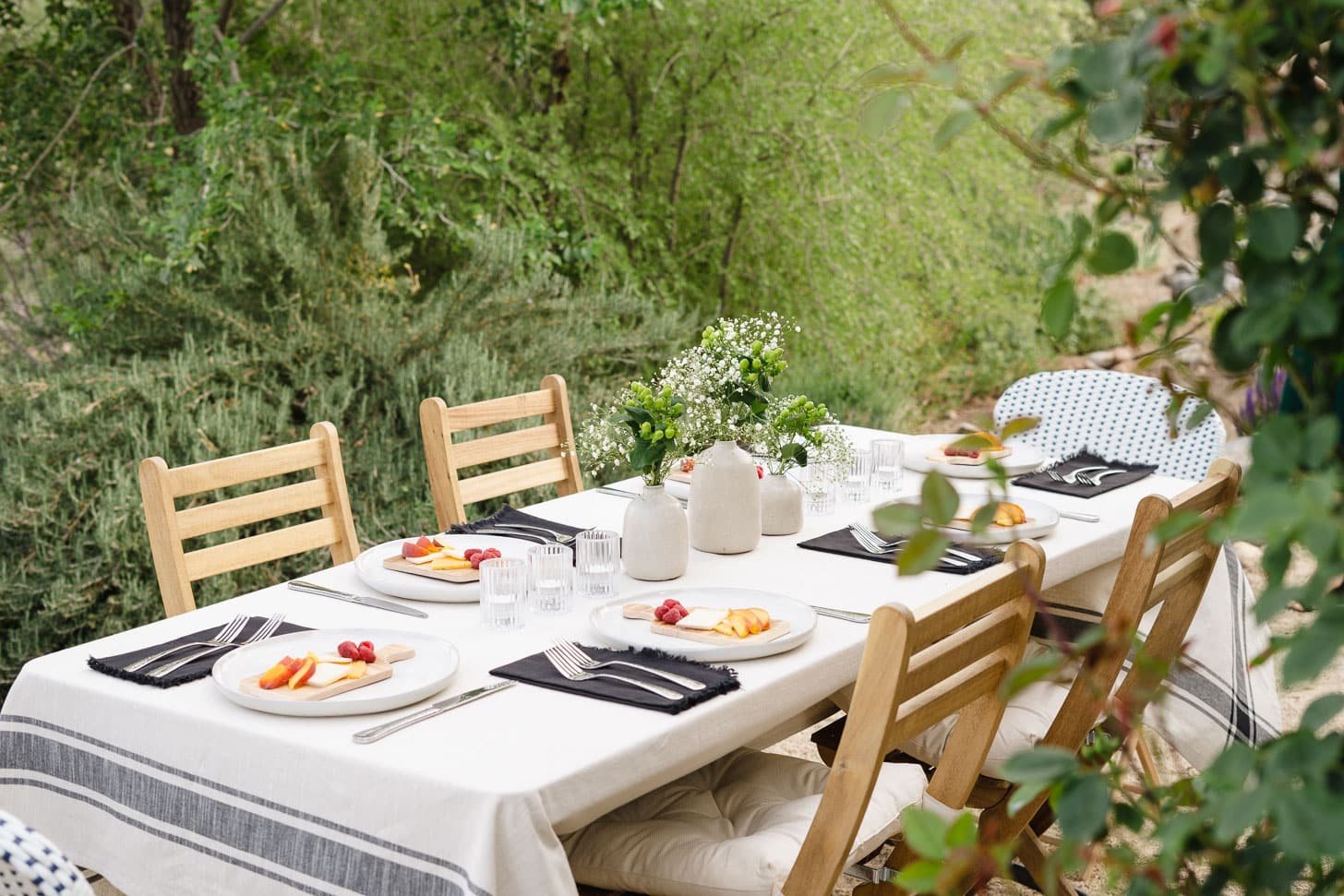 Create the menu
Now for the fun part: picking the menu! This is by far my favorite part of any dinner party because it's the main event of the night. My secret is to pick a variety of make-ahead dishes and simple, but crowd-pleasing, recipes. This will take some of the stress out of cooking, but will still allow you to humble-brag about your cooking.
When it comes to a simple, but elegant, dinner party menu, I follow this simple formula: one app, one main, one side, and one dessert. If I'm feeling fancy, I'll make a pitcher cocktail, but I don't always do this. Need some ideas? Check out my selections below. Many of the following recipes can be mixed and matched to create a unique, delicious, and elegant menu for 6-8 people!
The appetizers
Main course ideas
Side dishes
Crowd-pleasing desserts
Super easy cocktails
Personalize the menu
I'm sure that, like me, you probably have many friends with dietary preferences or allergies. I always make sure to ask about allergies or preferences in advance so I can make something special for those people in my life!
But, I also try to do it without adding any extra stress or too much cooking. For example, if my vegetarian friends are coming over, I make a meal that's already vegetarian that people can add meat too if they like. (For example, a vegetarian pasta with a side of chicken or beef).
A few more tips
Let your friends bring stuff. If they're asking, that means they want to! Let them bring a side dish, dinner rolls, an appetizer, a bottle of wine, or even just ice. It'll take so much stress off of you and make them happy that they're contributing.
When it comes to drinks, keep it easy. I usually just get beer and wine. If you want a cocktail option, make a pitcher cocktail in advance, or set up a small bar and let your friends DIY it.
Don't clean too much. There's no need to mop the floors, you're just going to have to do it again in the morning. But, always clean the bathrooms!
Make sure you have coffee (or tea) on hand. It's the perfect night cap with dessert and makes everyone feel nice and cozy.
Lastly, relax & have fun
There's really no point in having all of your friends over if you spend all night holed up in the kitchen. And while, yes, the kitchen is a safe haven for people like me, the best part of a dinner party is making great memories with your friends and family. Make sure to step away from the cooking (and especially the cleaning) to sip some wine and mingle. No one cares if dinner is a few minutes late, I promise.
xo Sara Lynn
Song of the day – Mykonos by Fleet Foxes