Seedy Soft Pretzels + Bleu Cheese Mustard
Doughy, seedy soft pretzels served with rich bleu cheese mustard. This is the third recipe of my Valentine's series dedicated to my cutie boyfriend, Marc.
When I was in Germany, I was very intent on finding the best soft pretzel. Like, I wanted a soft pretzel the size of my face. With mustard, because even though I am firmly a liquid cheese girl, mustard is only right when in Berlin. The thing is, once I actually got to Germany, I kind of forgot about all of my goals. Berlin and Munich were the most wonderful places, and even though I had the whole airline-losing-my-bag drama, I absolutely adored those cities. In Berlin, I turned 22, drank whiskey cocktails, and strolled along the East Side Gallery. I also had the best cappuccino of my life at Five Elephant. I was far too busy making friends, thrifting for new clothes, and drinking coffee to search out the best soft pretzel.
(On a side note, I did eat a pretzel while I was there. In a train station next to the East Side Gallery for breakfast on my birthday. And like, it was pretty good? So, I guess there are just delicious pretzels everywhere in Germany).
It wasn't until I started dating Marc, who is half Italian half-ish German, that I even remembered my longing for an amazing German pretzel. To know Marc is to know that if there is a soft pretzel on a menu, he will order it. So, I knew it was the only option for Marc's recipe in my Valentine's series. Marc and I fell in love over food and cooking together. He helps me make dinner every night, hold my bounce boards when I'm photographing, and cleans my dishes. He also is willing to taste-test every recipe I make, so all-in-all, he's pretty great.
(Ok, I'm done being sappy now. I LOVE YOU MARC!)
Achieving the perfect soft pretzel
Honestly, I thought these seedy soft pretzels would be a lot more difficult. I did extensive research on the pretzel subject, because I wanted them to be perfect. AP flour vs. bread flour (AP for doughier, bread flour for chewier). Toppings (it took a lot to refrain from putting everything bagel seasoning on top). Brown sugar vs. barley malt syrup (barley malt is more traditional). And of course, lye vs. baking soda. Ugh, I stressed about this one. Lye is what they use in straight-up German bakeries, but I'm a chicken about using poison while cooking.
Ultimately, I decided to use brown sugar + baking soda over the very traditional barley malt syrup + lye method. I wanted this seedy soft pretzel recipe to be more accessible for the mass. Also, I was having very real anxiety about accidentally burning Marc's esophagus out of his face with lye. It would have so not been in the spirit of Valentine's Day. However, maybe in the future, I'll try it out… (Lye that is, not burning esophaguses).
Seedy soft pretzels are the perfect weekend project
Regardless, these seedy soft pretzels were amaaaaaaazing. Marc seriously has not stopped talking about them. Also, they took less than an hour to make, which is essentially my perfect weekend project. The seeds provided a nice crunch reminiscent to whole wheat bread. In fact, you could probably use half whole wheat flour if you feel so inclined, but I don't know how this will affect texture. Also, the bleu cheese mustard is an absolute must. Truly non-negotiable, because it is life-changing, and no I'm not exaggerating.
Lastly, to be cute, I made heart-shaped pretzels. But, you can do regular pretzel shapes (video below), knots, or just plain old sticks. Or idk, come up with some crazy-ass shape and then show me by tagging @serendipitybysaralynn on insta!!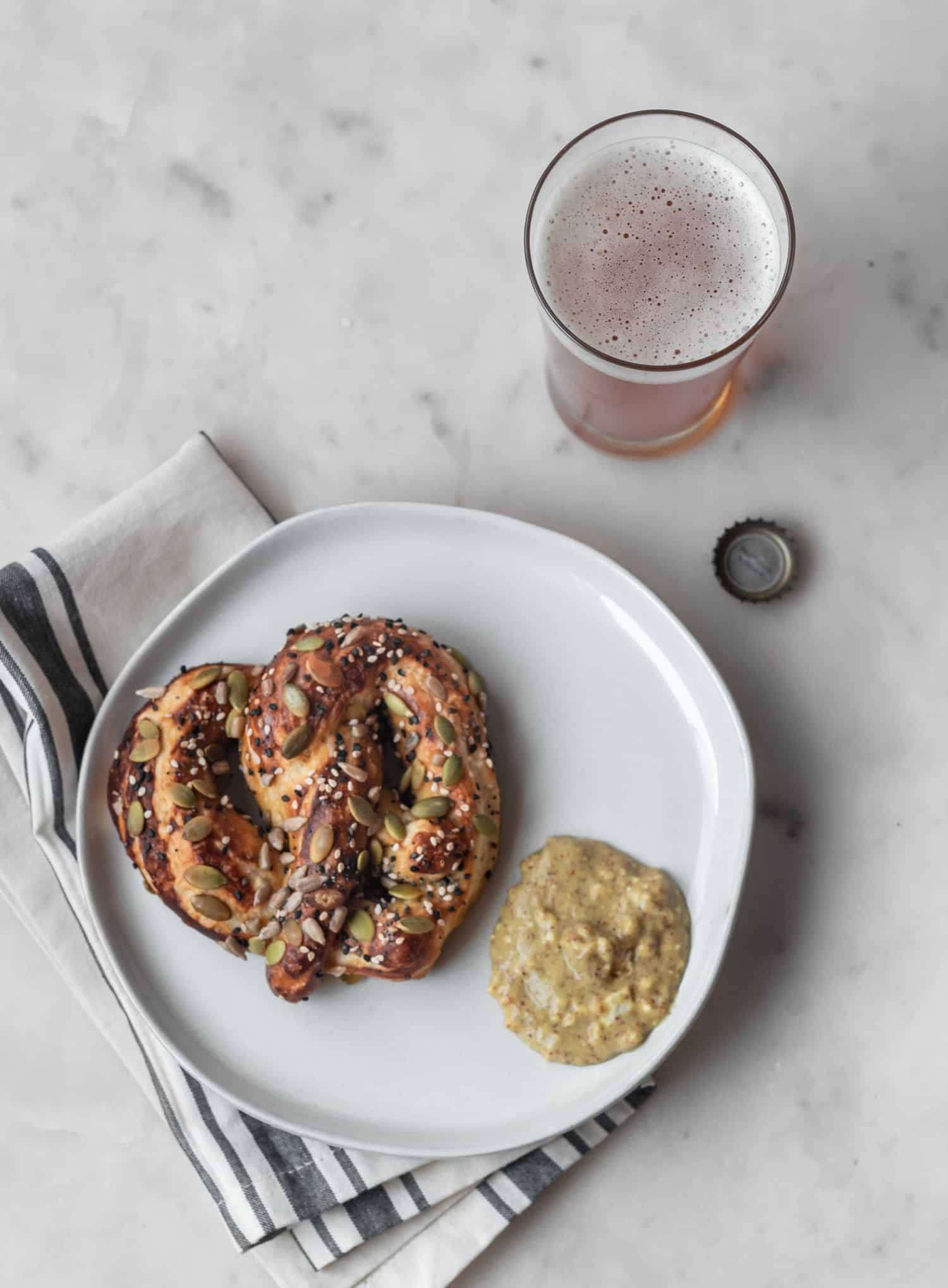 Ingredients in seedy soft pretzels
You'll need some basic baking ingredients for these pretzels, plus a few extra things for fun! Just make sure you have:
Room-Temp Water: It needs to be room-temperature to activate the yeast!
Activated yeast: This will help our dough rise and make perfect soft pretzels!
Brown Sugar: For a touch of sweetness.
Unsalted Butter: Makes the pretzels a tad more tender.
All-Purpose Flour: Again, AP flour for doughier pretzels, bread flour for chewier. Pick your poison!
Baking Soda: Gives us that pretzel-y flavor.
Egg: To get all those seeds to stick!
Seeds: Whatever you like! I went with poppy, sesame, sunflower, and pumpkin.
Prezel Salt: Obviously.
Ingredients for the bleu cheese mustard sauce
Don't skip out on the bleu cheese mustard! All you need is:
Whole Grain Mustard: Coarse mustard (or extra Dijon) would work too.
Dijon Mustard: Helps mellow out the whole grain mustard.
Crumbled Bleu Cheese: If you don't like bleu cheese, try parm or feta!
Honey: For a touch of sweetness.
Worcestershire: For a little saltiness!
Black Pepper: Necessary in everything.
How to make these seedy soft pretzel
You'll start off these soft pretzels by making a basic yeast dough! Just combine the water, sugar, and the yeast, and let it activate! Then, add the butter, salt, and four cups of flour. Mix until the dough comes together, adding more flour as necessary. Knead for 5ish minutes, and then let the dough rise covered in a warm spot until doubled in size.
Next, you'll bring half a cup of baking soda and eight cups of water to a rolling boil, line two baking sheets with parchment paper, and make an egg wash! Divide the dough into 8-12 equal portions. Twist the pretzels into desired shape.
Next, gently drop each pretzel into the baking soda mixture one at at time for about 30 seconds each. Place on the pretzels on the sheet pans, and brush the pretzels with the egg wash. Sprinkle with seeds and salt, and bake until dark golden brown (about 15 minutes).
How to make Bleu Cheese mustard
In a small bowl, whisk the mustards, bleu cheese, honey, Worcestershire, and pepper until smooth. Serve with warm pretzels!
How to shape a classic pretzel
Shaping a pretzel is actually a lot easier than it seems! On a lightly floured surface, roll each section into a 24-inch rope. Make a U-shape with the rope. Twist the ends of the rope together, and then fold the twist over, pressing the ends into the bottom of the U. If you want a heart shape, pull the bottom of the U down to make a V-shape. That's it! You can also watch this handy dandy video I made for reference. 😛
A quick note about flour
Some readers have reported that they have needed more flour when they make seedy soft pretzels! The amount of flour you use will depend on the humidity where you live. (Drier climates = less flour, humid climates = more flour). I live in Dry AF Nevada, so four cups is perfect for me! If your dough is very, very sticky, add flour 1/4 c. at a time until it's nice and tacky.
Please note that the dough should be slightly tacky (it shouldn't stick to your hands but will be a little sticky – almost like Play-Doh!) Resist the urge to add too much flour, or you will end up with pretzels that are very dense and crumbly.
Other soft pretzel flavor ideas
If you're not into seeds, there are a lot of great ways to eat pretzels! Try:
Cinnamon sugar
Cheddar cheese + jalapenos
Everything bagel seasoning
Pizza pretzels with cheese, + pepperoni or veggies
Seedy Soft Pretzels with Bleu Cheese Mustard
---
Seedy Soft Pretzels with Bleu Cheese Mustard
Seedy soft pretzels with bleu cheese dip taste traditional but use more attainable ingredients. They are surprisingly easy and the perfect weekend snack when served with German beer!
Ingredients
Soft Pretzels
1 1/2 cup warm water
2 1/4 tsp active yeast
2 tbsp brown sugar
3 tbsp unsalted butter, melted and slightly cooled
4 1/2 cup AP flour + more for dusting
1 tsp salt
8 cup water
1/2 cup baking soda
1 egg
1/4 cup mixed seeds (sesame, poppy, sunflower, pumpkin, etc.)
Coarse salt, for sprinkling
Bleu Cheese Mustard
1/4 cup whole grain mustard
1/4 cup Dijon mustard
1/4 cup bleu cheese, finely crumbled
2 tbsp honey
1/2 tsp Worcestershire sauce
Pepper, to taste
Instructions
Soft Pretzels
In a standing mixer with a dough attachment (or using a bowl and wooden spoon) combine the warm water, yeast, and brown sugar. Let sit until the mixture is foamy, about 10 minutes. Add the butter, 4 cups of flour, and salt. Mix, adding more flour 1/4 cup at a time until the dough is smooth and slightly tacky (up to 4 1/2 cups total – I usually only need 4). Knead for 5 minutes in the mixer or by hand.

Shape the finished, kneaded dough into a ball, and cover with a tea towel. Place in a warm spot for about 30-45 minutes, or until the dough is doubled in size.

While the dough is rising, combine the 8 cups of water and baking soda in a large pot. Bring to a rolling boil. Preheat the oven to 450* F. Line two baking sheets with parchment paper, and lightly brush with oil. Whisk the egg with 1 Tablespoon of water, and set aside.

Once the dough has risen, cut it into 8 equal sections (about 2.75 ounces each). These will yield large pretzels, so you can easily divide it into 12 sections if you want smaller pretzels. On a lightly floured surface, roll each section into a 24-inch rope. Make a U-shape with the rope. Twist the ends of the rope together, and then fold the twist over, pressing the ends into the bottom of the U. (I highly recommend viewing the video above a few times before attempting). If you want a heart shape, pull the bottom of the U down to make a V-shape!

Working one at a time, drop a pretzel into the boiling baking soda water for 30 seconds (I push the pretzel into the water to get the whole thing coated). Remove with a slotted spoon, letting as much excess water drip off as possible. Place on the prepared baking sheet, and repeat with the remaining pretzels.

Brush the pretzels with the egg wash. Sprinkle the pretzels evenly with coarse salt and the seed mixture. Bake for 10-15 minutes, until a deep golden brown crust has formed. Serve warm with bleu cheese mustard. You can store these in an airtight container for up to four days, although they will get harder over time.
Bleu Cheese Mustard
In a small bowl, whisk all of the ingredients until smooth. Refrigerate until ready to use. The sauce will last up to four days in the fridge.
Serving: 1pretzel, Calories: 217kcal, Carbohydrates: 22.9g, Protein: 3.7g, Fat: 12.5g, Saturated Fat: 4.2g, Cholesterol: 37mg, Sodium: 489mg, Potassium: 47mg, Fiber: 0.9g, Sugar: 7.6g, Calcium: 20mg
---
xo Sara Lynn
*Song of the day: Time After Time by She & Him