Sage Greyhound Cocktails
Simple syrup, high-quality grapefruit juice, and sage come together to make these herbaceous sage greyhound cocktails. This is the last post of my Valentine's series for my all-time favorite greyhound, Bell!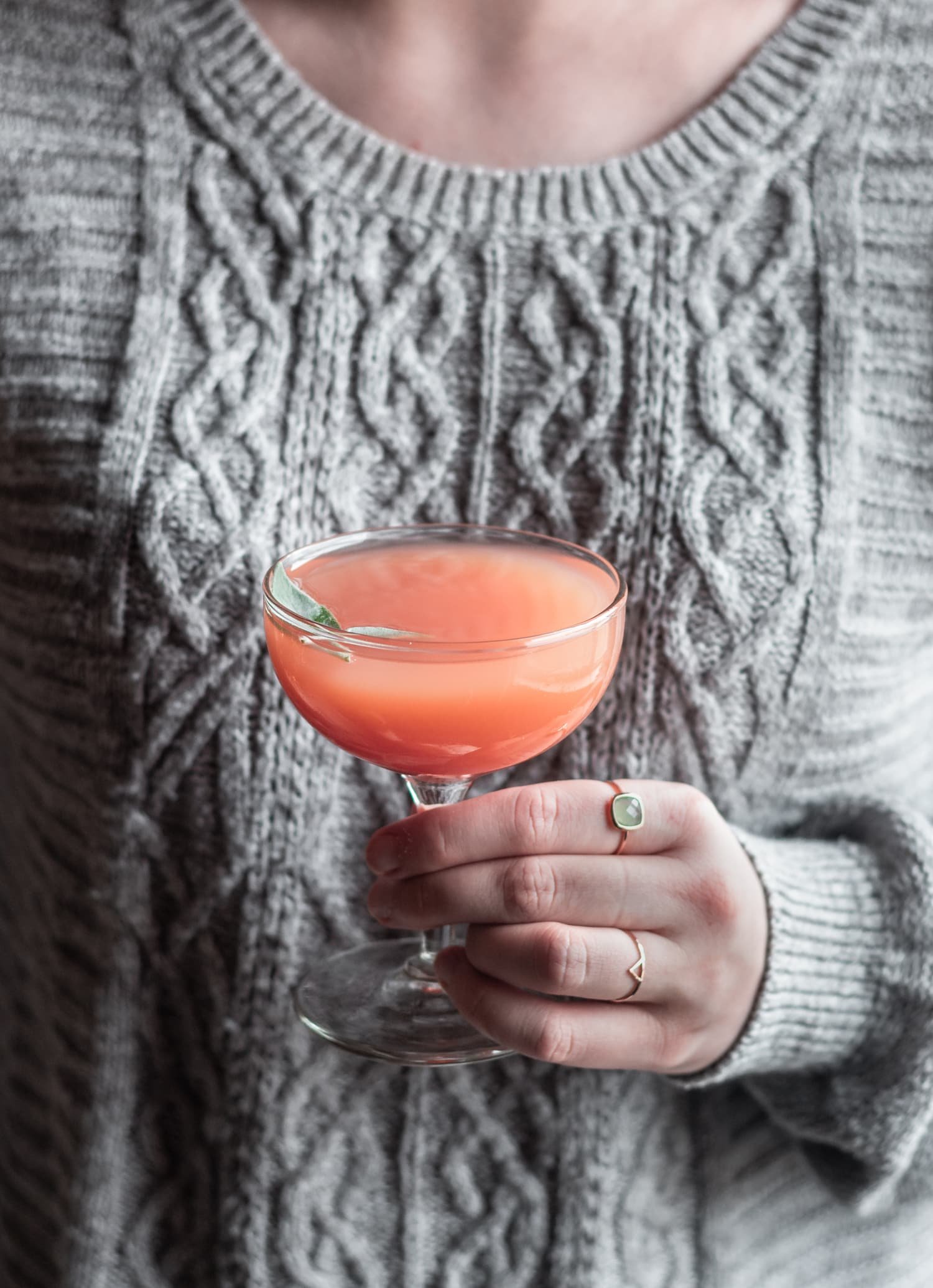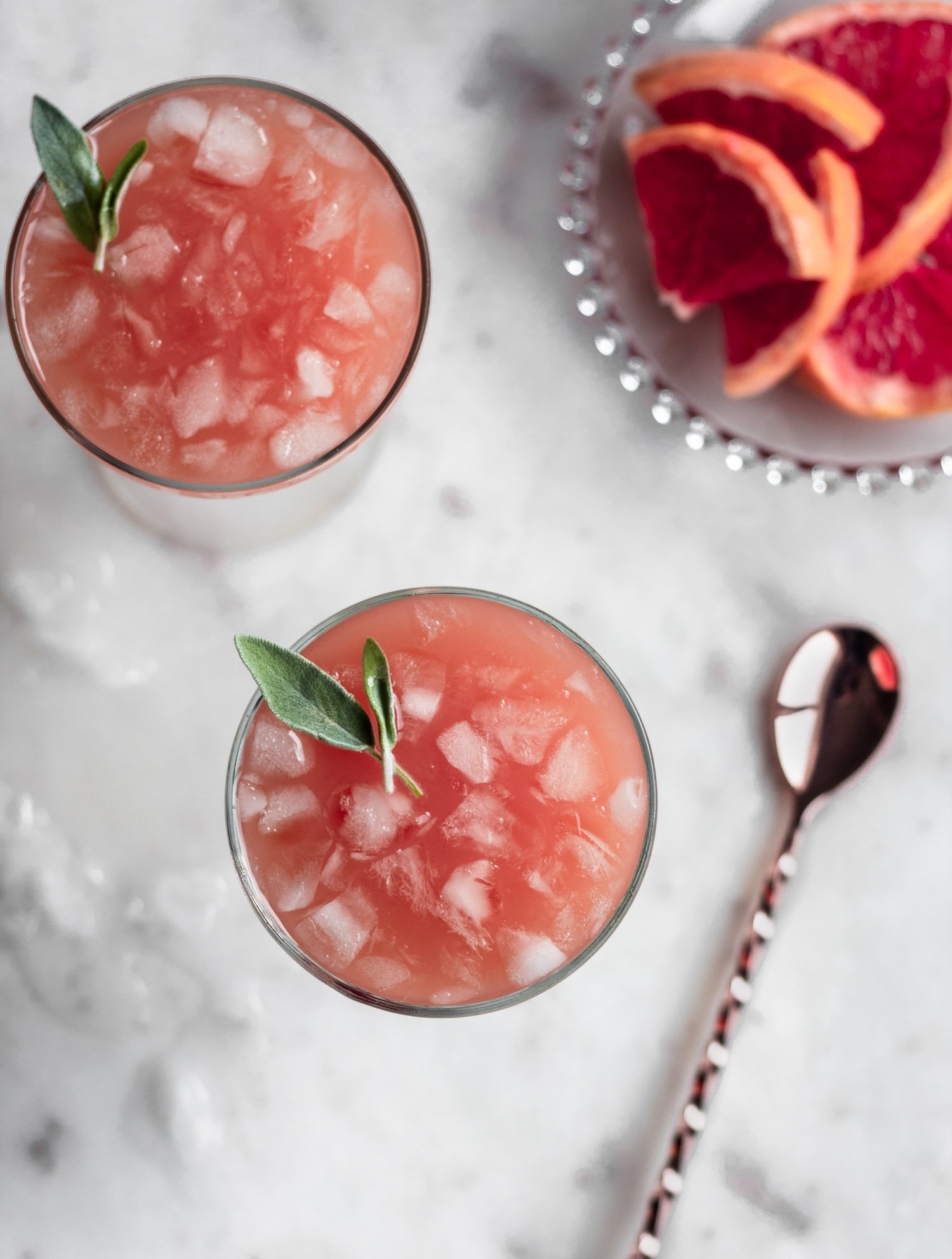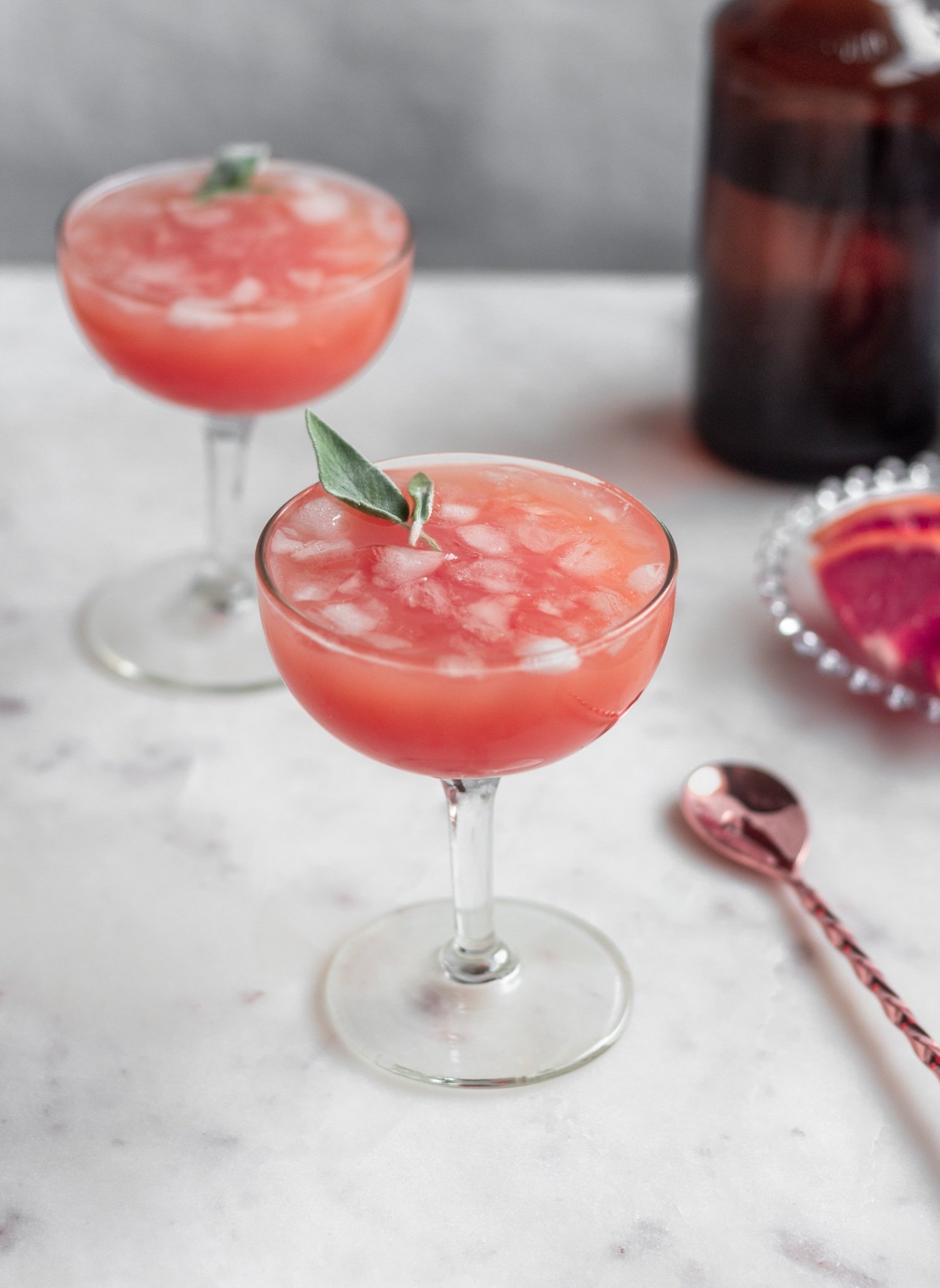 Guys, my dog is such a hipster. I knew it from the first day I got her. She arrived to my house with tattooed ears and the first time I took her out to a bar, she kept lapping craft beer out of my friend's glass. She also loves to drive in her Outback and eat coffee beans off the floor. I should have known I would end up with a hipster dog, it was just bound to happen.
Tbh, I've been meaning to post this recipe since I got Bell all the way back in December 2017. How has it been over a year already?! I just can't believe it. Bell has 100% adjusted to our family flawlessly. She has a permanent spot on the couch. She nips at me for dinner. And she puts her face on the table while we're eating. Ugh, I love her so much.
I decided to do a Bell-inspired post for my Valentine's series since she's my BABY, so obvvvvs I had to do sage greyhound cocktails! Bell would have preferred steak or peanut butter or something, but this was cuter sooo!! Her birthday is coming up, so let's be real, I will probably end up making her a cake. Regardless, Bell actually got to try this sage greyhound, because she licked it out of the glass while we were getting photos together 🙄. So, oops?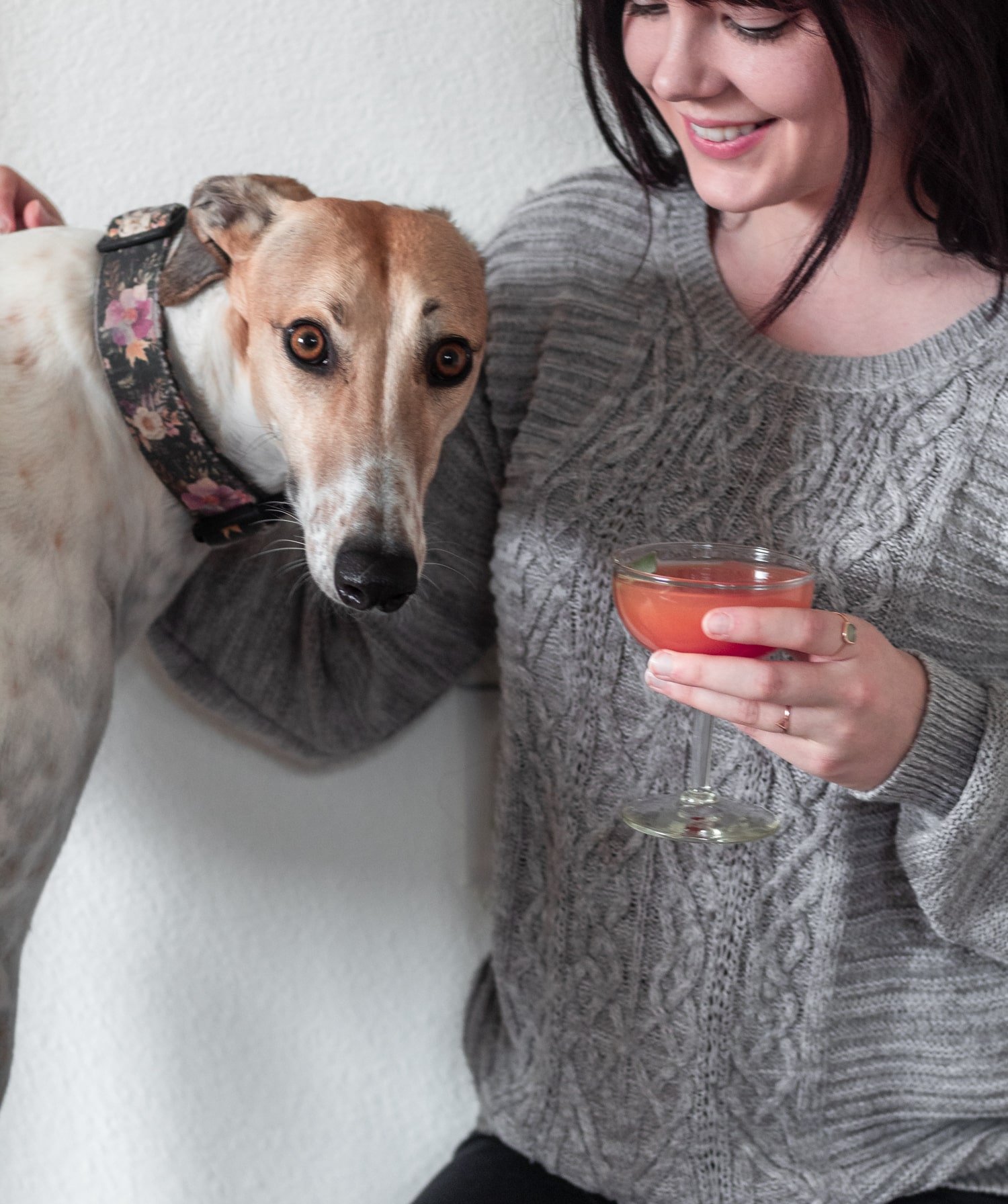 The best part is that this is truly the easiest cocktail ever. Mostly because I totally cheated. I didn't feel like juicing an ass-ton of grapefruits, so I bought the good-quality grapefruit juice and called it a day. Herb-infused simple syrup is the easiest thing everrrr. And vodka is vodka. Five minutes later, you have sage greyhound cocktails, which are perfect for girl's night, pre-dinner drinks, or hanging out with your dog.
And, on another note, if you're looking to adopt a dog, please consider a greyhound! They are the easiest, sweetest, most gentle little couch potatoes you could ever find. I adopted Bell through Nevada Greyhounds Unlimited, but you can find a greyhound rescue in pretty much every state! Also, if you are ever in need of a greyhound fix, Bell has an entire highlight on my Instagram, because we're those kind of people.
Ok that's all I have for now, time to go drink a sage greyhound with my greyhound BYE!!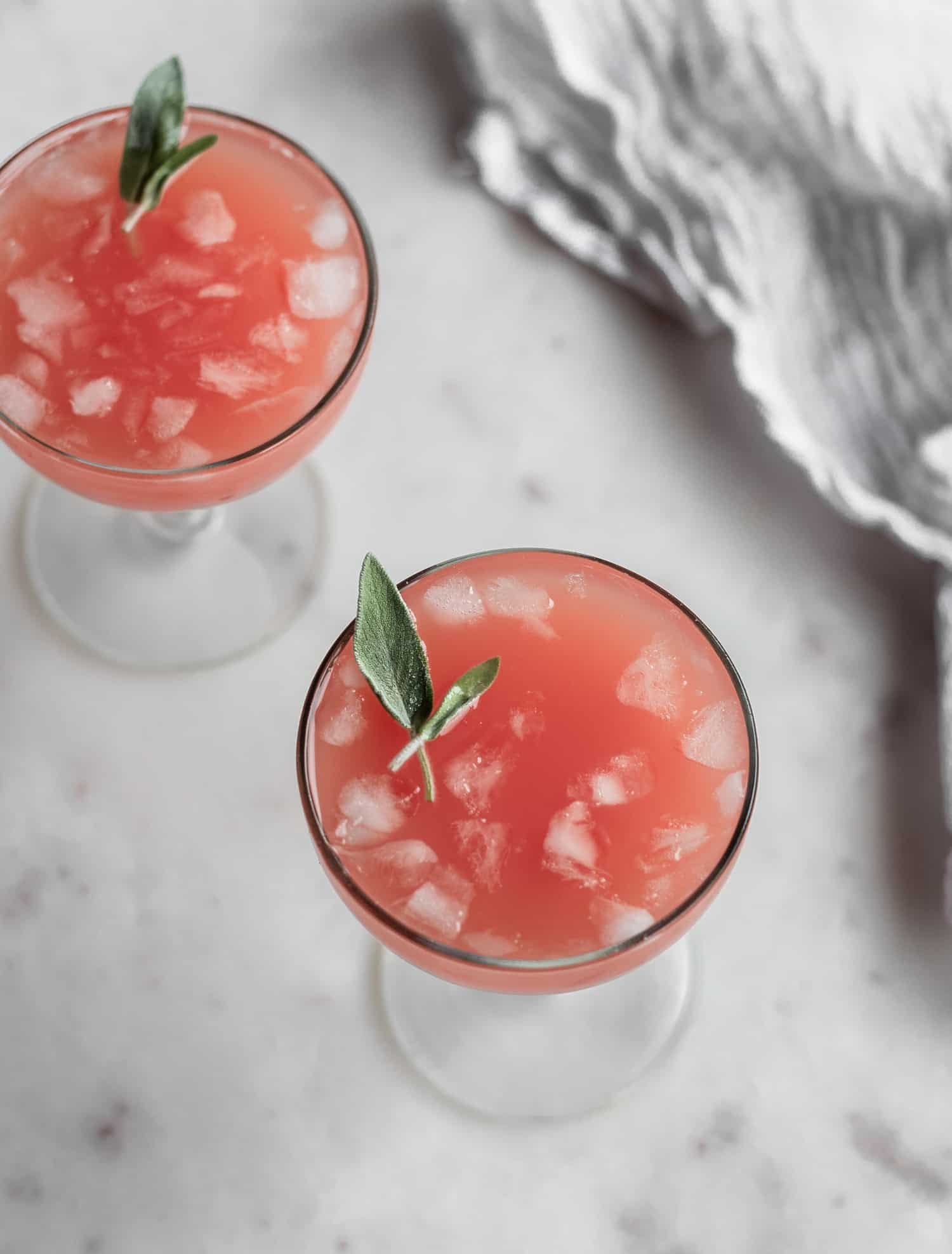 Sage Greyhound Cocktails
---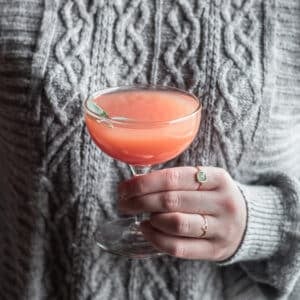 Sage Greyhound Cocktail
This sage greyhound combines grapefruit, vodka, and sage syrup for a unique twist on a classic cocktail.
Ingredients
Sage Simple Syrup
1/2 cup sugar
1/2 cup water
1 bunch fresh sage, about 6 leaves
Sage Greyhound Cocktail
8 oz grapefruit juice
4 oz vodka
1 oz sage simple syrup
Fresh sage, for garnish
Instructions
In a small saucepan, combine the sugar, water, and a few leaves of fresh sage. Bring to a simmer, pressing on the sage with the back of a spoon to release the oils. After a couple of minutes, remove from heat and let cool completely.

To make the greyhounds, combine the grapefruit juice, vodka, and sage simple syrup in a cocktail shaker. Fill with ice, and shake until the outside starts to get frosty, about 20-30 seconds. Strain into two martini glasses. Twist a sage leaf over each cocktail to release the oils. Garnish the cocktail with fresh sage. Serve!
Notes
I took the easy way and used some high-quality grapefruit juice from the grocery store. However, if you would prefer to do fresh, plan on juicing about one or two large grapefruits! Other herbs, like rosemary or thyme, would be delicious in place of sage.
Serving: 1cocktail, Calories: 212kcal, Carbohydrates: 21.1g, Protein: 0.7g, Fat: 0.1g, Sodium: 11mg, Potassium: 167mg, Fiber: 1.3g, Sugar: 7.9g, Calcium: 17mg
---
xo Sara Lynn
*Song of the day: This Old Dog by Mac Demarco