Beef Stroganoff with Shallots & Brandy
The first recipe of my Valentine's series, this beef stroganoff with shallots and brandy is the perfect comfort food. Stroganoff has been one of my all-time favorites since childhood. I have the best memories of enjoying this cozy dinner countless times with my family.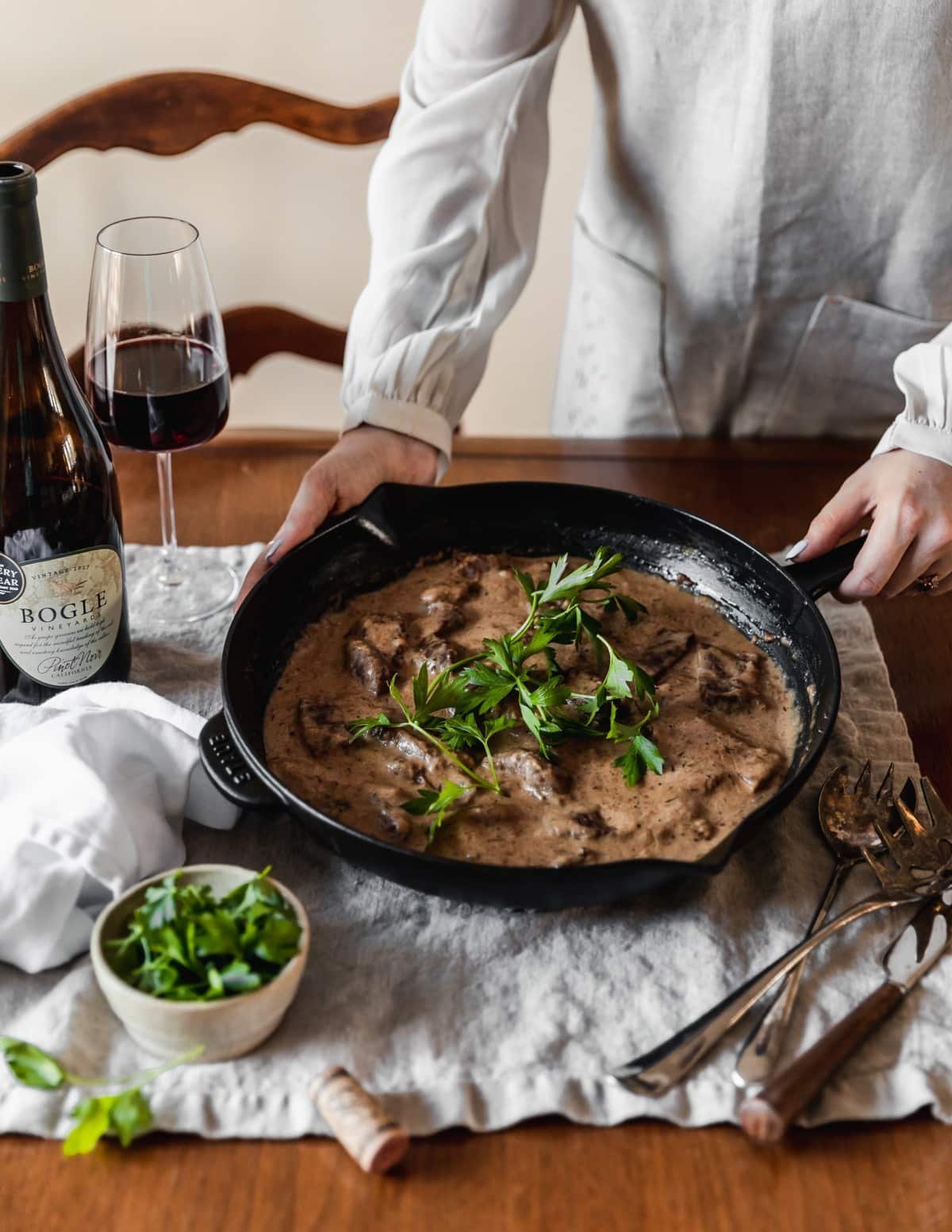 Yay, I'm so excited that it's finally February! 1. Because I just needed January to end. And 2. Because I can finally announce my Valentine's recipe series!! Idk that this is really an official thing, but I decided that for the month of February, I will be sharing recipes that represent the people I love! Going in no particular order, I decided to start with a recipe for my family. Considering I started this blog to document family recipes, it was v hard to pick just one. But, this beef stroganoff is probably the dinner I associate with my family the most. It's definitely not the prettiest food on the planet, but it's the meal that I have the best memories of.
About this family recipe
Stroganoff itself is a traditional Russian dish, although this recipe is based off of my grandma's. It's definitely one of those dinners that doesn't have a "recipe", my family just throws it together. Any time my mom asked me what I wanted for dinner, it was almost always beef stroganoff. To this day, it's still the recipe that makes me think of my childhood home and all of those dinners around the kitchen table.
As I said, this is my grandma's recipe, but of course, each of us has our own version. I have evolved mine quite a bit, adding more spices and flavors over time. Finally, I have reached the point where I feel like my version is totally it. It's now my go-to recipe when I want something comforting, especially on chilly nights!
all the ingredients you'll need
Beef – I personally use something like round steak, but we'll get into the best cuts later.
Shallots – you can also use half a yellow onion but the sweetness of the shallots adds an incredible flavor to this dish.
Brandy – replace with sherry, a drier white wine, or just beef broth for a booze-free option.
Spices & Condiments – a bay leaf, Dijon mustard, thyme, and parsley.
Sour cream – to make the sauce creamy!
Kitchen basics – all purpose flour, unsalted butter, garlic cloves, beef broth, salt and pepper.
Mushrooms – ok, so I do not *love* mushrooms and pretty much only eat them at other peoples' houses or restaurants. I genuinely cannot figure out the appeal to that texture. That said, I don't add mushrooms to my beef stroganoff, but you can totally add them to yours! It's included it in the recipe below if you feel so inclined.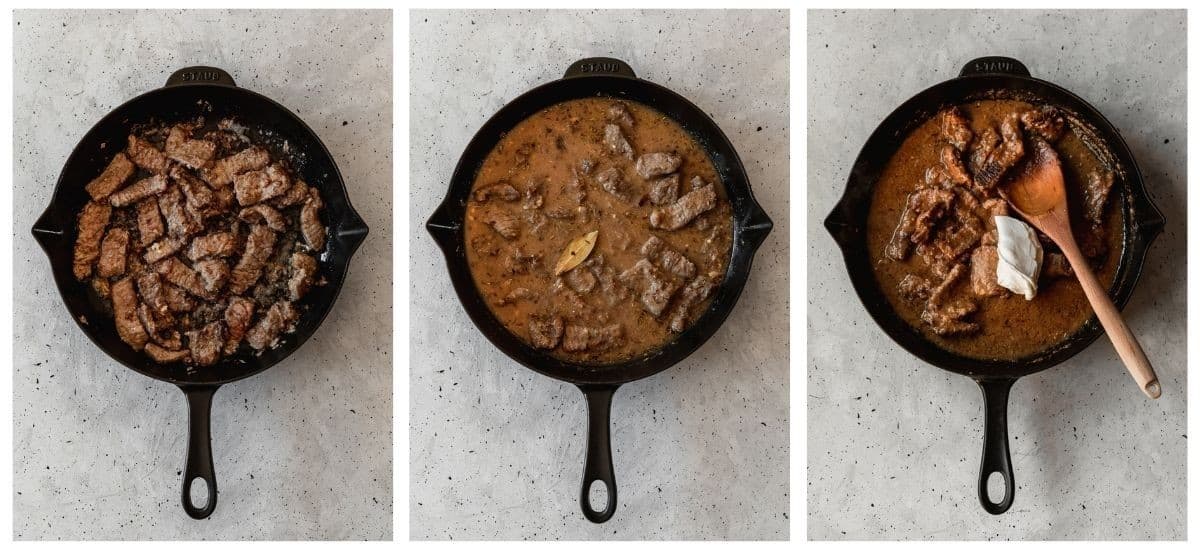 How to make this recipe
This recipe is pretty straight-forward but does require some simmering time! Plan on having at least one and a half hours to prepare this recipe from very beginning to very end.
Coat the sliced steak with flour, salt, and pepper. Melt a few pats of butter in a cast iron skillet over medium-high heat. Add the beef to the pan and sear until the beef is browned all over. Transfer the seared steak to a plate.
Add the shallots and mushrooms to the pan. Saute until the veggies are golden brown. Then, add the garlic and cook until fragrant. Add the beef back to the cast iron skillet.
Deglaze the pan with the brandy, scraping up any brown bits. Let reduce about halfway.
Next, add the beef broth, bay leaf, Dijon mustard, thyme, salt, and pepper. Reduce the heat to low and let simmer for 1-1 1/2 hours until the meat is tender.
Lastly, add the sour cream and stir until smooth. Garnish the stroganoff with parsley and serve with buttered egg noodles or rice.
What cut of beef is best?
Since we're simmering this for a while, we can use a more affordable, leaner cut of beef! Simmering the beef for at least an hour helps tenderize the meat. Whatever you choose, just make sure to choose higher-quality beef for the most flavorful stroganoff! Here are a few options:
Top round – this is a leaner cut of steak that is traditionally used in stroganoff.
Flank steak – another flavorful, tougher, affordable cut of beef!
If you're in a rush, you can also go for a more expensive, tender cut of steak and just simmer it for less time (around 15 minutes). This is a great option if you're short on time and have a few extra dollars to spend. Some recipes call for filet mignon but honestly? We're mixing it with gravy here. Save that for a special occasion, unless you can get your hands on some scraps. Here are some nicer cuts I would use instead:
Top sirloin steak – a savory cut of beef that is commonly used in stroganoff
Boneless ribeye – this cut is very tender and has a pronounced beef flavor
New York strip – another option that is tender and delicious
What should i serve with stroganoff?
At this point, you'll have to decide whether you are #TeamNoods or #TeamRice. My mom always made egg noodles, while my grandma and aunt always made rice. I am die-hard #TeamNoods personally. Here are a few more ideas if you're not into either:
Buttered egg noodles or rice are go-to options
Mashed potatoes
Toasted, crusty bread
French fries
Veggies like peas, green beans, or a classic green salad
Pickles
How to make the beef nice & tender
There are two factors that will help make this meat uber tender, even with a tougher cut. First of all, make sure that you slice against the grain! Next, ensure that you are simmering the meat for a proper amount of time. For a tougher cut, simmer for at least an hour, but preferably an hour and a half. If you're using a tender cut of beef, you can simmer the stroganoff closer to 15 minutes.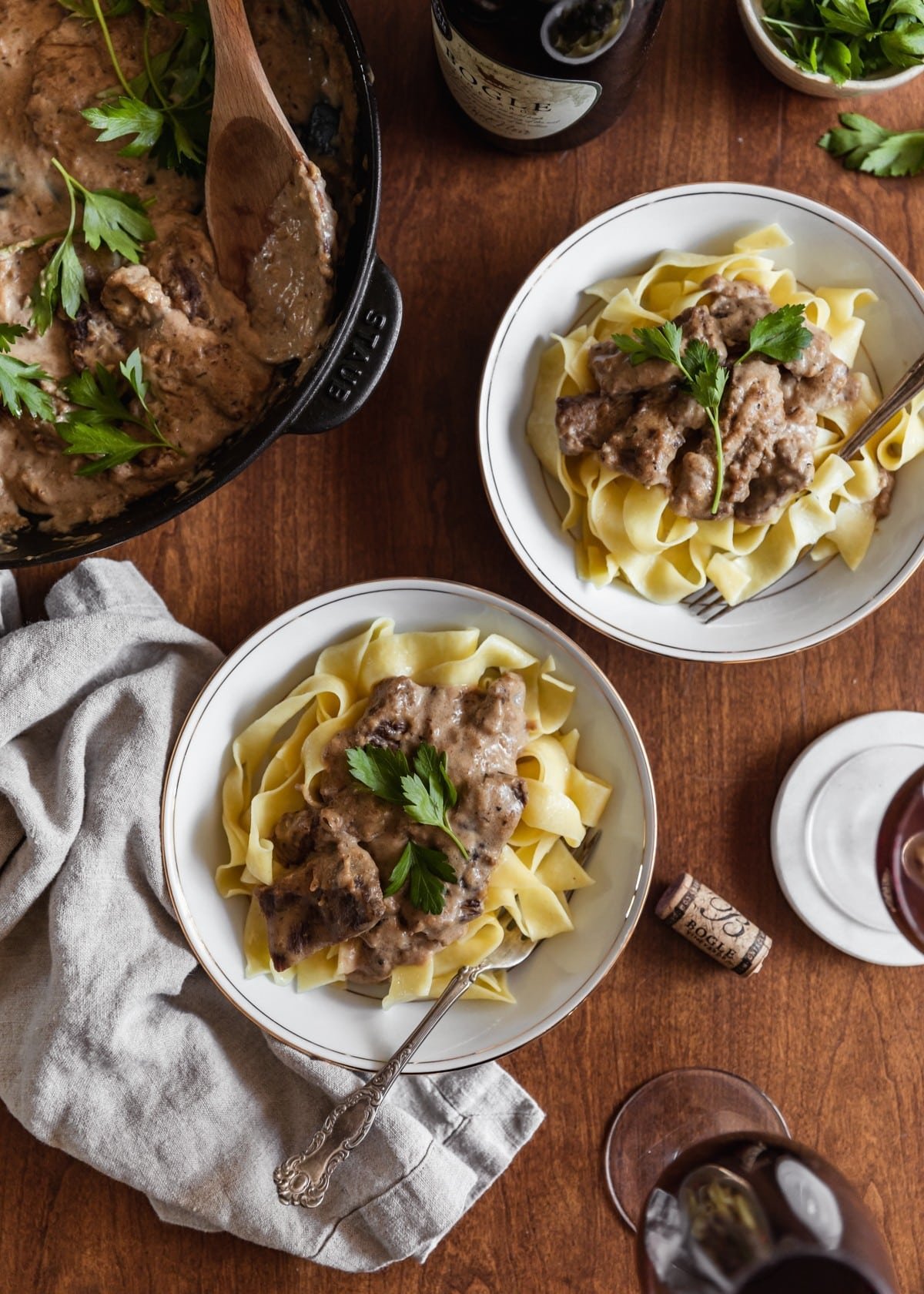 To keep the sauce from curdling
Adding cold sour cream to hot broth can make it curdle. Instead, try tempering the sour cream by whisking a few tablespoons of hot broth to the sour cream before you stir it into the dish. Or, you can simply bring the sour cream up to room temperature for 30 minutes or so before you stir it into the stroganoff. This is typically how I keep the sauce from curdling and it works every time!
Storing & reheating
If you have leftovers, just store them in an airtight container in the fridge for up to five days. To reheat, I like to either put it in the microwave (lazy) or heat it on the stove. Just add a splash of broth to thin the gravy out a bit. Then, heat it over medium, stirring frequently, until it's nice and hot.
As a side note, I would not recommend freezing this recipe. It will completely change the texture of the dish and make it taste stale.
Tips & Tricks
Use a cast iron skillet or non-stick pan to make this recipe. You want the brown bits from the beef to add flavor to the dish!
Cut the steak thinly against the grain to ensure that it cooks up nice and tender.
To make a vegetarian version, replace the beef with mushrooms and the beef broth with veggie broth.
Don't crowd the pan when you're searing the beef or mushrooms. Cook in batches if necessary. Crowding the pan will lead to grey, steamed meat and rubbery mushrooms.
I hope you make this for some loved ones and sit around a table laughing and hugging warm bowls of buttery, gravy-ed noodles. And I hope it makes you feel like you're in your mom's kitchen or at your grandma's house. It certainly does that for me!
More cozy meals you'll love
Sheet Pan Chicken Cordon Bleu with Dijon Sauce
Bucatini Carbonara with Sausage & Greens
Pot Roast with Red Wine & Shallots (One-Pot)
Beef & Veggie Pot Pie
Deconstructed Chicken Pot Pie
If you make this recipe, I would love if you left a star rating and review! I read every single comment and love hearing what you think about my recipes. Thank you for supporting Sunday Table!
---
Beef Stroganoff with Shallots & Brandy
Beef stroganoff has been my favorite meal for as long as I can remember. Based on my grandma's recipe, this version uses shallots and brandy for a cozy, savory meal!
Ingredients
1 lb round steak, thinly sliced against the grain
1/4 c flour
1/2 c unsalted butter, divided
1/2 lb mushrooms, sliced (optional)
1 large shallot, finely diced
2 large garlic cloves, minced
1/3 c brandy (or sherry)
2 c beef broth
1 bay leaf
2 tsp Dijon mustard
1/2 tsp thyme (fresh or dried)
8 oz sour cream
2 tbsp parsley, chopped
Salt and pepper, to taste
Egg noodles or rice, for serving
Instructions
Start by drying the beef with paper towels. Place the meat in a medium bowl. Coat the steak with the flour and lots of salt and pepper. Set aside.

In a large pan, heat 1/4 cup of the butter over medium high heat until melted. Sear the beef until browned on all sides. Don't overcrowd the pan, or the meat will steam instead of brown! You can sear in batches if necessary. Once the beef is nice and browned, transfer it to a plate.

Melt another pat of butter in the skillet over medium heat, and add the shallots and mushrooms (if using). Saute, stirring frequently, until the veggies are golden brown, about 5-7 minutes. Stir in the garlic and saute until fragrant. Then, add the beef along with any juices back into the pan.

Deglaze the pan with the brandy, and let it reduce until there are only a couple of tablespoons left (it may thicken a little). Add the beef broth, bay leaf, mustard, thyme, salt, and pepper. Let the beef simmer for at least 1 hour, preferably 1 1/2 hours, to tenderize the meat.

Meanwhile, cook the egg noodles (or rice) according to package directions. Stir in a pat of butter and couple pinches of salt.

When the beef is done simmering, stir in the half of the sour cream. Taste, and add more sour cream, 2 Tablespoons at a time, until it's to your desired consistency. Cook for about 5 more minutes to heat. Garnish with parsley and serve the stroganoff over noodles or rice.
Notes
Cut the meat against the grain to ensure that it tenderizes as it simmers. If you're short on time, go for a more tender cut of beef, such as top sirloin, and only use 1 cup of beef broth. Then, reduce the simmer time to 15 minutes. I don't necessarily love this option, because the long simmer time thickens the broth and makes it so flavorful. But, it's still a good option if you need a quicker cook time!  
Serving: 0.25of recipe, Calories: 680kcal, Carbohydrates: 16g, Protein: 40.9g, Fat: 46.6g, Saturated Fat: 26.2g, Cholesterol: 182mg, Sodium: 762mg, Potassium: 904mg, Fiber: 1.1g, Sugar: 1.3g, Calcium: 107mg, Iron: 6mg
---
xo Sara Lynn
Song of the day: Something Good Coming by Tom Petty