The Best Gløgg (Norwegian Mulled Wine)
This is the best gløgg (Norwegian mulled wine) made with red wine, bourbon, cardamom, dried fruit, and almonds. It's my favorite winter cocktail for a holiday party or family dinner! This cocktail is cozy, warm, so simple, make-ahead, and tastes just like Christmas!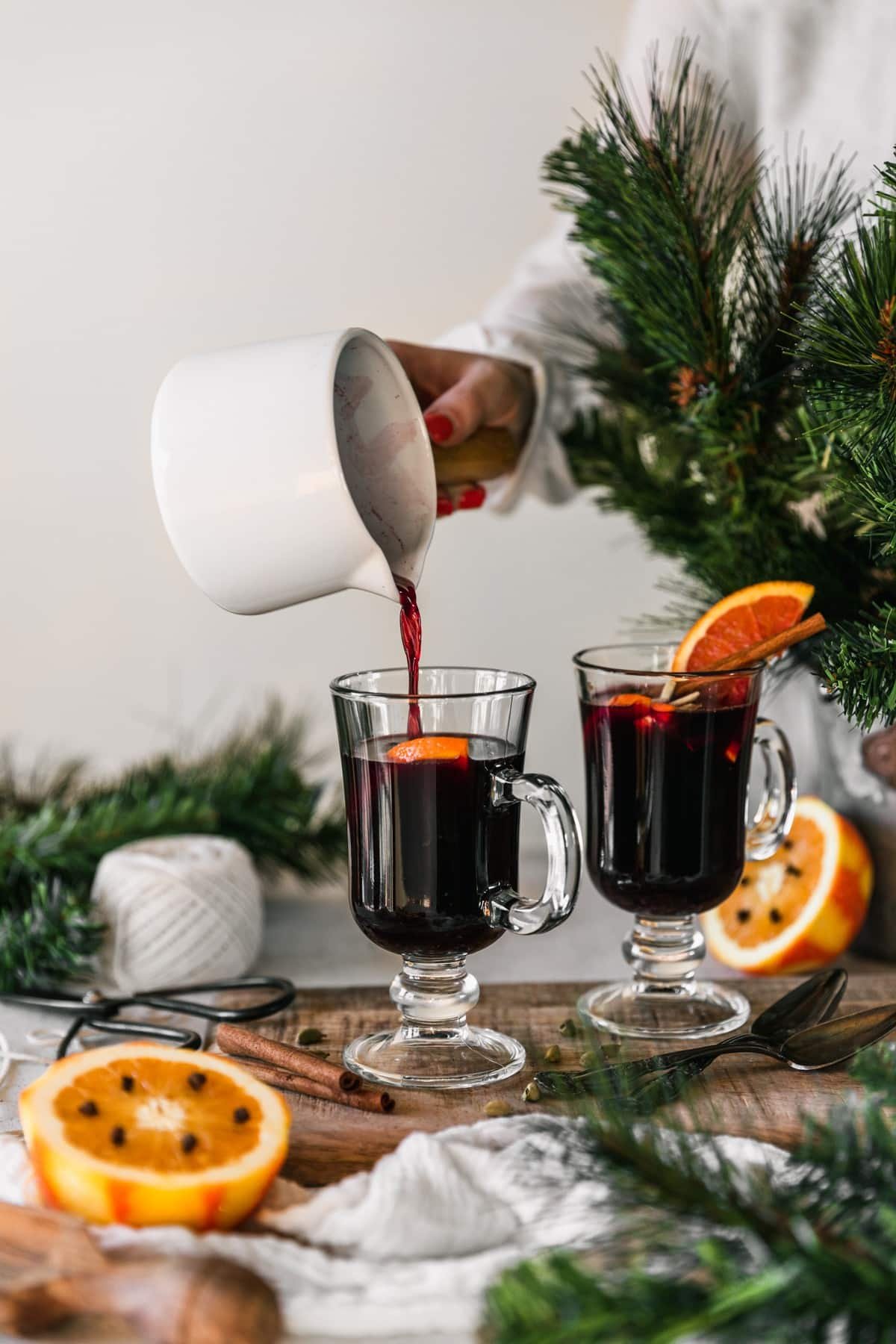 It's almost Christmas, so let's make some gløgg about it! As the proud granddaughter of some very Norwegian Midwesterners, I find it hard to believe that we have not discussed gløgg on here yet so jeez Sara, it's about damn time. But I digress. This year, we're heating our wine. We're adding cardamom. There is bourbon involved! It's Norwegian! It's basically me in drink form.
And if warm wine sounds a little weird to you, let me ease your mind. Do you like sangria? Then you are also going to like it when it's heated up! Gløgg, a.k.a. Norwegian mulled wine, is the coziest cocktail and tastes like actual Christmas. I love serving it at parties because it just sits on the stove all cozy and happy while your guests mingle about, sipping warm mulled wine out of mugs. It's best drank by a roaring fire surrounded by good friends. It also goes swimmingly with cold-weather activities like Christmas tree hunting or skiing. (But maybe save it as an apres-ski situation because not going to lie, it's pretty boozy). Let's chat about gløgg!
What is gløgg?
Gløgg (pronounced glue-gh) is a warm Nordic mulled red wine that translates to "glowing ember". Flavored with spices, citrus, and liquor, it is a traditional holiday drink in Norway, Sweden, Denmark, and other Nordic countries typically enjoyed around Christmas time! Ingredients vary from region to region and recipe to recipe, but pretty much what each has in common is red wine, a spirit or two, sugar, spices, dried fruit, and nuts.
While many countries have their own versions of mulled wine (glögg in Sweden, glögi in Finland, glühwein in Germany, vin brulé in France, quentão in Brazil, navegado in Chile, and so on and so forth), the Norwegian version is just a bit different than the rest. Many traditional Norwegian recipes call for port, aquavit (a Nordic potato-based spirit flavored with caraway, citrus, and sometimes dill), raisins, almonds, and of course, cardamom! Gløgg is typically served in mugs with little spoons on the side for snacking on the dried fruit and nuts.
A little history
This history of gløgg is a bit convoluted since it's centuries-old, but it essentially goes like this. Mulled wine itself is thought to go as far back as ancient Egypt around 3150 BC. The Roman Empire even had its own version of mulled wine back in the day (23-79 AD).
Gløgg, on the other hand, stems from the Swedish version of mulled wine from the 1600s. Back then, spices were used to flavor lower-quality wine, and over time, the drink became a holiday tradition. The first known recipe for Norwegian gløgg was written in Norway's first published cookbook, "Skrub", in 1845.
The ingredient list
Although traditional recipes typically use ingredients like port wine, aquavit, and vodka, there are so many different ways to make this mulled wine! Below are the ingredients I think make the best gløgg and some ideas on ingredient swaps so that you can use what you have on hand or make the wine your own:
Spices – cinnamon sticks, cardamom pods, cloves, and ginger.
Orange peel – lemon or a mix of lemon and orange would also work.
Red wine – I recommend choosing something dry and bold since we're adding some sugar to the mix. Although it's common to use port, I usually just go with a drier red blend. You definitely don't want to choose anything crazy expensive since we're adding a bunch of spices and other add-ins.
Liquor – I like bourbon because it adds a warm, wintery flavor. However, vodka, rum, or even a splash of orange liqueur would be delicious! If you're an aquavit-lover, you could also use that in your recipe.
Sugar – white is what I typically use although brown adds a deeper flavor.
Vanilla extract – vanilla compliments the bourbon, but to change things up, you could also use bitters.
Dried fruit – raisins, dried cranberries, or dried currants.
Nuts – blanched, sliced almonds are traditional but blanched hazelnuts would be great too!
How to make gløgg
This is truly the easiest Christmas cocktail ever which is why it's one of my favorites to whip up for parties and family dinners! There's no juicing, cocktail shaking, or complicated ingredients. You can make it in advance and just let it warm on the stove so that your guests can pour themselves a drink throughout the night. Plus, it makes your house smell like Christmas which is always a plus. Here's how to make the best gløgg:
Tie up the cinnamon, cardamom, ginger, cloves, and orange peel in a piece of cheesecloth or a spice bag.
In a pot, combine the red wine, bourbon, sugar, and vanilla. Add the spice bag, nuts, and dried fruit.
Heat the mixture just until the sugar is dissolved and the mixture starts to steam. Let it heat for about 10 minutes, stirring often. Don't let it come to a boil!
Remove the mixture from the heat, cover, and let the wine steep for at least an hour.
Gently reheat the gløgg on the stove right before serving.
What wine should I use?
Although many recipes call for port, you can use all kinds of red wine in this recipe. What I recommend is looking for a wine that is on the drier side. Since we're adding sugar, you don't want to get a sweet wine and end up with gløgg that is sickeningly sweet.
I also like to look for a wine that is on the bold side and has more "jammy" fruit-forward flavors. Bold wine tends to taste better when heated, in my opinion. And, the fruit flavors complement the spices and dried fruit in the gløgg! Just avoid anything crazy expensive. Since we're heating the wine with spices and sugar, there's no reason to bust out the good stuff. Here are some wines you can use:
Merlot
Zinfandel
Grenache
Port
When in doubt, a drier red blend
Slow cooker instructions
If you want to make things even easier and free up some space on the stove, the slow cooker method is the way to go! Here's how to do it:
Combine all the ingredients in a slow cooker.
Set the slow cooker to LOW. Resist the urge to set it to HIGH or it will burn off all the alcohol. Let it heat until the sugar is dissolved and the mixture is steaming.
Next, turn off the slow cooker and let it sit, covered, for at least an hour.
About 30-60 minutes before you want to serve the mulled wine, set the heat to WARM. Allow guests to serve themselves. Don't forget the little spoons!
Storing leftovers
If you have leftover mulled wine, it's a great cocktail to store and enjoy later! To store it, just pour the mixture into an airtight container. Place it in the fridge for up to three days. At that point, you can reheat individual mugs on the stovetop or heat the whole thing on the stove or in a crockpot. Or, if you want more of a sangria-style situation, just pour the mixture cold over ice and garnish with an orange wedge!
A make-ahead option
Mulled wine actually gets better over time so it's a great contender for a make-ahead drink! To make it in advance, just make the gløgg up until the point after you steep it. Once the mixture has steeped for at least an hour, remove the spice bag, let it cool, and store the mixture in the fridge for up to three days.
When you're ready to reheat the gløgg, just place it back on the stove to reheat gently or throw it in a slow cooker. Just avoid boiling or simmering or it will cook off all the alcohol! Instead, just let it gently warm using the low and slow method until it's steaming. (Keep in mind that if you make this drink in advance, the nuts will soften over time. If you want to keep them crunchy, leave them out, and just add them in right before you reheat the gløgg).
Tips & tricks
If you don't have a spice bag or cheese cloth for the spices, you can just add them directly to the mulled wine. When you're ready to remove and discard the spices, just strain them out using a fine-mesh strainer.
Avoid adding too many spices to the gløgg or it will overpower the wine. While we want to add some warmth to the gløgg, we still want the flavors of the wine and bourbon to shine through.
Heat the wine gently or you'll cook off the alcohol in the wine and liquor. Additionally, bringing the wine to a boil or simmer will cook down the wine making it too syrupy. Keep it under 170°F to prevent the alcohol from burning off.
Let the gløgg steep for at least an hour. Like tea, the flavor needs to steep into the wine for the best results. You can even let it sit for up to a few hours if you want to!
This recipe can be doubled or tripled for a party or get together. It's very forgiving and so great for holiday parties, family dinners, and snow days.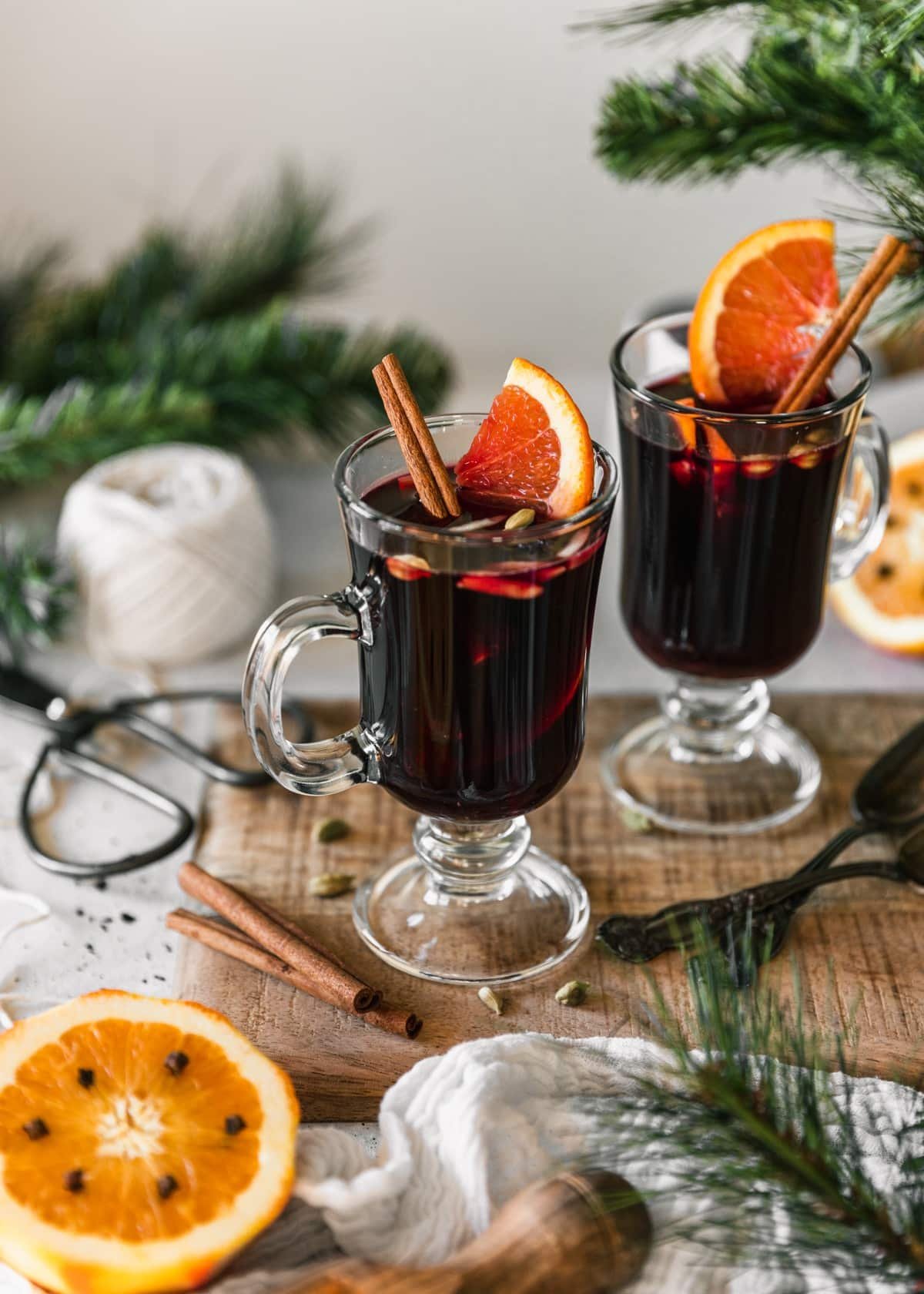 More cozy drinks
Blood Orange Bourbon Aperol Cocktail (a.k.a. The Crumpled Receipt)
Eggnog White Russians
Cadillac Cranberry Margaritas
Winter Sangria with Pears & Pomegranate
Vegan Irish Coffee with Coconut Cream + Hawaij
If you make this recipe, I would love if you left a star rating and review! I read every single comment and love hearing what you think about my recipes. Thank you for supporting Sunday Table!
---
The Best Gløgg (Norwegian Mulled Wine)
This gløgg is one of my favorite cocktails to make for holiday parties and family dinners! It's cozy, warm, spiced, and great for serving a crowd. With bourbon, red wine, cardamom, dried fruit, and nuts, it's so easy and basically tastes like Christmas!
Ingredients
2 cinnamon sticks, lightly crushed
12 green cardamom pods, lightly crushed
8 whole cloves
1 inch piece of ginger, thinly sliced
1 orange, peeled
750 ml bottle of dry red wine
1 c bourbon or vodka
1/2 c sugar, plus more to taste
1 Tbs vanilla extract
1/2 c blanched almonds, sliced
1/2 c dried cranberries or raisins
Instructions
Place the cinnamon sticks, cardamom pods, cloves, ginger, and orange peel in a spice bag or the center of a square of cheesecloth. Tie up with kitchen twine, if necessary.*

In a large saucepan, mix the red wine, bourbon or vodka, sugar, and vanilla. Add the spice bag, nuts, and raisins or cranberries. Heat the mixture over medium heat until the sugar is dissolved and the mixture is steaming. Cook for 10 minutes, stirring occasionally. (Do not let it come to a simmer or boil). Taste and add more sugar 2 Tablespoons at a time, if needed.

Remove from heat, cover the pot with a lid, and let it steep for at least 1 hour and up to 3-4 hours.

Gently reheat the gløgg on the stove right before serving. Keep warm on very low heat. Ladle the wine into mugs with little spoons for snacking on the nuts and fruit.
Notes
*A note on cheesecloth: If you do not have cheesecloth or a spice bag, you can just add the spices straight to the gløgg and strain them out with a fine-mesh strainer before serving.
Serving: 1serving, Calories: 247kcal, Carbohydrates: 6.4g, Protein: 1.9g, Fat: 4g, Saturated Fat: 0.3g, Sodium: 7mg, Potassium: 205mg, Fiber: 1.3g, Sugar: 1.8g, Calcium: 33mg, Iron: 1mg
xo Sara Lynn
*Song of the day: I'll Be Home for Christmas by Bing Crosby