Norwegian Lefse
I originally posted a recipe for lefse in 2015, but I decided to update my post this year with my great-grandma's recipe!  It's 100% the best Norwegian lefse I have ever had.  Also, you may notice some older pictures mixed in with the new ones.  On one hand, I really wanted some new, pretty pictures of my lefse. but on the other hand, I love the old photos of my brother and I making it together.  Enjoy the rare blonde-college-era Sara pics 😉
Let me tell you guys a story. Every Christmas, my family makes lefse.  For those of you who don't know what that is, it's a traditional Norwegian flatbread made from potatoes. Norwegian lefse kind of tastes like a potato roll but its texture is in-between a flour tortilla and a crepe.  And I look forward to eating it every single year. So naturally, when I actually went to Norway, I was under the impression that it would be everywhere.  Spoiler alert: I was wrong.  I went to various bakeries, grocery stores, and restaurants.  I asked around, but since most of the friends I made in Norway were expats, they had no idea what I was talking about.  The only lefse I found was a completely different variation of what I'm used to.  So, I left Norway without eating a single lefse.  On the bright side, Norway is where I learned about cardamom buns, which omggggg, are so delicious.
It was totally fine though, because I came back to the US right around Thanksgiving, and my aunt had made some!  I took a bite, and it was like, the best Norwegian lefse I've ever had?  It was slightly potato-y and pillow-y and perfect.  Sometimes lefse can get a weird bitter aftertaste, but this was not present whatsoever.  It was honestly perfect. When I mentioned to my mom that I wanted to get the recipe from my aunt, I was informed that it's my great-grandma's recipe.  Like a gebroni, I had been using some rando recipe from the internet while my family was off making the perfect lefse with their passed-down, handwritten recipe of perfection.  I was appalled.  But also, I got the recipe, so it was fine.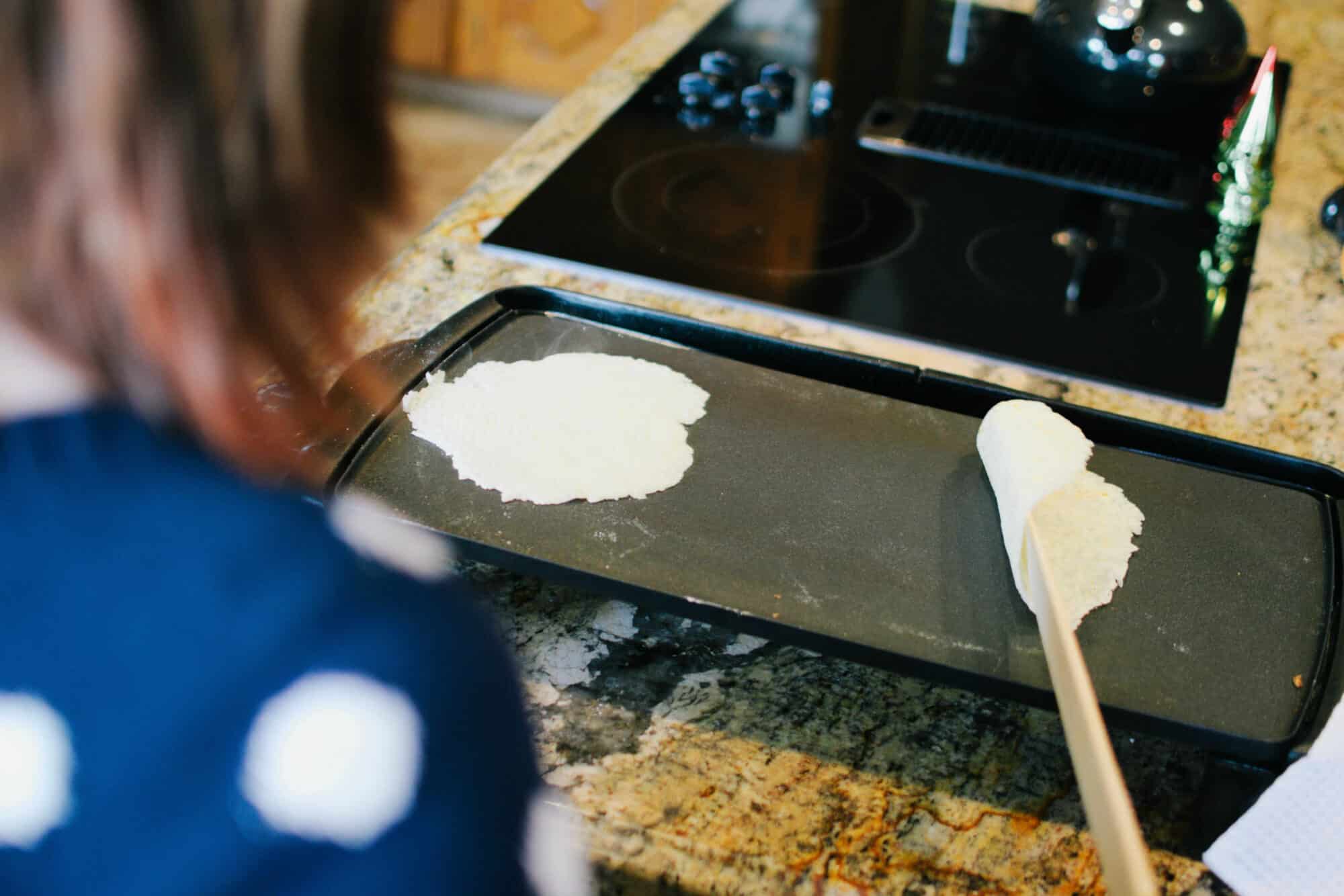 Lefse is one of those recipes where everyone's grandma has their own, but they are all very similar, because they don't require much fuss.  Which, ok, isn't entirely true, because I have had mishaps with my dough that has resulted in tears, but overall, the ingredients and process are very simple.  My great grandma's recipe is different in a couple ways: 1. Usually, recipes have a 3ish:1ish ratio of riced potato to flour.  My great-grandma's has a 1:1 ratio, which I like, because it results in a doughier lefse (in a good way).  2. There is kind of a butter vs. oil debate in the Norwegian-American community.  While this recipe originally calls for Crisco, I can't motivate myself to buy that stuff even for lefse, so I used butter.  Likewise, oil would work, I just decided on butter, because you can't go wrong with melted butter. Lastly, the act of making lefse is by and large a community event.  While I have definitely made it solo, it's just not the same as gathering around with family and friendsies.  If you have ever made homemade tortillas, the process will be similar.  You will want at least one person forming the dough, one person to roll, and one person to griddle.  Or if you're rocking the independent-woman-who-don't-need-no-lefse-partner route, all the power to you!  You will just want to form, roll, and cook a few at a time so the dough doesn't dry out. We have always served our lefse with butter + sugar, but I know a lot of people also add cinnamon and jam.  Additionally, it would be kind of amazing used in a deli wrap.  Or, you can just pile all Christmas leftovers into the center and go to town, which is probably what I will be doing ¯\_(ツ)_/¯
Norwegian Lefse
Lefse is a Norwegian flatbread made out of potatoes that my family makes every Christmas. We like to serve it with butter and sugar, but you can also add cinnamon, jams, etc. or serve it with meatballs or deli meat!
Ingredients
2 lb russet potatoes, peeled
3 cup AP flour, sifted + more for rolling
1 tsp salt
1 tbsp sugar
2 tbsp unsalted butter, melted
1/2 cup heavy cream
Instructions
Begin by boiling potatoes until they are fork tender. Note: I like to cook them in the microwave to prevent them from retaining too much moisture. You don't want soggy potatoes, or your lefse will be too soft to roll out!

Rice your potatoes into a large mixing bowl. Alternatively, you can mash them until smooth. You will end up with about 3-3 1/2 cups of riced potatoes.

Add the sifted AP flour, salt, sugar, melted butter, and 2 Tablespoons of heavy cream. Mix together with your hands until the dough forms. Add cream 1 Tablespoon until the dough is similar to the consistency of Play-Doh. Depending on how much moisture is in your potatoes, you may need up to a 1/2 cup.

Dust a pastry board with flour. Form the dough into 3 Tablespoon balls. This recipe will make about 18 lefse. Flatten each ball into a smooth disc. Roll with a rolling pin into a very thin circle. When you pick up the lefse, you should be able to see your hands through the dough.

Heat a griddle or pan over medium heat. Place each lefse on the griddle or pan, cooking for a couple minutes on each side until thoroughly cooked through and small brown spots begin forming. Don't overcook or you will end up with very brittle lefse. Keep lefse covered in a linen or kitchen towel to prevent them from drying out. I like to double cover them with parchment paper and a linen!

Serve lefse with butter, sugar, cinnamon, jam, meatballs, deli meat, and anything else you like. Store the lefse wrapped in a towel in an airtight bag or container.
Notes
Half-and-half or whole milk will work in place of heavy cream.
Serving: 1lefse, Calories: 136kcal, Carbohydrates: 24.6g, Protein: 3.1g, Fat: 2.8g, Saturated Fat: 1.6g, Cholesterol: 8mg, Sodium: 142mg, Potassium: 230mg, Fiber: 1.8g, Sugar: 1.3g, Calcium: 10mg, Iron: 1mg
Merry Christmas friendsies! If you need to find me during the holidays, you can head over to my insta to say hi!  xo Sara Lynn
Song of the day: Let It Snow by She & Him