Norwegian Pancakes (Pannekaker)
Norwegian pancakes (pannekaker) are one of my favorite dishes to make for brunch parties or lazy Sunday mornings. Somewhere between a crepe and an American pancake, they are soft and thin with crispy edges. And, they make a great base for jams, fruit, cheeses, and sauces!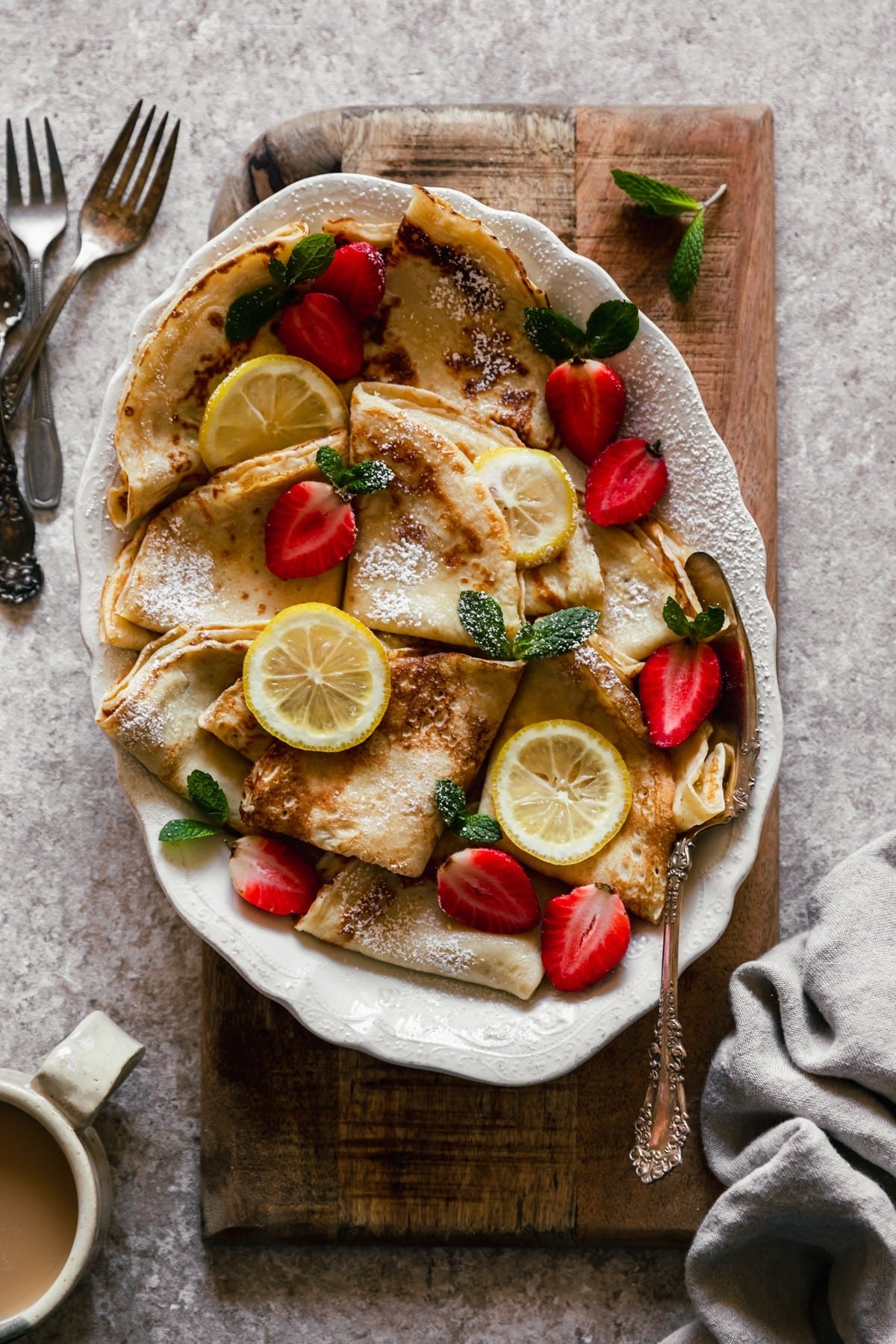 I'm at the time in my life where there is a 50/50 chance that brunch will either involve a. me barely making it to a previously-agreed-upon restaurant because I probably had one too many glasses of wine the night before and promised my friends that, yes I'm down for brunch tomorrow! Or, b. me waking up semi-early, washing my face, turning on a podcast, and whipping up a lovely breakfast while Marc makes coffee. On the latter sort of days, my go-to option is Norwegian pancakes which remind me of childhood and coziness and also are basically just a vehicle for melty butter and powdered sugar.
On the other hand, if you're having more of a 'type a' situation and can't be bothered to throw on pants, no worries. Text your friends "screw it", invite them over, and have a pancake party. Sweat pants are welcome, coffee is required. You probably already have the ingredients at home and you can use up some jams that have been collecting in the fridge. All around, it's a win-win.
About Norwegian pancakes
Norwegian pancakes, or pannekaker, are somewhere between crepes and American pancakes on the pancake scale. (Assuming there is one. Let's assume yes). They are soft, thin, and get these lovely lacy, crispy edges when they're fried in butter. The pancakes are pretty egg-based which also makes them light and fluffy. They are great for serving with either sweet or savory fillings. Also, Norwegians typically eat these pancakes with blueberry jam and bacon at dinner or for dessert. Which I mean, I'm down. But I typically like enjoying these at breakfast time!
And on a completely different note, there's this cute little nursery rhyme (a regeleventyr), about a runaway pancake that shows just how important pannekaker are in Norway. In the story, a mother with seven hungry children is making pancakes when one of the pannekake, upon hearing how hungry the children are, jumps out of the pan and starts running away. The pancake rolls away until it eventually out-runs the family.
Along the way, it escapes a man, a chicken, a rooster, a duck, a goose, and a gander. Eventually, the pancake comes across a pig and they agree to walk together in the woods. At some point, the pig and pancake come across a river. But, if the pancake tries to swim, it will fall apart. So, the pig offers it a ride on its face. I'm sure you know what happens now. The pig eats the pancake in one gulp.
And that's it! I'm not sure what the moral of that story is, but it adds a little whimsy to these pancakes and I'm into it. You can read the full translated story here.
Ingredients you'll need
These pancakes are made with pantry staple ingredients which means you can make them basically at any time! Here's what you'll need:
Flour – regular, all-purpose white flour.
Eggs – two large eggs, preferably at room temperature.
Milk – I recommend whole milk for the best texture.
Unsalted butter – both for the batter and for frying.
Basics – sugar, table salt, and vanilla if you want.
Fillings – butter, powdered sugar, jam, ham and cheese, etc. We'll get into ideas later!

Let's make them
In a large bowl, whisk together the flour, salt, and sugar.
Next, make a well in the center and add the eggs, whole milk, melted butter, and vanilla extract. Whisk just until you have a thin, lump-free batter.
Let the batter sit for 15-30 minutes.
Then, melt a small pat of unsalted butter in a medium frying pan over medium-low heat. Pour about 1/4 cup of batter into the pan and swirl the pan until you have a thin, round pancake.
Cook for about 30-60 seconds, until the bottom of the pannekake is set and golden brown. Flip and cook for another 30-60 seconds until the other side is fully cooked. Repeat with remaining batter.
Serve the pancakes hot with your desired fillings.
The secret to the best Norwegian pancakes
As easy as this recipe is, yes, there is a way to make them the best ever! My favorite trick is to let the batter sit for 15-30 minutes (depending on how much time you have) to get a soft and fluffy, yet thin, texture. By resting the batter, it will allow the flour to fully hydrate and relax. Not only will this dissolve any lumps of flour, but it will make for pancakes that are light and fluffy, with a lacy crepe-like exterior.
Topping ideas
You have so many options when it comes to serving these pancakes! Here are just a few of many ideas:
The traditional way – Norwegians typically eat these pancakes with blueberry jam and/or bacon. If you want to eat them for dessert, you can add a scoop of vanilla ice cream with the jam!
Another classic – fill the pancakes with sweetened cream cheese and lingonberry jam.
Butter and powdered sugar – this is my personal favorite with a bit of jam or berries!
Fruit – fresh or macerated berries, sliced stone fruit, and sauteed apples are all delicious.
Jams & spreads – any fruit jam, strawberry compote or coulis, lemon curd, whipped cream, or chocolate hazelnut spread.
Savory options – bacon, fried eggs, ham, cheese, and/or sauteed veggies.
Spices – sometimes, I like adding a bit of lemon zest or a dash of cinnamon!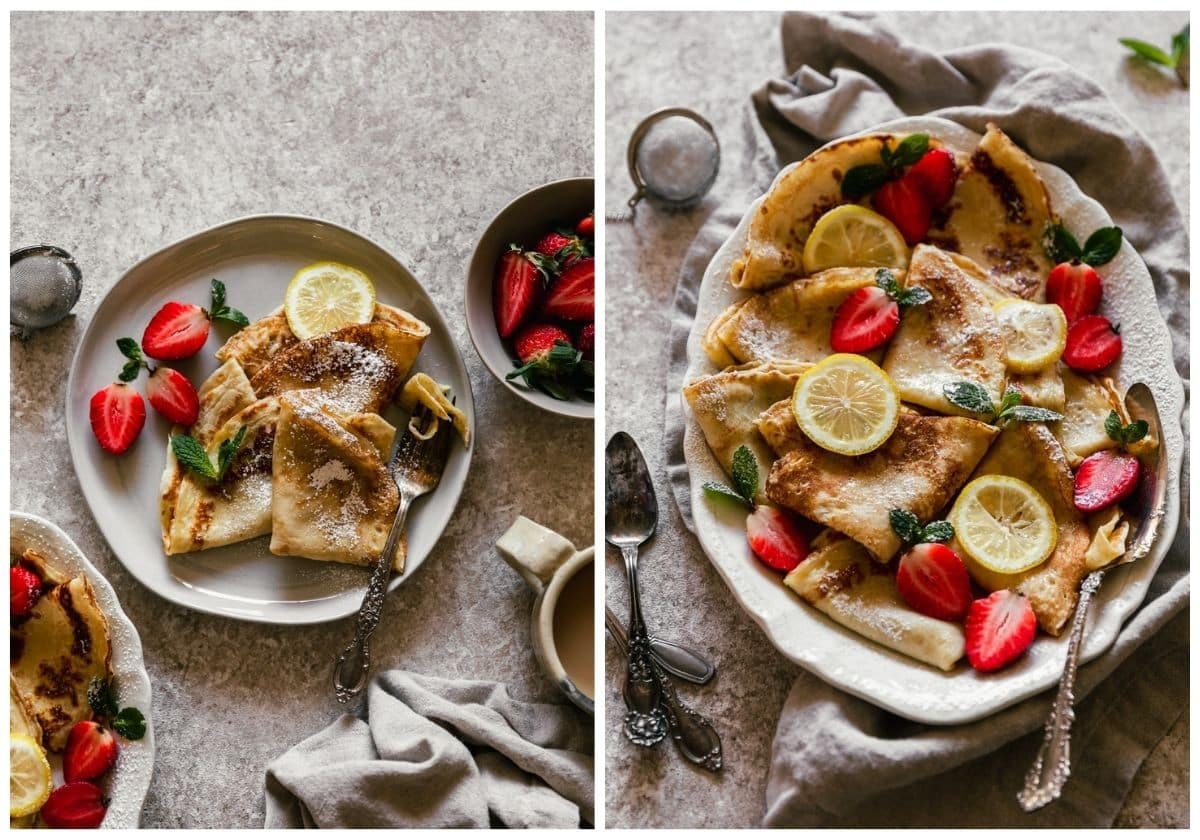 Can these be made ahead?
To be honest, I would not recommend making these pancakes in advance. They are definitely best when made fresh and served hot. I often find that they get a little stale in the fridge, even if they've only been there a short amount of time. Also, I would avoid making the batter in advance if possible. I find that the pancakes get a bit too thin and flat when the batter sits longer than an hour. Whenever possible, make these pancakes fresh and enjoy them right away! Luckily, the batter is easy to halve if you don't need a lot.
However, I know leftovers are a thing. If you have them, just layer the pancakes in-between parchment paper and store them in an airtight bag or container. Then, when you're ready to enjoy, just warm them in the microwave for 30 seconds or so!
A few tips
Sift the flour to avoid lumps in the batter.
Bring the ingredients to room temperature if you have the time. This will prevent the butter from clumping when you mix.
Heat over medium-low-ish to get pancakes that are golden brown. If you go too hot, your batter will cook before you have a chance to swirl it.
Use a medium sized pan (about 7-9 inches). If you go any larger, the pancakes will be too thin.
You can use a heat-proof rubber spatula, a very thin spatula, or even a lefse stick to flip the pancakes without squishing them.
Keep the pancakes warm by placing them on a sheet pan in a very low oven. Typically, I just set my oven to the lowest setting and it keeps them nice and hot!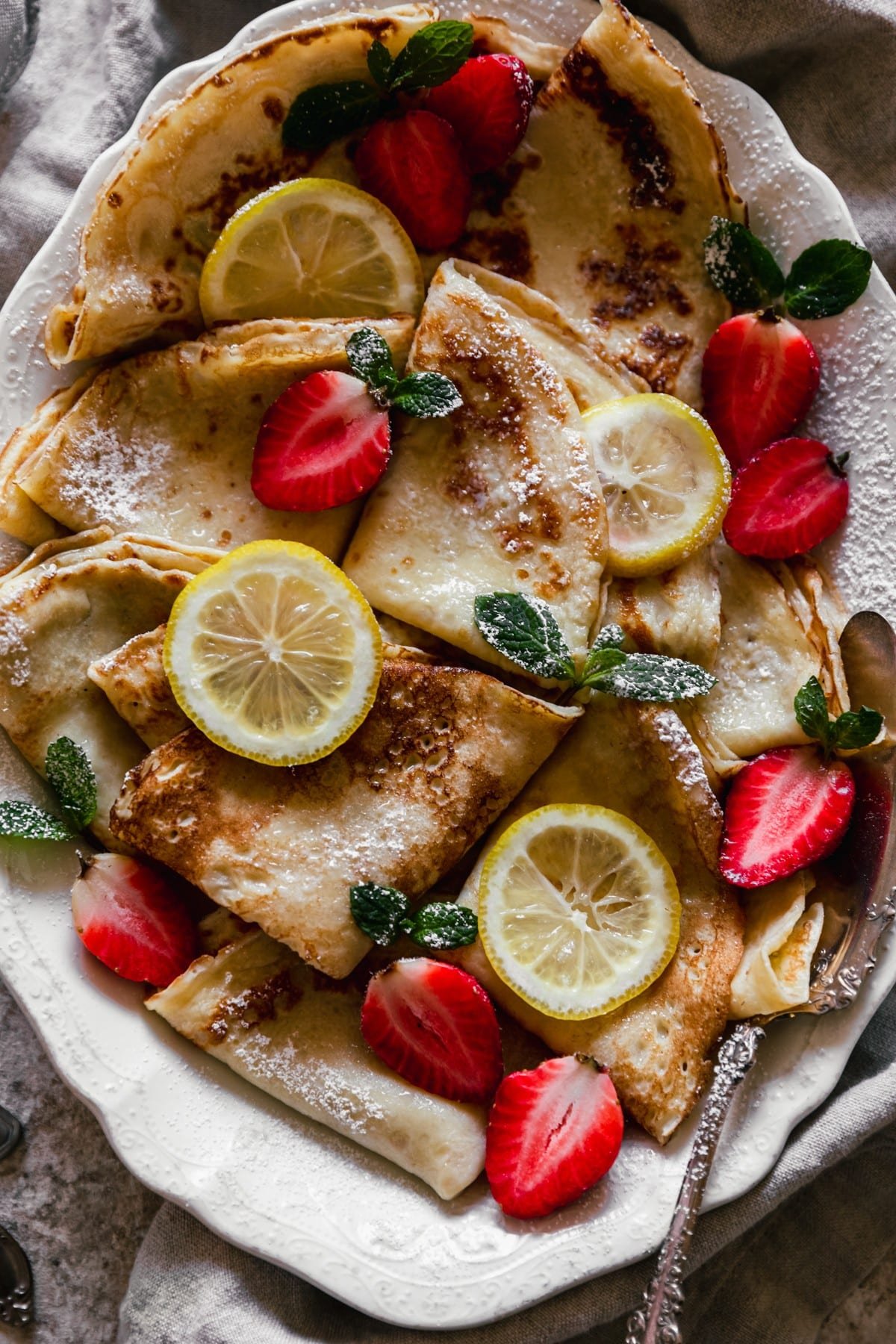 More cozy breakfast recipes
Breakfast BLT with Avocado & Spicy Mayo
Everything Bagel Breakfast Salad
Make Ahead Breakfast Burritos
Poppy Seed Pancakes + Blood Orange Curd
Mini Chilaquiles Verdes with Roasted Tomatillo Salsa
Bacon Hash Skillet with Runny Eggs & Harissa
If you make this recipe, I would love if you left a star rating and review! I read every single comment and love hearing what you think about my recipes. Thank you for supporting Sunday Table!
---
Norwegian Pancakes (Pannekaker)
If you've never had Norwegian pancakes, they are somewhere in-between crepes and traditional American pancakes texture-wise. They are soft and light with a lacy exterior and go great with butter, powdered sugar, jams, or even savory options. I love making them for brunch parties or lazy Sunday mornings!
Ingredients
1 c all-purpose flour, sifted
1/4 tsp table salt
2 tsp sugar
2 large eggs, room temperature
1 1/2 c whole milk
2 Tbs unsalted butter, melted + more for cooking
1 tsp vanilla extract* (optional)
Berries, lemon slices, butter, powdered sugar, etc.**, for serving
Instructions
In a medium bowl, whisk together the flour, salt, and sugar.

Make a well in the center of the flour mixture. Add the eggs, whole milk, melted butter, and vanilla. Whisk just until the mixture is combined. Let the batter sit for 15-30 minutes.

Melt a small pat of butter in a medium skillet over medium-low heat***. Pour in about 1/4 cup of batter, and swirl it until you have a thin, round pancake.

Cook the pancake until the bottom is golden brown and the top is set and has a few bubbles, about 30-60 seconds. Flip and cook until the other side is set and golden brown, another 30-60 seconds.

Repeat with the remaining batter. You can place the pancakes on a sheet pan in a warm oven (the lowest setting) to keep them hot while you cook.

Serve the finished pancakes with your toppings of choice. Enjoy!
Notes
*A note on vanilla: Vanilla extract is not traditional in Norwegian pancakes. However, I like adding a little for extra flavor! **A note on toppings: The traditional way to serve Norwegian pancakes is with blueberry jam and/or bacon for dinner. You can also serve them with butter and powdered sugar, fresh or sauteed fruit, ham, cheese, fried eggs, jams, spreads, etc. ***A note on the heat: These pancakes burn easily, so I like to start with medium-low heat and either increase/decrease the heat as necessary. You can also test if the pan is ready by cooking a very small pancake (about 1 Tbs. of batter) for about 30-60 seconds. The pancakes should be golden brown, not dark brown or white.
Serving: 2pancakes, Calories: 177kcal, Carbohydrates: 20.2g, Protein: 6.3g, Fat: 7.7g, Saturated Fat: 4.1g, Cholesterol: 78mg, Sodium: 172mg, Potassium: 134mg, Fiber: 0.6g, Sugar: 4.8g, Calcium: 82mg, Iron: 1mg
xo Sara Lynn
*Song of the day: Hate Yourself by TV Girl