Bucatini Carbonara with Sausage & Greens
Bucatini carbonara with sausage & greens is a super simple, cheesy, and cozy pasta dish! With minimal ingredients, this dish comes together in just minutes for a quick, savory dinner.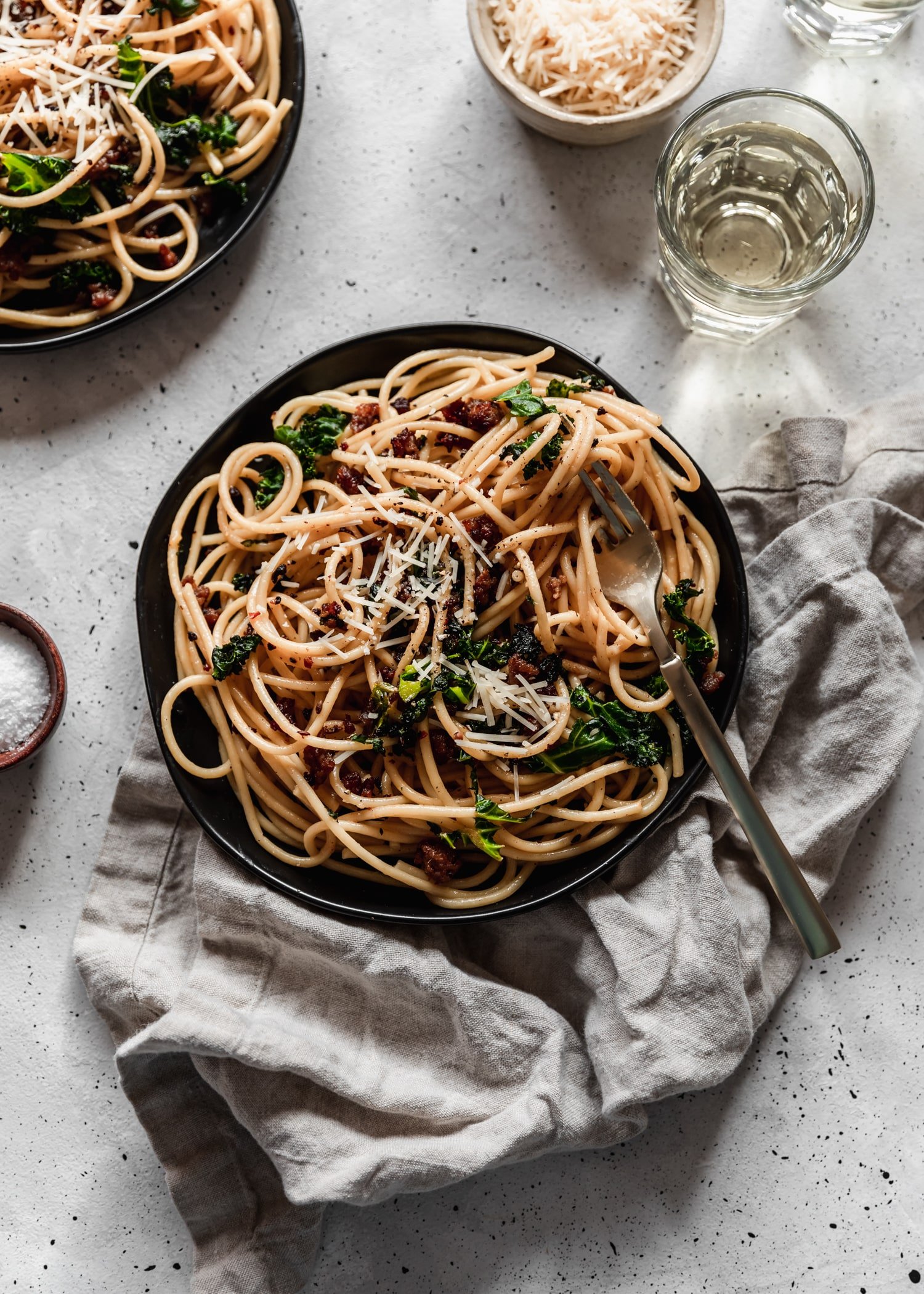 Food this time of the year is weird for me cause I'm kind of ready for spring produce but Reno is typically going through second (sometimes) third winter, and it's all kinds of confusing. Comforting, cozy dishes are obviously my fave but cooking them kind of just makes me want to turn back time and go back to October and live in fall/winter/holiday land forever.
This is where carbonara comes in, because it's really an all-seasons dish! Super cozy, cheesy, and delicious. But, you can throw whatever you like in there. Peas and prosciutto in the spring. Zucchini and yellow squash in the summer. Butternut squash and sage in the fall. And then, of course, sausage and kale for the many winters we have experienced this year.
As a bonus, this dish makes for an excellent at-home date night situation, which I have grown quite accustomed to! Takeout is of course our go-to when we want to do something special, but there's also nothing quite like a candlelit pasta dinner with good wine. Trust!
You'll need some very basic ingredients
Did I mention that bucatini carbonara with sausage and greens only requires five ingredients? See? Dream date night meal! Here's what you should have on hand:
Bucatini – If you can't find bucatini, spaghetti will work too. I usually use Barilla!
Eggs – To make that creamy, delicious sauce.
Parmesan – An essential part of any carbonara dish!
Italian sausage – Hot, mild, or sweet. Whatever floats your boat.
Greens – Spinach, kale, or arugula all work. But, I like kale the best!
Let's make the simplest pasta ever
Cook the pasta – Bucatini carbonara can be whipped up in just a few minutes! Start by cooking the pasta in salted water, stirring occasionally, one minute shy of package directions.
Prep the rest – Meanwhile, whisk up the eggs and parmesan with some salt and pepper. Then, cook the sausage in a pan until it gets all crispy, and then add the greens just until they're wilted.
Stir it up – When the pasta is finished cooking, reserve some of that pasta water (!) and drain. Then, return the pasta to the pot off the heat, and add the egg-Parm mixture, stirring quickly to prevent the eggs from scrambling. Add the water a little at a time until the sauce is nice and creamy.
Finish it off – Lastly, add the sausage-greens mixture, some salt and pepper, and a sprinkling of Parm. Enjoy!
The best pasta option
You need something long and…noodle-y (?)…for carbonara. It's the best way to get all of that delicious sauce! I personally love bucatini because the hollow center picks up all of that delicious sauce. However, spaghetti or fettuccine will also work. If you're in the mood for a shorter pasta, rigatoni is hollow and flat enough to soak up the cheesy sauce.
A few tips & tricks
Keep some pasta water – Reserving some of the boiled pasta water is *essential* in this recipe. Not only will the salt add a little flavor, but the starches in the cooking liquid help bind the sauce to the pasta. Regular water won't work the same, so make sure to do this step!
Sitr off heat – When adding the egg-Parm mixture, you want to make sure you do so off heat. Otherwise, you'll end up with scrambled eggs. If you're worried about adding raw eggs of heat, don't! The heat from the pasta and cooking liquid will cook the egg.
Room-temp eggs – Bring your eggs to room temperature to guarantee a smooth sauce. If you forget to this step, just place your eggs in some warm (not hot!) water for 10-15 minutes.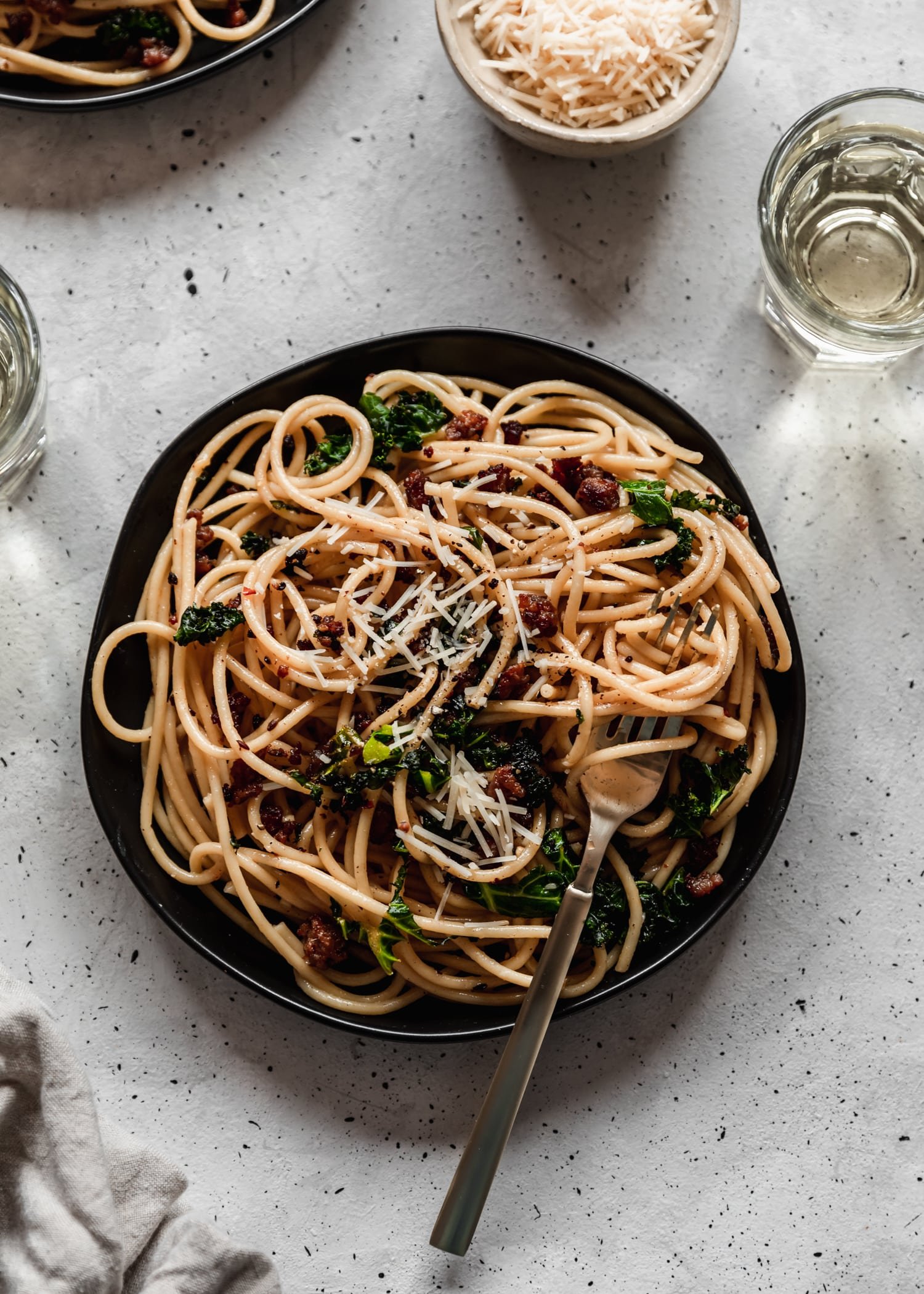 More Italian dishes you'll love
Cacio e Pepe with Fried Shallots
Best Sicilian Pizza + a High-Altitude Version!
Pizza with Soppressata, Basil, & Hot Honey
Marc's Meatball Subs with Garlic Rolls
White Lasagna with Pesto & Pancetta
---
Bucatini Carbonara with Sausage & Greens
With only five ingredients, this bucatini carbonara with sausage and greens is simple, cozy, and beyond delicious! Even better, it comes together in just minutes.
Ingredients
1 lb bucatini
4 eggs, room-temperature
1 c grated or shredded Parmesan cheese, divided
3 Italian sausage links, hot, mild, or sweet
2 c greens, spinach, arugula, or shredded kale
Salt and pepper, to taste
Instructions
Bring a large pot of heavily salted water to a boil. (A few five-finger pinches of salt should do!) Cook pasta, stirring occasionally, 1 minute shy of package directions.

In a small mixing bowl, whisk together the eggs, 2/3 cup of Parmesan, a pinch of salt, and lots of pepper until no streaks remain.

Remove the sausage from the casings, and cook in a pan over medium-high heat, breaking up the sausage into small crumbles with a wooden spoon. Cook until the sausage is no longer pink and starting to get browned and crispy on the edges. Drain off all but 1 Tablespoon of fat.

Add the greens to the sausage mixture, and sauté just until the greens are wilted.

When the pasta is finished cooking, reserve about 1 cup of pasta water, and drain. Return the bucatini to the pot off the heat, and add the egg-Parm mixture with a splash of pasta water, stirring the pasta quickly and constantly to prevent the eggs from scrambling. Add more pasta water as needed until the sauce is the consistency of heavy cream.

Add the sausage-greens mixture to the pasta with a few turns of pepper. Taste, and add more salt and pepper, if needed.

Serve the bucatini carbonara with grated or shredded Paremsan. Enjoy!
Notes
*Make sure to reserve some pasta water to ensure the sauce adheres to the bucatini! **Stir quickly off of the heat to prevent the eggs from scrambling.
Serving: 0.25of recipe, Calories: 551kcal, Carbohydrates: 79.1g, Protein: 28.4g, Fat: 14.4g, Saturated Fat: 5.7g, Cholesterol: 186mg, Sodium: 636mg, Potassium: 275mg, Fiber: 4.1g, Sugar: 2.1g, Calcium: 321mg, Iron: 2mg
xo Sara Lynn
*Song of the day: Baby's Arms by Kurt Vile, The Sadies