Cardamom Gingerbread Cookies + Orange Glaze
Perfectly spiced, stamped cardamom gingerbread cookies with a light citrusy glaze. And no chilling or rolling required. Hooray!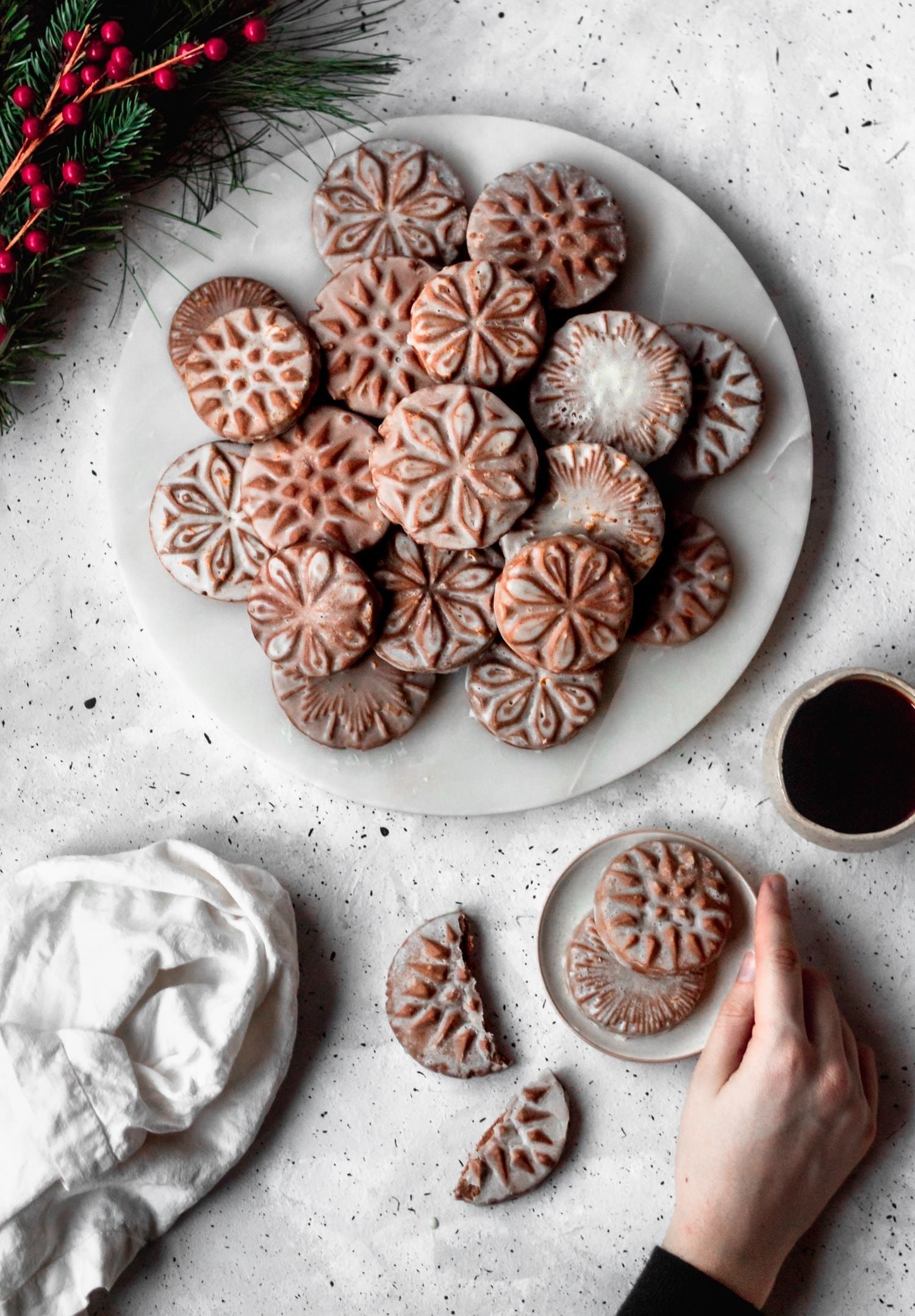 Yesterday, I may have had a slight Christmastime meltdown in response to six hours of recipe-testing cardamom gingerbread cookies, washing approximately three mountains of laundry, and also trying to pack for our trip to Las Vegas. But I'm ok now! Mostly due to wine and Marc washing dishes from six hours of cookie-making. But I digress. I really feel ready for Christmas! We're heading to Vegas at the moment, and here are my plans:
Last-minute Christmas shopping at my favorite mall in Vegas. I usually don't like malls, but they have a Sur La Table. Buying myself at least one present, preferably Staub-related.
Visiting my favorite ramen place at least two times. Shamelessly eating three orders of fried pork gyoza per visit.
Heading to Frankie's for a couple of very dive-y, yet unbelievably delicious tiki drinks. Last time, I ended up ordering three four-skull drinks and dancing in the middle of the bar even though there's no dance floor. We'll see what happens this time!
Taking family photos for Marc's family.
Eating a full stack of my grandma's lefse. With butter + sugar. But maybe I'll try a savory roast beef + swiss situation this year!
Maaaayyyybbeeee finally take a ride on The High Roller, another Vegas-y thing I have yet to do after seven years of operation. I also haven't been to the Neon Museum or Mob Museum. I'm bad at being from Las Vegas.
Lastly, eat a million of Marc's grandma's pizelles and ravioli and gnocchi. And cardamom gingerbread cookies, which I have packed in a cute little container for Marc's family. Continue eating until 2020 begins and I start pretending like I'm going to be a "different me this year".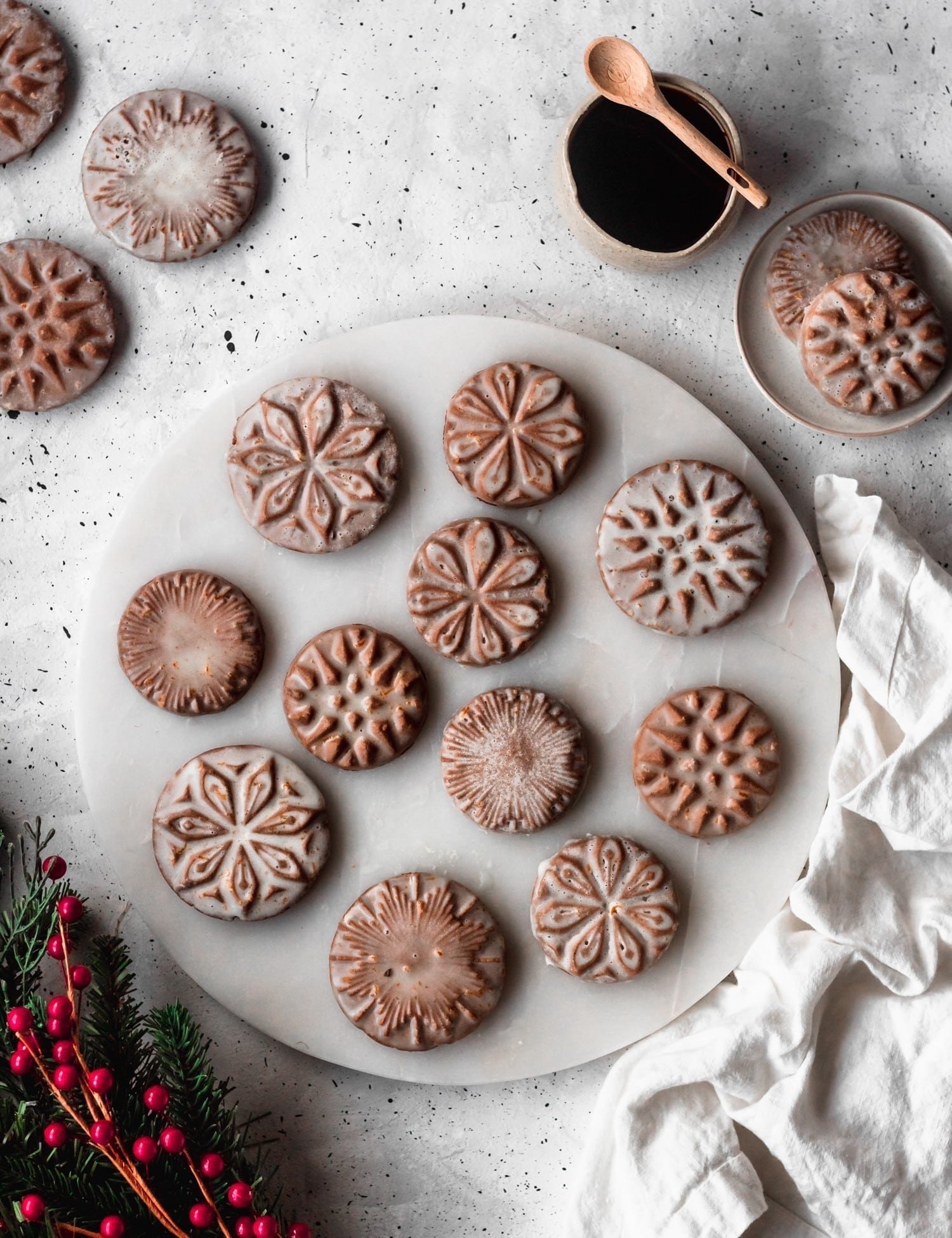 Unlike most gingerbread, these cardamom gingerbread cookies don't require chilling or rolling!
Last year, I made a gingerbread + orange cake, and that's when I learned that it's the best combo ever! I actually didn't like gingerbread until probably two years ago, but after making it at home, I realize it's so delicious. And as much as I wanted to make another cake this year, I didn't really want to coordinate how I was going to keep it together for an eight-hour car ride. So here we are with a beautiful, yet sturdy, cookie that can withstand a few tumbles in the back seat.
The best part is that the dough requires no chilling or rolling at all. I know that sounds not possible, but it's true! I actually tested this recipe with chilling vs. not chilling, rolling vs. stamping, and I am happy to say that the chilling and rolling didn't make much of a difference. To be fair, I do a quick chill after I stamp the cookies, but only to make sure the cookies keep their shape. But, I've also baked them from room-temp, and the cookies don't puff up too much. Cardamom gingerbread cookies are definitely the easiest and impressive Christmas cookies I've ever made. So, you should make them too! Cause like, you're definitely still baking cookies, right???
Let's discuss ingredients
Inspired by my Norwegian roots and these gorgeous Scandinavian-style cookie stamps, I added a ton of cardamom to these gingerbread cookies! Of course, you don't have to. If you're not into the cardamom thing: 1. I don't get you, but 2. Just reduce the amount to a single teaspoon. Or, replace it with cinnamon/ginger/another warm spice. Just make sure to keep the spice-level high, because that's kind of the point of gingerbread. However, if you can get your hands on some cardamom, do it. It really makes the cookie without being too cardamom-y.
Flour: Regular, all-purpose works great.
Cocoa powder: I use dark but any will work.
Baking soda: I don't use baking soda, because it makes cookies puff + spread. Additionally, I like the cookies having a bit of bite rather than being cake-y. However, I did test the recipe with baking soda, and if you want a very soft cake-y cookie, just add ½ tsp! The stamp won't be quite as apparent, but it still works!
Salt: To cut through the sweetness.
Spices: I like cardamom, ginger, cinnamon, and cloves, but any warm spices will work.
Unsalted butter: Make sure it's softened!
Brown sugar: I use dark but any brown sugar will work.
Eggs: You only need one egg for the recipe, but make sure it's room-temp.
Vanilla: For the cookie dough and glaze.
Molasses: I reduce the amount of molasses, because I think too much tastes fake. I think the brown sugar, spices, vanilla, and orange make up for it over and over!
Powdered sugar: For the glaze.
Milk: This will make up the base of the glaze, Orange juice works too!
Orange zest: I like orange in my glaze, but any citrus would work. My all-time favorite choice is blood oranges, but that's mostly just for the color. Whatever you can find at the grocery store tastes just as good.
P.S. You definitely don't need cookie stamps
I bought cookie stamps, because I saw them online and got too excited. But, buying them is totally not necessary. Here are a few other things you can use:
Vintage glassware! If you have vintage drinking glasses, a citrus juicer, or bud vases with pretty designs on the bottom, they work just as well. The design on the bottom will leave a beautiful print just like the stamps.
A jar. You won't get a pretty design, but it will press the cookies down v well! And, in the end, all that really matters is how they taste.
A spatula! See "jar" above.
A literal stamp. Tbh, I don't know if this will totally work, but I don't see why not. Just maybe don't use one covered with ink.
Your hand. For an extra-rustic look.
If you do want to buy cookie stamps, I used these ones!
If you come up with anything else fun and creative, let me know! I want to seeeeee.
Happy cookie-baking and merry Christmas!!!
Tips & Tricks
Make sure to measure the flour properly to prevent dry cookies! To measure the flour, fluff it with a whisk or fork and spoon the fluffed flour into the measuring cup. Level the flour off with a knife (don't pack it in!) If you simply scoop the flour, the cookies will come out dry.
I chill my cookies for a small amount of time to ensure my cookie stamp designs stay pronounced. However, I've baked them from room-temperature, and I didn't notice a huge difference. But, it's totally up to you!
I use oranges/blood oranges for my glaze, but you can use any citrus you'd like.
For very soft, cakey cookies, add 1/2 tsp. baking soda to the flour mixture. Please note that the stamp design will not be as pronounced, because they will puff up more. Without baking soda, the cookies are still soft but with more of a bite.
More holiday Cookies
Eggnog Cookies with Boozy Glaze
Sesame Lace Cookies with Dark Chocolate
Shortbread Linzer Cookies with Raspberry Jam
Mocha Crinkle Cookie Sandwiches with Hazelnut-Mascarpone Filling
Butter Cookies with Walnuts
Cranberry White Chocolate Oatmeal Cookies
If you make this recipe, I would love it if you left a star rating and review! I read every single comment and love hearing what you think about my recipes. Thank you for supporting Sunday Table!
---
Cardamom Gingerbread Cookies + Orange Glaze
Chewy cardamom gingerbread cookies with fresh orange glaze. These are my favorite cookies to make for the holidays!
Ingredients
Cardamom Gingerbread Cookies
4 cup all-purpose flour + more for stamping
2 tbsp cocoa powder (I use dark)
1/2 tsp baking soda (optional, for very soft cookies)
1/2 tsp salt
1 tbsp cardamom
1 tsp ginger
1/2 tsp cinnamon
1/4 tsp cloves
1 cup unsalted butter, softened
1 cup brown sugar
1 egg, room-temperature
1 tsp vanilla extract
1/2 cup molasses
Orange Glaze
1 1/2 cup powdered sugar
1/4 cup milk (or orange juice)
1 tsp vanilla extract
Zest of 1 orange
Instructions
Cardamom Gingerbread Cookies
Preheat an oven to 375°F, and line two baking sheets with parchment paper. In a medium bowl, whisk together the flour, cocoa powder, baking soda (if you want cakey cookies – optional!), salt, cardamom, ginger, cinnamon, and cloves. Set aside.

In a large bowl, beat the butter and sugar until light and fluffy. Add the egg and vanilla until incorporated. Then, beat in the molasses until thoroughly mixed.

Add half of the flour mixture until incorporated. Mix in the remaining flour mix. Use your hands to knead the dough until it comes together and there are no dry spots.

Roll the dough, 2 tablespoons at a time, and then flatten each ball into a disc. Dust a cookie stamp lightly with flour and firmly press the cookie stamp into one of the balls of dough. Repeat with remaining dough until all of your cookies are stamped. If you want clean edges, use a 2-2 1/2 inch cookie cutter to cut off the rough edges.

Line the cookies on the prepared sheets 2 inches apart. **Optional: refrigerate the cookies for 30 minutes – I do this to ensure the design on the cookies remains pronounced. However, I've baked them from room temperature, and it doesn't make a huge difference. Up to you!** Bake the cookies for 10-12 minutes until just baked. They will puff up a little, but they will deflate once they cool.

Let the cookies cool on the sheet pan for a few minutes, and then place the cookies on a rack and let cool completely. Glaze with the orange glaze (below), and let the glaze harden. Store in an airtight container for up to three days.
Orange Glaze
In a small bowl, whisk together all of the ingredients. Add more milk if it's too thick or powdered sugar if it's too thin. Glaze the cookies!
Notes
To help the dough from sticking to the cookie stamps, try chilling the cookie stamps. If the dough is sticking to the cookie stamps, trying chilling the dough for 15-30 minutes.
Serving: 1cookie, Calories: 204kcal, Carbohydrates: 32.4g, Protein: 2.4g, Fat: 7.3g, Saturated Fat: 4.5g, Cholesterol: 25mg, Sodium: 79mg, Potassium: 139mg, Fiber: 0.8g, Sugar: 15.9g, Calcium: 26mg, Iron: 1mg
---
xo Sara Lynn
*Song of the day: Sleigh Ride by Ella Fitzgerald & Frank Devol Orchestra