Halloumi Sandwiches with Veggies & Herb Sauce
These halloumi sandwiches have grilled bell peppers, zucchini, and halloumi with zesty herb sauce and a seedy bun. They make for a delicious, simple, summery dinner!
The first time I tried halloumi was back in Greece, and once I bit into a slice, my eyes rolled into the back of my head and my life was forever changed. From then on out, if I saw halloumi on a menu while travelling, you best believed I ordered it. I even got it once as a meal, breaded and fried, with a side of tomato jam and I still think about it to this day.
Sadly, once I got back to the U.S., it took a million years to find and then of course, it cost a million dollars too. Needless to say, I haven't had it in a solid four years. But then! A few Instagram friendsies told me that they have it at Trader Joe's. And I freaked out, immediately got in the car, and sat in 30 minutes of traffic. But, it was *worth it* because now I have four packages of halloumi and these sandwiches exist. Let's discuss!
Grilled halloumi + veggies + green sauce = heaven
These sandwiches have just a few components, but they are shockingly delicious. First, we have the halloumi and veggies, which we brush with olive oil and grill until soft and charred. Then, we blitz up an herby green sauce with garlic, shallot, lemon, and a bit of olive oil. Toast a seedy bun, smush it together, the end. It's one of those dishes that is dumb simple but unbelievably good. Even Marc, a die-hard carnivore, loves these halloumi sandwiches.
As for the green sauce, it's good on pretty much anything and everything. I used both Argentinian chimichurri and Italian gremolata for inspiration by adding parsley, garlic, and olive oil. However, while more traditional chimichurri and gremolata use only parsley, we're going to add a variety of green herbs in this sauce plus shallot, jalapeño, and a little lemon for brightness. If you'd rather stick with classic chimichurri or gremolata, it'll taste incredible!
about halloumi cheese
If you've never had halloumi, it's a salty, semi-firm cheese that originates from Cyprus. It's made with sheep's milk, goat's milk, and/or cow's milk and has a high smoking point, meaning you can grill, fry, or sear it without it becoming a melty mess. Since Cyprus is a nation in the Mediterranean Sea, it's pretty easy to find halloumi around Europe, although I have noticed that it's starting to make its way to the U.S.! If you get a chance to try it out, make sure to give it a try. It is incredible.
Let's talk ingredients
Here are the ingredients you'll need to make these halloumi and vegetable sandwiches!
For the sandwiches…
Halloumi – I get mine at Trader Joe's, but you can also find it at Whole Foods, specialty cheese shops, or online.
Veggies – multi-color bell peppers and zucchini. You can also use mushrooms, eggplant, onion, or any other grill-able vegetable!
Buns – usually I go for Dave's Killer Bread seedy whole grain buns or plain sesame buns. But, anything soft will work!
Mayo or Greek yogurt – totally optional but has a nice cooling effect against the spicy herb sauce.
Kitchen basics – olive oil, dried oregano, salt, and pepper.
For the herb sauce…
Herbs – any tender herb will work! Parsley, cilantro, basil, dill, tarragon, oregano, and/or chives.
Aromatics – a shallot, some garlic, a jalapeño, and a lemon.
Red wine vinegar – just a splash! You can also use lemon juice.
Olive oil – go with something high-quality.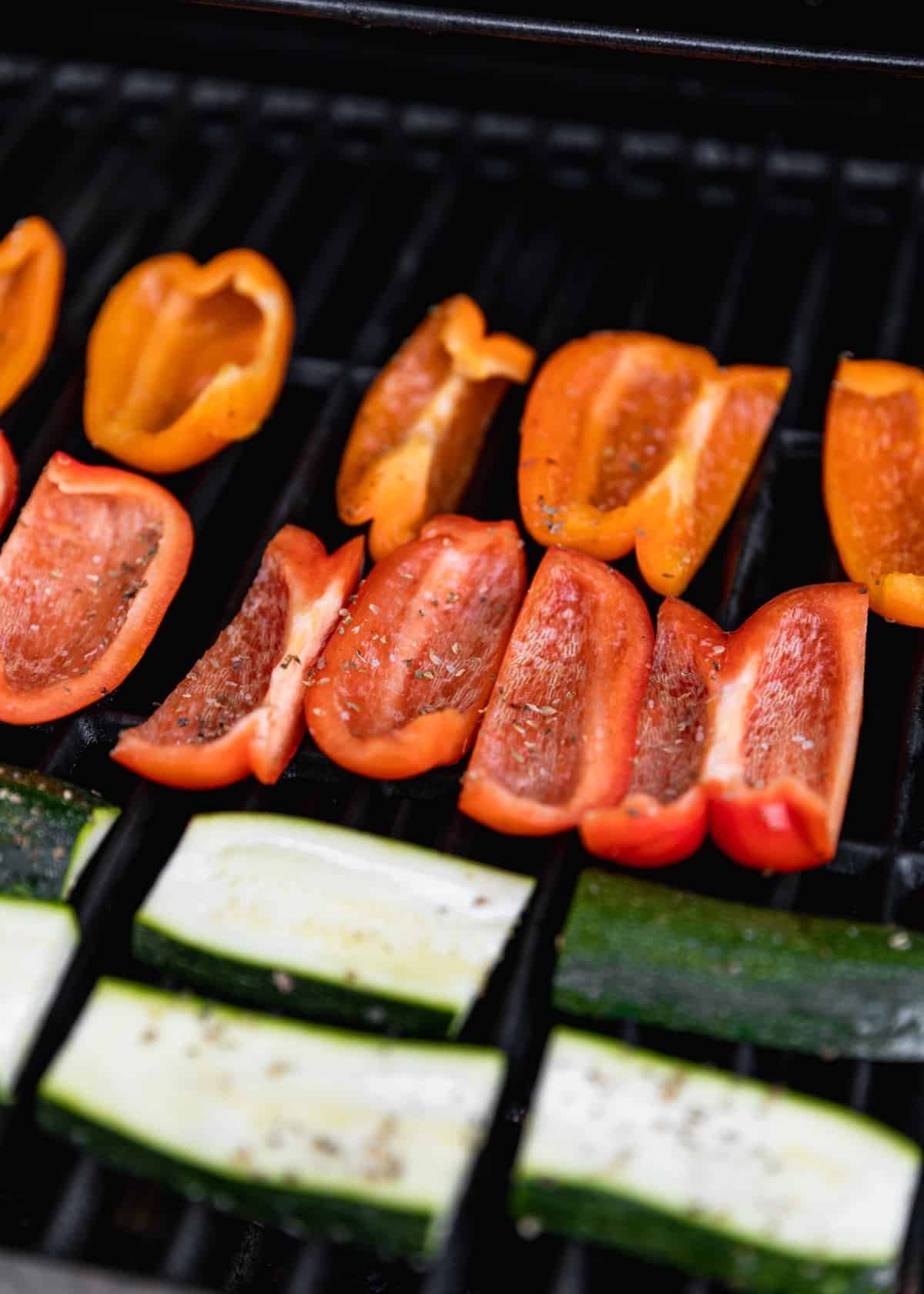 How to make these sandwiches
Blend up the herb sauce. Start by pulsing the shallot, garlic, jalapeño, some lemon zest, a few handfuls of green herbs, lemon juice, and red wine vinegar. Then, drizzle in the olive oil until you have a smooth sauce.
Grill the veg. Brush the sliced vegetables and halloumi with olive oil and sprinkle with salt, pepper, and a little oregano. Grill the veggies and halloumi, flipping halfway until soft and slightly charred. Don't forget to toast the buns on the grill!
Assemble – spread some of the herb sauce and mayo or Greek yogurt (if desired) on each side of the buns. Divide the veggies and halloumi between all of the buns. Sandwich everything together and enjoy!
If you can't find halloumi…
Not going to lie, halloumi can be a little hard to find! But, if you can't find it at Trader Joe's, Whole Foods, a specialty shop, or online, there are a few substitution options. Try using paneer, 'grilling cheese' (yes that's what it's called), or queso panela. I've also heard you can grill feta or brie although I haven't tried it. Worst case, just melt some mozzarella or provolone on your bun, add the veggies and sauce, and go to town. Also, if you're looking for a vegan option, tofu would work great!
What to serve with these sandwiches
You have a lot of options when it comes to side dishes! Here are a few of my favorite ways to serve these sandwiches:
Baked sweet potato fries
Potato chips
Fresh fruit like sliced melon, berries, or stone fruit
Green salad
Pasta salad, watermelon salad, or carrot salad
storing the leftovers
If you have leftovers, just store the sauce, veggies, and halloumi in airtight containers for up to five days. Avoid storing the assembled sandwiches in the fridge, or the buns will get soggy. And don't worry, you can easily heat the halloumi in the microwave and it won't melt everywhere!
Also, these grilled veggie and halloumi sandwiches actually make for great meal prep! I like to get everything grilled and then just assemble the sandwiches right before I'm ready to eat them. Wholesome, simple, and they make for a great desk lunch!
Tips & Tricks
Brush the halloumi with plenty of olive oil, or it'll stick the grill. However, if it does stick, just use a metal spatula to gently lift the cheese off the grill.
If your herb sauce is too thick, just add a splash of olive oil. You want the sauce to be fairly thick so it doesn't just drip off the sandwich. Leftover sauce makes for a great marinade!
Start grilling the bell peppers a few minutes before the zucchini and halloumi. The pepper slices will take a little longer to cook.
If you don't have a grill, no worries! You can use a grill pan on the stove or just simply sear everything in a regular frying pan.
More sandwiches & Burgers to try
The Best Burgers Ever (a.k.a. The Awful Awful)
Marc's Meatball Subs with Garlic Rolls
Beef Sliders with White Cheddar + Bacon + Peach-Bourbon BBQ Sauce
If you make this recipe, I would love if you left a star rating and review! I read every single comment and love hearing what you think about my recipes. Thank you for supporting Sunday Table!
---
Halloumi Sandwiches with Veggies & Herb Sauce
Grilled halloumi sandwiches with tender veggies, flavorful herb sauce, and toasty seeded buns. A delicious, summery dinner that is perfect for Meatless Mondays!
Ingredients
Herb Sauce
1 medium shallot, roughly chopped
3 large garlic cloves, roughly chopped
1/2 jalapeño, roughly chopped + seeds removed, if desired
3 c tender green herbs (parsley, cilantro, basil, dill, tarragon, oregano, and/or chives)
1 tsp lemon zest
2 tbs lemon juice
1 tbs red wine vinegar (or more lemon juice)
1/3 c olive oil
1 tsp Kosher salt
Freshly cracked black pepper, to taste
Halloumi Sandwiches
8 oz package of halloumi cheese, sliced into 8-12 pieces
2 bell peppers, cut into thick slices
1 zucchini, halved and cut into 8 thin planks
1 tbs olive oil
1 1/2 tsp oregano
4 seeded buns, halved
Salt and pepper, to taste
Mayo or plain Greek yogurt, optional
Instructions
Herb Sauce
Place the shallot, garlic cloves, and jalapeño into the bowl of a food processor (or blender). Pulse a few times, scraping down the sides of the bowl every once in a while, until the mixture is broken up into small chunks.

Add the herbs, lemon zest, lemon juice, and red wine vinegar. Process, stopping to scrape down the sides of the bowl occasionally, until you have a fine mixture.

While the food processor (or blender) is running, slowly drizzle the olive oil into the herb mixture until you have a smooth sauce. Add the salt and pepper and blend for another few seconds. Taste, and add more salt and pepper if desired. Set aside.
Halloumi Sandwiches
Preheat your grill over low heat. Spray with nonstick spray, if desired.

Meanwhile, brush your halloumi slices and vegetable planks with the olive oil. Season with salt, pepper, and half of the oregano. Flip over the halloumi slices and vegetable planks, and repeat on the second side.

Start grilling your bell peppers. After about 3-4 minutes, add the zucchini planks and halloumi slices to the grill. Cook until the veggies are soft, but tender, and have light char marks, about 5-6 minutes per side for the peppers and 3-4 minutes per side for the zucchini and halloumi. During the last minute, place your buns cut-side down on the grill until toasty, about 30 seconds-1 minute.

To assemble, spread about 1/2 Tablespoon of the herb sauce on each side of the bun. Add a little mayonnaise or Greek yogurt if desired. Stack 2-3 slices of halloumi on the bottom bun. Layer 2 zucchini planks and 2-3 slices of bell pepper over the halloumi and finish with the top bun. Enjoy!
Notes
If you don't have a grill or grill pan, you can just sear the veggies and halloumi over medium heat in an oiled pan on the stove. I use a mix of cilantro, parsley, and sometimes basil, but any tender green herb will work in this sauce.
Serving: 1sandwich, Calories: 515kcal, Carbohydrates: 40g, Protein: 21g, Fat: 34g, Saturated Fat: 13g, Cholesterol: 45mg, Sodium: 1097mg, Potassium: 460mg, Fiber: 7g, Sugar: 10g, Calcium: 63mg, Iron: 7mg
xo Sara Lynn
*Song of the day: Different Now by Chastity Belt