Fudgy Irish Coffee Brownies with Whiskey Ganache
These Irish coffee brownies are rich, fudgy, and loaded with coffee flavor! In this recipe, we're making my favorite chocolate-y brownies from scratch, adding a good dose of coffee powder, and topping them with a delicious, boozy whiskey ganache. This recipe is one-bowl, easy to make, and perfect for chocolate and coffee-lovers alike!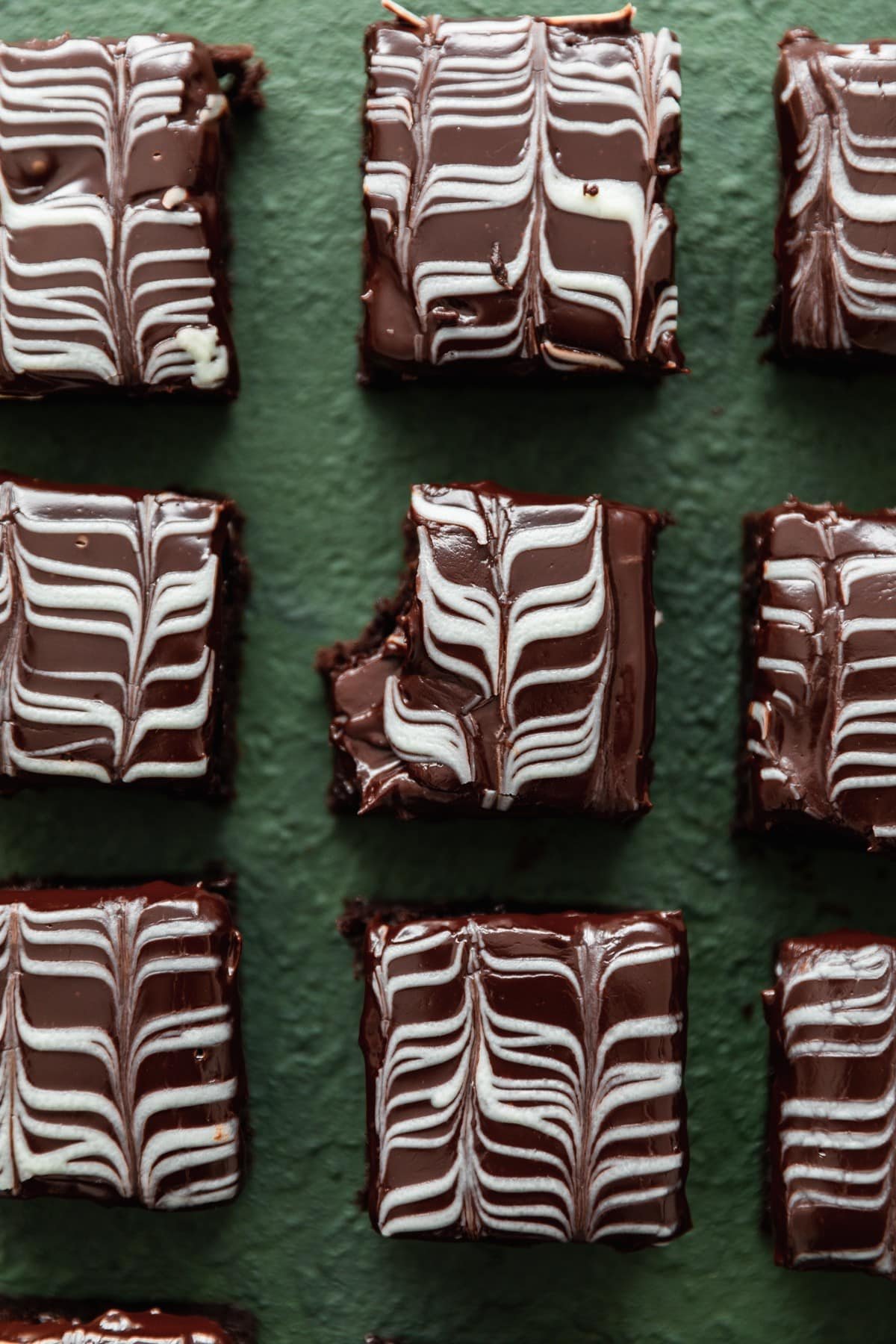 Wow, Reno really got the best of me this week! I had my sundresses picked out for the next few months, and then it started surprise snowing. Some real typical March BS, I swear!
In other news, I am in full-blown Irish whiskey mode, because tis the season. My whiskey schedule typically goes: April-February: bourbon. March: Irish whiskey. I mean, it's no secret that I love a whiskey situation. Bourbon pecan pie and bourbon butterscotch chocolate cream pie are two of my favorite desserts ever. Honestly, I can't believe it's taken me even this long to put whiskey in brownies.
Here's how this recipe goes. First, we have chocolate and coffee because it's a classic combo. Irish whiskey ganache because you must! And the white chocolate drizzle just adds a little glam. Bundle up and make these brownies at least once this year. Looks like we have a few more weeks of winter. 🤷
Let's talk about these brownies
Lately, I've been going through a big Irish coffee phase, partly because what else is there to do (?) but also because I think they're v underrated! Mimosas and bloody Marys, ok, but what happened to drinking coffee at brunch? I'm a coffee girl through and through, I need my caffeine. Also, when you brownie-fy Irish coffee omg! They're like mocha brownies but boozy. Here's why you should make them!
They're super easy and one-bowl.
The brownies are rich, fudgy, and chewy.
Chocolate and coffee is such a classic combo.
I love these brownies all year long, but they're super fun for St. Patrick's Day too!
The ingredients
Unsalted butter – we're using butter as our fat source for richness. I like having a high fat-to-flour ratio which makes for a very fudgy brownie!
Unsweetened cocoa powder – A high-quality cocoa powder makes such a big difference! Also, we're making these brownies with cocoa powder instead of chocolate because it makes for a better flavor and texture.
Sugar – granulated white sugar will add the perfect amount of sweetness to this recipe.
Brown sugar – we're also adding a bit of brown sugar for extra chew and to give the brownies a caramel-y flavor. (Also a common ingredient in Irish coffee!)
Vanilla extract – it isn't dessert without a bit of vanilla extract.
Eggs – these will add moisture and texture to the brownie batter.
Flour – a bit of all-purpose flour will add structure to the brownies.
Kosher salt – I always add a bit of salt to baked goods to offset the sweetness.
Instant coffee – As a self proclaimed coffee snob, instant coffee scares me. But, turns out that it also adds a nice, concentrated coffee flavor to the brownies without messing up the texture. So now I'm a believer! Go for a good quality instant coffee for the best flavor.
Dark and white chocolate chunks – We'll use both for the ganache. (Although, the white chocolate swirl isn't required if you're not feeling it.) For the ganache, I use dark or semi-sweet chocolate for a little bitterness, but milk chocolate would be fine too.
Heavy cream – this will be the liquid in the ganache. You must use heavy cream for the proper texture!
Irish whiskey – This is essentially what makes these brownies "Irish". I use Jameson but any will do.
Step-by-step instructions
Brownie recipe
Start by preheating your oven to 350°F. Grease an 8×8" pan and line it with parchment paper. I like to cut an 8×14" strip of parchment paper so it fits the pan perfectly. (This will help make removing the brownies super easy!)
Next, whisk together the melted butter, cocoa powder, sugars, vanilla extract, and eggs.
Then, stir in the flour, salt, and instant cocoa powder. The batter will be pretty thick!
Pour the batter into the pan and spread it as evenly as possible. Bake until an inserted toothpick comes out clean.
Lastly, cool the brownies completely.
Whiskey ganache
Meanwhile, make the ganache. Heat the heavy cream over medium high heat just until it starts to boil. Then, pour it over the chocolate chunks and stir. Add the Irish whiskey, vanilla, and salt, and whisk until smooth.
Pour the Irish whiskey ganache over the cooled brownies and decorate as desired. Let cool until completely set, remove the Irish whiskey brownies from the pan, and then cut into 16 squares. Enjoy!
How to swirl the ganache
The white chocolate swirl looks fancy, but it's actually super easy to do yourself. Here's how!
First, melt the white chocolate in a microwave for 20-30 seconds at a time, stirring in-between intervals, until just melted. Don't overheat, or the chocolate will seize!
Next, pour the chocolate into a squeeze bottle or piping bag with a small, circular tip. Alternatively, you can pour the chocolate into a zipper plastic bag, and cut a very small end off of the tip. Pipe the white chocolate horizontally across the top of the ganache.
Lastly, use a toothpick or skewer to drag lines vertically across the ganache. You can add as many lines as you want to get a simple or more intricate design.
Helpful tools
Large mixing bowl & whisk
8×8 baking pan – either glass or metal
Parchment paper
Measuring cups
Small heat-proof bowl
Storing, freezing, & make-ahead
To store leftover brownies, place them in a single layer in an airtight container. Then, keep them in the fridge for up to 3-4 days. (Let them come up to room temp for 30-60 minutes, if desired).
To freeze leftover brownies, place them on a sheet pan and let them freeze until firm, 1-2 hours. Afterwards, wrap them in parchment paper or plastic wrap and place in an airtight container. Freeze for up to 2 months. Then, let them defrost at room temperature for about 2 hours or in the fridge overnight.
For make-ahead brownies, you can either freeze them or make them 1-2 days in advance.
More Decorating ideas
If you don't want to go through the effort of adding the white chocolate swirl, it's totally optional! You can just leave the ganache as-is. Or, you can decorate with any of these ideas:
Toasted nuts – for a little crunch. I like almonds, walnuts, or pecans!
Sprinkles – these would be so cute with some white nonpareils.
Chocolate chips – sprinkle some chocolate chips or chocolate chunks over the ganache.
Chopped toffee – for a bit of a caramel flavor. So delicious!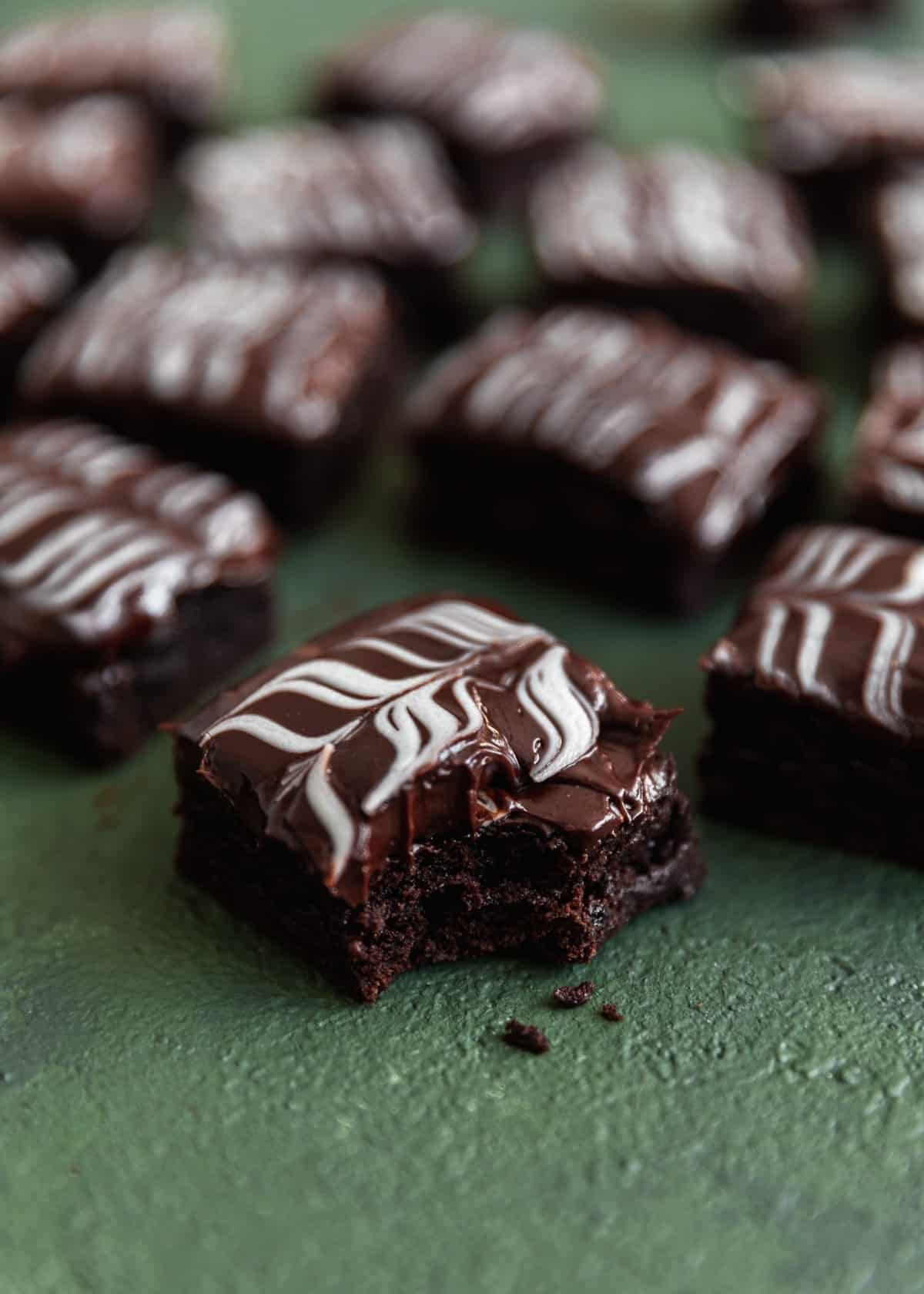 Cutting pretty brownies
We've all had bad experiences cutting bars with clean edges. This is a trick I learned in pastry school to cut pretty brownies and bars. It's especially useful with the ganache, because it can get super messy. However, it's totally not necessary. If you like more of a "rustic" look, that works too!
Fill a large jar or pitcher with hot water. Next, dip a chef's knife into the water for about 5 seconds. Wipe off the water with a clean towel that you don't mind getting a little chocolatey.
Then, make your first cut, working slowly to avoid dragging the ganache and any crumbs your knife picks up.
Do this for every single cut. If you cut the brownies with a dirty knife, the edges will look messy.
Tips & Tricks
Line the pan with parchment paper before adding the batter. It will make removing the brownies from the pan so much easier!
I found that 1 full Tablespoon of instant coffee powder was perfect for these brownies. However, I have a pretty high tolerance to anything coffee. If you're a bit sensitive, start with 2 teaspoons, taste the batter, and add another teaspoon if necessary!
Let the ganache and brownies cool at room-temperature for an hour or two to keep the ganache shiny. If you put them in the fridge, the cold air will make the tops of the brownies dull but the ganache will be a bit thicker. They will look pretty either way!
You can easily double this recipe and bake in a 9×13 pan if you need all the brownies.
Bake for about 25 minutes for fudgy brownies. Or, for cakey brownies with crisper edges, bake closer to 30 minutes.
Recipe FAQs
What does adding instant coffee do for these brownies?
A dash of instant coffee already makes chocolate recipes taste even chocolatier. But, since this recipe is supposed to have intense coffee flavor, we're using extra instant coffee powder in these brownies.
Can I use espresso powder instead?
Sure! However, espresso powder is more intense than regular instant coffee. Start with 2 teaspoons of espresso powder and add more, to taste.
Can I use coffee grounds or liquid coffee?
I would not recommend using coffee grounds because they will add a grainy texture. Additionally, since this recipe doesn't really have any liquid in it (like water or milk), I would not use liquid coffee. It will affect the texture of the brownies.
Do I have to use whiskey?
Nope! If you just want regular espresso brownies with chocolate ganache, those will be delicious too. Just replace the Irish whiskey in the ganache with more heavy cream. Or, for a more mellow whiskey flavor, try using Bailey's or another Irish cream.
More brownie & bar recipes you'll love
Brown Butter Rice Krispie Treats with Dark Chocolate & Pretzels
Crispy Chocolate Peanut Butter Bars [Vegan, Healthy, + No-Bake!]
Chamomile Lemon Bars
Perfect 15-Minute Brownies
The Best Strawberry Cheesecake Bars
If you make this recipe, I would love if you left a star rating and review! I read every single comment and love hearing what you think about my recipes. Thank you for supporting Sunday Table!
Irish Coffee Brownies
Rich and fudgy Irish coffee brownies are topped with boozy whiskey ganache for a decadent dessert. The instant coffee adds the perfect amount of coffee flavor!
Ingredients
Fudgy Brownies
1/2 c unsalted butter, melted
6 Tbs unsweetened cocoa powder
1/2 c sugar
1/2 c brown sugar
1/2 tsp vanilla extract
2 eggs, room temperature
1/2 c flour
1/4 tsp salt
1 Tbs instant coffee powder
Whiskey Ganache
1 c dark chocolate chunks
1/2 c heavy cream
2 Tbs Irish whiskey
1 tsp vanilla extract
Pinch of salt
1/4 c white chocolate chunks, melted
Instructions
Fudgy Brownies
Preheat oven to 350°F. Grease an 8×8" pan and line with parchment paper leaving 1" hanging over the sides of the pan.

In a medium bowl, whisk together the melted butter, cocoa powder, sugar, brown sugar, and vanilla extract. Whisk in the eggs one at a time until incorporated. Then, stir in the flour, salt, and instant coffee powder until just combined. The batter will be thick.

Pour the batter into the prepared pan and spread evenly. Bake 25-30 minutes, until an inserted toothpick comes out clean. Let cool for 10 minutes.
Whiskey Ganache & Assembly
Place the dark chocolate in a small heat proof bowl. Heat the heavy cream over medium high heat, stirring frequently, just until it starts to boil.

Pour the boiling cream over the chocolate and let sit for 2 minutes. Whisk until smooth, and then add the Irish whiskey, vanilla, and salt. Let sit for 5 minutes and then pour over the baked brownies.

Next, pour the melted white chocolate into a piping bag with a small tip. Pipe stripes in a horizontal pattern across the chocolate. Then, use a toothpick to draw lines vertically across the pan to create a marbled look.

Let cool until completely set, about 1-2 hours. Use the parchment paper wings to remove the brownies from the pan, and slice into 16 bars. Enjoy!
Notes
I found that 1 full Tablespoon of instant coffee powder was perfect for these brownies. If you're sensitive to coffee, start with 2 teaspoons, taste the batter, and add another teaspoon if necessary! Bake the brownies for about 25 minutes for fudgy brownies. For cakier brownies with crisper edges, bake closer to 30 minutes. If you bake the brownies in a metal pan, they may bake a bit quicker. Start checking for doneness at about 22-23 minutes. If you don't have a piping bag, you can use a squeeze bottle or a zipper plastic bag with the tip cut off.
Serving: 1brownie, Calories: 190kcal, Carbohydrates: 22.1g, Protein: 2.3g, Fat: 10.9g, Saturated Fat: 6.6g, Cholesterol: 41mg, Sodium: 49mg, Potassium: 63mg, Fiber: 0.8g, Sugar: 16.9g, Calcium: 19mg, Iron: 1mg
xo Sara Lynn
*Song of the day: Cooking Up Something Good by Mac DeMarco