Mascarpone Cheesecake with Orange & Amaretto
Mascarpone cheesecake with orange and amaretto is absolutely dreamy! This cheesecake is made up of creamy mascarpone, orange zest, amaretto liqueur, and a crunchy almond cookie crust. I love making it as a simple, make-ahead holiday dessert but it's honestly good any time of the year! (Updated 10/18/22).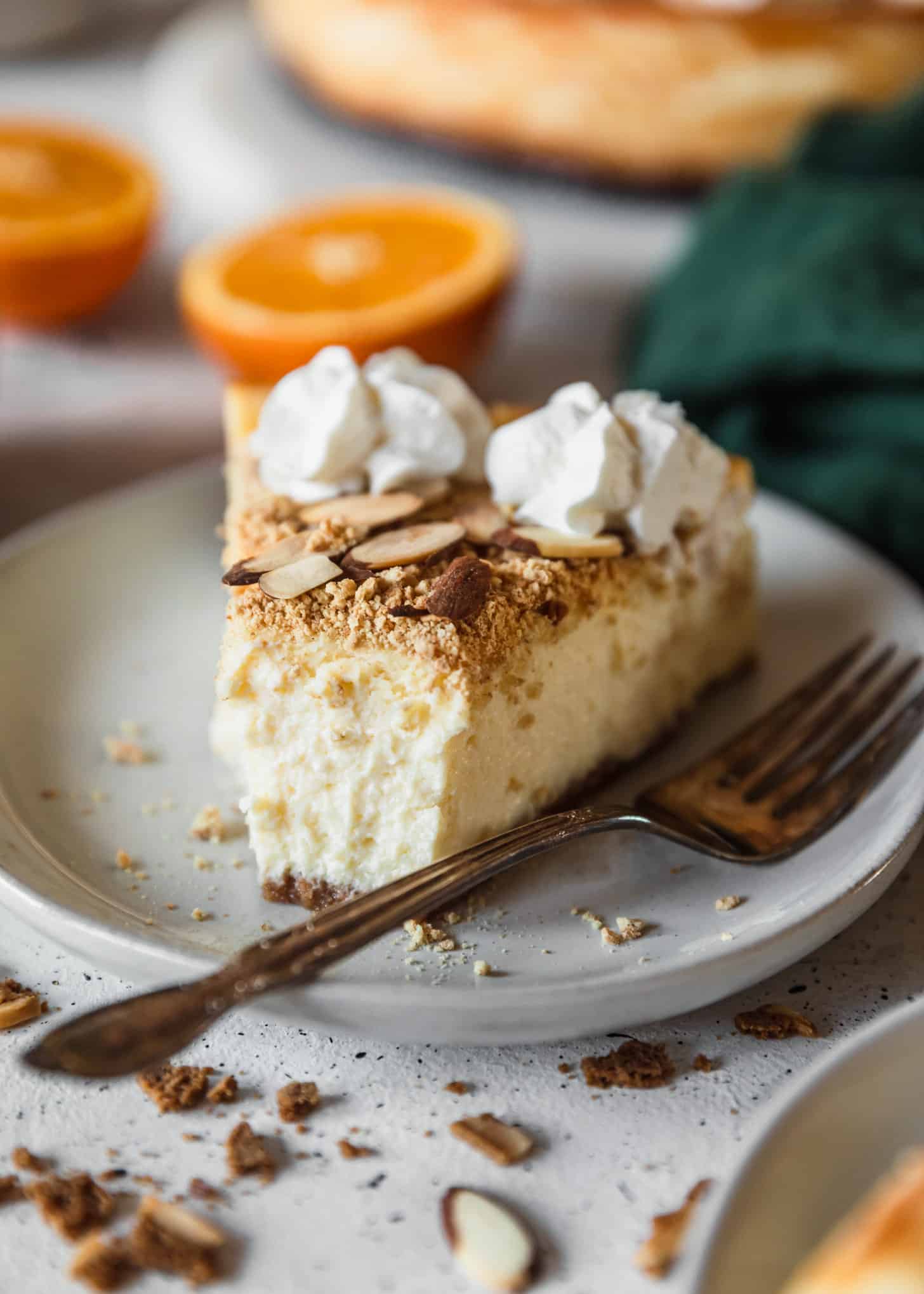 Last weekend, I brought this cheesecake to my parents' house for family dinner and I almost dropped the damn thing while slipping on ice. But fear not, my clumsy footing still appreciates the sanctity of $20 worth of cheese and I held onto that cheesecake like Harry held onto the Sorcerer's Stone. Not that I wouldn't have pulled a Chandler-and-Rachel and eaten it straight off the ground. (Yes, I did just make a HP-Friends combo reference, and I stand by that decision).
Anyways. I am unashamed to admit that I am currently involved in a love affair with a cheesecake. I have to say, this is fairly out of character for me. Cheese = yay! Cake = yay! Cheesecake = meh. I find many cheesecakes to be too dense, or even worse, crumbly. And oftentimes, they aren't sweetened enough, leaving the filling reminiscent of a bagel that's been sitting on the counter getting cold.
But that is not the case with this mascarpone version. After many tests and eating the equivalent of 17 cheesecakes, I have finally found cheesecake bliss. Let's discuss.
About this mascarpone cheesecake
Ok, here I am about to crush your OG-cheesecake loving souls. Because in this version, I added mascarpone. And orange zest. And amaretto! The crust is made with almond cookies because why not? It's the most delicious, rich, wonderful cheesecake I ever did eat. For those of you who are reading this posting like, "I can't with non-New York cheesecake", I've heard a lot of Italian versions use mascarpone and amaretto too! Does that help? Bueller, Bueller?
Anyways, if you're looking for a lighter, less-tangy cheesecake, the mascarpone in this recipe adds a fluffy, creamy texture that I adore. (But we're still using cream cheese for flavor and tanginess). Orange zest and almond cookies are just good. And as for the amaretto, it was almost not a thing. I stared at that bottle in the grocery store for approximately 15 minutes, walked away from it, thought, "Sara, that is so not the spirit", turned back to the liquor aisle, and added it to my cart. It was a dilemma but so worth it. The amaretto werks.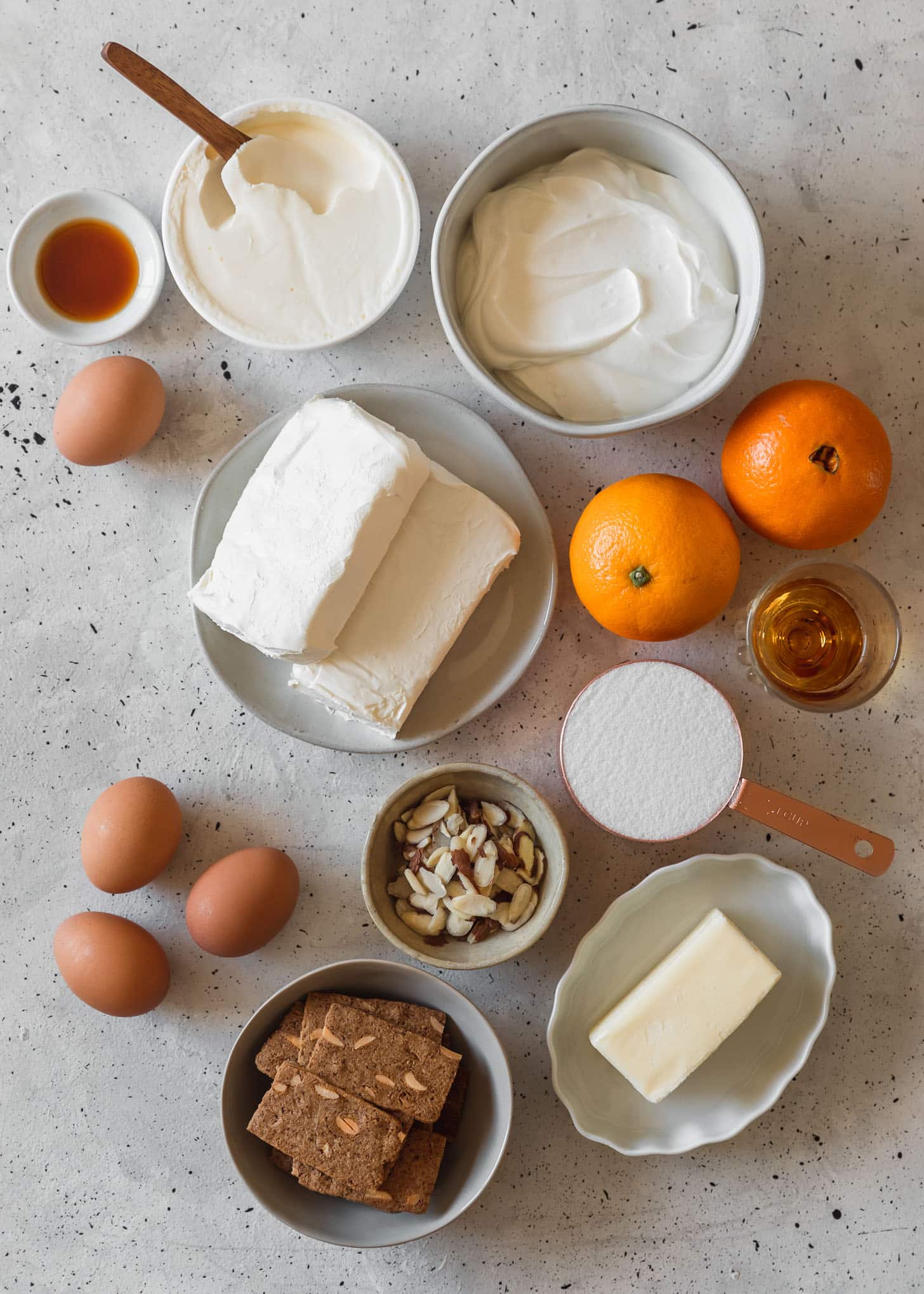 The ingredient list
Cheeses – mascarpone and cream cheese. We're using both so we get a good mix of creaminess and tang!
Sour cream – this adds moisture so the cheesecake doesn't get crumbly.
Oranges – for the zest!
Amaretto – this is an almond liqueur that will enhance the almond cookie crust.
Almond cookies – I like these ones.
Almonds – to add a little crunch.
Baking basics – unsalted butter, sugar, vanilla, Kosher salt, & eggs.
Ingredient subtitutions
Mascarpone – you can always just use more cream cheese if you don't want to use mascarpone. I did not have success with ricotta just as a head's up.
Oranges – lemon zest would be delicious too.
Amaretto – if you don't have amaretto, you can also use orange liqueur.
Almond cookies – Graham crackers are great in this recipe too.
How to make this cheesecake + a video
This recipe has three parts: the crust, the filling, and the decorations. But don't worry, it's all very easy and straight-forward. Here's how to make the best mascarpone cheesecake!
Almond cookie crust
Start by crushing the cookies, almonds, and salt in a food processor until it's the texture of breadcrumbs.
Add the melted butter until the crust forms together. Press the crust into the bottom of a springform pan.
Bake the crust until it's toasty and golden brown. Let it cool while you prepare the filling.
Mascarpone filling
To make the filling, beat the unsalted butter and sugar until fluffy. Then, mix in the mascarpone and cream cheese until it's smooth and creamy.
Add the sour cream until it's thoroughly mixed. Next, stir in the orange zest, amaretto, and vanilla.
Finish by adding the eggs one at a time until the filling is smooth. Don't over-mix!
Pour the filling over the cooled crust. Bake just until the edges are set and the center is still a little jiggly. Cool completely for at least 6 hours (preferably overnight).
Decorate
After the cheesecake has chilled, remove it from the fridge.
Decorate with cookie crumbs, toasted almonds, and orange zest if you want!
Slice and serve with whipped cream. Enjoy!
A make-ahead option
Here's the good news. This cheesecake is already make-ahead! It actually turns out better if you make it a day in advance, because it needs at least 6 total hours to cool. You can even make it up to 2-3 days in advance as long as you keep it stored in the fridge. (Avoid keeping it longer because the crust gets soggier the longer it sits). When you're ready to serve, just pop it out of the fridge, decorate, and enjoy!
Decoration & serving ideas
Here are just a few ways that I like to enjoy this cheesecake!
Cookie crumbs – just crumble up some extra almond cookies and sprinkle them over the top.
Toasted almonds – they add such a nice crunch.
Whipped cream – everything is better with a little whipped cream.
Caramel sauce – just a drizzle – sooo delicious!
Berries – raw, macerated, or use strawberry compote or coulis.
Hot coffee or espresso – amazing with mascarpone cheesecake!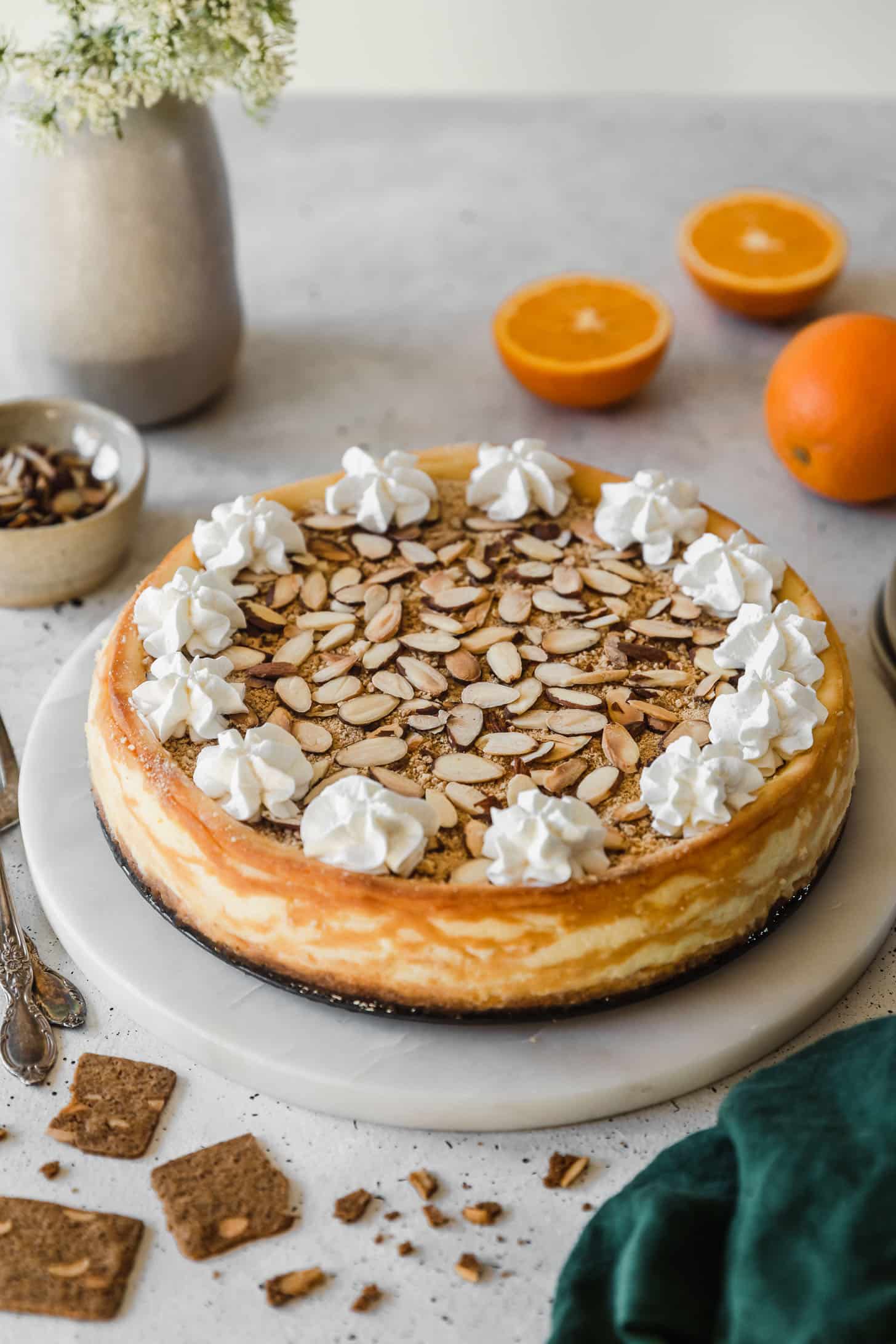 Mascarpone vs. cream cheese vs. ricotta
Ok, so I have tested this recipe with all 3! Ultimately, what I found is that I like a mix of cream cheese + mascarpone for flavor and texture. But, you could do all cream cheese or all mascarpone depending on what you like. I didn't have good luck with ricotta!
Mascarpone is made from heavy cream which makes it richer and creamier. It has a higher fat content which gives it a sweet, nutty, buttery flavor and a velvety texture.
Cream cheese is made from cow's milk and has a tangy flavor with a firmer texture. It's smooth and easy to spread but has a more acidic flavor.
Ricotta is a soft cheese made from whey (the watery part of milk that separates from the curds during cheesemaking). It's also smooth, creamy, and a bit tangy but has a grainer texture like cottage cheese. It also has a high water content so it's not as 'spreadable' as mascarpone or cream cheese.
What pan should I use?
I've tested this recipe a couple of times and the best pan option by far is a 10" springform pan. There was too much filling for a 9" springform pan and it ended up being a bit overcooked on the edges. If you're going to use an 8" or 9" pan, I recommend only using about 3/4 of the filling and using the rest to make a mini cheesecake. Or, halve the filling and you'll just have a thinner cream cheese layer!
How to prevent a cracked top?
I've done extensive research on this subject and here's what I've found that prevents the dreaded cracked top!
Use room-temperature ingredients. I let everything sit at room-temperature for about 30-60 minutes before I make this recipe.
Don't over-mix the eggs in the batter or you'll get too much air in the filling. This can rise up and cause cracks.
Use a water bath (or my water bath hack below) so the eggs rise properly and keep the filling from drying out.
Bake just until the edges are set and the middle is still a bit jiggly. Over-baking will for sure cause your mascarpone cheesecake to crack.
Let it cool in the oven. After it's done baking, turn off the oven, crack it open, and let it cool for an hour. Then, let it cool at room-temperature for an hour before popping it in the fridge to chill for 4-12 hours. Extreme temperature changes will for sure cause the top to split.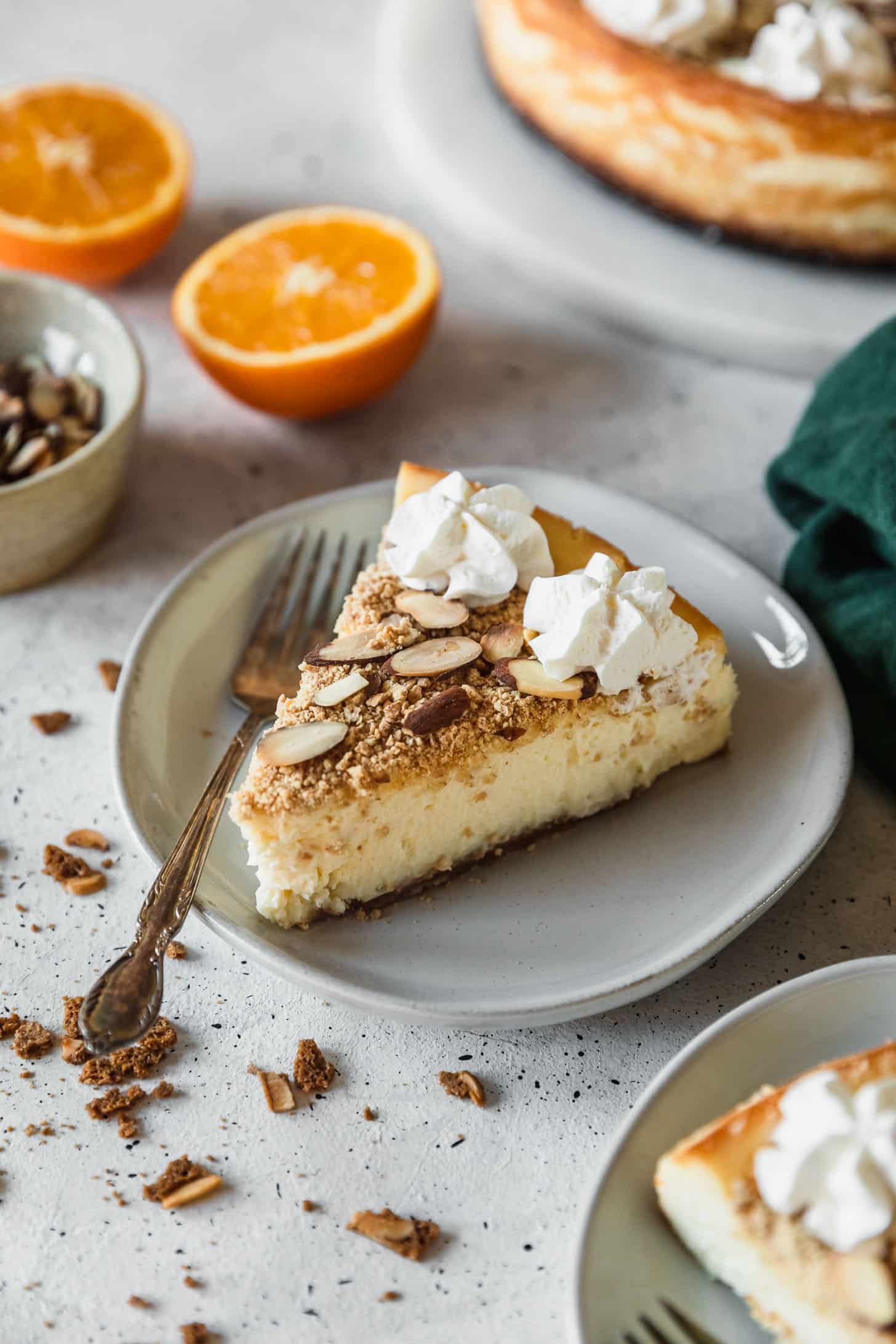 Water bath hack
I hate a water bath, you hate a water bath. It's messy and stressful! Here's what I do instead and it works every time.
Set one rack on the bottom of your oven and one in the center. Then, place a 9×13 metal pan on the bottom rack.
Boil a pot of water. You need at least 1-inch in your 9×13 pan, so make sure you boil enough.
Pour the boiling water into the metal pan. Next, place the cheesecake on the middle rack and bake as directed. The steam from the water will help the cheesecake bake up perfectly!
My cheesecake still cracked 🙁
First off, take a deep breath. (It's happened to the best of us.) Then, cover that crack with some cookie crumbs, toasted almonds, caramel sauce, or berries and *let it go*. It's going to taste amazing and no one will even know. Promise!
Recipe tips & tricks
Pull your filling ingredients out of the fridge about 30-60 minutes before you make the recipe. Room-temp ingredients will prevent lumps and cracks.
If the top is browning too much, just tent it with foil. The cheesecake will be a little brown on the edges but shouldn't be dark brown or burnt.
Don't open the oven too much. Drafts can cause the top to crack.
Run a knife around the edge of the pan before you release the sides of the springform. Otherwise, the cheesecake could stick and split!
For clean edges, slice the cheesecake when it's cold. Dip a sharp knife into a cup of hot water, wipe it off with a clean towel, and slice. Rewarm the knife with each cut for pretty, clean slices.
More cheesecake recipes
The Best Strawberry Cheesecake Bars
Cheesecake Red Velvet Trifles
If you make this recipe, I would love it if you left a star rating and review! I read every single comment and love hearing what you think about my recipes. Thank you for supporting Sunday Table!
---
Mascarpone Cheesecake with Orange & Amaretto
This mascarpone cheesecake is one of my favorite desserts to make for the holidays or any special occasion! It's rich, creamy, and has a velvety filling thanks to the mascarpone. The orange zest and amaretto pair so well together, especially with the almond cookie crust. It's just the best!
Ingredients
Almond Cookie Crust
3.5 oz package of almond cookies (1 1/2 c. crumbs)*
1/2 c slivered almonds, toasted
Pinch of Kosher salt
1/4 c unsalted butter, melted & slightly cooled
Mascarpone Filling
1/4 c unsalted butter, softened
1 1/4 c sugar
16 oz mascarpone cheese, room temperature
16 oz cream cheese, room temperature
1 1/2 c sour cream
1 Tbs orange zest (about 1 large orange)
2 Tbs amaretto liqueur
2 tsp vanilla extract
4 eggs, room temperature
Decoration
Cookie crumbs, toasted almonds, and/or whipped cream, for serving
Equipment
10'' springform pan

Food processor (optional)
Instructions
Almond Cookie Crust
Grease a 10'' springform pan with neutral oil or baking spray. Preheat the oven to 350°F.

Place the almond cookies, almonds, and a pinch of Kosher salt in the bowl of a food processor. Pulse a few times until you have fine crumbs. (Alternatively, place the cookies, almonds, and salt in a zipper bag and use a rolling pin or wooden spoon to crush the cookies and almonds).

While the food processor is running, pour the melted butter into the bowl until the crust forms. (It should stick together when you give it a squeeze).

Tip the crust mixture into the bottom of the prepared springform pan. Using your hands and/or the bottom of a drinking glass or measuring cup, evenly press the mixture into the bottom of the pan to form the crust. (Don't compact it too much or it'll be difficult to cut!) Bake for 7-8 minutes until it's toasty and golden brown. Let it cool while you make the filling.
Mascarpone Filling
Lower the oven temperature to 325°F. Place a metal 9×13 pan on the bottom rack of your oven. Then, place a rack in the center of the oven. Start boiling a medium-sized pot of water (you'll need to fill the 9×13 pan with at least 1-inch of water).

Place the unsalted butter and sugar in the bowl of a stand mixer (you can also use a hand mixer). Beat until the mixture is combined, about 1 minute. Then, mix in the mascarpone and cream cheese until it's smooth, scraping the sides every once in a while to prevent lumps.

Add the sour cream and beat until everything is thoroughly combined. Add the orange zest, amaretto, and vanilla and beat until the mixture is creamy and doesn't have any lumps.

Next, add the eggs one at a time, beating just until the filling is combined. Don't over-mix! Pour the cheesecake filling over the cooled crust.

Once the water is boiling, carefully pour it into the 9×13 pan on the bottom rack. Immediately place the cheesecake on the middle rack and shut the oven door. Bake for 50-55 minutes, just until the edges are set and the middle is still a bit jiggly. (The cheesecake could take up to 1 hour and 5 minutes depending on the accuracy of your oven.)**

Once the cheesecake is baked, turn off your oven, crack the oven door, and let the cheesecake cool for an hour. Then, remove the cheesecake from the oven and let it cool on a wire rack at room temperature for another hour. Wrap the cheesecake with plastic wrap (or a reusable bowl cover) and let it chill in the fridge for at least 4 hours until it's fully set. I usually let it set overnight.
Decoration & Assembly
Remove the cheesecake from the fridge and decorate with cookie crumbs, toasted almonds, and/or whipped cream, if desired. Slice and serve!
Notes
This cheesecake will make 8 large or 12 small servings.
*If you prefer a graham cracker crust, use this recipe.
**If the cheesecake starts to get too browned, tent it with tinfoil.
Serving: 1slice, Calories: 711kcal, Carbohydrates: 50.8g, Protein: 14.5g, Fat: 51.2g, Saturated Fat: 29.1g, Cholesterol: 209mg, Sodium: 435mg, Potassium: 265mg, Fiber: 1.3g, Sugar: 37.5g, Calcium: 196mg, Iron: 2mg
xo Sara Lynn
*Song of the day: Stay This Way by Peter Bjorn and John