The Best Damn Pie Crust of Your Life
IT'S FINALLY HERE. Even after countless pies and months of promising you all the best pie dough recipe in the whole damn world, I had not delivered. That is, until now. I really should stop making promises like these considering I'm a full-time student, I have 2 jobs, plus I try to volunteer a few hours a month on top of all the normal things I have to do on a day-to-day basis a.k.a. I'm freaking busy and don't always have time on the weekends to do a pie dough tutorial. Honestly, I don't know how I have free time sometimes, but bless my marketing internship for giving me college credit to work only a couple hours a week from home is all I have to say. Aside from that major tangent, my point is that I know the wait was worth it, and I would like you to agree with me, because it would make me feel much better about my slacking.
Let's have a conversation about pie dough, my friends. I'll try to keep an open mind here, but let's just face it, I'm biased and totally Team Make Your Own Pie Dough. Most people refuse to even try to make their own dough, settling for either freezer-aisle roll-out pie dough (boo) or worse, store-bought pies from the grocery store (double boo). We'll call this side Team Wrong. No offense if you're on that team, I understand why you are, but hear me out. I have a major theory that pie dough is one of the most misunderstood forms of pastry, and I can attest to this, because I was a frozen pie dough fan for many years. After making pie dough once, I was a forever changed woman. It's so. damn. easy. Surprisingly so, but it makes all the difference in the world. If you care about pie, make your own dough! I'm not kidding, you will not be able to go back to the store-bought stuff. It's really life-changing, especially this recipe, which yields the flakiest, buttery-est crust I ever did eat. Thanks to Bon Appetit magazine for inspiring me to give it a try and also for giving me the recipe. I appreciate for real ♥
So, after a long guilt trip from Team Make Your Own Dough, do you feel inspired to make your own pie dough for (please, at least one of) your Thanksgiving pies?! Yes you do!
Let's get started!
First, you're going to start off with 2 sticks + 2 Tablespoons of unsalted butter. Cut the butter into cubes, trying to work quickly to avoid melting the butter with your warm hands. I like to use a bench scraper for this so I don't have to touch the butter, but a regular knife works well too! Put that butter in a bowl and pop it in the fridge while you gather your dry ingredients.
Now we're going to prep for the next few steps. Whisk together 2 1/4 cups of all purpose flour, 2 Tablespoons of sugar (1 Tablespoon for a savory-pie crust), and a scant teaspoon of kosher salt. Also prepare a glass of ice water and set the glass aside. Toss the butter in the flour mixture.
Now, working quickly, use your fingers to rub the butter into the flour, creating shaggy pieces of butter. Some of the pieces should be thin and long while others are chunkier. Be careful not to let the butter melt in your hands.
Mix together 1 Tablespoon of apple cider vinegar with 3 Tablespoons of iced water. Swirl to combine.
Drizzle the vinegar-water over the butter mixture, running your fingers through the flour mixture to incorporate all the ingredients. Quickly knead the dough until it starts to come together. It will be a little crumbly and dry, but resist adding more water or your crust will turn out tough.
Turn your dough onto a floured surface and knead it a few more times, incorporating the drier areas.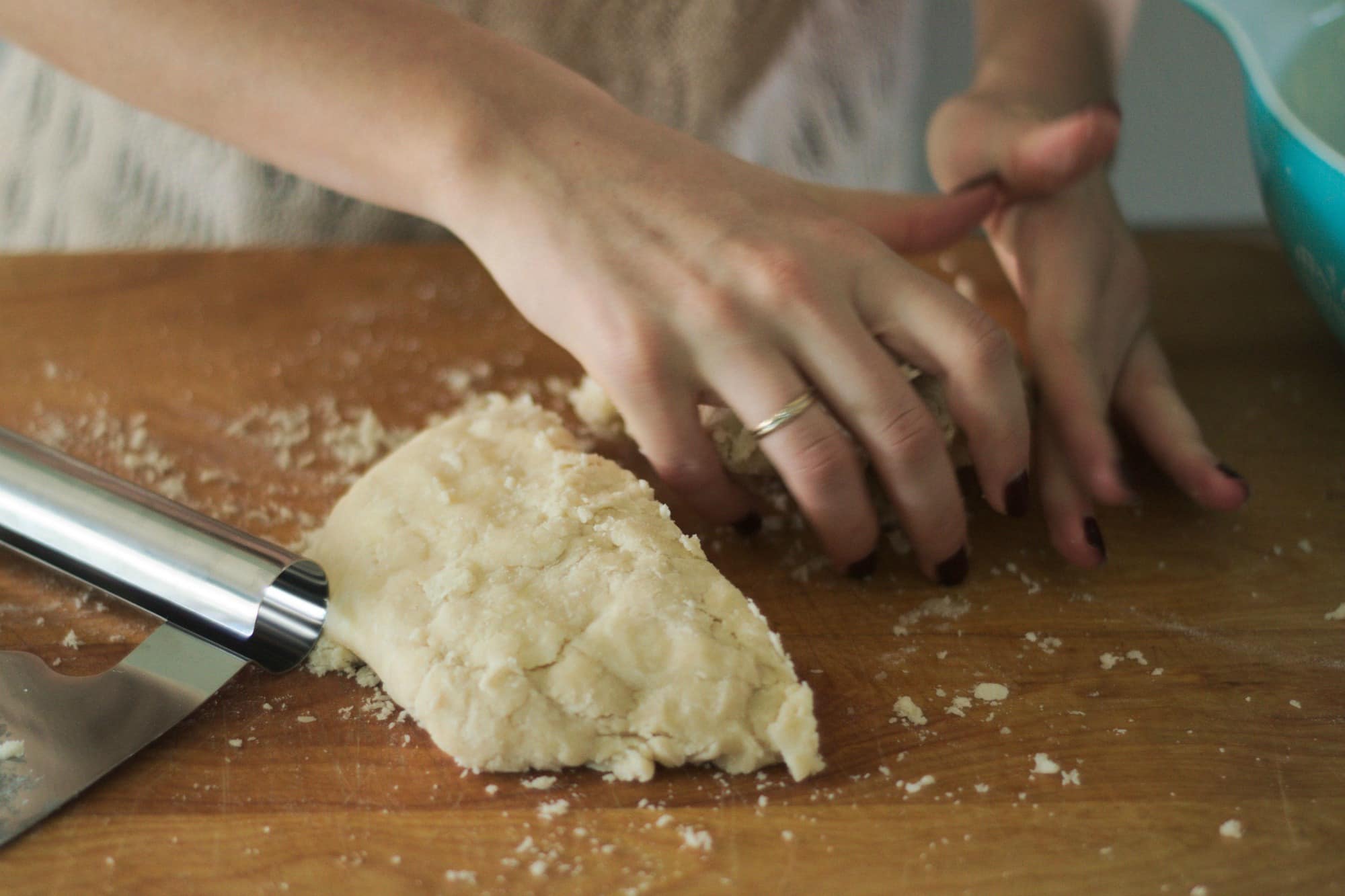 Cut the dough in half and press into 1 inch thick discs.
Wrap your dough in plastic and set it in the fridge for at least an hour and up to 5 days. You can also freeze the dough for up to 2 months! I like to make dough in advance and save it in the fridge for big events like holidays. When you're ready to use it, roll it on a floured surface and fill with whatever makes you happy.
Here's a few pie ideas, if you needed any (;
Apple Pie with Sugared Crust
Pumpkin Pie
Beef & Veggie Pot Pie
Deconstructed Chicken Pot Pie
Pear & Ginger Galette
Strawberry and Grapefruit Galette
Mixed Berry Pie
The Best Damn Pie Crust of Your Life
This is by far the best pie crust I've ever had! The dough is surprisingly simple to make and always comes out tender, flaky, and buttery. I promise, it's worth the extra 15 minutes to take your pies from good to absolutely amazing!
Ingredients
2 1/4 c all-purpose flour
2 Tbs sugar
1 tsp Kosher salt
1 c unsalted butter, very cold + cut into cubes*
1 Tbs apple cider vinegar
3 Tbs ice water
Equipment
Food processor (optional)
Instructions
By hand: In a large bowl, whisk together the all-purpose flour, sugar, and Kosher salt. Toss the butter cubes in the flour to coat. Using your fingers, "rub" the butter into the flour until you have a mix of long, shaggy pieces and pea-sized chunks. Work quickly to avoid melting the butter.

In a food processor: Combine the all-purpose flour, sugar, and Kosher salt in the bowl of a food processor. Pulse a couple of times to combine. Add the butter cubes to the flour and toss to coat with a fork. Pulse the mixture about 8-12 times, just until the butter is pea-sized. Pour the mixture into a large bowl.

Combine the apple cider vinegar and ice water in a small measuring cup. Slowly drizzle the vinegar-water over the flour mixture, running your fingers through the flour to make sure everything is incorporated. Knead everything together just until you have a dry, shaggy dough.**

Tip the dough onto a floured surface and knead a few more times, just until the dough is smooth and there are no more dry spots. Divide the dough into 2 equal pieces. Pat each piece into a 1-inch thick disc and wrap in plastic wrap or a reusable zipper bag.***

Refrigerate the dough for at least an hour, preferably overnight. The dough can be refrigerated for up to 5 days or frozen for up to 2 months.****
Notes
* The trick to flaky pie crust is keeping that butter very cold. If it's warm in your kitchen, freeze the butter for about 5 minutes before you make the pie dough to keep it cold. **The dough may feel dry but resist the urge to add more water. Too much water will make the crust dense. Keep kneading, it'll come together eventually! (If you absolutely need more water, add it 1/2 Tablespoon at a time). ***I don't usually have plastic wrap on hand so I use reusable zipper storage bags to store the dough. It works great! ****If you'd like to freeze the dough, wrap the discs well in plastic wrap or a reusable zipper bag and place them in an airtight container before storing them in the freezer.
Serving: 19-inch pie dough, Sodium: 1820mg, Calcium: 50mg, Sugar: 12.5g, Fiber: 3.8g, Potassium: 184mg, Cholesterol: 244mg, Calories: 1372kcal, Saturated Fat: 58.5g, Fat: 93.4g, Protein: 15.5g, Carbohydrates: 119.5g, Iron: 7mg
I hope this recipe makes the pie dough of your dreams as it did mine ♥
XO Sara Lynn
*Song of the Day: Where is my Mind? by Pixies