Homemade Peanut Butter Dog Cookies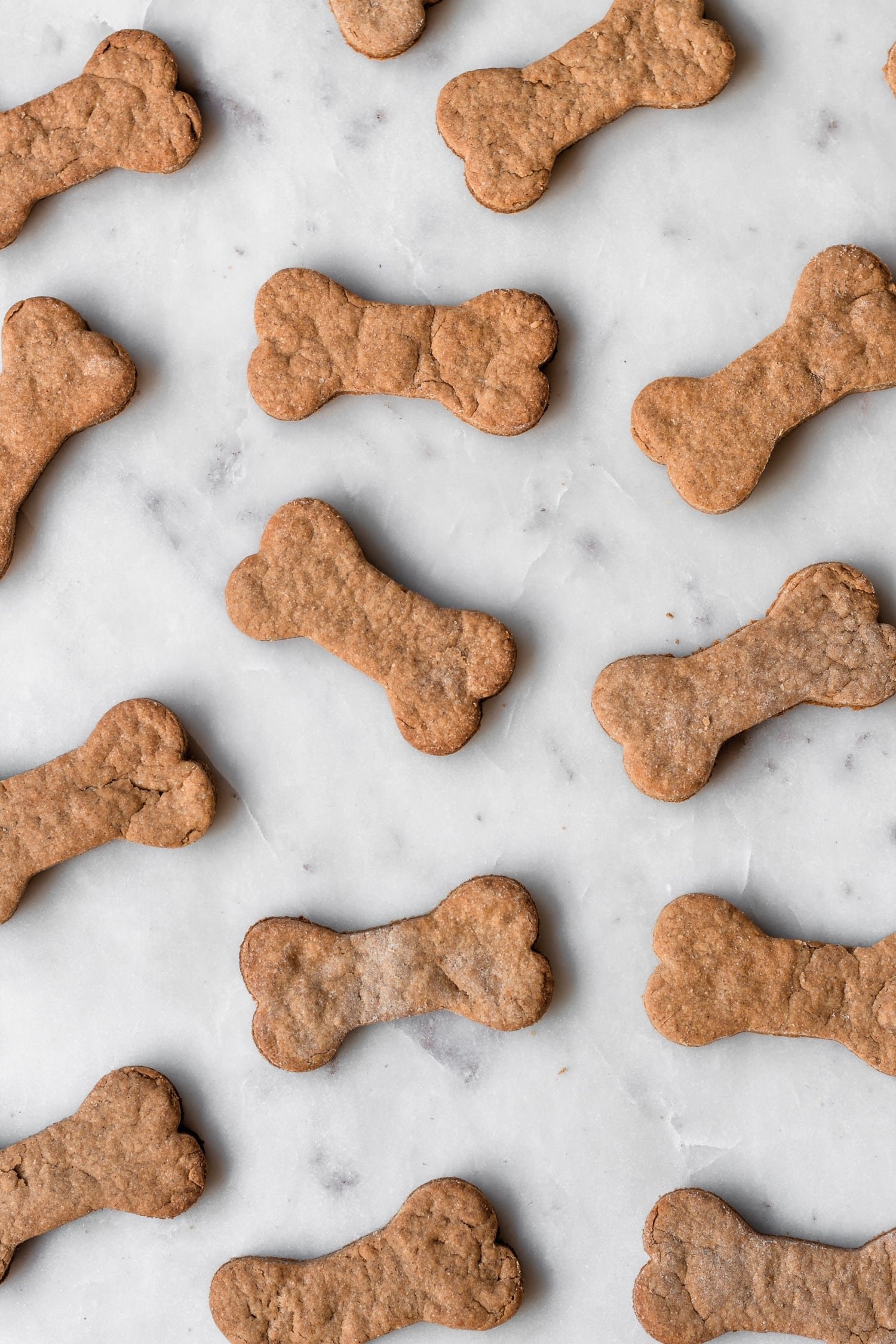 Bell turned three this week!!!! I can't believe it, she's growing up *so fast*. When I adopted her, she was just a little 1-year-old baby off the racetrack, and now she's a full-blown sassy teenager. Complete with backtalk, and if you think I'm joking, you should just check out my Instagram stories sometime.
Obviously, we made her some birthday cookies using her fave ingredient ever, peanut butter. Bell will eat pretty much anything, but peanut butter, yogurt, chicken, and stray coffee beans are some of her favorite snacks. I also made her a little party hat, and Marc called me insane, so he is *officially* in the dog house. But, he also helped me make the hat, so I will take no sass.
On her actual birthday, we took her to the puppy park to run and play. Then she got to eat leftover chicken for dinner, open her birthday present (a sloth stuffy with a squeaky butt!), and cuddle with us on the couch. And obviously, she ate like, a trillion cookies. It was probably her best day ever.
Ok, now it's time for some real talk. Am I going to make Bell homemade peanut butter dog cookies every single week? No, because I have a full-time job and a part-time blog and all kinds of things in-between. But is it something I will do every few months for special occasions? Absolutely 100%. They are ridiculously easy, even if it requires rolling out stiff dough, one of my least favorite kitchen activities. But it is surprisingly not a big deal at all. This whole process probably only took me like, 30 minutes. Plus, Bell was the happiest I have ever seen her, save for the birthday hat I made her wear.
Also, let's acknowledge the cute af bone cookie cutters real quick, ok? They are from Sur La Table, and I am obsessed.
Furthermore, these cookies only require five ingredients, and I'm willing to bet most of them are in the average kitchen cabinet. Whole wheat flour (regular or alt-flours would probably work too), peanut butter, baking powder, apple sauce, and cinnamon. Oh, and water, which I will not formally recognize as an actual ingredient. Everything in these homemade peanut butter dog cookies are human-grade, so you can eat these too if you feel so inclined! I was not impressed with the flavor, but Marc said he found them "addicting" for some reason, so I mean do you 🤷
Happy birthday, Bell the greyhound! We love you sooooooo much!!!!!
Homemade Peanut Butter Dog Cookies
---
Homemade Peanut Butter Dog Cookies
These homemade peanut butter dog cookies are super easy and only require five ingredients! Your puppy will absolutely love them!
Ingredients
2 cup white whole wheat flour + more for dusting
1 tbsp baking powder
1/2 tsp cinnamon
1 cup all-natural creamy peanut butter (I use 100% peanuts PB)
1/2 cup unsweetened apple sauce
Instructions
Preheat oven to 350* F. In a small bowl, whisk together the whole wheat flour, baking powder, and cinnamon. Set aside.

In a medium bowl, stir together the peanut butter and apple sauce. Add the flour mixture one cup at a time until it forms a stiff dough. Add more flour as necessary – you want it to be stiff enough to roll and shape. Alternatively, if the dough is too stiff, add water 1 Tablespoon at a time until it is workable.

On a floured surface, roll the dough to 1/8-1/4" thickness. Cut out cookies using a cookie cutter, or cut into squares. Re-roll the dough as necessary, cutting out cookies until it's all used up.

Place cookies on cookie sheets lined with parchment paper. Bake for 20-25 minutes, or until they are lightly brown and starting to get crunchy (they will also firm up as they cool). Cool the cookies on a wire rack, and store them in an airtight container for up to a week. You can also freeze them!
Notes
I used a 3.5" x 1" bone cookie cutter, which made about 30 cookies, but you could use a smaller cookie cutter or just cut them into squares. If you have extras, you can freeze them in an airtight container for up to three months.
Serving: 1cookie, Calories: 121kcal, Carbohydrates: 5.3g, Protein: 4.6g, Fat: 8.6g, Saturated Fat: 1.3g, Sodium: 27mg, Potassium: 61mg, Fiber: 1.4g, Sugar: 1g, Calcium: 22mg
---
xo Sara Lynn
*Song of the day: Summertime by Girls