Strawberry Gin Smash with Basil & Elderflower
This strawberry gin smash with fresh basil, elderflower liqueur, lime juice, and club soda is a refreshing, delicious cocktail for summer! They're fruity, a little tart, bubbly, and easily served as a single cocktail or in a pitcher.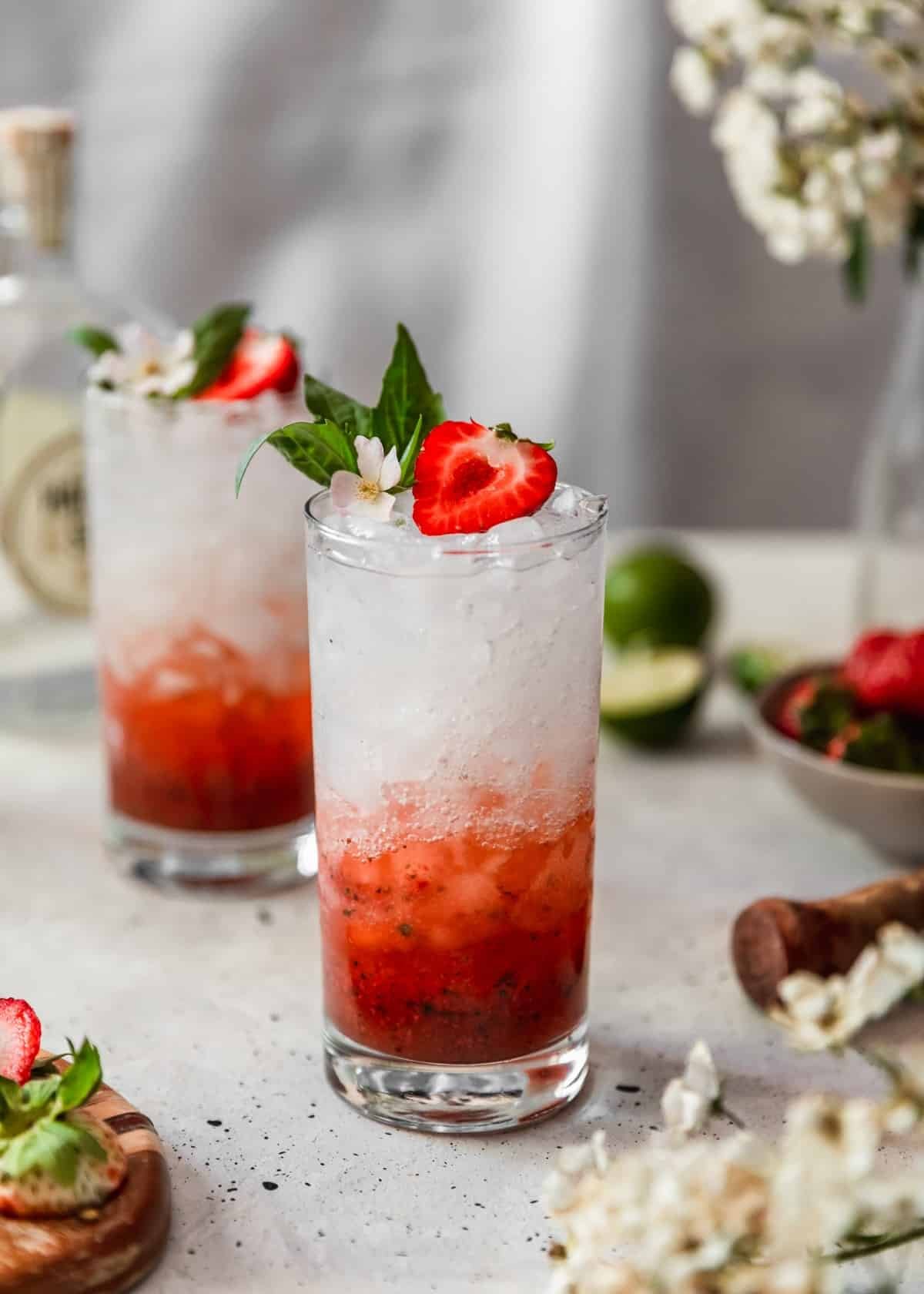 When Marc and I got married, we decided to do a little "mini-moon" until we could find the time and energy to plan a whole honeymoon trip. After a lovely brunch at PublicUs, we walked over to Mothership Coffee for cappuccinos, and then decided we needed a cocktail for good measure. Conveniently across the street just so happens to be Atomic Liquors, the oldest standing bar in Las Vegas.
Atomic Liquors is the absolute perfect dive bar, dark and moody on the inside with all kinds of Vegas charm. It was named after their customers' habit of watching the nuclear blasts from the nearby Atomic Test Site, and even Barbara Streisand had her own seat back in the day. But, many of us younger locals who began visiting in our college years know the bar for its Strawberry Fields cocktail. The Strawberry Fields has gin, Campari, ginger, basil shrub, and strawberries, and it is the cocktail of my dreams.
About this strawberry gin cocktail
Although I had big plans of trying to recreate Strawberry Fields so that I don't have to drive down to Vegas every time I want to enjoy it, I also wanted to whip up a strawberry and gin cocktail that would be easy to make.
I replaced the ginger with elderflower and left out the Campari cause I didn't have any. Then, I added fresh basil and a hint of lime juice to replace the "shrub" aspect of the cocktail. The result is this little number, which is basically summer in a glass. Without further ado, let's get started!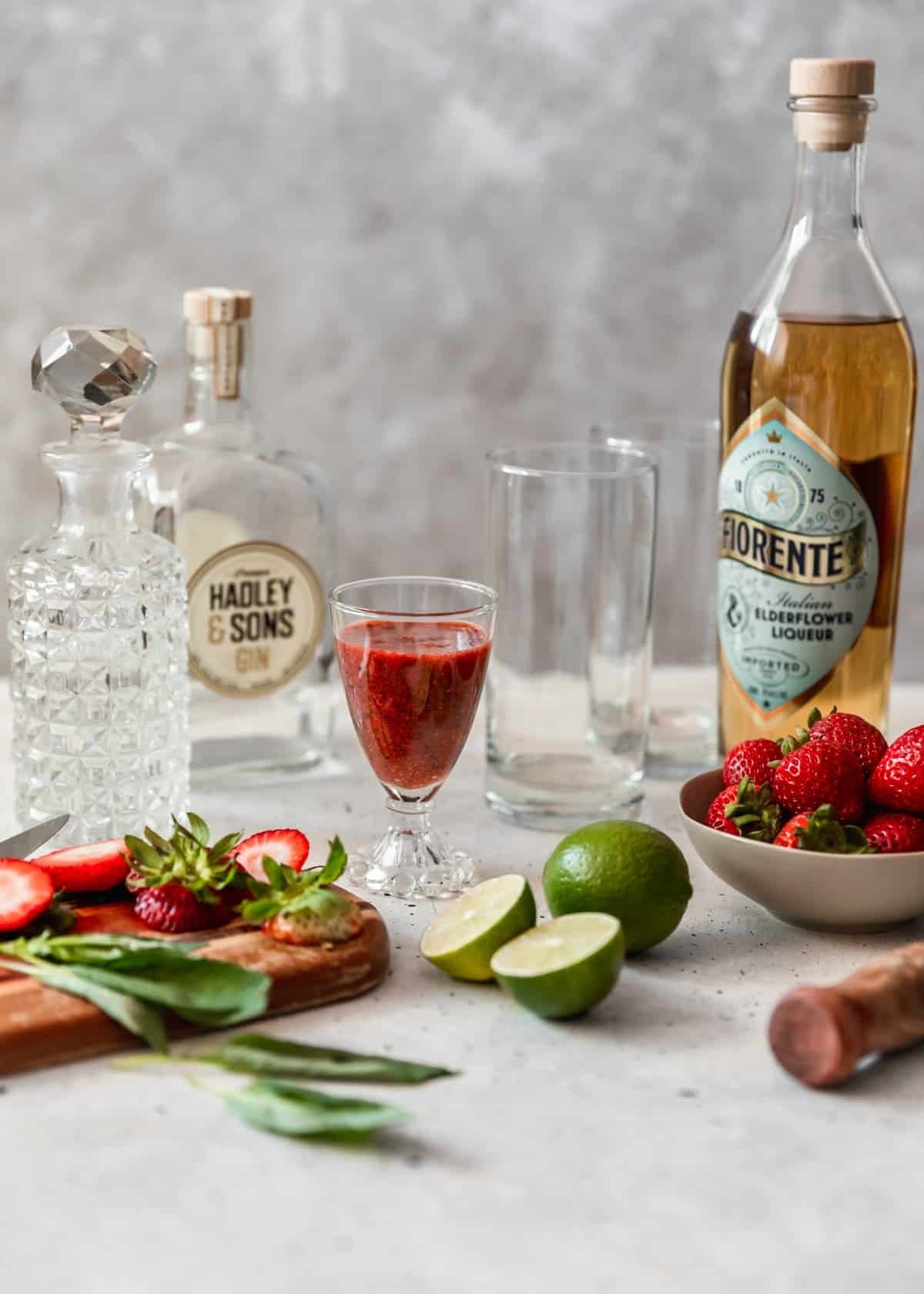 You'll need Just a few ingredients
Strawberries – fresh or frozen will work for this recipe.
Basil – definitely make sure to get it fresh, not dried!
Lime juice – again, highly recommend freshly-squeezed. Are you tired of seeing the word 'fresh' yet?
Simple syrup – equal parts water and sugar boiled down to a syrup! I like to make my own, but you can also buy at liquor stores.
Gin – go for a nice floral gin with citrus-y notes when possible.
Elderflower liqueur – a lovely elderflower liqueur will complement the floral notes in the gin.
Club soda – for a little sparkly-ness!
How to make this cocktail (muddled or blended)
When it comes to making a strawberry gin smash, you have a couple of options! First, the muddled option which is easy af. Then, you have the puréed drink which, ok technically isn't a "smash", but it's a little smoother and easier to drink. Let's chat about both!
To muddle…
For the easier version of this cocktail, you'll simply:
First, add some sliced strawberries into a glass. Then, use a muddler (or the handle of a large wooden spoon) to smash it until it is juicy and as smooth as possible. Add the basil and muddle a bit more to release the flavor of the herbs.
Next, add the lime juice, simple syrup, gin, and elderflower liqueur. Stir.
Lastly, fill the glass with ice and top with soda water to give it the layered look. Garnish, and give it a good stir before enjoying!
Or to blend…
For this version, you'll need a blender or food processor.
To start, add the strawberries and basil to a blender or food processor and purée until smooth. Pour an ounce of the purée into a highball glass.
Then, add the lime juice, simple syrup, gin, and elderflower liqueur. Give it a good stir.
Lastly, fill with ice, top with soda water, and garnish. Don't forget to stir it well before sipping!
And for a crowd…
If you want to make these cocktails for a crowd, it's pretty straightforward. You'll simply multiply the ingredients by the number of cocktails you want and mix it together in a pitcher! Then, you can either muddle the cocktail or blend the strawberries and basil together into a purée. Mixing up a puréed cocktail is a little easier to pour, but the muddled version works too! Again, don't forget to give the whole thing a good stir before pouring over ice.
A make-ahead option
This strawberry gin smash is a great make-ahead cocktail option! First, simply stir everything together in a pitcher except for the club soda. Next, cover it up and let it sit in the fridge for up to 2 days. Then, right before serving, pour the club soda over the strawberry-basil-booze mixture. I actually really enjoy making this cocktail in advance because it gives all of the flavors a chance to meld together!
Substitutions
If you want to switch things up a bit, there are plenty of ways to make this cocktail your own! Here are a few ideas:
Berries – you can use raspberries, cherries, blueberries, etc. in place of the strawberries.
Booze – vodka and bourbon both make great alternatives if you're not a fan of gin!
Bubbly – if you're wanting a sweeter cocktail, replace the club soda with champagne, sparkling wine, lemon-lime soda, ginger ale, or sparkling lemonade.
Tips & tricks
Use lots of ice in this strawberry gin smash and don't add too much club soda or it will dilute the flavor. I usually only end up using a splash of soda water at the end.
If you choose to muddle the basil, don't go too crazy. Since it's a delicate herb, you don't need to muddle it too much to release the flavor.
If you end up muddling the cocktail, try adding a wedge of the juiced lime when you smash the berries to release some of the oils in the lime rind! It'll add a lovely, floral, citrusy flavor.
More summery cocktails
Frozen Aperol Spritz with Strawberries
Spiked Strawberry Lemonade
Watermelon Gin Fizz with Mint
Prickly Pear Vodka Sour
Cocktails in a Can!
Blueberry Lemon Vodka Spritz
Sparkling Strawberry Bourbon Lemonade
Watermelon-Rhubarb Margaritas
If you make this recipe, I would love if you left a star rating and review! I read every single comment and love hearing what you think about my recipes. Thank you for supporting Sunday Table!
Strawberry Gin Smash with Basil & Elderflower
This strawberry gin smash has fresh basil, elderflower liqueur, and lime juice for a refreshing, delicious summer cocktail. Make it in a pitcher or as a single drink!
Ingredients
Strawberry Basil Purée
1 c strawberries, sliced
8 basil leaves
Strawberry Gin Smash
4 oz strawberry basil purée
2 oz lime juice
2 oz simple syrup
6 oz gin
2 oz elderflower liqueur
Club soda, to top
Strawberries, basil, etc., to garnish
Instructions
Strawberry Basil Purée
In a blender or food processor, purée the strawberries and basil together until smooth. You should end up with about 4 ounces total.
Strawberry Gin Smash (Puréed Version)
In four highball glasses, add 1 oz. strawberry basil purée, 1/2 oz. lime juice, 1/2 oz. simple syrup, 1 1/2 oz. gin, and 1/2 oz. elderflower liqueur to each glass. Stir until combined.

Fill the glasses with ice. Top with soda water. Garnish with strawberries, basil, etc. Stir the strawberry gin smashes right before drinking. Enjoy!
Strawberry Gin Smash (Muddled Version)
Place 1/4 cup of sliced strawberries into each highball glass. Muddle until the strawberries are juicy and smooth. Add 2 basil leaves to each highball glass and muddle just a bit to release the flavor of the herb.

To each glass, add 1/2 oz. lime juice, 1/2 oz. simple syrup, 1 1/2 oz. gin, and 1/2 oz. elderflower liqueur. Stir.

Fill the glass with ice and top with club soda. Garnish, if desired. Give it a stir right before enjoying.
Notes
If you don't have a muddler, use the handle of a wooden spoon. To make the drink sweeter, add a little extra simple syrup or use lemon-lime soda, ginger ale, or champagne in place of the club soda. I top my cocktails with 1-2 ounces of club soda, but you can add more if desired. Please note that the strawberry basil purée will make enough for 4 cocktails. If you want to make 8 cocktails (for a pitcher), simply double the purée and add 1/2 c. fresh lime juice, 1/2 c. simple syrup, 1 1/2 c. gin, and 1/2 c. elderflower liqueur. Top with soda water, to taste.
Serving: 1cocktail, Calories: 207kcal, Carbohydrates: 15.9g, Protein: 0.4g, Fat: 0.1g, Sodium: 24mg, Potassium: 89mg, Fiber: 0.8g, Sugar: 2g, Calcium: 19mg
xo Sara Lynn
*Song of the day: Muddled by Alexei Shishkin