Crispy Brussels Sprouts with Fried Shallots, Bacon, & Dijon Vinaigrette
Crispy brussels sprouts are roasted until lightly charred and served with fried shallots, bacon, and Dijon vinaigrette. These brussels sprouts are a huge crowd-pleaser. They seriously are gone instantly every time I make them!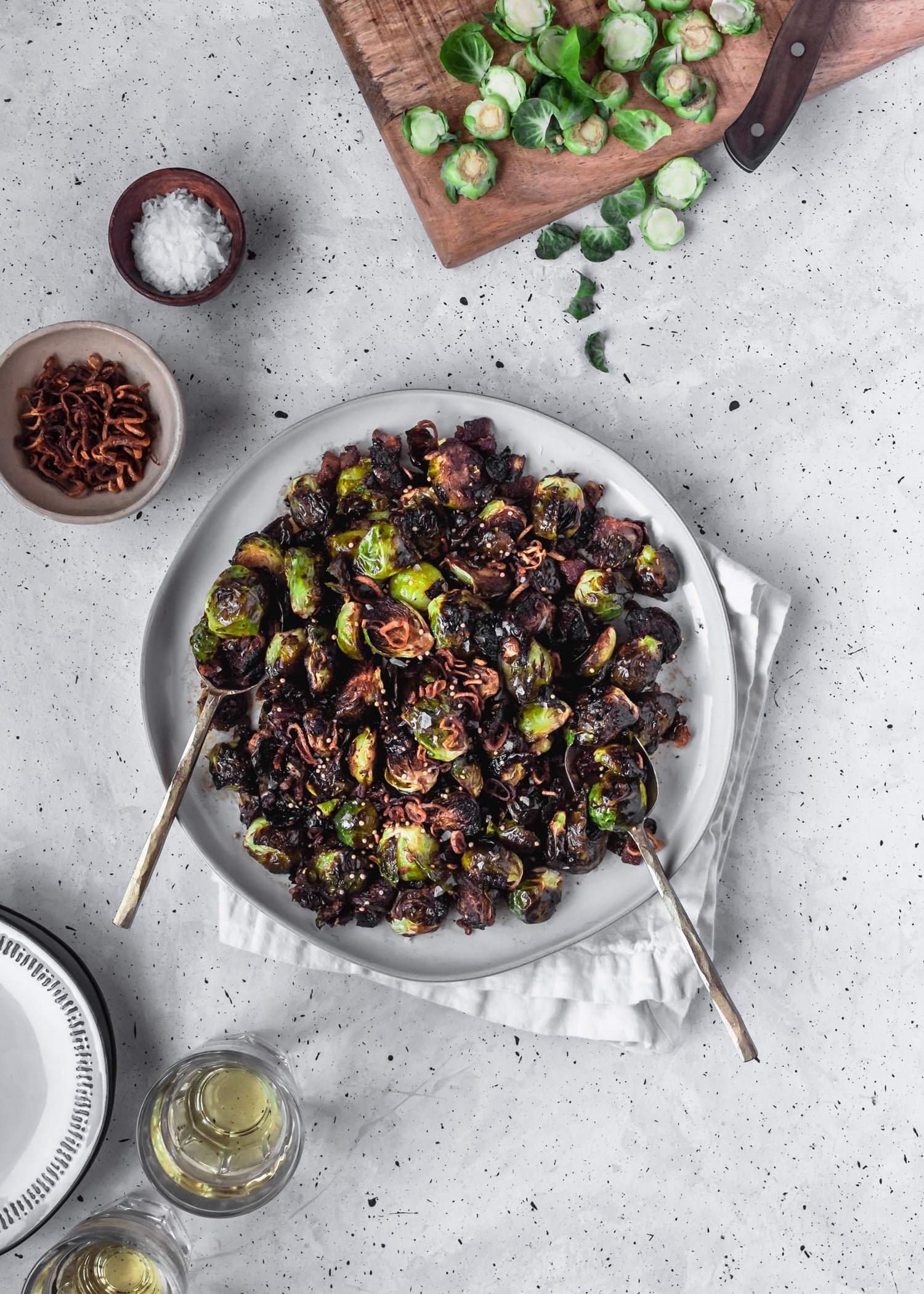 Every time I get stressed out this week, I remember that at the end, I get to wear a velvet dress and eat pie and have family-time. I don't know that it's completely working, but it's not not working? Plus, I have Friendsgiving on Wednesday, so I get to celebrate at least twice this year! I think I might make apple cake so that nobody gets all pumpkin pie-ed out before Thanksgiving happens. If that's even a thing? Not in my world, at least. But maybe in others!
Anyways, I know many of you already have your Thanksgiving menus ready to go, but I also know there are some procrastinators out there! I am usually the former, but then I created this recipe, and everything changed. I honestly wasn't trying to create a last-minute Thanksgiving recipe. It just happened! But, it's v rare that brussels sprouts blow me away. Usually, they're made incorrectly, and I think they taste like feet. But these are ridiculously good. In fact, at dinner the other night, I had a choice between a second helping of cheesy potatoes or a second helping of crispy brussels sprouts, and I chose the brussels! (I mean, I also chose the cheesy potatoes, but I dished out the brussels first soooo…).
Even if you've had your Thanksgiving menu planned for weeks, I really think it's time to reconsider your veg option. See, there are three main vegetable categories. 1. Healthy but bland and terrible. 2. Insanely delicious, but so unhealthy they might as well not even be vegetables. And 3. A perfect balance of health and delish. Honestly, these fall into the second category which is the only place vegetables belong on Thanksgiving Day. If you're not indulging, you're Thanksgiving-ing wrong. #sorrynotsorry 🤷
Let's talk about how to make crispy brussels sprout goodness!
Now that we've established that healthy and Thanksgiving don't really belong together, let me paint a picture of why these crispy brussels sprouts are so amazing! One, I have found the *secret* to perfectly crispy brussels sprouts. I used my favorite technique of cooking veg on a sheet pan that is hot AF, and it worked perfectly! Just to be clear, I will exclusively be cooking all hearty vegetables on a very hot sheet pan from now on.
Also, the crispy brussels sprouts will cook together with some thick-cut bacon. The bacon-y flavor gets all over the brussels, and it's fantastic! However, if you're looking for a meat-free option, just leave it out.
Next, you'll make some fried shallots! I use the Bon Appetit method, and it works every single time. Not only do they add a nice crunch, but they are reminiscent of the fried onions that go on top of green bean casserole. Think of this recipe as a modern take on the American green bean casserole but these are made with brussels sprouts, and they're actually good. Ahhhh sorry, I know people get very defensive over their green bean casserole. But, I just can't deal with it TBH.
Lastly, you're going to whisk up a very quick Dijon vinaigrette! We use the leftover frying oil from the shallots, and the onion-y flavor is the absolute best. You can use regular oil if you want, but you will already have the shallot oil, so might as well use it!
I know this seems like a lot of steps, but honestly, these brussels are the easiest. Everything cooks at the same time, so you can just whip it all up Thanksgiving morning and have it ready to go for dinner time!
You can also make crispy brussels sprouts ahead of time for an easy winter side dish!
On top of everything, you can make these crispy brussels sprouts in the morning or the night before! One small caveat is that they will not be quite as crispy as they will be fresh. However, they will taste just as delicious! If you want to crisp them up before serving, you can also under-bake them slightly and throw them under the broiler for just a couple minutes. Then, toss them with the dressing, top with fried shallots, and serve!
Also! The shallots and dressing can be made up to three days in advance if you really want to get a move on things. Just store the dressing in the fridge and the shallots in an air-tight container on the counter.
Lastly, you'll want to sprinkle the fried shallots on top immediately before serving. Otherwise, they will get soggy which is a bummer!
And that's it! An easy, uber-delicious crispy brussels sprouts recipe for your dinner table this holiday season. 😛 Thanksgiving procrastinators, unite! You got this!
Tips & tricks
The key to getting crisp brussels sprouts is to roast them on a very hot pan. Make sure to stick your sheet pan in the oven while it's heating!
This can also be a make-ahead recipe! Just under-cook the brussels for about 5-10 minutes, set them under the broiler for about 5 minutes before serving, toss with dressing, and top with fried shallots! Or, just make them and reheat before serving (they just won't be quite as crispy).
For a meat-free option, simply leave out the bacon.
Top with fried shallots immediately before serving, or they will get soggy.
More cozy side dishes to try
Charred Broccoli with Breadcrumbs & Pecorino
Cheddar Mashed Potatoes with Rosemary
Cornbread Stuffing with Sausage & Sage
Turmeric & Za'atar Roasted Carrots
Crispy Brussels Sprouts with Fried Shallots + Bacon + Dijon Vinaigrette
These are truly the best, crispiest brussels sprouts ever! They're topped with fried shallots, bacon, and a tangy Dijon vinaigrette for a savory and flavorful side dish. Every time I make them, they are gone in minutes.
Ingredients
Fried Shallots
1 large shallot, very thinly sliced
1/4 cup canola oil
Salt, to taste
Brussels Sprouts
1 1/2 lb brussels sprouts, trimmed and halved
1/4 lb thick-cut bacon, diced
1/4 cup olive oil
Salt and pepper, to taste
Dijon Vinaigrette
2 tbsp red wine vinegar
1 clove garlic, minced
1/2 tbsp Dijon mustard
1 tbsp honey
1/4 cup reserved shallot oil (or olive oil)
Salt and pepper, to taste
Instructions
Fried Shallots
Set a fine-mesh sieve over a heat-proof bowl. Line a dinner plate with paper towels.

Place the shallots in a small saute pan, and pour the oil over the top. Set to medium-low heat, and cook, stirring every once in a while with the tines of a fork to separate the rings. Fry until they are a deep golden brown, 20-25 minutes.

Pour the shallots into the strainer to drain, and then transfer to the plate lined with paper towels. Season with salt and let them cool. Reserve the leftover frying oil for the vinaigrette.
Brussels Sprouts
Place a sheet pan in the oven, and heat to 450°F. In a medium bowl, toss the brussels sprouts and bacon with the olive oil, salt, and pepper.

When the oven is heated, carefully spread the brussels sprouts on the hot sheet pan. Use tongs to place the brussels sprouts cut-side down for max crispiness. Bake for 20-25 minutes, until very browned (these will be crispy on the outside and tender on the inside. If you like fully-crisp brussels sprouts, toss them with a spatula, and bake for another 5-10 minutes).
Dijon Vinaigrette
Whisk together the red wine vinegar, garlic, Dijon mustard, and honey. Slowly whisk in the shallot oil until emulsified. Season with salt and pepper.
Assemble
Pour half of the Dijon vinaigrette over the hot pan, and toss to coat the brussels sprouts (as you toss, the honey in the dressing will slightly caramelize the brussels sprouts. It's AMAZING). Add more dressing, to taste. Top with the fried shallots, and serve immediately.
Serving: 1serving, Calories: 339kcal, Carbohydrates: 19.9g, Protein: 11.5g, Fat: 26.2g, Saturated Fat: 4.5g, Cholesterol: 16mg, Sodium: 395mg, Potassium: 785mg, Fiber: 6.5g, Sugar: 5.9g, Calcium: 66mg, Iron: 2mg
---
xo Sara Lynn
*Song of the day: Friend Song by Slaughter Beach, Dog