Croque Madame Galettes with Everything Crust
These mini savory croque madame galettes have flaky pie crust, black forest ham, creamy Swiss cheese, Dijon mustard, runny eggs, and everything bagel seasoning. They're a huge crowd-pleaser and one of my go-to dishes for holidays or weekend brunch parties! (Post updated on March 29, 2022).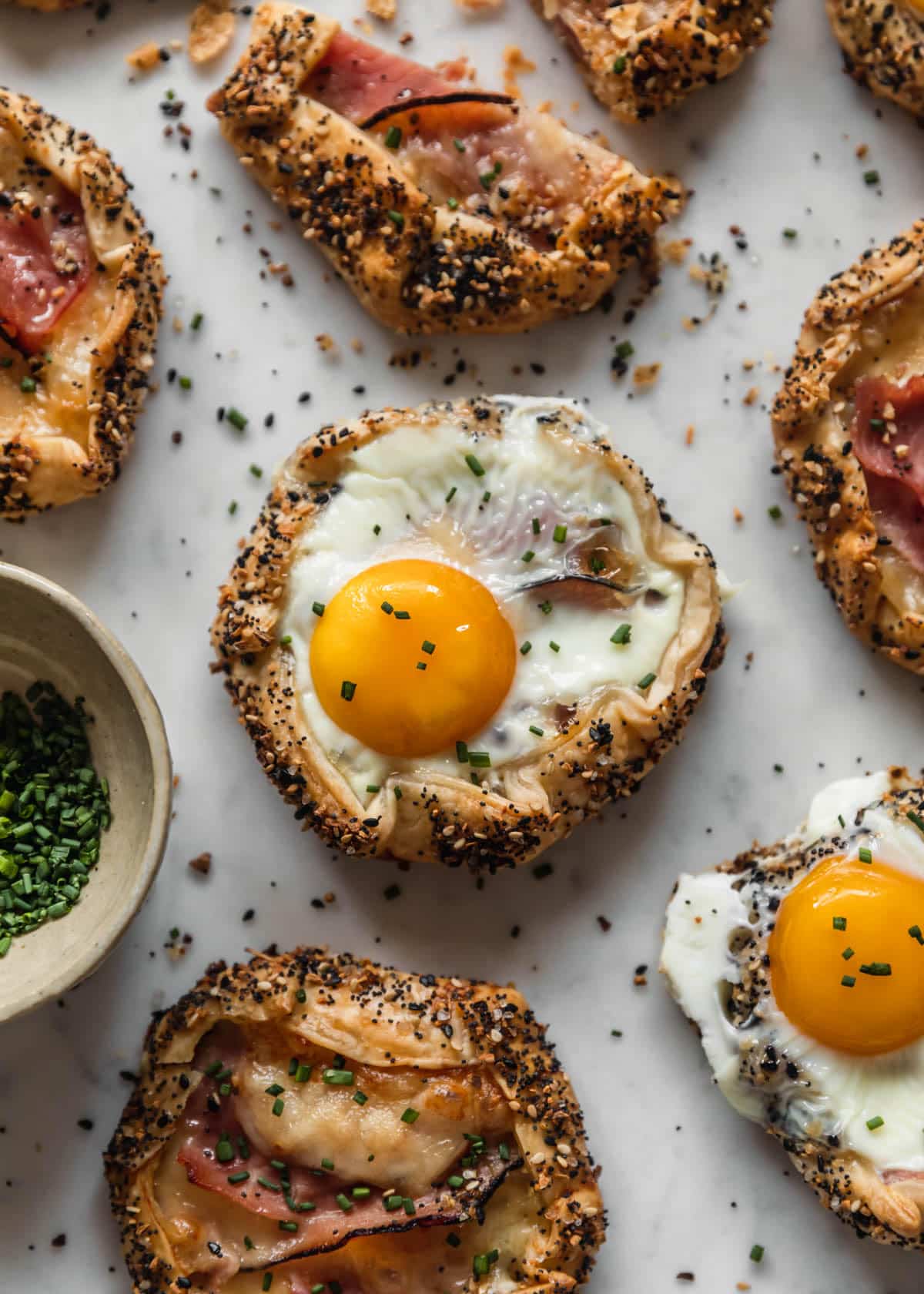 It's a rare Sunday when I'm actually human enough to have a proper brunch before noon. Beyond the mandatory sleeping in portion of Sundays, I also have to lay in bed scrolling through my phone, drink a cup of coffee, and snuggle my dog on the floor for thirty minutes all before putting on my face and some real pants. Luckily, I think Sundays always feel like morning until it starts to get dark and the Sunday Scaries kick in. So, brunch usually happens anywhere between 12:30 and 3 in the afternoon which means I get to sleep in and skip all the Sunday-brunch crowds. Win-win!
On the off chance that I have it together before noon on a Sunday and don't think I can handle a busy restaurant, I make breakfast at home and eat while cuddled up on the couch watching Friends for the hundredth time. Usually, it's just a bagel or cheesy eggs + lots lots lots of coffee.  However, every once in a while I will have my ish so together that I already have ingredients for a fancy brunch! Those are few and far between, but they are sometimes totally real and make me feel like an actual grown up. In those cases, my usual go-to are these savory croque madame galettes. With everything bagel crust because duh. Let me tell you why they're the best!
About savory croque madame galettes
When I was in France this past summer, I was utterly obsessed with croque madames and ham baguettes. (Why is it that the French can make a ham sandwich so amazing and mine taste like they came out of a vending machine? It's the 82% butterfat, isn't it?) Anyways, I decided to take the ingredients from a classic croque madame and combine them with another one of my favorite French treats – the galette.  If you've been reading my blog for a while, you know that I'm totally obsessed with galettes, so it was about time that I made a savory version.
The result is a brunch situation that has just about everything you could hope for. Salty ham, melty cheese, runny eggs, and carbs all in handheld form. Oh, and I put everything bagel spice on the crust, because I pretty much want everything bagel spice on everything in my whole life. These galettes are the best because they can be served warm or at room-temperature and basically everyone who tries them falls in love right away. I love serving them at brunch parties, picnics, while camping, or even just on lazy Sundays. Bonus: you can eat them with just your hands, sans knife and fork, so less dishes are involved.
Croque monsieur vs croque madame
Before we begin, let's just go over the difference between croque monsieurs and croque madames real quick. A croque monsieur is a traditional French sandwich made with ham, bechamel, Swiss cheese, and rustic bread. It originally started popping up in French cafes in the early 1900s and is now a quintessential snack in France. The croque madame, on the other hand, has a fried or poached egg on top which is what we're using as inspiration for these galettes.
(Side note: croque monsieur literally translates to "Mr. Crunch" and croque madame translates to "Mrs. Crunch" which is now my stage name, thank you very much).
All of this is to say that if you want to leave out the eggs in this recipe, you totally can. Sometimes I make croque monsieur galettes just so they're a bit simpler to serve at parties, brunches, or picnics. It's also way easier to store leftovers or enjoy them at room-temperature sans egg. You can always serve eggs on the side if you want. Ok, now let's make them!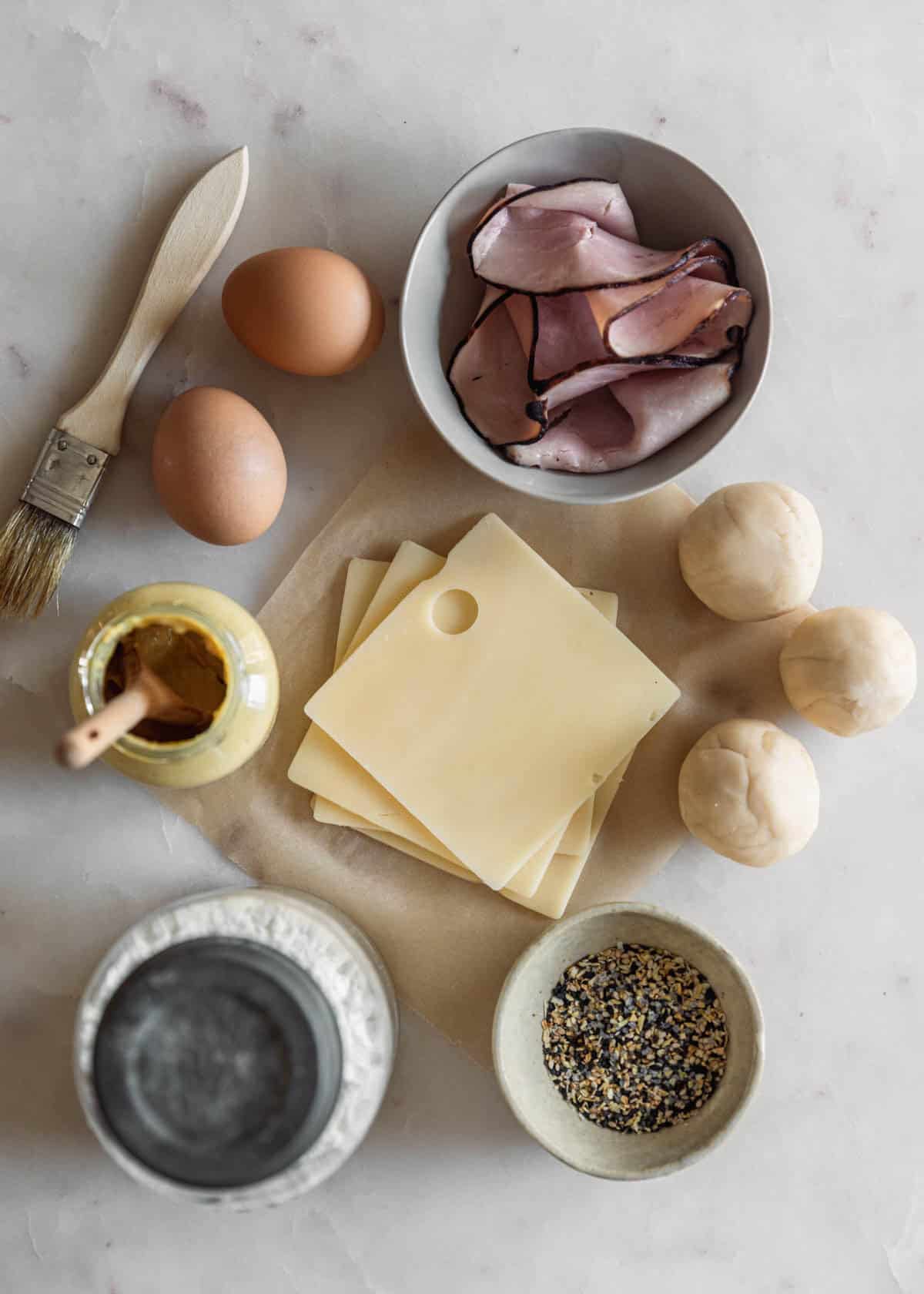 The ingredient list
Pie dough – store-bought or homemade. We all know I'm partial to a good homemade pie crust but any will do! If you go store-bought, this one is my favorite.
Ham – I prefer black forest ham, freshly-sliced from the deli. Go with something good quality here, trust me.
Swiss cheese – sliced or shredded will work. To be honest, shredded works better but sliced is less work. Do with that information what you will.
Dijon mustard – we're using Dijon instead of bechamel in this recipe to make things just a bit easier.
Eggs – for both topping the galettes and egg wash.
Everything bagel seasoning – again, store-bought or homemade. I'm more partial to homemade because there isn't added salt.
Chives – for sprinkling. Totally optional but recommended!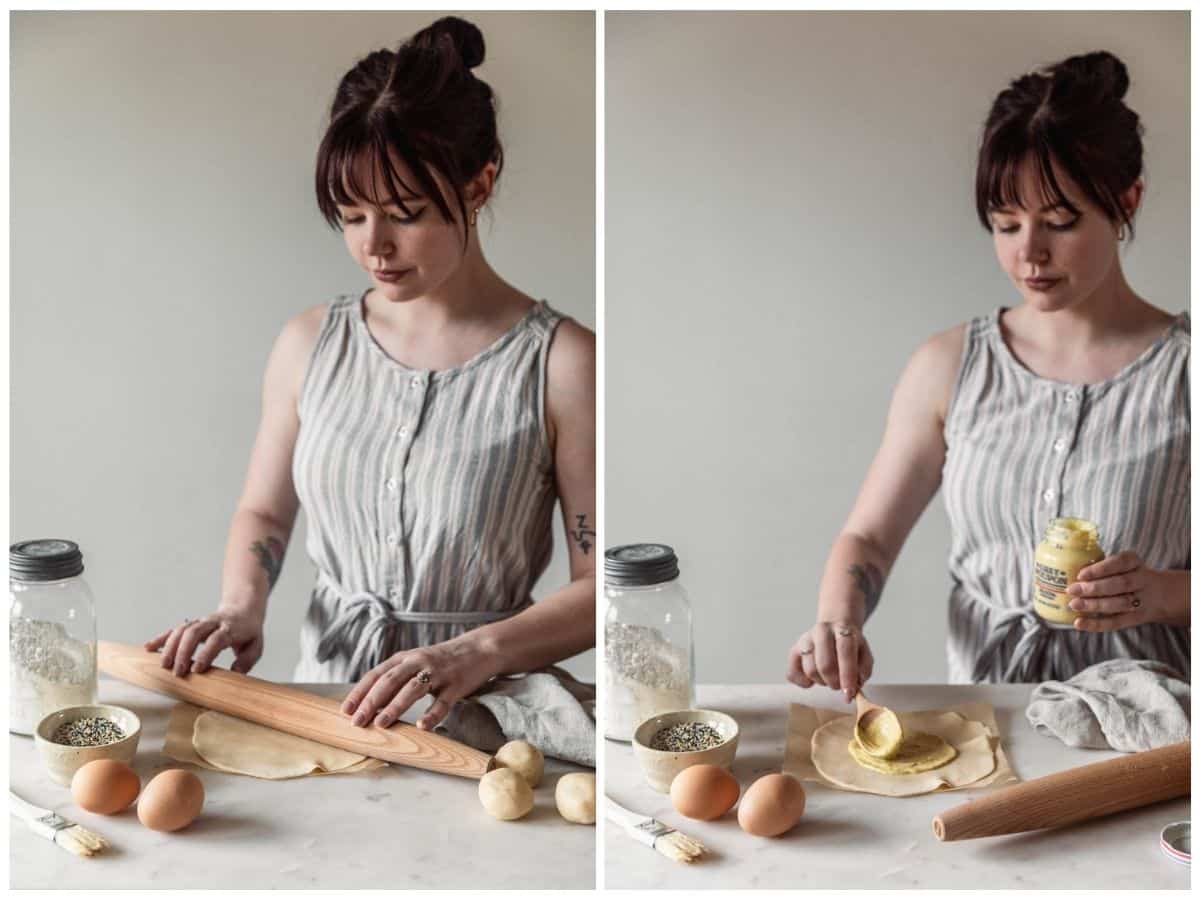 How to make the galettes
Start by rolling out your pie dough into eight 6-inch circles. Remember to keep your pie dough cold!
Next, spread some Dijon mustard in the center of each pie dough circle, leaving about a 1" edge.
Pile ham and cheese in the middle of each pie dough. Use your fingers to fold the pie dough up and over the filling, leaving the centers exposed.
Then, brush the exposed pie dough edges with egg wash and sprinkle with everything bagel seasoning.
Bake the galettes at 400°F for about 15 minutes.
Next, break an egg into the center of each galette. Bake another 8-15 minutes until the white is set but the yolk is still runny.
Remove the savory galettes from the oven and sprinkle with fresh chives. Enjoy with hot coffee!
Storing, make-ahead, & freezing
If you're wanting to make croque madame galettes for a party but don't want to wake up at 6am to do so, I have good news for you. These mini galettes are both make-ahead-able and freezable! Here's how to store, make-ahead, freeze, and reheat savory galettes.
To store leftovers
If you have leftovers, you can just pop them in an airtight container and store them in the fridge for 3-4 days. To reheat them, I would highly recommend baking them at 350°F for 10 minutes until they are warm. (Just keep an eye on them so they don't burn). Keep in mind, if you have already baked the eggs, they will continue baking and will just have a more firm yolk rather than runny. If you expect to have leftovers, I recommend making them without eggs and serving them with fried eggs on the side instead.
If you do want to microwave the leftovers, just know they they will not be as crisp and flaky as they are right out of the oven. Microwave them for 60-90 seconds until hot. Friendly reminder that eggs pop in the microwave, so again, I recommend serving the galettes with fried eggs on the side if you expect to have leftovers.
Make-ahead & freezer instructions
To make savory galettes in advance, just assemble them up to the point that you would brush them with egg wash. That is, just roll out the pie dough, add the fillings, and fold the edges over the filling. Then, place the galettes on a sheet pan and freeze for 1-2 hours until they are very firm.
Next, wrap each individual mini galette in plastic wrap or parchment paper. Pop them into an airtight container or zipper bag and freeze for up to 1 month.
When you're ready to bake the galettes, remove them from the oven. Then, unwrap each galette and set them a couple of inches apart on a parchment-lined baking sheet. Brush the crusts with egg wash, sprinkle with everything bagel seasoning and continue baking as directed in the instructions. Note: do not freeze the galettes with egg wash, everything bagel seasoning, or eggs! Eggs definitely do not freeze well.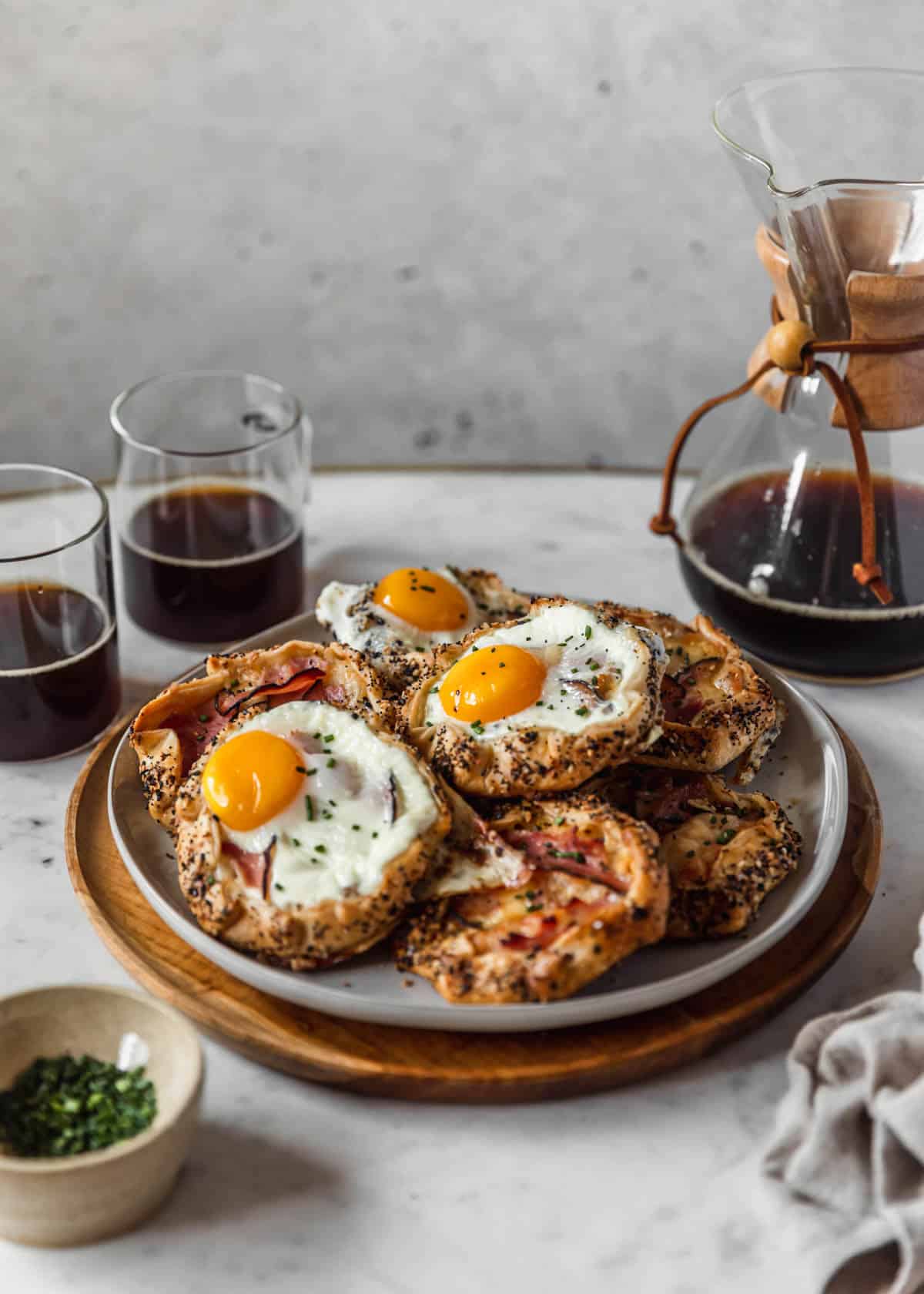 Serving ideas
Since mini croque madame galettes are basically an entire meal in themselves, you don't need a bunch of sides! However, if you want to serve a few light sides to complete the meal or serve these at a party, here are a few of my favorite options:
Green salad with vinaigrette
Seasonal fruit or fruit salad
Ingredient Substitutions
To make this dish vegetarian, replace the ham with caramelized onions or roasted veggies. Summer squash, bell peppers, and eggplant are all good!
Replace the Swiss cheese with bechamel if you're fancy. You can also use Mozzarella, Provolone, or white cheddar if you're not a Swiss-lover.
If you prefer traditional bechamel over Dijon mustard, here is my go-to bechamel sauce. I would halve or even quarter the recipe to make these galettes.
If you want to skip the eggs, go for it! Croque monsieur (just ham and cheese) galettes are good too and easier to serve at room-temperature for a party or picnic.
Or, fry the eggs instead. Sometimes, it gets a bit messy with baked eggs or you just don't want the hassle of reheating cooked eggs. Poached or fried eggs are amazing on the side!
No everything bagel seasoning? Skip it or use sesame, poppy, pumpkin, or sunflower seeds instead.
Replace the chives with chopped rosemary or thyme.
Tips & tricks
Chop the ham and cheese so that it fits nicely in the center of the galettes. Since they're mini galettes, you want to make the fillings more compact so they're easier to fold.
Use a 6" bowl to cut circles in the rolled out pie dough if you want cleaner (a.k.a. not rustic) edges.
Press the folds of the galettes firmly so they do not un-fold in the oven. Speaking from lots of experience here!
Don't be afraid to bake the galettes for quite a while. The edges should be very golden brown.
Don't use eggs if you plan on having leftovers or freezing the galettes. I've said it before and I will keep saying it. Frozen eggs are weird!
These galettes can be served warm or at room-temperature. They act kind of like a ham and Swiss sandwich when served at room-temperature which is great for brunches and holidays.
These can also be served as an appetizer! Just cut them in quarters or halves to serve them before the big meal. (Typically, I don't use eggs when serving as an app).
If you want to make four larger galettes, I find that to be a better size for a meal. They're still mini, just more of a meal than a snack! To make larger galettes, just cut the pie dough into quarters and add double the fillings (minus the eggs). You may need to bake them for 5-10 extra minutes or so.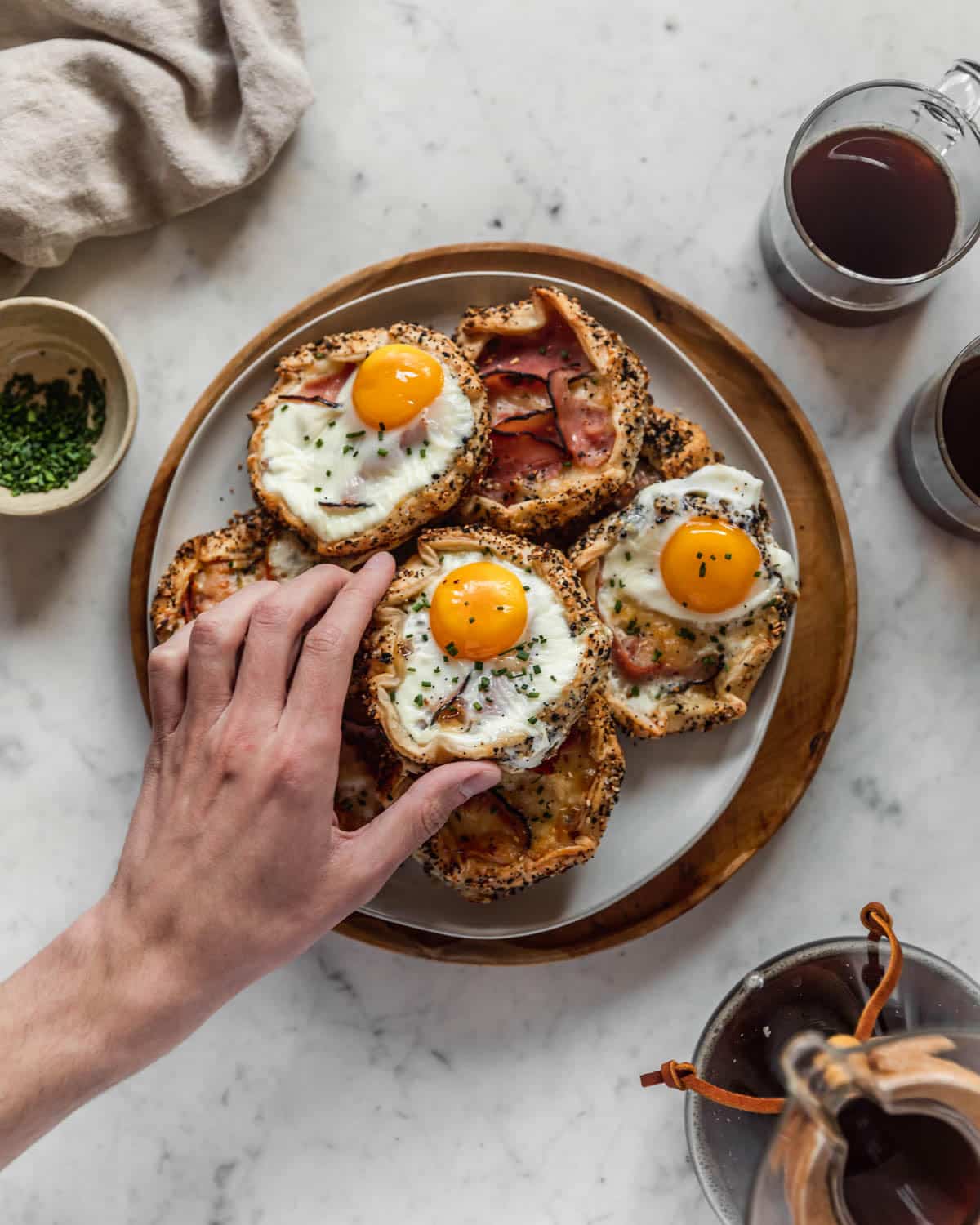 More savory brunch recipes
Breakfast BLT with Avocado & Spicy Mayo
Everything Bagel Breakfast Salad
Make Ahead Breakfast Burritos
Mini Chilaquiles Verdes with Roasted Tomatillo Salsa
Bacon Hash Skillet with Runny Eggs & Harissa
If you make this recipe, I would love it if you left a star rating and review! I read every single comment and love hearing what you think about my recipes. Thank you for supporting Sunday Table!
---
Croque Madame Galettes with Everything Crust
These are my go-to meal for a brunch party or holiday breakfasts! These croque madame galettes have savory ham, Swiss cheese, Dijon mustard, and runny eggs wrapped up in everything bagel pie crust. They're freezable, make-ahead-able, and delicious even at room temperature!
Ingredients
Instructions
Preheat the oven to 400°F. Line 2 sheet pans with parchment paper. In a small bowl, whisk 1 of the eggs with 1 Tablespoon of water to make an egg wash. Set aside.

Next, divide the pie dough into 8 balls**. Roll each ball of dough on a floured surface until it is about 6'' in diameter. (For less 'rustic' galettes, place a 6'' bowl or plate upside down on the pie dough and use it as a guide to trim off any rough edges with a pizza cutter).

Spread 1/2 Tablespoon of Dijon in the middle of each pie circle, leaving a 1'' edge on the pie dough. Divide the ham and cheese equally between the pie dough circles, leaving a 1'' border of exposed pie dough***. Alternate between ham and cheese to get those pretty layers!

Next, using floured fingers, fold the edges of the pie dough circles up and over the filling, leaving an exposed center. Press the folds firmly so they don't come undone in the oven!

Brush the exposed pie dough edges with egg wash and sprinkle the edges of each galette with 1/2 Tablespoon of everything bagel seasoning.

Bake the galettes for 15 minutes, or until the dough starts to turn golden brown.

Remove the galettes from the oven, and break an egg into the center of each galette.**** Season with salt and pepper. Bake for another 8-15 minutes until the pie dough is a deep golden brown, the egg whites are set, and the egg yolks are still runny.

Sprinkle the finished galettes with the fresh chives. Serve and enjoy!*****

Freezer Instructions: to freeze the galettes, make them up until the galettes are assembled. Don't brush them with egg wash!****** Just pop them on a sheet pan and freeze for 1-2 hours, until very firm. Next, wrap each galette in plastic wrap or parchment paper and store them gently in an airtight container or zipper bag. Freeze for up to one month.To bake the galettes, remove them from the wrappers and line the frozen galettes on a parchment-lined sheet pan. Brush with egg wash, sprinkle with everything bagel seasoning, and bake as instructed above. You may need to add up to 3-5 minutes of baking to ensure they are cooked through!
Notes
*Most pre-made pie dough is 14-15 oz. which will also work for this recipe! **Keep any extra pie dough balls/circles in the fridge while you roll so that the butter in the dough doesn't melt. Cold butter = flaky layers! If at any point the dough starts to get warm, just pop the dough/galettes back in the fridge for 5-10 minutes. ***You want to make sure to leave at least a 1" border of pie dough so that you have something to fold up and over the filling! ****I like to break the eggs into a ramekin and pour them into the center of each galette for extra control. Keep in mind, the egg whites might run over the galette. It's not that big of a deal! If you want them to look prettier, serve the galettes with fried eggs on top instead of baked. *****To make these galettes a meal, you can also make four larger (still mini) galettes. Just divide the dough into 4 balls and roll into 8" circles. Divide the remaining ingredients between the 4 galettes. Only bake 1 egg on top of each galette. 2 eggs will be too much! ******If you plan on freezing the galettes, do not brush them with egg wash or add the eggs. Do this when you actually bake them.
Serving: 1mini galette, Calories: 410kcal, Carbohydrates: 20.1g, Protein: 20.4g, Fat: 27.6g, Saturated Fat: 9.1g, Cholesterol: 206mg, Sodium: 779mg, Potassium: 229mg, Fiber: 1.5g, Sugar: 2.1g, Calcium: 309mg, Iron: 3mg
xo Sara Lynn
*Song of the day: Heart in a Cage by The Strokes