Sage Apple Butter
With brown sugar, vanilla, and cinnamon, this sage apple butter has the coziest flavors of autumn and winter. Serve it with biscuits or buttery toast for a simple and delicious brunch!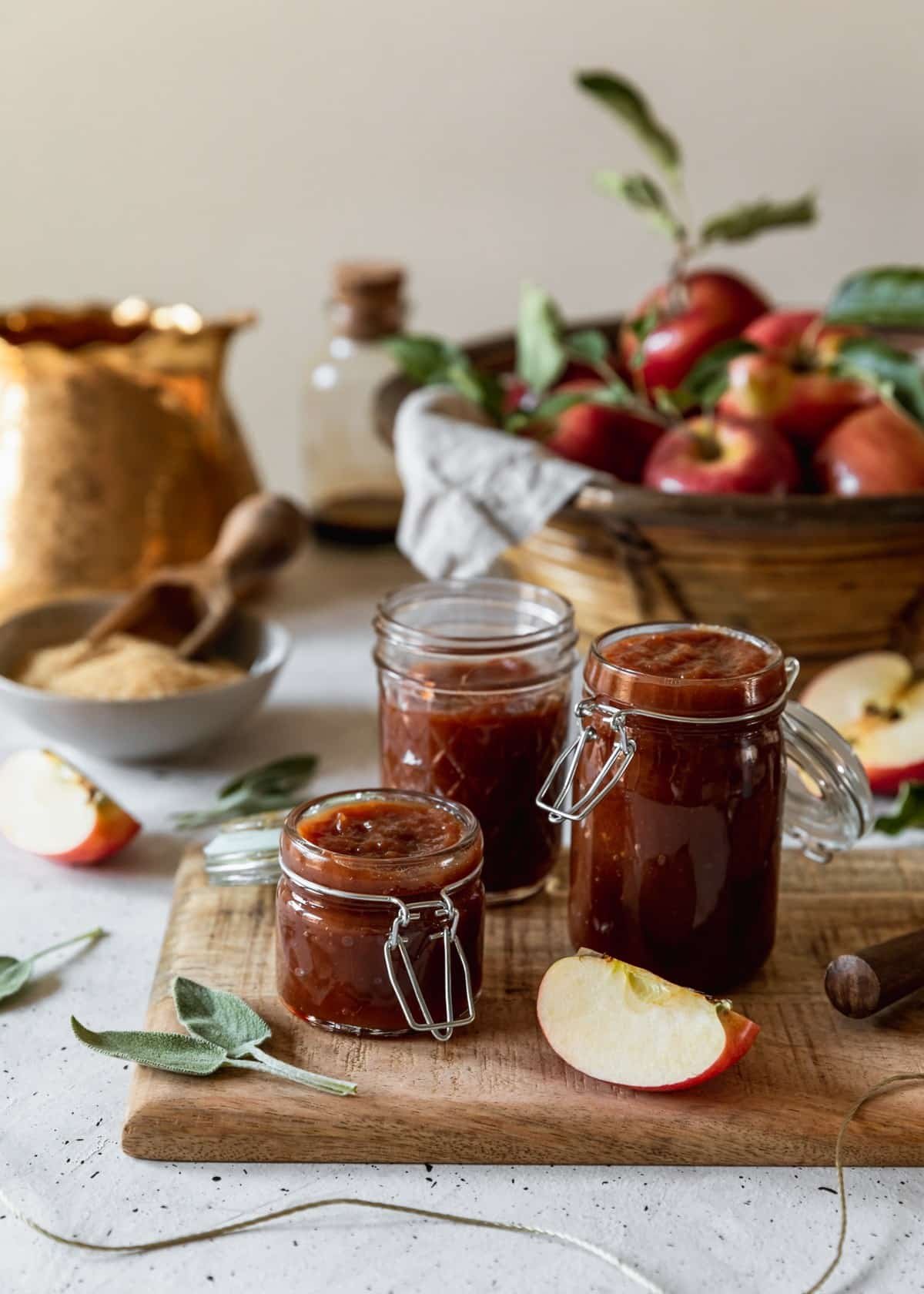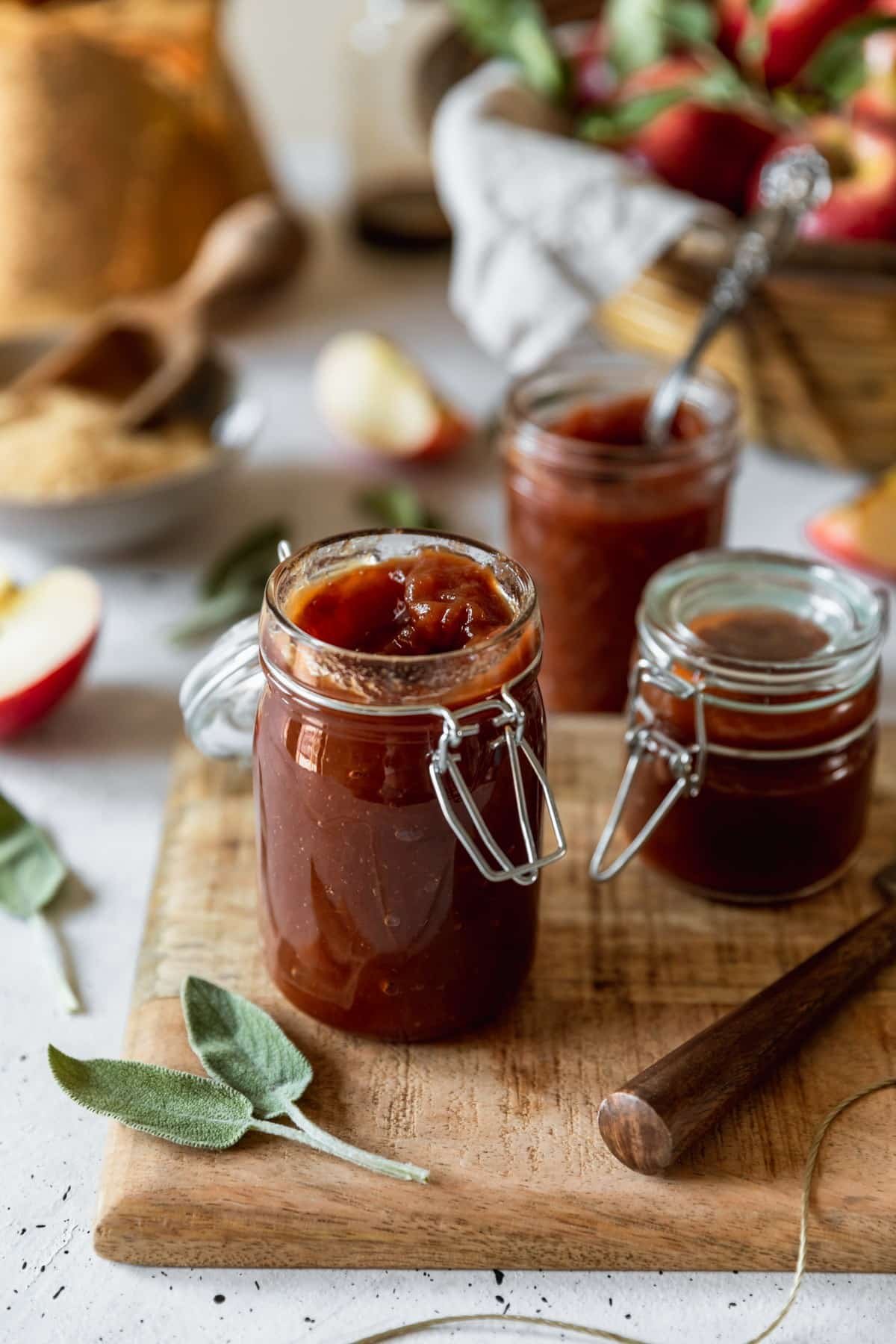 Hello from the most boring roadtrip ever. Marc and I are making a long trek from Reno to Vegas to visit his family for the holidays. We got up at around 4 a.m. this morning to miss all of college-kids-going-home-for-Thanksgiving traffic, and I can't quite figure out why right now but I also thought it would be a good idea to cook an entire pre-Thanksgiving feast at like, 10pm last night? I guess it was worth it though, cause I'm rolling up to Thanksgiving armed with local coffee, black raspberry jam, and a big jar of sage apple butter.
I don't really know how this slow cooker sage apple butter came to be, but wowowow, I'm glad it did. Marc and I couldn't stop tasting little spoonfuls of it all night. It's just the perfect mix of all the best fall flavors. Sage mixed with apples, cinnamon, vanilla, brown sugar. Ughhhh, this stuff is a total dream.
But what is apple butter?
Apple butter is a bit hard to describe because it is both a lot of things and its own thing all at once. It's made similarly to applesauce but has a much different flavor profile and consistency. First off, apple butter is much thicker than applesauce and has more flavors like vanilla and spices. Because of the longer cooking time, it has a much richer, more caramelized flavor.
It's also not quite a jam or jelly, because it doesn't use pectin. So rather than having a "gel" consistency, it's more like thick spread. I would compare it to more like a smooth compote!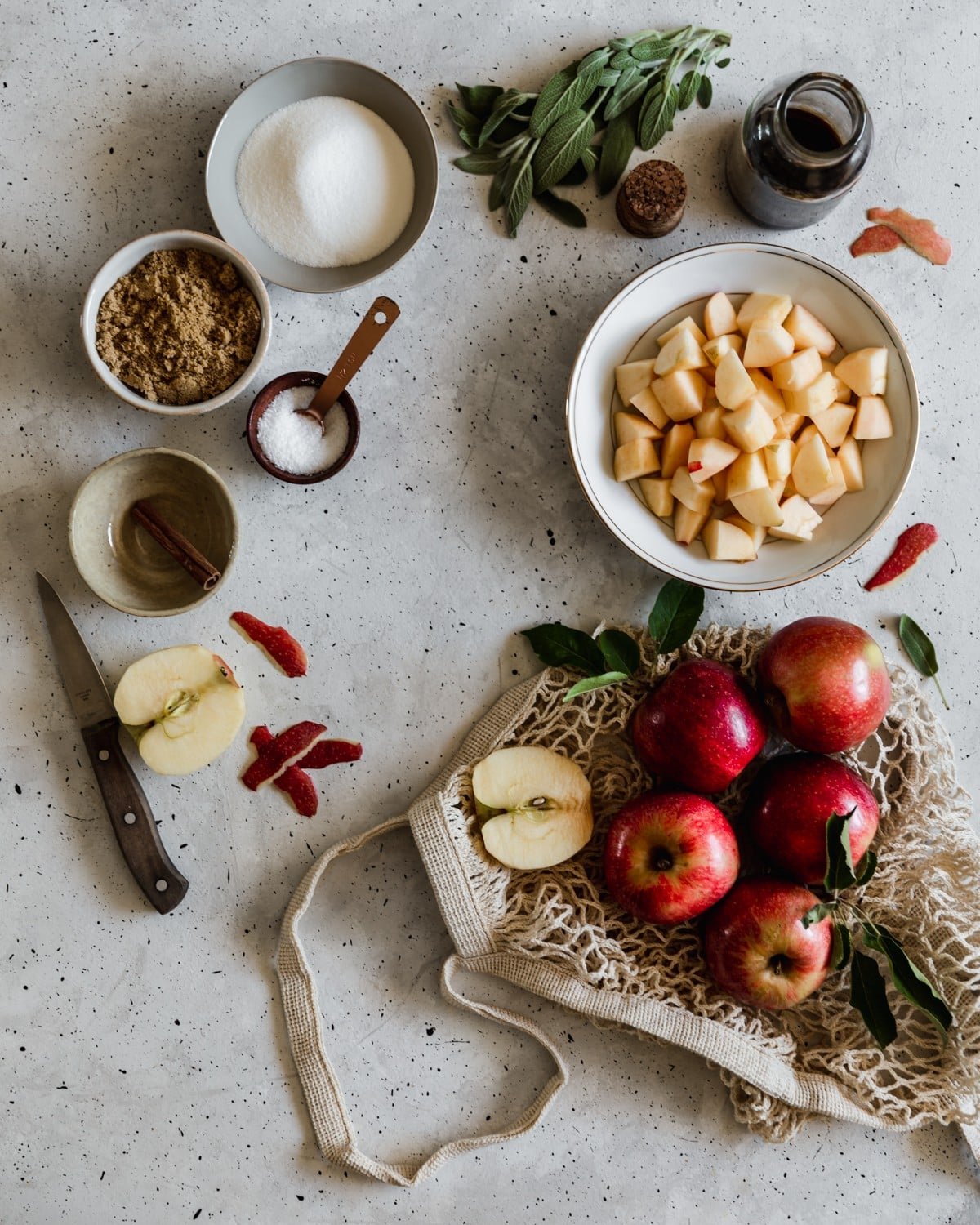 Ingredients you need
Apples – you'll want to peel and dice them into 1-inch chunks.
Sugars – both white and brown (light or dark).
Sage – only fresh sage will work for this recipe. You could also try other herbs like rosemary or thyme!
Cinnamon stick – you could also use about 1/2 tsp. of ground cinnamon.
Basics – Kosher salt and vanilla extract.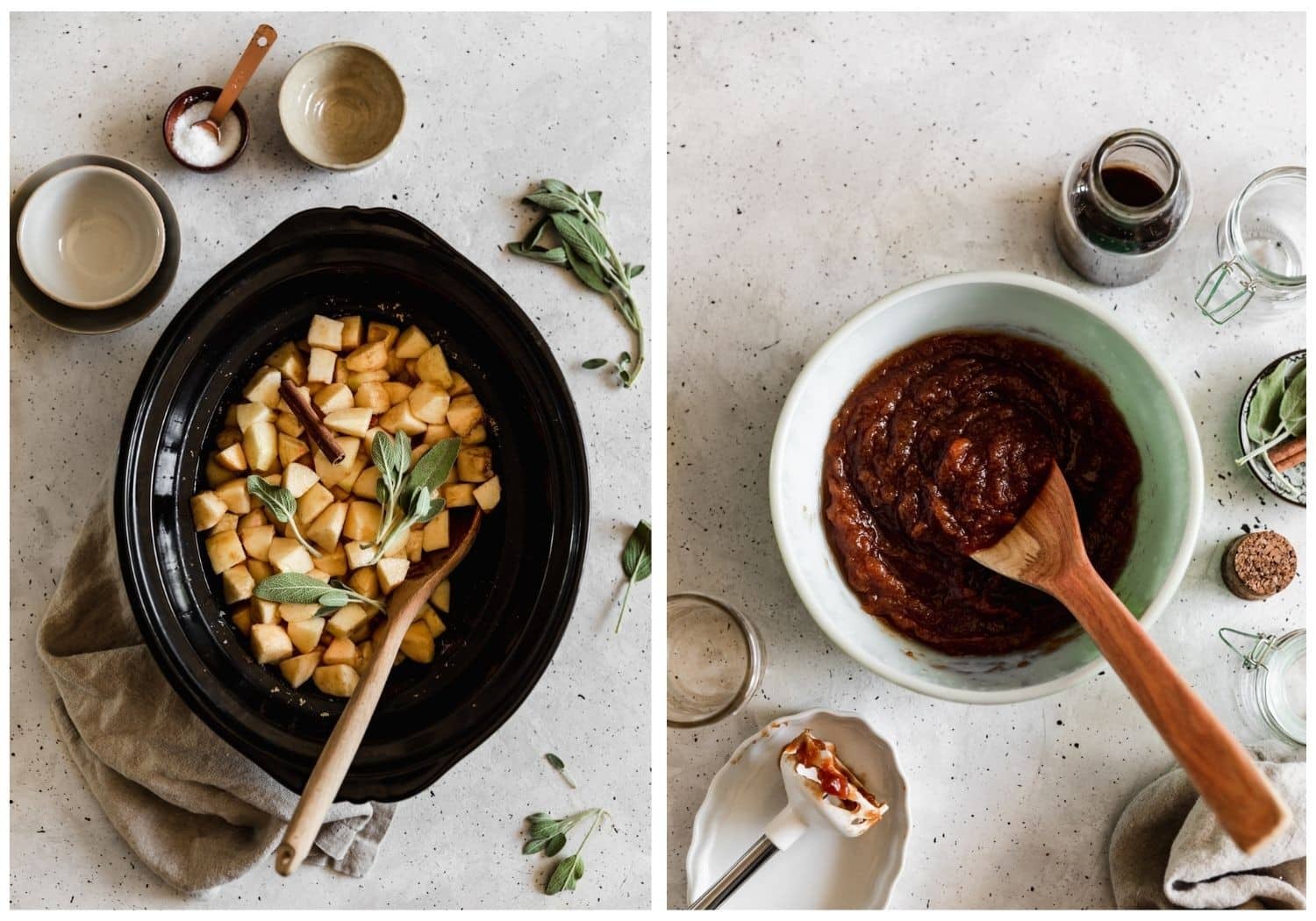 How to make apple butter in the slow cooker
This recipe is truly the easiest! You basically just stick everything in a slow cooker and let it cook all day.
Start by peeling and dicing your apples into 1-inch chunks. Throw them in the slow cooker along with brown sugar, white sugar, a cinnamon stick, some salt, and a bunch of sage. Cook on low for 8 hours.
Once the apples are broken down, remove the cinnamon stick and sage. Blend it until nice and smooth.
Stir in the vanilla extract and add the cinnamon stick back to the apple butter. Cook for at least two more hours on high, stirring occasionally, until the mixture is dark brown and thick.
Let cool, jar, and enjoy!
The best apples to use
You'll want to use apples that are flavorful, sweet, and crisp. Sweeter apples will lead to a sweeter butter without too much added sugar. Now would not be the time to use Red Delicious or Granny Smith. Personally, I like to use:
Gala
Fuji
Honeycrisp
Pink ladies
…or a mix of different apples!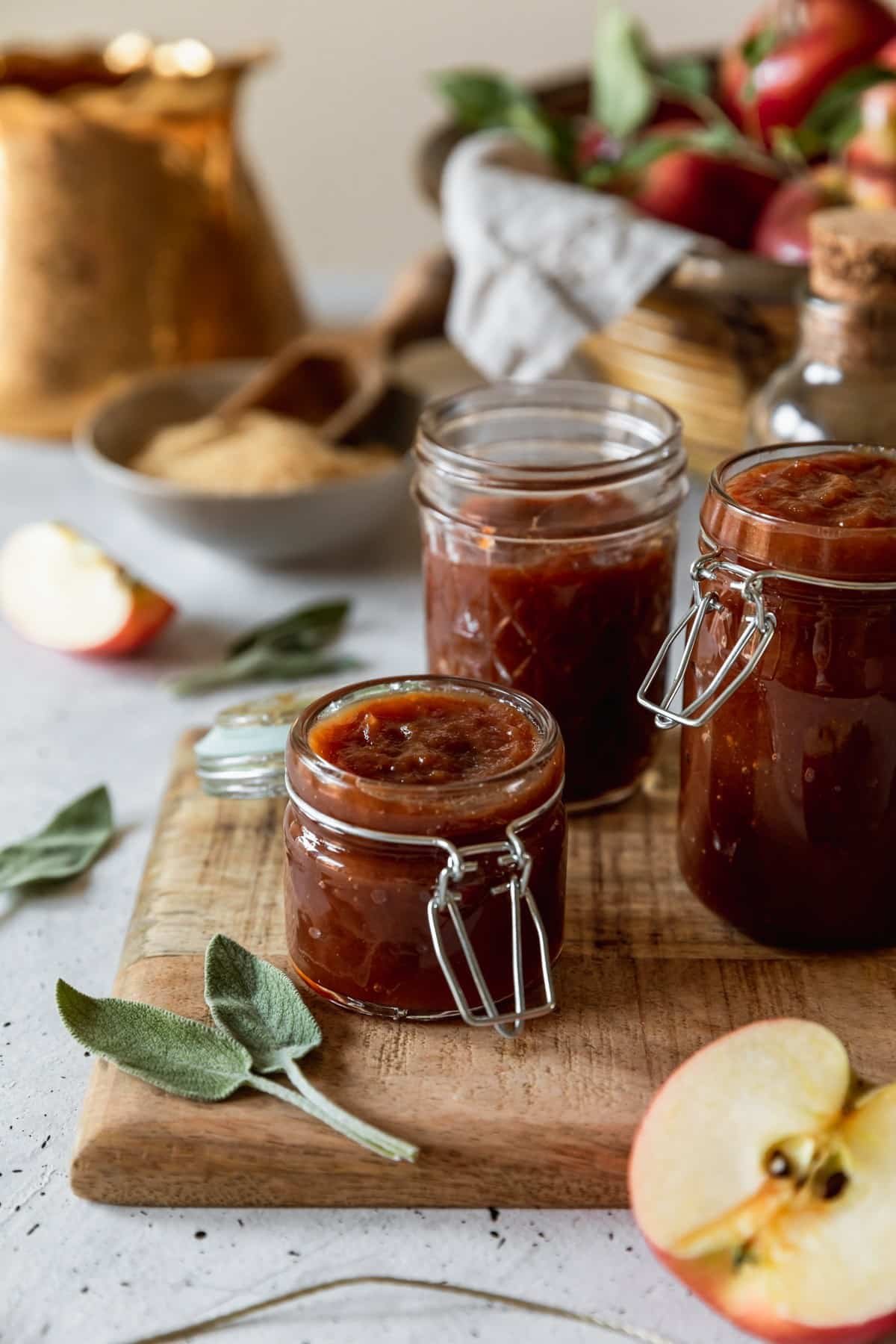 What if My apple butter is too thin?
Apple butter is only thin when it is 1. not cooked long enough or 2. doesn't have enough sugar. Luckily in this recipe, we have plenty of sugar to get a nice consistency. If your apple butter is a bit too thin, continue cooking it in the slow cooker on high (after blending it) until it's the consistency you want. It only takes an hour or two usually, but could take up to 3 or 4 depending on your slow cooker. If it's still a little thin, don't worry! It will thicken more as it cools.
Storage & shelf-life
To store the sage apple butter, let it cool for an hour or so at room-temperature. Then, just divide the butter between a few jars, close the jars tightly, and store them in the fridge for up to 2 weeks. You can also freeze apple butter in freezer-safe jars. Just leave a gap at the top to allow it to expand. Freeze for up to 2-3 months and let it thaw in the fridge overnight before serving!
On another note, you can also can the apple butter. I have never tried this personally, but you can find some tips here!
Serving ideas
There are a ton of ways to serve up sage apple butter. Try using it:
Spread on toast, buttery biscuits, cornbread, and scones
Poured over pancakes or waffles
As a filling for cinnamon rolls and pastries
Brushed over roasted pork
On a cheeseboard!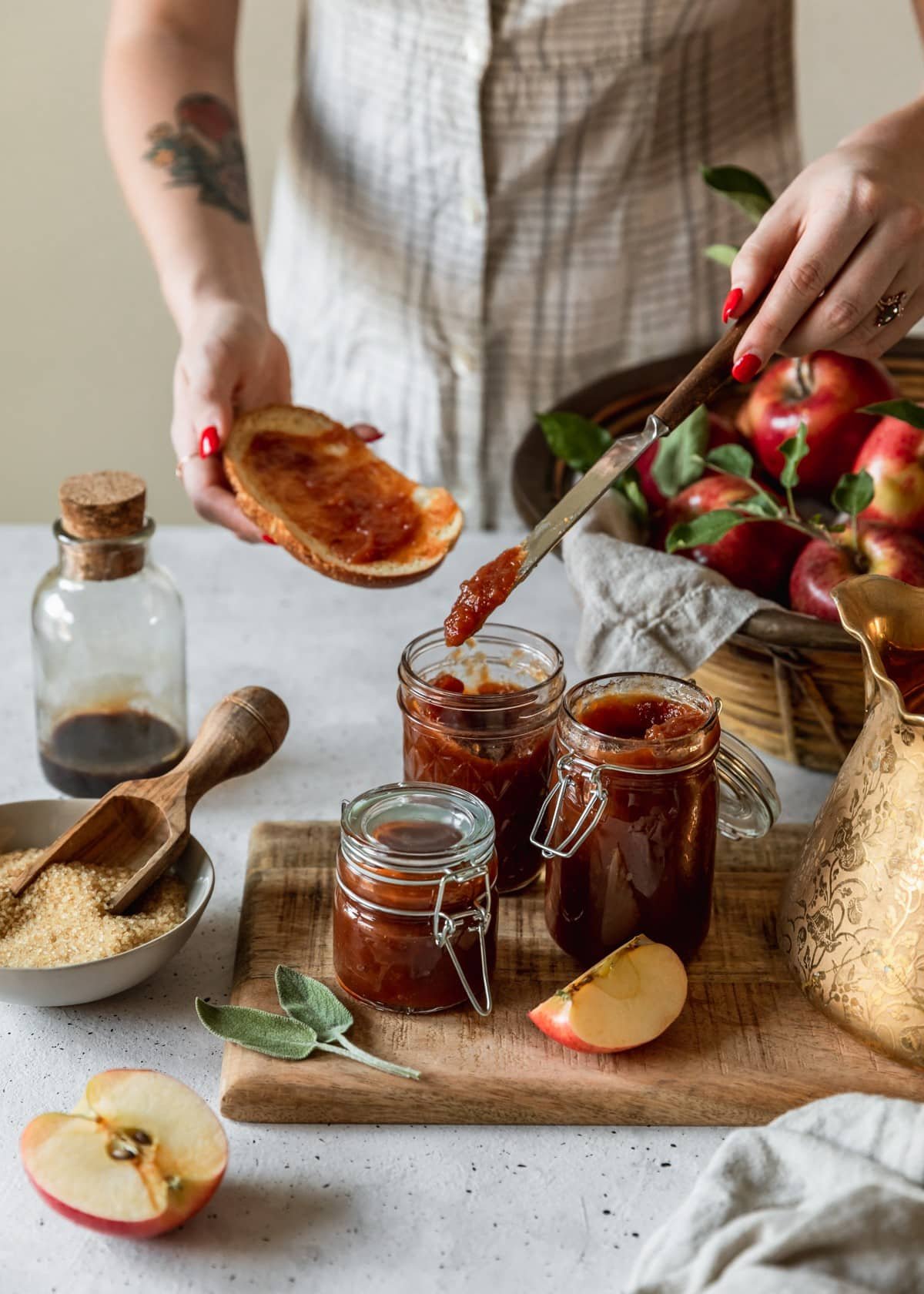 More apple recipes to try this autumn
Apple Cider Whoopie Pies with Salted Caramel Frosting
Apple Butter Cinnamon Rolls with Brown Butter Frosting
Gluten Free Apple Crisp with Irish Whiskey
Apple Galette with Butterscotch Sauce
If you make this recipe, I would love if you left a star rating and review! I read every single comment and love hearing what you think about my recipes. Thank you for supporting Sunday Table!
---
Sage Apple Butter
This apple butter has all of the best flavors of autumn and winter with warm ingredients like brown sugar, cinnamon, and vanilla. I make it in a slow cooker so it's super easy and hands-off!
Ingredients
3 lbs apples, peeled, cored, and diced into 1-inch chunks
1/2 cup brown sugar
1/2 cup white sugar
1/4 tsp salt
1 cinnamon stick
1 bunch sage
1 tsp vanilla
Instructions
Place the apple chunks in a slow cooker. Stir in the brown sugar, white sugar, and salt. Place the cinnamon stick and sage in the slow cooker. Cover, and set to low for eight hours.

After about eight hours, check the apples. They should be broken down and releasing juices. Remove the sage leaves and cinnamon stick. Discard the sage and set the cinnamon stick aside. Using an immersion blender (or regular blender*), puree the apple butter until very smooth.

Add the vanilla extract and cinnamon stick to the apple butter and stir well. Cover and cook for another two hours on high, stirring occasionally, until dark brown and thickened. You can cook it longer for thicker apple butter. Remove the cinnamon stick and discard. Cool the sage apple butter and store in jars in the fridge for up to two weeks.
Notes
* If you're pureeing the apple butter in a regular blender, be sure to leave some space at the top so it doesn't explode. After you blend it, pour it back in the slow cooker to finish cooking. For this recipe, I like to use an even mix of Fuji, Golden Delicious, and Honeycrisp apples. Before making the butter, taste your apples. If they are exceptionally sweet, reduce the sugar by 1/4 cup.
Serving: 0.25cup, Calories: 51kcal, Carbohydrates: 13.3g, Protein: 0.1g, Fat: 0.05g, Sodium: 31mg, Potassium: 42mg, Fiber: 0.9g, Sugar: 12g, Calcium: 5mg
xo Sara Lynn
*Song of the day: Ralphie by Post Animal