Ginger Old Fashioned
Updated September 2019: How to make a ginger old fashioned with bourbon, ginger bitters, and of course, a classic twist.
Hello, my name is Sara Lynn, and I am a young NYC man living in the year 1958 a 20-something woman who loves old fashioned cocktails. But you can call me Don Draper.
Today, I will be sharing my favorite old fashioned recipe, because it's my birthday! And I will be celebrating with Bourbon, Angostura bitters, and orange peel all night long if I have my way. However, I'll try to sneak a lemon drop or Manhattan in, so I can feel like Carrie Bradshaw. I may have an identity crisis at the end of the night, but so be it. Tonight is for celebration and cake and drinks with my friends!
Last summer while I was in London, the beers and ciders became kind of mundane after my 200th IPA. One night, a group of (other) Nevada students and I went to a bar down the road from our dorm where I asked the bartender if they could mix cocktails. Ignoring the slightly dubious look in the recent high-school-grad-of-a-bartender's eyes, I asked for an old fashioned, which he then responded with, "What's in it?". It was then that I learned that English pubs are strictly for wine, beer, and cider. Message received.
So, I had an old fashioned while I flew home to the states.
From Tigger mug to crystal tumblers: the evolution of the ginger old fashioned.
My first old fashioned was made with Bulleit bourbon and served out of a Tigger coffee mug around Christmas time while it snowed outside. That's a true story. I've come a long way since then, but I can't say that scenario won't reoccur. I am in college after all, and sometimes Disney coffee mugs are the only vehicle for alcoholic beverages. However, I still do not own whiskey glasses, so discount water glasses bought at Home Goods will have to do for now. (2019 Update: I have graduated from college, and therefore, graduated from water glasses. We now own four whole crystal tumblers whoop whoop!)
How to make the perfect ginger old fashioned!
Another 2019 update: I have me a mans. And he knows how to make a damn good old fashioned. So, one weekend while he made me a ginger old fashioned, I took some photos, and now we have a great step-by-step tutorial! Thanks, Marc!
For the ginger old fashioned, you will need bourbon or rye (I like Bulleit), simple syrup or sugar cubes, ginger bitters, and a lemon and/or orange.
Start with a couple of glasses. Obviously, crystal tumblers are fancy AF, but a small water glass or even a Tigger mug will do! Place a large ice cube in each glass. I got my mold at Target, but you can use regular ice cubes if you'd like.
Pour two ounces of bourbon over the ice.
Pour one-quarter ounce, a.k.a. one teaspoon, of simple syrup over the whiskey. I prefer to pour the simple syrup in after the whiskey (as opposed to before), to keep the simple syrup from settling at the bottom of the glass.
Add two to three dashes of ginger bitters.
If you have a swizzle spoon, now is the time to bust it out! Or, just use a regular spoon/iced tea spoon. Stir the drink until it's properly chilled and a bit diluted, about 30 seconds.
Take a strip of lemon peel or orange peel, and twist it over the ginger old fashioned. If you use both, it's called "rabbit ears". Cute! Drop the peel in the glass for garnish.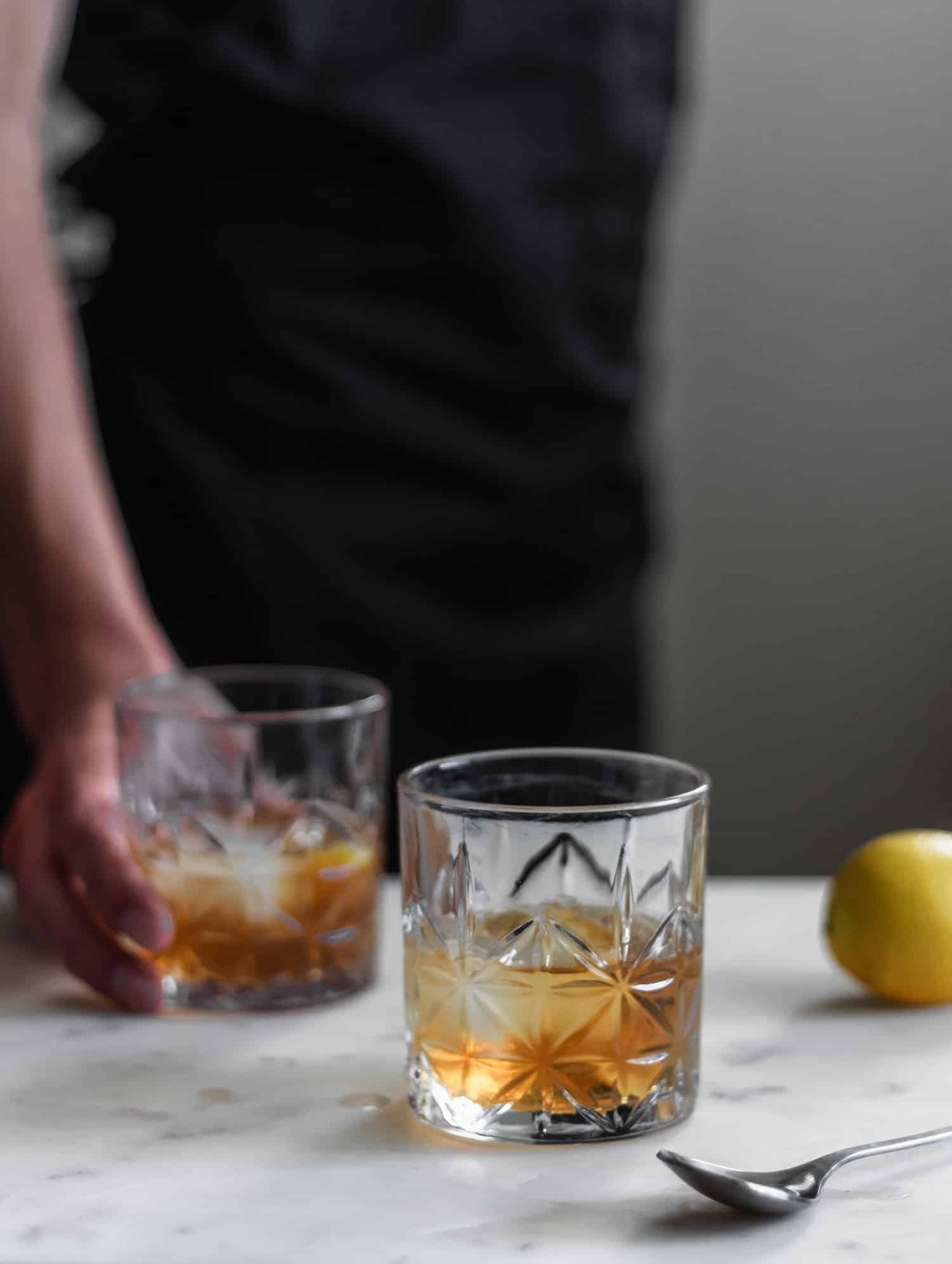 That's it y'all! Ginger old fashioned complete.
Ginger Old Fashioned
---
Ginger Old Fashioned
If you're a fan of whiskey, you'll definitely want to try this ginger old fashioned! The ginger perfectly compliments the bourbon for a smoky, spicy, and perfectly sweet cocktail.
Ingredients
2 oz bourbon whiskey (or rye, if desired)
.25 oz simple syrup (or 1 sugar cube*)
2 dashes ginger bitters
Orange and/or lemon peel, for garnish
Instructions
Place a large ice cube, or a couple regular ice cubes, in a whiskey glass (or small water glass or Tigger mug).

Pour the bourbon over the ice cube. Add the simple syrup and ginger bitters. Stir for 30 seconds, until cold and properly diluted. Note: I add the simple syrup after the bourbon, so the simple syrup doesn't settle at the bottom of the glass.

Twist the orange and/or lemon peel over the old fashioned. Tuck it into the side of the ice cube. Enjoy!
Notes
*If you're using sugar cubes: Use the handle of a wooden spoon to muddle the sugar cube with the ginger bitters. Add the ice and bourbon. Stir until cold and properly diluted, about 30 seconds. Finish with a twist. Enjoy!
Serving: 1cocktail, Calories: 160kcal, Carbohydrates: 7.7g, Sodium: 54mg, Potassium: 6mg, Sugar: 1.5g, Calcium: 2mg
---
As a bday present to me, please make this ginger old fashioned tonight. Or, order one at your favorite bar 😉
XO Sara Lynn
*Song of the Day: Dreaming by Seapony