Matcha Kettle Corn
Matcha kettle corn is an earthy, almost floral snack. Lightly sweetened and flavored with matcha powder, it is perfect for movie night or a snack bar!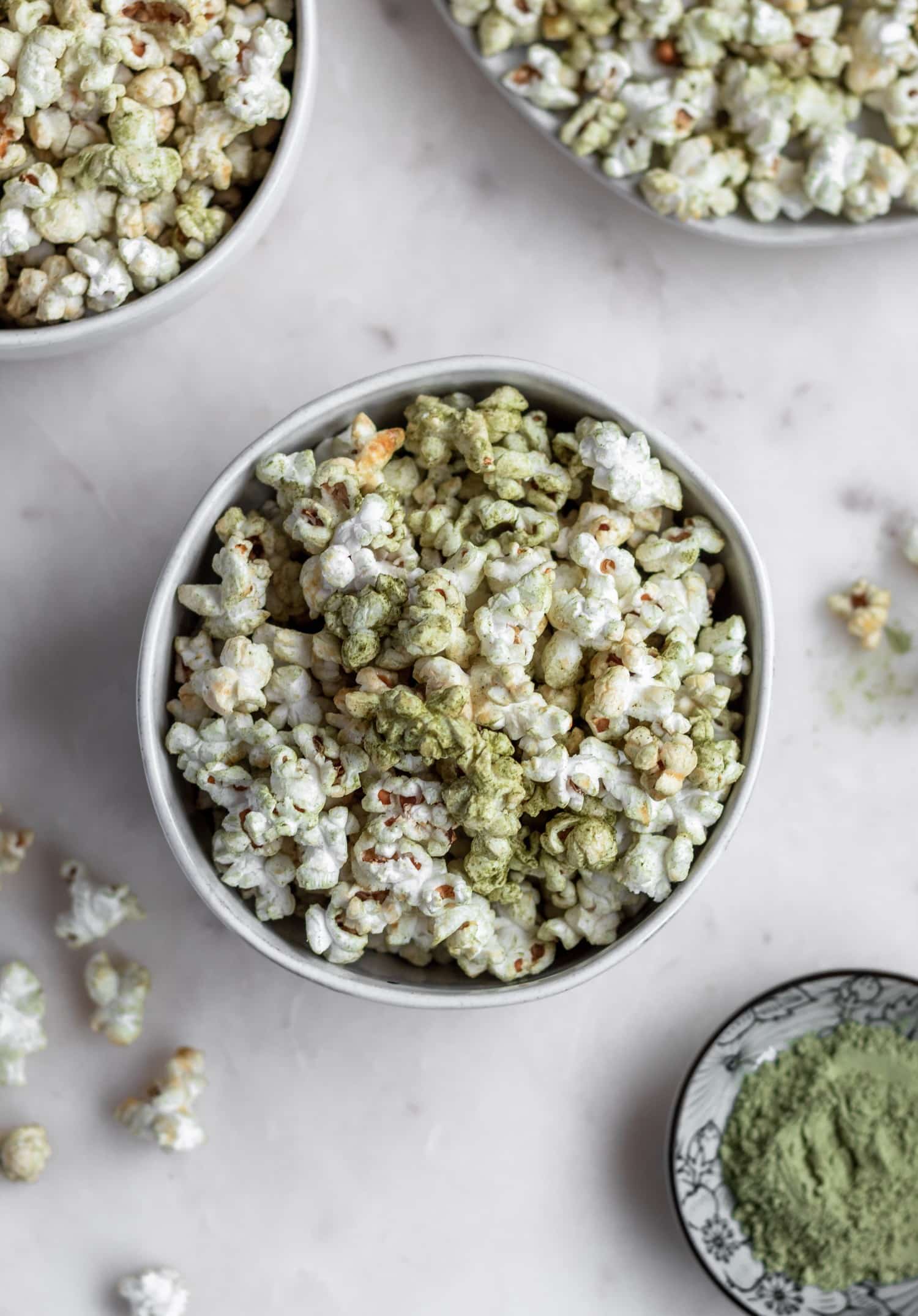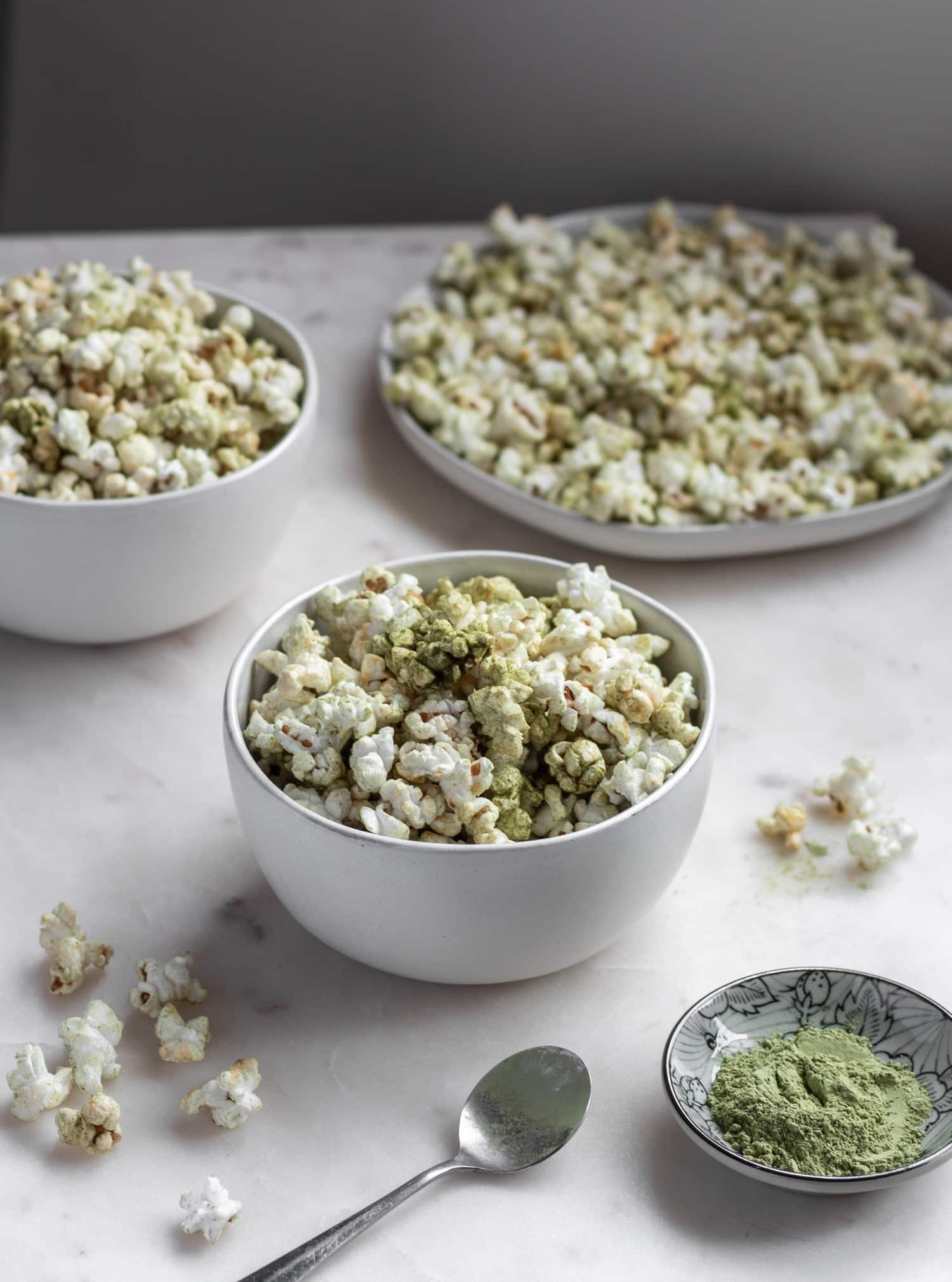 I know that St. Patty's Day is not a super celebrated holiday in the U.S. (and probably we don't really celebrate the correct way), but I've always felt drawn to it purely based on the fact that my favorite color is green. As a little girl who was obsessed with green, I thought it was the coolest that there was a holiday where everyone wore my favorite color. And now, I'm planning my trip for Ireland! And guuuuyyyyyys. I'm crushing hard on Ireland. Based on pictures, I'm pretty sure I'm utterly in love.
I'm a little bummed about this St. Patty's Day this year, because I'm having surgery the day before. No beer or corned beef for me wah wah 🙁 But then! I was innocently going about my day, and god knows why, but I started thinking about kettle corn. (Do I really need a reason?). And then suddenly without hesitation, matcha kettle corn popped into my brain. And what better way to celebrate St. Patty's Day than with green kettle corn?!
Remember in elementary school when we would have parties for all the holidays, and without fail, at every single celebration, someone's mom would make those sweet popcorn balls with shit tons of Yellow 6 and Red 40 and Blue 294u304889? I have a vivid memory of trying my damnedest to bite into one, but it was absolutely impossible. Why did no one's mom just think to make regular kettle corn? Anyways, the point is that matcha kettle corn is essentially an adult-friendly throwback to green-colored sweet popcorn balls except without the poison, so you're welcome !!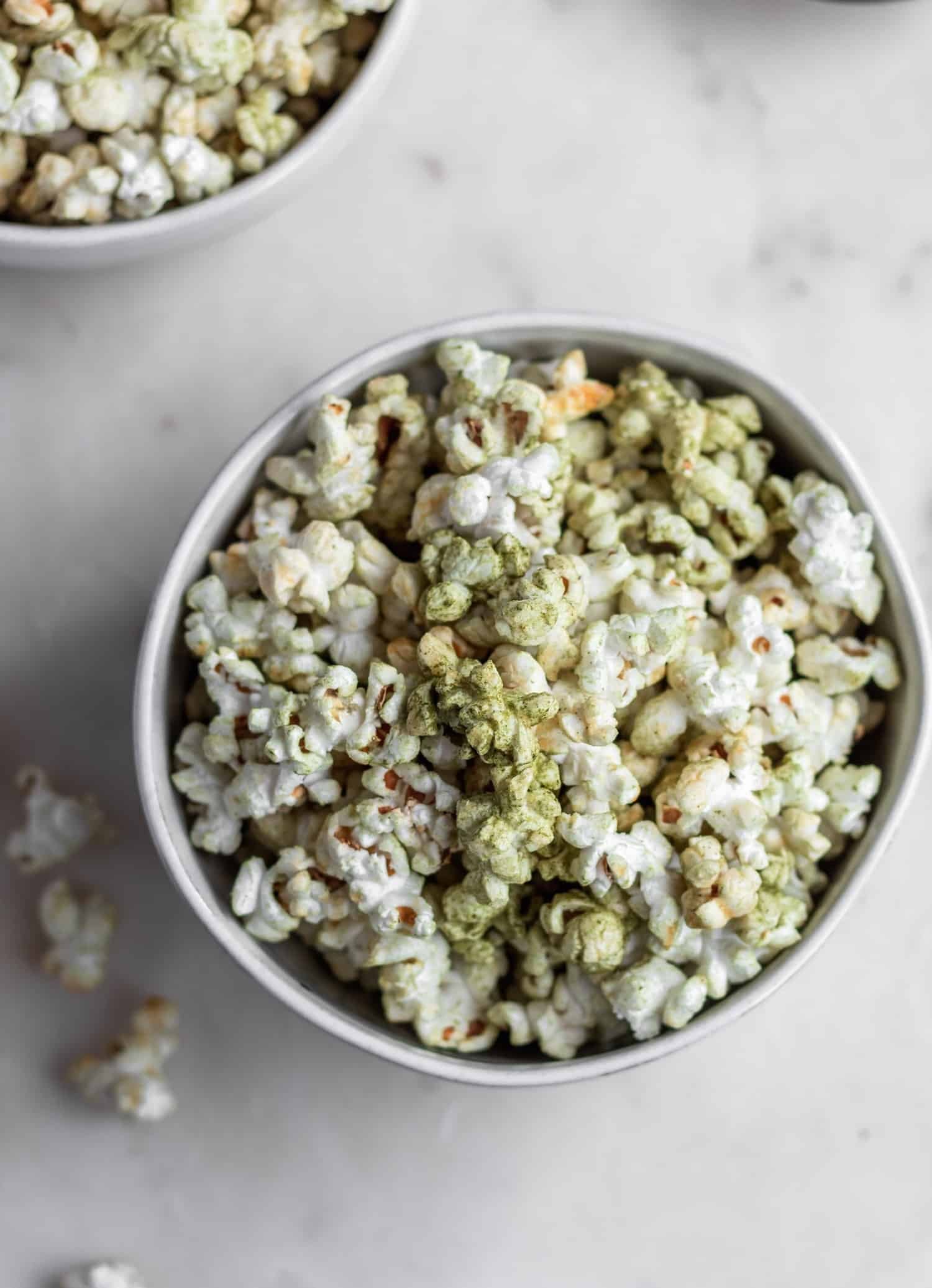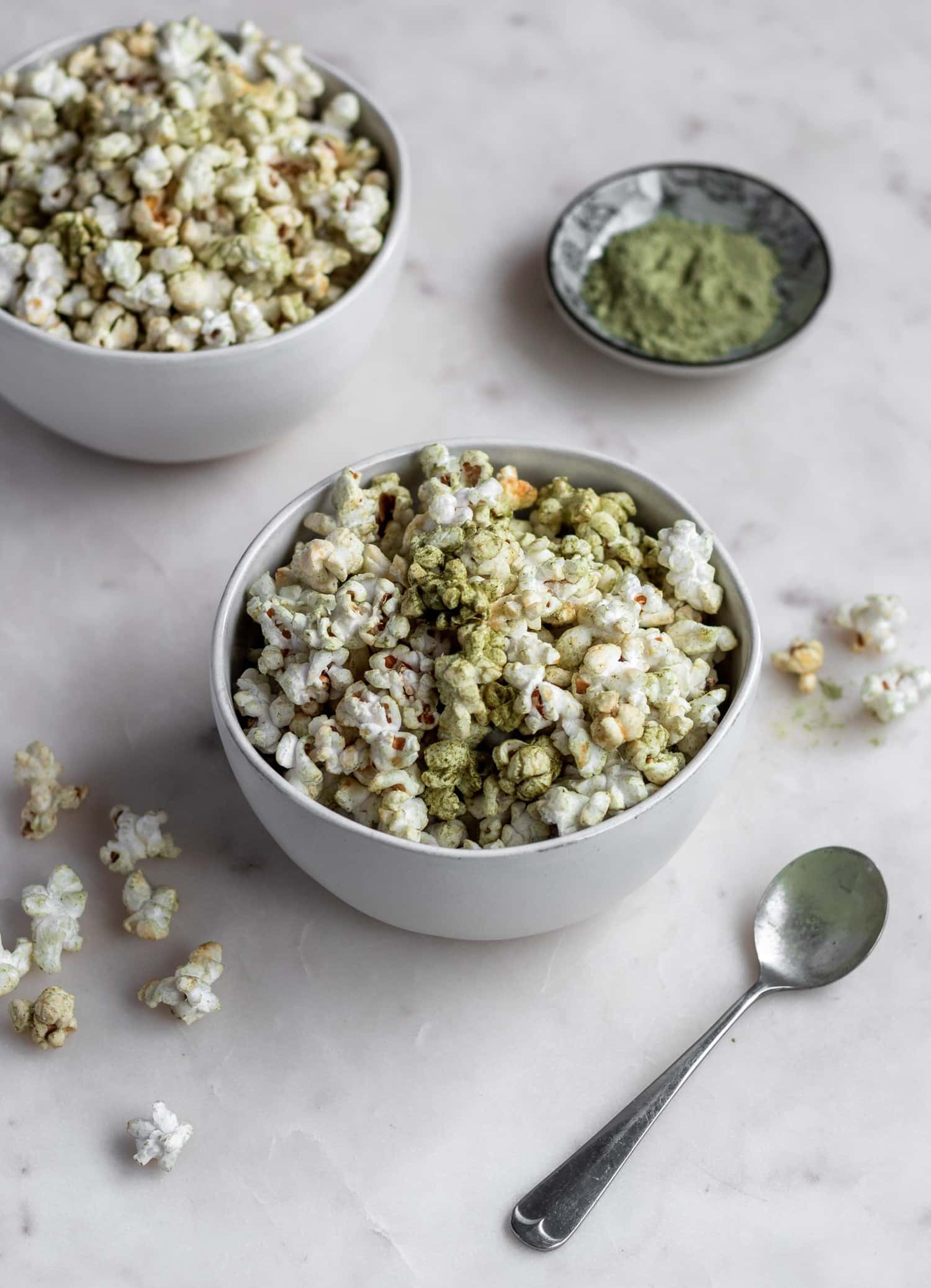 Notes: As for the matcha part of this kettle corn, I would say you have to be a pretty big fan of matcha to enjoy this. Well, obviously. If you want a light coating, start with about 1 tsp. of matcha. You can add less for a very light coating. Add another 1/2 tsp. if you want a little more flavor. I liked it with 1 1/2 tsp., but I luuuurve matcha. Also, I believe that the kettle corn is perfectly sweet with 1/4 c. of sugar, especially to balance the earthiness of the tea. But, feel free to use less if you don't like sugary kettle corn. My dad doesn't like super sugary kettle corn but said it's the perfect balance of sweet. So take that as you will!
Matcha Kettle Corn
---
Matcha Kettle Corn
Matcha kettle corn is an earthy, floral snack. Lightly sweetened and flavored with matcha, it is perfect for movie night or a snack bar!
Ingredients
2 tbsp neutral oil or coconut oil
2 tbsp butter
1/2 c popcorn kernels
1/4 c sugar
1 1/2 tsp matcha
Pinch of salt
Instructions
In a heavy stockpot with tall sides, heat oil over medium-high heat. Add a few popcorn kernels. Once they've popped, reduce the heat to medium and add the butter and the remaining popcorn kernels. Stir.

Sprinkle the sugar over the top. Cover the pot with a lid, and gently shake the pot until most of the kernels are popped, about 1-2 seconds between pops.

Immediately pour the popcorn into a medium-sized, heat-proof bowl or container with a lid. Sprinkle the matcha powder and salt over the popcorn. Place the lid on bowl or container, and shake until the matcha is evenly distributed. (You can also use a large brown paper bag if you don't have a container with a lid!). Let cool (the sugar will be hot!). Happy snacking!
Notes
This is obviously a matcha-centric recipe, so I like to use 1 1/2 tsp. of matcha, but feel free to do 1 tsp. for a lighter coating. I use 1/4 c. of sugar for a slightly sweet flavor, but feel free to add more for sweeter kettle corn!
Serving: 1serving, Calories: 89kcal, Carbohydrates: 7.4g, Protein: 0.4g, Fat: 6.7g, Saturated Fat: 2.2g, Cholesterol: 8mg, Sodium: 32mg, Potassium: 6mg, Fiber: 0.4g, Sugar: 6.3g, Calcium: 1mg
---
XO Sara Lynn
*Song of the Day: Abducted by Cults