Pear & Ginger Galette
Sometimes I yearn for the kind of life that involves an airy, brightly-lit house on a large, green property surrounded by a variety of fruit bushes, trees, roots, and stalks.  In my little dream, I don't necessarily have a job per se, unless by "job" we're talking something along the lines of "fruit-picker who makes artisan pies and breads and fresh salads while experimenting with ingredients all day".  Then yeah, that's my job.  Also, I wear a lot of sun dresses and big floppy hats.
Oh!  Lastly, and I don't want to ask for too much here, but since this is a dream after all, my life would include a flannel-beard partner who plays guitar and makes me pour-overs and we have at least 2 dogs.
It's precisely at the flannel-beard-dog moment that I realize this dream is not very realistic, mostly because 1. nice flannel-beards who play guitar and make pour-overs are hard to come by these days and 2. I really like my big-city-luxuries, including easy to find specialty coffee shops, great bars and restaurants, and 24/7 access to a grocery store, even if those "big city-luxuries" are in the BLC itself.  However, a dream is a dream is a dream, and I still like to think about it now and again.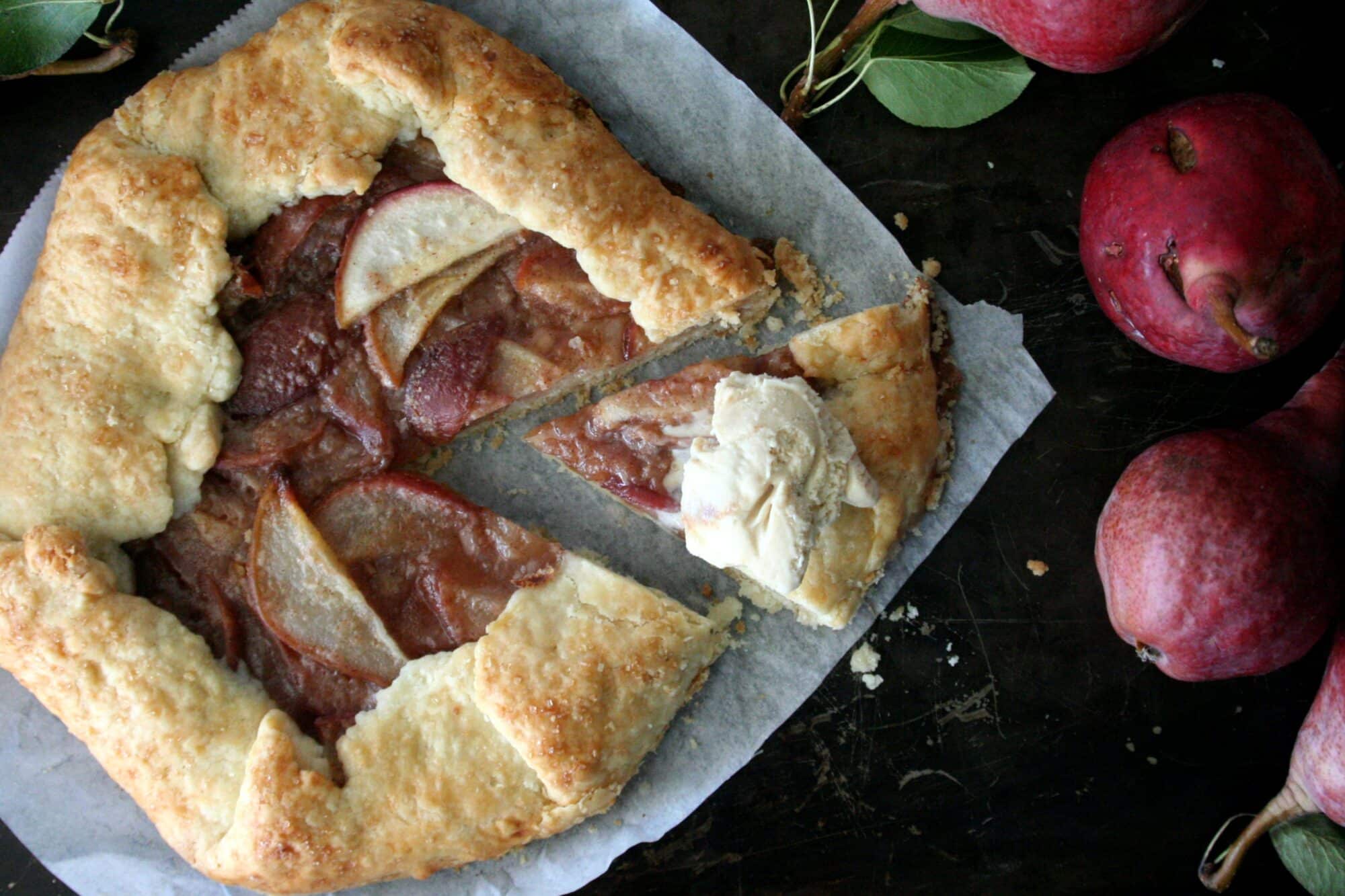 My dream was re-inspired the other day while I was walking my parents' property, picking fresh apples and pears from their newly acquired fruit trees (from their newly acquired house, go figures).  Stumped over what to do with a million half-ripe pears, I decided to follow my go-to philosophy surrounding fruit and all foods in general:
Turn it into a *pie.
Turn everything into a pie.
If you're going to cheat on your **healthy-eating pact, you should just really go for it and eat pie, right?  Say it with me: Right!  And on that sentiment, I went to work kneading pie dough, slicing pears, and grating ginger.  What resulted was probably one of the best desserts – no, recipes – I've made to date.  Oh pie, I ♥ you.
*If we're going to get all technical here, it's actually a galette.  I don't discriminate against anything with pie dough.
**As far as the healthy eating pact goes, I mean, there's pears in this, ya know?)
Before I give you the recipe, I must say one more thing:  Remember when I gave you pie recipes multiple times in the past claiming to have hold on the best pie dough recipe of all time?  Remember how I alwaaaaays give you the recipe but never give you a tutorial?  Yeah, it happened again.  I'm the worst.  But I swear to you all so soon, I will have a step-by-step!  Let me just say that, as an early-twenty-something single woman, it's hard to find people who 1. like cooking as much as you do (because early-twenty-somethings can't cook anything but ramen as it turns out), which means your friends can't demonstrate as you take pics or 2. use your very particular photography techniques or know how to use a nice camera in general.  But no worries, my friends, I already have someone lined up to help a sista out (literally…it's my brother).  Pie dough dreams will arrive momentarily.
But for now, here's a written step-by-step and one of my favorite desserts I've made to date ♥  Thanks for dealing with the crazy.
*Note: I forgot to include this in the recipe card, but I highly recommend serving the galette with butter pecan, salted caramel, or classic vanilla bean ice cream.  Butter pecan was my choice, but any of those will go!  If you're not an ice cream person, in which case, I don't know if we can be friends (just kidding kind of), but a little whipped cream does the trick.
XO Sara Lynn
*Song of the Day: Flowers in Your Hair by The Lumineers