Roasted Veggie Breakfast Casserole with Pesto
This roasted veggie breakfast casserole is the best make-ahead breakfast situation for holidays, brunch parties, or even just regular weekdays! It's loaded with roasted seasonal vegetables, creamy eggs, pesto, and Mozzarella for a wholesome, decadent, and cheesy breakfast dish.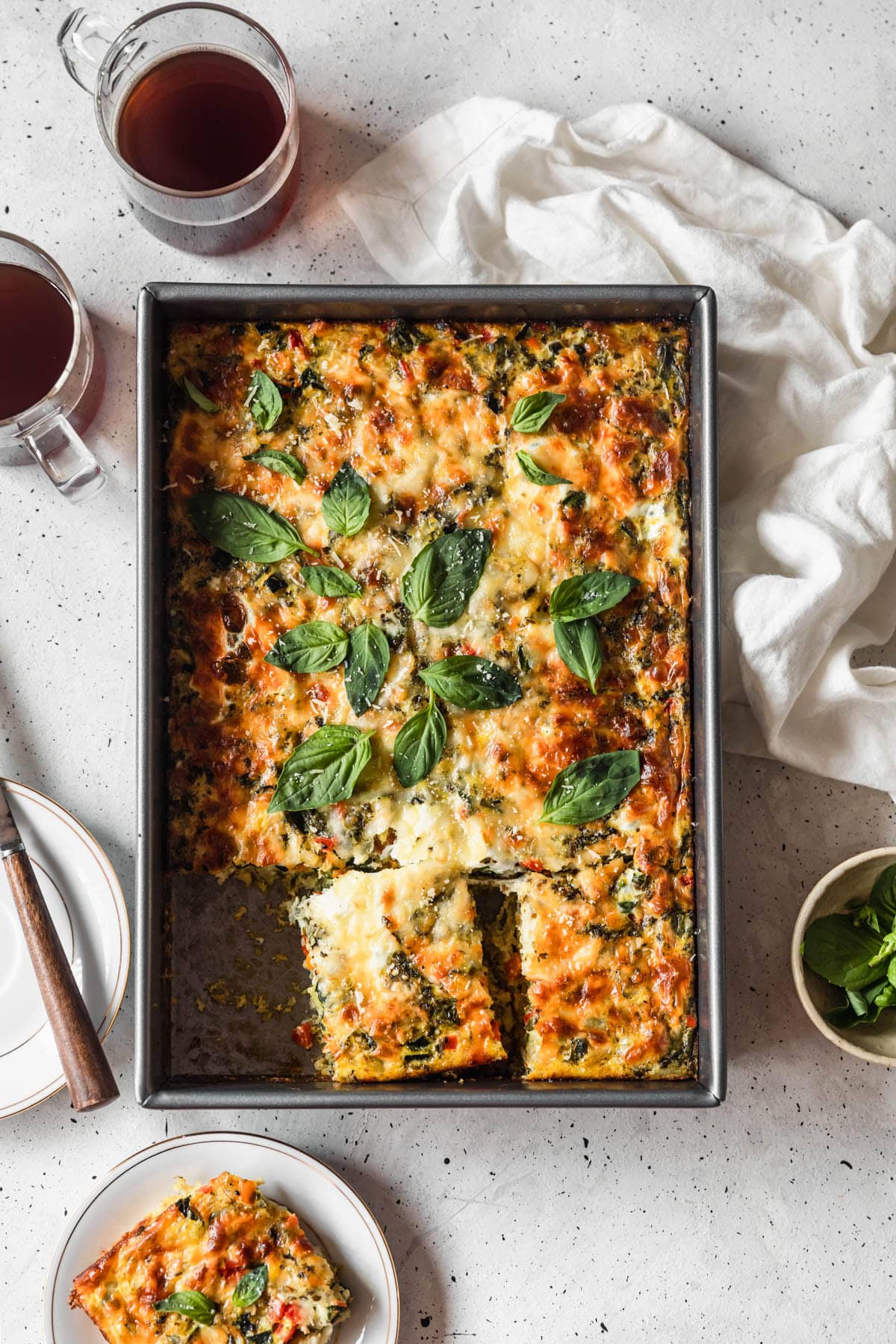 Hi hi hi! Spring has officially made its way into Reno which is evident by the fact that there are a million and one weeds in my yard and also I have not stopped sneezing since last Thursday. The good news is that the warm weather is the perfect opportunity to invite all of your friends over and eat brunch in your backyard. If you're really lucky, you have the kind of friends who don't really care if you haven't weeded your garden and also don't mind if you've popped three Zyrtec before 10am so long as you have hot coffee, mimosas, and plenty of carbs on the menu.
This past weekend, Marc and I did exactly that and invited some of our friends over for a little brunch party situation. It was a very good time with a mix of close friends, a bit of booze, and a surprising amount of veggies. (I mean, we are all in our late 20s after all. If ever there was a time to offset a few too many mimosas with a handful of roasted veggies, it would be now).
Even though the menu included plenty of decadent dishes, the real star of the show ended up being this roasted vegetable casserole. It was pretty unexpected, so much so that I wasn't even really planning on blogging it. But then, it ended up being so freaking delicious that I really didn't have a choice, now did I? So here we are. I still have a bottle of leftover champagne in the fridge and you have a roasted veggie breakfast casserole.
Let's talk about this roasted veggie breakfast casserole
If ever you were looking for an easy, delicious, almost healthy-ish breakfast casserole, this would be the one. It has a mix of garlicky, roasted seasonal vegetables, eggs, pesto, shredded potatoes, and spinach to make you feel really good about your life choices. Plus, we've added a couple handfuls of cheese because we deserve some decadence in this life, yeah?
The casserole itself is beyond simple. The most time-consuming part is chopping up the veggies but even that only takes 15 minutes or so. And in case you missed it the first time, the whole things is make-ahead-able which is exactly what we should get out of a delicious breakfast. None of us want to wake up at 6am on a Sunday to make brunch. So let's not. Whip this up the night before, bake it the next morning, and thank your past self with a hot coffee or splash of champagne and OJ.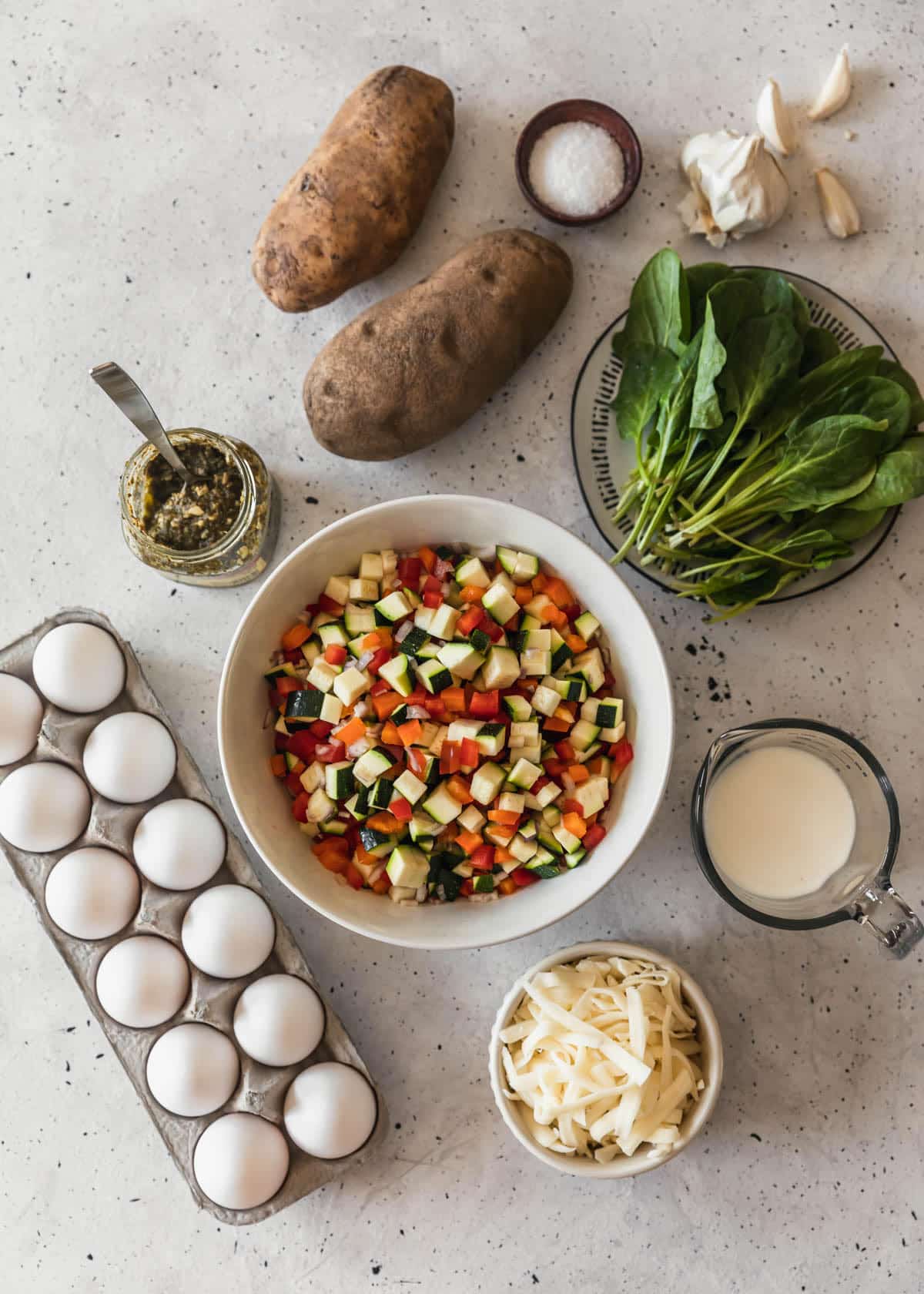 The ingredient list
The beauty of this casserole is that you can customize it by whatever ingredients are in season. Or whatever you already have wilting in the fridge. (It's fine, we've all been there). Here's everything you'll need:
Veggies – a mix of seasonal, roast-able veggies. I like zucchini, bell peppers, and shallots. But, we'll discuss more ideas later!
Spinach – or some other kind of greens.
Eggs – a whole dozen.
Whole milk – half-and-half works too if you want the eggs to be a bit creamier.
Pesto – store-bought or homemade is totally fine. This is my go-to recipe!
Russet potatoes – for shredding into hashbrowns.
Cheese – we're using mozzarella here but I also like sprinkling on a little Parmesan at the end too!
Kitchen basics – olive oil, garlic, salt, and pepper.

How to make this casserole
Start by roasting the veggies with olive oil and salt in a 425°F oven for 20-25 minutes.
During the last few minutes of cooking, toss the spinach and garlic into the roasted veggies. Let the mixture cool while you prepare the rest of the dish.
Next, whisk the eggs, milk, pesto, salt, and pepper until smooth. Set aside.
Then, grate the potatoes. Spread them evenly across the bottom of a greased 9×13 casserole dish followed by the roasted veggies and half the cheese. Pour the egg mixture over the top. Sprinkle with the remaining cheese.
Bake the casserole at 350°F for 40-50 minutes until the edges are golden brown and the center is no longer jiggly.
Allow the casserole to cool at room temperature for about 5 minutes. Slice and enjoy!
Helpful tools
All the tools you need to make this recipe are pretty basic but there are a few things that will help make this best breakfast casserole extra easy!
9×13 pan – a cake pan or casserole dish is required to make this dish. You could also split it between two 8×8 pans. This casserole dish with a lid is my fave!
Sheet pan – I like using my seasoned sheet pan to roast the veggies because it adds a little extra flavor.
A good whisk – for getting those eggs nice and smooth.
Make ahead & storing leftovers
Not only can this dish be made in advance, but you can also reheat leftovers! I love making this casserole on a Sunday and having the leftovers for breakfast throughout the week. Or, if you're making breakfast for a holiday breakfast or brunch party, you can prepare the roasted veggie breakfast casserole in advance to make life a little easier the next day.
Make-ahead instructions
Fully assemble the casserole. Spread the potatoes and veggies in the bottom, add the egg mixture, and sprinkle the cheese over the top.
Stop at this point! Simply cover the assembled dish with a lid or plastic wrap and store in the fridge for up to 24 hours.
The next morning, preheat the oven to 350°F. Allow the casserole to sit at room temperature while the oven heats.
Next, bake the casserole for 40-50 minutes until the edges are golden and the middle is fully set. Enjoy!
To store & reheat leftovers
To store any leftovers, just let the casserole slices cool for a bit until they're room temperature. Place the leftovers in a single layer in an airtight container. Then, just store the slices for up to five days!
To reheat the casserole, you can warm it in the oven at 350°F for about 10 minutes. Or, you can microwave the slices for 60-90 seconds. Just keep in mind that eggs pop a bit in the microwave but it shouldn't be too crazy!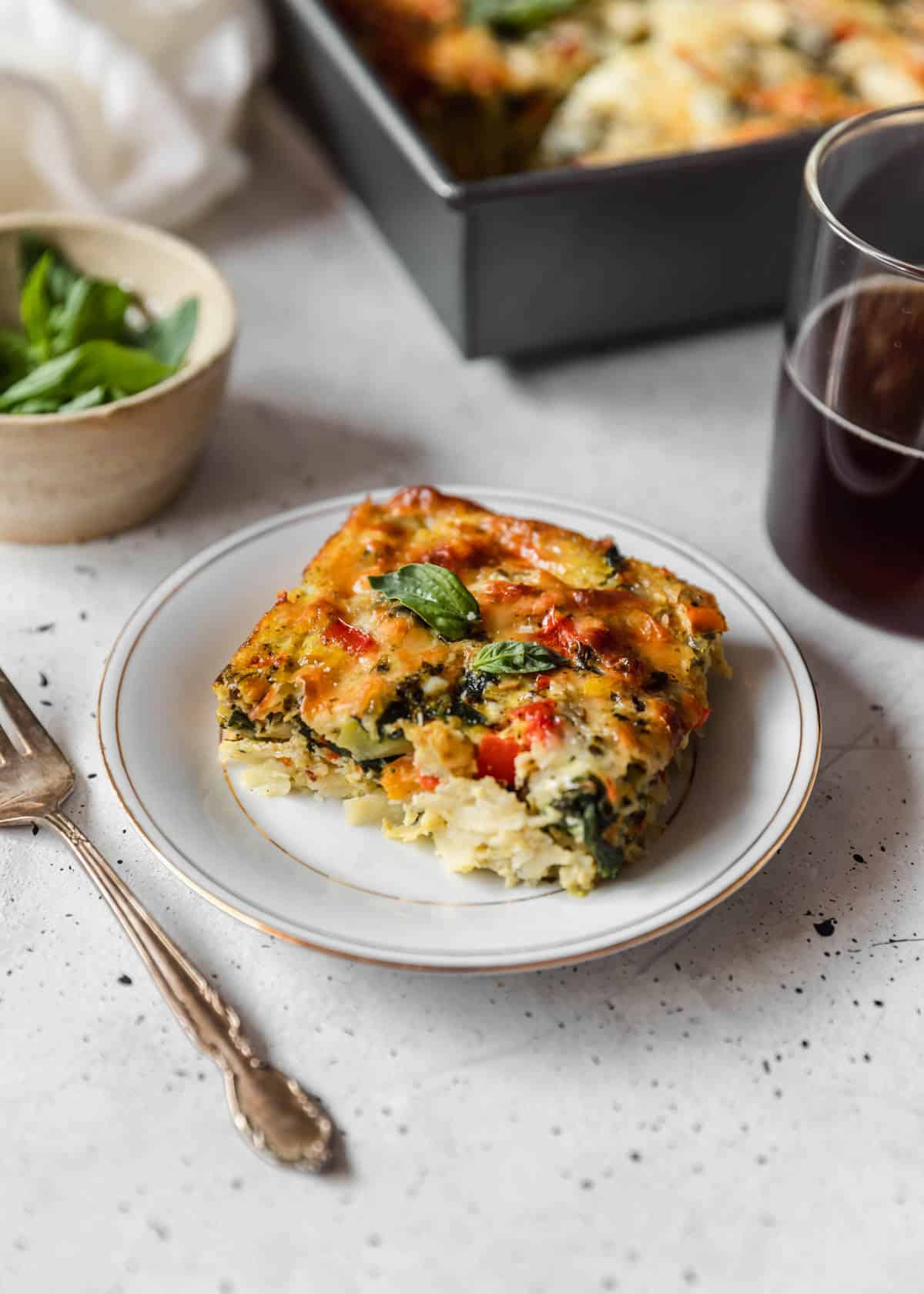 What veggies can I use?
For this recipe, I typically pick in-season vegetables so that the casserole is extra flavorful. Basically, you want any veggie that's roast-able! Avoid any veggies that are too soft and delicate to withstand heat in the oven. For the greens, you can also replace the spinach with whatever is in season! Keep in mind that some veggies like shallots, spinach, mushrooms, and broccoli are typically available year-round so you can really mix and match with your favorite ingredients here! Here are some of my suggestions:
Winter – Brussels sprouts, broccoli, cauliflower, carrots, celery, fennel, leeks, parsnips, beets, shallots, winter squashes, and kale.
Spring – artichokes, asparagus, leeks, peas, radishes, morels, fiddleheads, turnips, green beans, arugula, and spinach.
Summer – eggplant, peas, green beans, okra, bell peppers, cherry tomatoes, zucchini, mushrooms, yellow squash, collard greens, and spinach.
Fall – artichokes, Brussels sprouts, beets, carrots, broccoli, celery, chiles, eggplant, green beans, sweet potatoes, leeks, onions, peppers, shallots, mushrooms, turnip, winter squash, chard, kale and spinach.
Recipe variations
This casserole is very customizable so you can add whatever ingredients you have on hand. Here are some of my suggestions!
Veggies – see above for a variety of ideas on veggies that would work in this recipe!
Greens – try kale, arugula, or chard in place of spinach.
Pesto – you can also try chive pesto, herb sauce, or just a handful of fresh herbs like basil, cilantro, parsley, or chives!
Potatoes – instead of russet, try sweet potatoes for a little extra flavor! Pre-shredded hash browns work too.
Mozzarella – I prefer white cheeses like provolone, white cheddar, Jack, Parmesan, Swiss, or a mix but basically any meltable cheese can be used in this recipe.
Serving ideas
If you plan on serving this casserole to a large amount of people, I definitely suggest having a few sides on hand! Here are a few ideas:
Fresh fruit
Pancakes, waffles, or French toast
Hot coffee and mimosas
Bacon or breakfast sausage
Croissants, scones, or muffins
Tips & tricks
Make sure to cut the veggies around the same size so they cook evenly. I like a small dice but feel free to change up the size to add extra texture!
Roast the veggies on high heat so they get a little brown on the edges but don't steam or get mushy. They will cook more in the casserole so it's important to get that roasted flavor without overcooking the veg. Try to avoid overcrowding the pan so the veggies roast instead of steam. I usually divide the veggies between 2 sheet pans!
Shred the potatoes immediately before you need them or they will turn brown and get a little funky.
If the edges of the roasted veggie breakfast casserole are getting too browned, tent tinfoil or an oven-safe lid over the top.
Allow the casserole to cool for about 5 minutes before serving. Just like lasagna, it will keep the casserole from falling apart when you cut into it.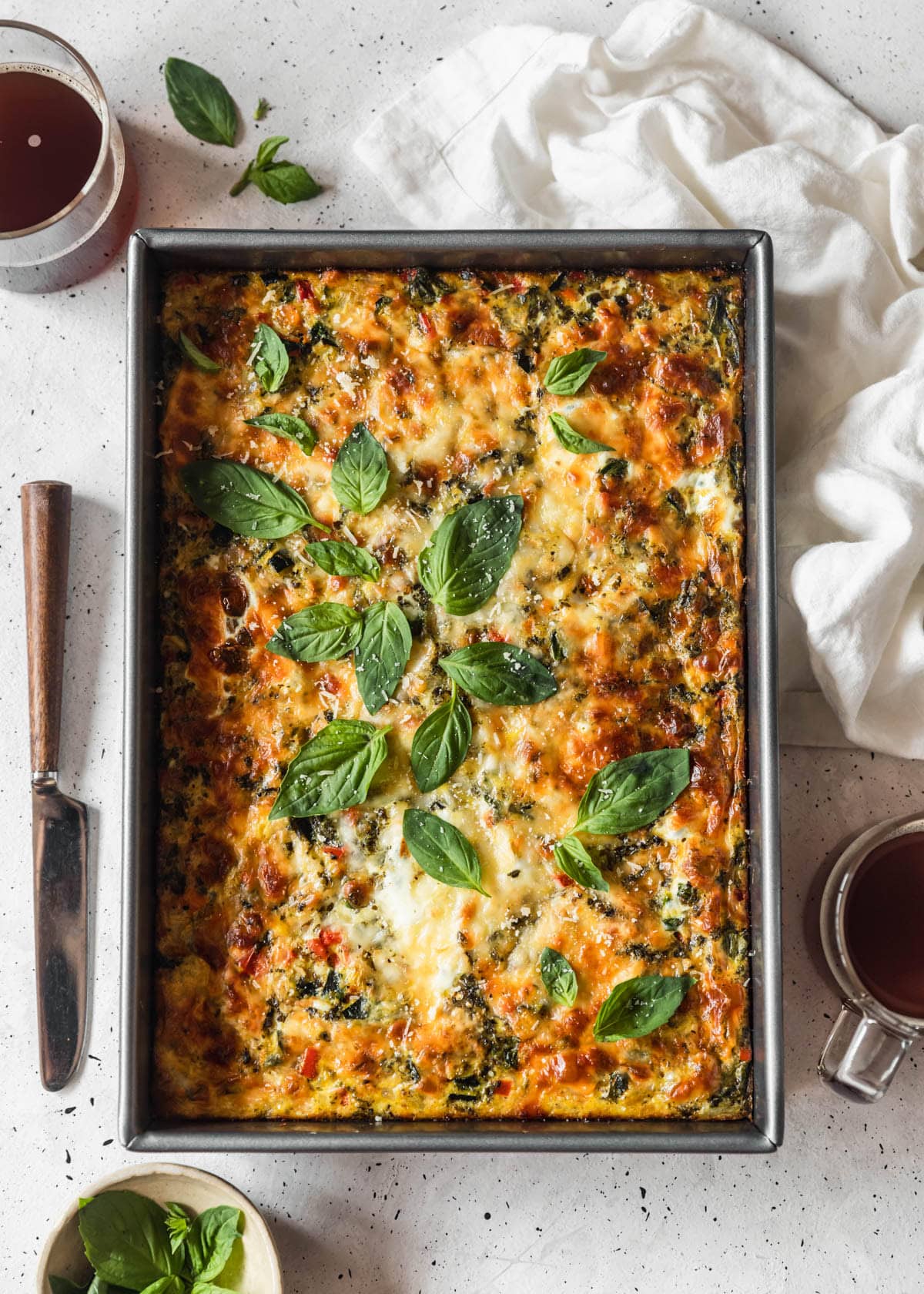 More breakfast recipes for a crowd!
Norwegian Pancakes (Pannekaker)
Breakfast BLT with Avocado & Spicy Mayo
Everything Bagel Breakfast Salad
Make Ahead Breakfast Burritos
Poppy Seed Pancakes + Blood Orange Curd
Bacon Hash Skillet with Runny Eggs & Harissa
Croque Madame Galettes with Everything Crust
If you make this recipe, I would love it if you left a star rating and review! I read every single comment and love hearing what you think about my recipes. Thank you for supporting Sunday Table!
---
Roasted Veggie Breakfast Casserole with Pesto
This roasted veggie breakfast casserole is my go-to recipe to make for a brunch party, meal prepping, or the holidays! You can make it in advance, bake it in the morning, and serve it to a crowd for a simple, stress-free breakfast. It's savory, wholesome, fresh, and so flavorful!
Ingredients
6 c veggies of choice*, small dice
2 Tbs olive oil
2 c spinach, roughly chopped
3 large cloves garlic, minced
12 eggs
1/2 c whole milk
1/3 c pesto, store-bought or homemade
4 c shredded potatoes (about 2 medium russet potatoes)
2 c Mozzarella, shredded
Kosher salt and pepper, to taste
Fresh basil, Parmesan, and/or hot sauce, for serving
Instructions
Preheat oven to 425°F. Grease both a sheet pan and 9×13 casserole dish with neutral oil. Set aside.

Spread the diced veggies on the greased sheet pan. Toss with the olive oil, salt and pepper, to taste. Bake the veggies for about 20-22 minutes, stirring occasionally, until they are tender and starting to brown on the edges.

During the last couple minutes of cooking, stir the spinach and garlic into to the roasted veggies. Cook until the spinach is wilted, 1-2 minutes. Remove the veggies from the oven and let them cool at room temperature for a few minutes while you prepare the rest of the ingredients. Then, decrease the oven to 350°F if you are baking the casserole right away.

Next, whisk the eggs, milk, and pesto together in a medium bowl until smooth. Season with salt and pepper, to taste. Set aside.

Grate the potatoes with a cheese grater. Spread the shredded potatoes evenly along the bottom of the prepared casserole dish followed by the veggies. Sprinkle half the cheese over the veggies. Next, pour the whisked eggs over the potato-veggie mixture. Sprinkle the remaining cheese over the top.

Bake the casserole for 40-50 minutes until the edges are golden brown and the center no longer jiggles when you give it a little shake**. Allow the casserole cool for about 5 minutes on the counter. Sprinkle fresh basil and Parmesan over the top if desired. Then, cut into 12 slices. Enjoy with hot sauce!

To make the recipe a day in advance: after you assemble the casserole, cover it with a lid or plastic wrap. Store in the fridge overnight. When you're ready to bake the casserole, remove the lid or plastic wrap and bake at 350°F for 40-50 minutes.
Notes
*I recommend choosing veggies that are good roasted (nothing too delicate). Anything hearty like peppers, zucchini, onions, broccoli, etc. are good options. See above for a bunch of ideas! *For me, 6 cups of veggies was 1 large shallot, 2 zucchinis, and 2 bell peppers. **If the edges start to get too browned, tent the casserole with tin foil or an oven-safe lid.
Serving: 1slice, Calories: 181kcal, Carbohydrates: 12.4g, Protein: 9.6g, Fat: 10.9g, Saturated Fat: 3g, Cholesterol: 169mg, Sodium: 342mg, Potassium: 419mg, Fiber: 1.8g, Sugar: 3.3g, Calcium: 82mg, Iron: 2mg
xo Sara Lynn
*Song of the day: Bambi by Clairo